Title: The Federal Government Has Bought Almost 2 Billion Rounds of Ammunition. Is It Planning To Go To War With The American People?
Resources to aid your Understanding
Subtitle: As frightening as this scenario sounds, we will demonstrate that the Government is NOT planning to go to war with the American people, as they have a far different plan in mind.
The New World Order is coming! Are you ready? Once you understand what this New World Order really is, and how it is being gradually implemented, you will be able to see it progressing in your daily news!!
Learn how to protect yourself, your loved ones!
Stand by for insights so startling you will never look at the news the same way again.
YOU ARE NOW ON
THE CUTTING EDGE
Copyright © 2013 Cutting Edge Ministries. All rights reserved. See full copyright notice below.
The headlines on Conservative gun owner websites and radio stations are truly frightening.
NEWS BRIEF: "DHS Won't Answer Congress On Billion Bullet Purchase ", Investor's Business Daily, 03/22/2013
"Bullet Buys: Fifteen members of Congress have written a letter to the Department of Homeland Security demanding to know why the federal agency is buying so many rounds of ammunition. We'd like to know too. Freshman California Republican Doug LaMalfa and 14 of his House colleagues, who signed on to his March 5 letter, are asking the Department of Homeland Security to explain why it is buying 1.6 billion rounds of ammunition of various calibers. As we have noted, DHS has been buying lots of ammo, enough by one calculation to fight the equivalent of a 24-year Iraqi War."
"The massive purchases are said to be spread out over five years and due simply to the best practice of saving money by buying in bulk what comes down to five rounds of ammo for every man, woman and child on the U.S. "
NEWS BRIEF: "Senator Rand Paul To Filibuster Over Big Sis Arms Build-Up? ", Market Daily News, March 22, 2013
"Senator Rand Paul's successful effort to get answers concerning the Obama administration's drone strike program by staging a dramatic marathon filibuster earlier this month should be the template for a similar attempt to force the DHS into divulging the reasons behind its domestic arms build-up. During his 13 hour filibuster on March 6, the Kentucky Senator mentioned the unprecedented ammo purchases, expressing alarm at how Americans were being treated as terrorists for owning guns while the government was simultaneously stockpiling bullets at breakneck speed.
With the federal agency having committed to purchasing around 2 billion bullets over the course of the last year, concerns that Big Sis is preparing for civil unrest have spread like wildfire as Americans fear a repeat of scenes already witnessed in places like Greece and Cyprus..."
NEWS BRIEF: "Retired Army Captain Warns DHS Acquisitions are "bold threat of war" Against The American People", Market Daily News, March 24, 2013
"On Saturday, retired United States Army Captain Terry M. Hestilow publicly voiced grave concerns over the Department of Homeland Security's absurd acquisitions, posting a letter he sent to Sen. John Cornyn (R-TX) on Facebook labeling the Obama administration's recent appropriation of weapons a 'bold threat of war' against citizens of the United States of America ... Referring to the DHS' solicitations for nearly two billion rounds of ammunition and recent purchases of almost 3,000 mine-resistant ambush protected armored personnel carriers as "a tyrannical threat against the Constitution" and a deliberate attempt to defund the Department of Defense, the retired Army Captain asked Sen. Cornyn to honor his oath to the American people and the U.S. Constitution and "to demand in clear terms that the Administration cannot ignore, that the Department of Homeland Security immediately surrender their newly appropriated weapons of war to the Department of Defense (DoD)."
Public rhetoric like this is seriously frightening people. Normal, sane American citizens are beginning to ask whether the despised President Barack Obama is really planning to attack us. The threat in millions of minds across this nation is simply skyrocketing!
For the record, the head of the Department of Homeland Security denies that his department is buying this much ammunition.
NEWS BRIEF: "DHS Denies Massive Ammunition Purchase", US News and World Report, March 22, 2013
"The Department of Homeland Security responded Friday to questions from Rep. Tim Huelskamp, R-Kan., about why the agency was allegedly planning to buy some 1.6 billion rounds of ammunition over the next five years. DHS told Whispers it regularly fills all of its goods and services requirements at one time because it's cheaper for the agency, and that the 1.6 billion number was misleading because the language of DHS's purchase said it would need 'up to' a certain amount."
Does this language mean that gun owners are seeing the "up to" 2 billion rounds and believing that is a real purchase number?
"Another five-year contract allows for the purchase of 'up to' 450 million rounds of ammunition, he said, and was also for law enforcement. Boogaard noted that the contract would be used by all DHS agencies except the Coast Guard ... With more than 100,000 armed law enforcement personnel in DHS, significant quantities of ammunition are used to support law enforcement operations, quarterly qualifications, and training, to include advanced firearms training exercises," Boogaard told Whispers."
For the sake of argument, let us suppose that this purchase figure of 2 billion rounds of ammunition is a real figure and that the Federal Government is going to take delivery of this many rounds. Let us accept the fact that the Government is really purchasing " 3,000 mine-resistant ambush protected armored personnel carriers" for domestic use.
Does that mean the Government is planning to go to war with the American people?
That is the question of this article. To discover the truth, we must examine the REAL Illuminati Plan for the military takeover, not only of America, but of every nation on earth. Once you understand the true Plan, you will realize that this hyper-heated rhetoric is misplaced, to put it mildly.
The Illuminati Plan For The Military Rule of America
In 1952, in London, the Illuminati sponsored a meeting to re-draw the world into military regions after the One-World Government had been established. In the early 1920's, Russian Communist leaders learned a very valuable lesson: they learned that ethnic troops could not be depended upon to be brutal to their own people . Therefore, Russian Communists devised a plan whereby Muslim Russian troops would be stationed in non-Muslim areas, and vice versa. Therefore, troops would have no difficulty oppressing, jailing, and murdering people not their own. As you will shortly see, this plan applies these lessons worldwide.
In 1952, the World Association of Parliamentarians for World Government decided which areas of the world would be occupied and patrolled by which troops. These worldwide forces would be commanded by a World Director, who would have an organization of 8 zone directors and 51 regional directors. No regional director would ever be responsible for his own country, and no military troops would ever be stationed within his own country. [This information taken from the National Economic Council of New York City, 1962]
American troops will be assigned five regions of the world, as we have listed below.
Region 12 -- Australia
Region 32 -- Uruguay, Argentina
Region 75 -- India, Nepal, Turkmen, Uzbeg, Tadzhik, Kirghiz, SSR
Region 58 -- Austria, Hungary, Czechoslovakia
Region 55 -- Yugoslavia, Greece, Albania, Romania, and Bulgaria -- the Balkans Region
Thus, American troops would be responsible for a huge chunk of Europe, from Czechoslovakia to Greece, and as far east as the border of the Ukraine and Turkey!
But, what about foreign troops patrolling America?
TROOPS TO BE STATIONED IN UNITED STATES, CANADA, AND MEXICO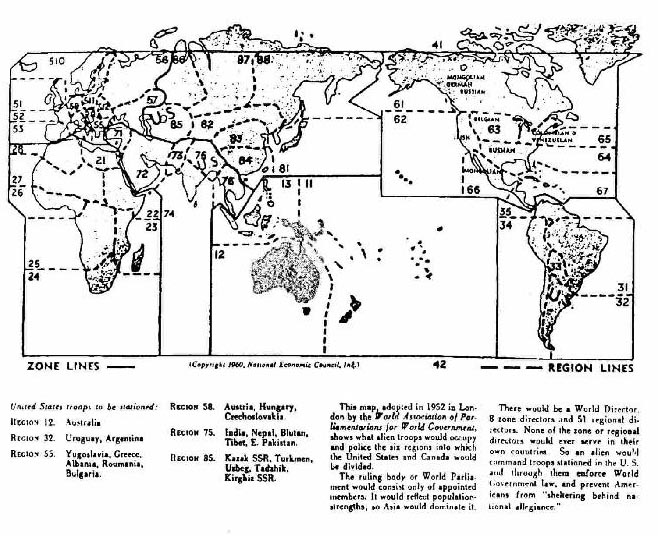 Let us now examine the troops that are to be stationed in North America according to this 1952 plan.
1. Northeast -- Colombian and Venezuelan troops
2. Southern America all the way to California -- Russian troops. The line begins at Virginia and goes straight West to the border of California.
3. Midwest -- Belgian troops
4. Northwest, including California -- Irish troops
5. Canada -- Mongolian [Chinese] and Russian troops
6. Mexico -- Mongolian [Chinese] troops. I find it highly interesting that the Mexico portion over which the Chinese are to exercise control includes San Diego, California! Our government has just given the Chinese Communists control over an "abandoned" U.S. Naval base, in Long Beach, have they not? Now you know even more conclusively that the President of the United States and Congress are part of this 1952 Plan, and are acting entirely at the control of the Illuminati to end American sovereignty and unite the world under the banner of the coming Antichrist.
Foreign troops would be in total control of the entire North American continent. No sizeable American troops would be allowed in this country.
Then, what needs to happen to the American troops now stationed in this country? They will either have to be disbanded or deployed overseas. In fact, they already are being deployed overseas, as we explain below.
The World Is On Fire In The 'Non-Integrating Gap'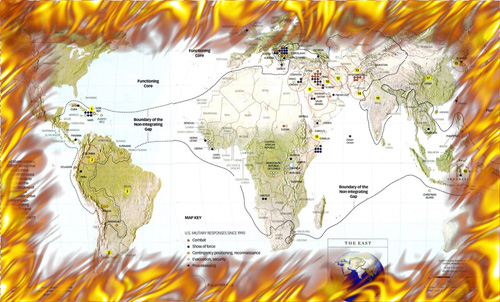 Is this requirement to get American troops deployed outside the country the real reason America is leading the Western nations in carrying out the savage war in the 'Non-Integrating Gap' region of this world?
I believe this to be true.
According to Illuminist thinking, there are only two types of nations in the world today:
1. Nations who are already functioning in the new Global System or who are clearly and firmly going in that direction -- the "Functioning Core"
2. Nations who are not now functioning in the Global System and are not likely to do so in the foreseeable future, unless they are kicked into it by U.S. or European troops, or by the threat of invasion. These nations are called the "Non-Integrating Gap".
The war strategy being followed by the United States and the European Union is to "shrink the gap". When did the first Western troops invade a country in this 'Non-Integrating Gap'?
Afghanistan was the first country that Western powers invaded, in October, 2001.

Iraq was the second country invaded, on March 20, 2003.
Now that we have pulled out of Iraq and are beginning to pull out of Afghanistan, American troops have led wars or threats of wars in Libya, Egypt, Morocco, Tunisia, Yemen, Sudan, Niger and Mali. Soon, we shall be leading Western troops in countries like The Congo, Nigeria, Zimbabwe, and Botswana.
And we are using the dreaded drone as our major weapon!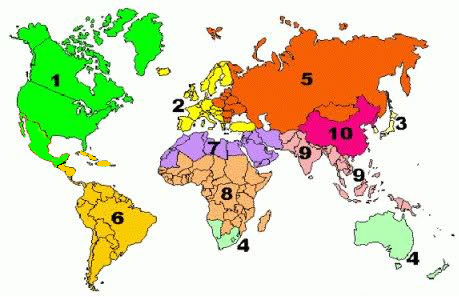 Between fighting wars in the Middle East and Africa so that entrenched dictators will be removed so Supernations #7 and #8 of the Club of Rome Plan can be formed. What is the Club of Rome Plan?

Simply put, this Plan reorganizes the nations of the world into precisely 10 supernations, each one with a leader.

Of course, this reorganization will fulfill Daniel 7:7-8 once completed.

Therefore, American military forces are fighting in 'Non-Integrating Gap' to overthrow any nation whose leaders are now resistant to surrendering their national sovereignty to either Supernation #7 or #8.

Most American troops are going to be tied up in these wars.

But, when this worldwide Military Patrol Zone Map is to be implemented, all American troops will be withdrawn from wherever they are located to the five regions we have listed above. The point is, no military force will be assigned their own people to patrol. Communist leaders from Lenin to Yeltsin knew the facts of history: even battle hardened people could not be brutal to their own people, but they had no difficulty whatsoever in being brutal to a people not their own.

When the war begins in America, the troops carrying out this war will not be American!

Therefore, even if the Federal Government is purchasing billions of rounds of ammunition and thousands of armored cars, they are not planning to start a war with American citizens. That war will get underway when the Military Patrol Zone Plan is being implemented; when will this plan be implemented? We believe it will be implemented after Antichrist is on the world scene. (NOTE: Local police may use some of these bullets and armored cars in local crises with criminals, but they will not be used in a wide scale against American citizens)

There will be no civil war in this country prior to the staged appearance of Antichrist, an event which will be precipitated by World War III, an event which will not occur until the world is reorganized in the 10 supernations shown above.

Like the false threat of an immediate economic collapse, this current furor over purported plans of the Obama Administration to wage war against fellow Americans is simply wrong!

Remember that the Plan to prepare the hearts of Americans to accept Antichrist is to provide prosperity and the promise of greater prosperity. The Elite learned from the Great Depression (1929-1939) that economic deprivation does not work nearly as well as the promise of prosperity in freezing the heart of the people for Jesus Christ.

Now you know the truth and you can stop being afraid of false rumors. Be wary of people and of websites who scream frightening headlines and then invite you to buy their survival stuff. Be very wary. You are wasting your hard-earned money.

Are you spiritually ready? Is your family? Are you adequately protecting your loved ones? This is the reason for this ministry, to enable you to first understand the peril facing you, and then help you develop strategies to warn and protect your loved ones. Once you have been thoroughly trained, you can also use your knowledge as a means to open the door of discussion with an unsaved person. I have been able to use it many times, and have seen people come to Jesus Christ as a result. These perilous times are also a time when we can reach many souls for Jesus Christ, making an eternal difference.

If you have accepted Jesus Christ as your personal Savior, but have been very lukewarm in your spiritual walk with Him, you need to immediately ask Him for forgiveness and for renewal. He will instantly forgive you, and fill your heart with the joy of the Holy Spirit. Then, you need to begin a daily walk of prayer and personal Bible Study.

If you have never accepted Jesus Christ as Savior, but have come to realize His reality and the approaching End of the Age, and want to accept His FREE Gift of Eternal Life, you can also do so now, in the privacy of your home. Once you accept Him as Savior, you are spiritually Born Again, and are as assured of Heaven as if you were already there. Then, you can rest assured that the Kingdom of Antichrist will not touch you spiritually.

If you would like to become Born Again, turn to our Salvation Page now.

We hope you have been blessed by this ministry, which seeks to educate and warn people, so that they can see the coming New World Order -- Kingdom of Antichrist -- in their daily news.

Finally, we would love to hear from you.

You can contact us by mail or email.

God bless you.

Copyright © 2013 Cutting Edge Ministries. All rights reserved. This password protected article and its contents are protected under the copyright laws of the United States and other countries. This article is provided by subscription only for use by the subscriber and all other rights are expressly reserved by the copyright owner. Copying and pasting this article, in whole or in part, into e-mails or as attachments to e-mails or posting it on the Internet is strictly prohibited and may subject the offender to civil liability and severe criminal penalties (Title 17, United States Code, section 501 and 506).

Copying and distributing this article in violation of the above notice is also a violation of God's moral law.


Become a Headline news subscriber HERE.

Subscribe to our free email updates and messages from our editor by entering your email address below :

Return to: