---
Critical Analysis of Headline News
1. What is President Trump doing?
Normally, a president who is being succeeded by a newly-elected president does not do much of anything in the period from the election in early November to January 20 in the year following (called the 'Lame Duck' period).
Virtually nothing a Lame Duck president can do in this transition time can avoid causing a complication for the new president; therefore, tradition dictates that the outgoing president simply does nothing.
All Congress wants a Lame Duck president to do is to show up at the Oval Office every morning to turn the lights on.
But not President Trump.
Though he is merely days away from passing the baton to Joe Biden, Trump is issuing Executive Orders and nominating people for office.
NEWS BRIEF: "What's This? Pelosi Sends Letter to Defense Secretary Miller Demanding Halt to Attempts to Install Trump-Loyalist Michael Ellis as NSA General Counsel", Gateway Pundit, Jan 18, 2021
"They're panicked. Speaker Pelosi sent a letter to the Secretary of Defense Chris Miller on Monday. Pelosi is demanding a halt to attempts to install Trump-loyalist Michael Ellis as NSA General Counsel."
"This is odd considering a President Biden could fire Ellis after the inauguration.
So what is this all about?"
NEWS BRIEF: "Trump Issues Executive Order Protecting Americans from 'Overcriminalization' by Regulations", The Epoch Times, January 19, 2021
"President Donald Trump issued an executive order on Monday that aims to protect Americans from "overcriminalization" by regulations. The order seeks to make the consequences of violating certain regulations more transparent as a safeguard against unwarranted criminal punishment for unintentional regulatory violations.
" 'In the interest of fairness, federal criminal law should be clearly written so that all Americans can understand what is prohibited and act accordingly', Trump wrote."
"The move dovetails with Trump's broader effort to reduce regulatory burden on individuals and companies, a hallmark of his administration."
NEWS BRIEF: "Trump Signs Order Expanding Federal Prosecutors' Ability to Carry a Concealed Firearm", The Epoch Times, January 18, 2021
"President Donald Trump on Monday signed an executive order aimed at enhancing protections for federal judges, prosecutors, and law enforcement officers."
"His order directs the federal government to make it easier for law enforcement officers and federal prosecutors to carry a concealed firearm, and urges Congress to pass legislation to extend the right to carry a concealed firearm to federal judges."
NEWS BRIEF: "Wall Street Investment Banks to Comply With Trump Order to De list Products in Hong Kong", The Epoch Times, January 11, 2021
"Three major U.S. investment banks will duelist a total of about 500 Hong Kong-listed structured products ... Goldman Sachs, JPMorgan, and Morgan Stanley stated that the de listing was in compliance with President Donald Trump's executive order (E.O.) 13959."
NEWS BRIEF: "Trump Administration Tightens Ban on Investment in Chinese Military Companies", The Epoch Times, December 29, 2021
"The Treasury Department on Dec. 28 released guidance for investors about the president's new executive order that bans investment in companies with ties to the Chinese military. The guidelines clarify that the ban will include subsidiaries of all Chinese firms in the Pentagon's blacklist, handing a clear win to national security advocates."
NEWS BRIEF: "Trump Signs Executive Order to Protect US Against Security Threats From Drones", The Epoch Times, January 19, 2021
"President Donald Trump signed an executive order on Jan. 18 to prevent the U.S. federal government from using drones manufactured by foreign adversaries, including China ... These components include sensors, cameras, software, and artificial intelligence technologies."
"Aside from China, the executive order also named Iran, North Korea, and Russia."
Is Trump planning on staying?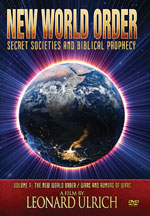 2. Biden plans on being very busy during his "First 10 Days" in office.
NEWS BRIEF: "Biden plans 10-day blitz to reverse Trump legacy", World Net Daily, January 18, 2021
"On his first day in office, Joe Biden will issue a dozen executive directives to kick off a 10-day blitz that will include a flurry of legislative proposals aimed at reversing President Trump's legacy ... The paper said Biden's team 'has developed a raft of decrees that he can issue on his own authority after the inauguration on Wednesday to begin reversing some of President Trump's most hotly disputed policies'."
""Advisers hope the flurry of action, without waiting for Congress, will establish a sense of momentum for the new president even as the Senate puts his predecessor on trial, referring to the Senate taking up the House's article of impeachment charging 'incitement of insurrection'." (Emphasis Added)
NEWS BRIEF: "Biden Team Already in Talks with Iran over Return to Nuclear Deal", Breitbart News, 17 Jan 2021
"The Biden administration has already unrolled its plan to return to the 2015 nuclear deal and has begun holding quiet talks with Iran, an Israeli TV station reported Saturday."
So, Biden is planning to return to the dumbest deal America has ever reached with a foreign power!
He plans to begin to dismantle Trump's accomplishments which were so magnificent that Democrats are embarrassed!
3. Read this list of Trump accomplishments and you be amazed that the President was not nominated by acclaim!
NEWS BRIEF: "Trump Team Unveils List Of Accomplishments Before Biden Inauguration", White House, As of January 2021
(NOTE: This article is so very long we could not list all accomplishments here. Please take the time to read it all the way through)
"President Donald Trump, in his four years in the White House, has left a footprint that is going to be tough for any future president, including President-elect Joe Biden, to match no matter how long they stay in power. And last week the president and his team revealed his list of accomplishments, laying the gauntlet down for Biden."
* "built the world's most prosperous economy" before the Wuhan Virus hit
* "America gained 7 million new jobs – more than three times government experts' projections..."
* "Middle-Class family income increased nearly $6,000 – more than five times the gains during the entire previous administration..."
* "unemployment rate reached 3.5 percent, the lowest in a half-century"
* "achieved 40 months in a row with more job openings than job-hirings ... more Americans reported being employed than ever before – nearly 160 million..."
* "jobless claims hit a nearly 50-year low"
* "Unemployment rates for African Americans, Hispanic Americans, Asian Americans, Native Americans, veterans, individuals with disabilities, and those without a high school diploma all reached record lows"
* "Unemployment for women hit its lowest rate in nearly 70 years"
* "lifted nearly 7 million people off of food stamps"
* "income inequality fell for two straight years"
* "the bottom 50 percent of American households saw a 40 percent increase in net worth"
* "wages rose fastest for low-income and blue collar workers – a 16 percent pay increase"
* "African American home ownership increased from 41.7 percent to 46.4 percent"
* "The 401K plans of Americans were also positively impacted as "the DOW closed above 20,000 for the first time in 2017 and topped 30,000 in 2020 (and) the S&P 500 and NASDAQ have repeatedly notched record highs"
* "the middle class also benefited from the tax cuts put into affect by the administration. "Passed $3.2 trillion in historic tax relief and reformed the tax code"
* "signed the Tax Cuts and Jobs Act – the largest tax reform package in history, more than 6 million American workers received wage increases, bonuses, and increased benefits thanks to the tax cuts, (and) a typical family of four earning $75,000 received an income tax cut of more than $2,000 – slashing their tax bill in half."
* "Created more than 1.2 million manufacturing and construction jobs."
* "Put in place policies to bring back supply chains from overseas."
* "Small business optimism broke a 35-year old record in 2018"
* "Achieved a record-setting economic comeback by rejecting blanket lockdowns."
* "Ended the regulatory assault on American Businesses and Workers."
* "Successfully rolled back burdensome regulatory overreach"
* "Fair and Reciprocal Trade -- Secured historic trade deals to defend American workers"
* "Took strong actions to confront unfair trade practices and put America First."
* "American Energy Independence -- Unleashed America's oil and natural gas potential"
* "Increased access to our country's abundant natural resources in order to achieve energy independence."
* "Achieving a Secure Border -- Secured the Southern Border of the United States"
* "Appointed three Supreme Court justices, expanding its conservative-appointed majority to 6-3."
* "Restoring American Leadership Abroad"
* "Advanced peace through strength. Withdrew from the horrible, one-sided Iran Nuclear Deal and imposed crippling sanctions on the Iranian Regime."
* "Renewed our cherished friendship and alliance with Israel and took historic action to promote peace in the Middle East."
* "Recognized Jerusalem as the true capital of Israel and quickly moved the American Embassy in Israel to Jerusalem."
* "Acknowledged Israel's sovereignty over the Golan Heights and declared that Israeli settlements in the West Bank are not inconsistent with international law."
* "Stood up against Communism and Socialism in the Western Hemisphere. Reversed the previous Administration's disastrous Cuba policy, canceling the sellout deal with the Communist Castro dictatorship."
* "Colossal Rebuilding of the Military"
** "Completely rebuilt the United States military with over $2.2 trillion in defense spending..."
** "Modernized and recapitalized our nuclear forces and missile defenses to ensure they continue to serve as a strong deterrent."
** "Upgraded our cyber defenses by elevating the Cyber Command into a major warfighting command..."
** "Defeated terrorists, held leaders accountable for malign actions, and bolstered peace around the world."
** "Addressed gaps in American's defense-industrial base, providing much-needed updates to improve the safety of our country."
* "Serving and Protecting Our Veterans"
* "Reformed the Department of Veterans Affairs (VA) to improve care, choice, and employee accountability."
* "Decreased veteran homelessness, improved education benefits, and achieved record-low veteran unemployment"
* "Safeguarding the Environment -- Took strong action to protect the environment and ensure clean air and clean water."
* "Making Communities Safer -- Signed into law landmark criminal justice reform"
* "Unprecedented support for law-enforcement" (While Democrat-run cities were burning out of control, Republican-run cities were under control)
* "Implemented strong measures to stem hate crimes, gun violence, and human trafficking."
* "Stood up for religious liberty in the United States and around the world."
* "Cherishing Life and Religious Liberty -- Steadfastly supported the sanctity of every human life and worked tirelessly to prevent government funding of abortion"
BY CONTRAST - Joe Biden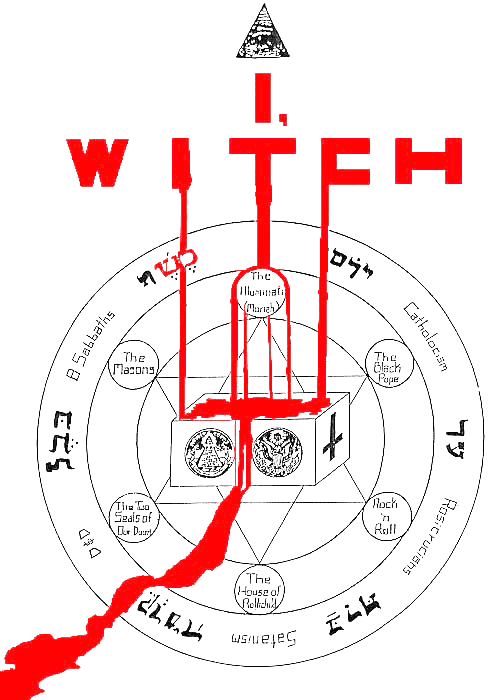 Doc Marquis, in his book, "Secrets of the Illuminati", has drawn this Great Seal of the New World Order, depicting the various influences and organizations actively involved in the drive to the New World Order.
The All-Seeing Eye atop the page, looking down on all the activity being carried out on his behalf, is Satan, depicted as the Eye of Horus.
The word, "I" depicts the extremely self-centered, self-proclaimed wise and righteous man who is working mightily for Lord Satan to achieve this new system.
Most important is the human blood which has already flowed and the human blood which is planned to flow, in order that this system might be established. Notice that this blood flows on top of and around The Illuminati. All three blood flows pour upon the Satanic altar and off the Seal into the world. Christians should not be surprised because much Bible prophecy speaks of great persecution and slaughter during the time of the Great Tribulation.
A Satanist knows that abortion of an innocent baby is the highest level of human sacrifice to lord Satan possible. Therefore, as the world spins quickly toward the appearance of Antichrist, we should expect the highest emphasis on abortion in our nation's history.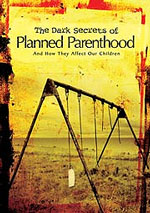 4. Joe Biden will be the most radical babykiller in our history.
NEWS BRIEF: "Planned Parenthood Excited to Push Its Radical Abortion Agenda Under Joe Biden", LifeNews, Jan 15, 2021
"... 'HOW DO WE GO BEYOND ROE TO FULFILL THE PROMISE OF SAFE, LEGAL ABORTION FOR ALL?' "
"Even with Roe in place, access to abortion is still limited. As our reproductive justice colleagues always say, Roe is the floor, not the ceiling. We need to engage with our congressional champions, as well as the administration and think about how do we go beyond Roe to fulfill the promise to safe, legal abortion for all. "
Even though this paragraph sounds relatively benign, it would kill untold numbers of innocent babies within the mother's womb. Yet, pro-abortion advocates are called "congressional champions"!
And, "safe, legal abortions for all" is simply euphemism describing unlimited abortions, at any time during the pregnancy and for any reason whatsoever!
"There is not a hint of an anti-abortion point in here anywhere, but there is the comical claim at the beginning of the online interview that they'd explore "how Planned Parenthood plans to push its agenda with a moderate Democrat in the White House." As this interview demonstrates, there's nothing "moderate" in the Biden-Harris push to expand abortion."
When Biden-Harris opens the floodgates to unlimited abortion, the innocent blood is really going to flow!
He is following the most pro-Life President.
NEWS BRIEF: "Donald Trump's Pro-Life Presidency", National Review, Feb 2, 2020
"Addressing the March for Life in January, President Donald Trump said, 'Unborn children have never had a stronger defender in the White House'. Kellyanne Conway, his high-ranking aide, tweeted that Trump was 'the most #prolife President in history'. That assessment was echoed by many pro-life activists, including Marjorie Dannenfelser, the president of the Susan B. Anthony List, which works to elect pro-life political candidates."
5. Will Biden then pursue fundamental Christians?
NEWS BRIEF: "The Democrats' Decapitation Strategy", American Greatness, January 15, 2021
"It is ironic, and in many instances unnecessary. By and large, Republicans and populists would never engage in many of these political tactics. Nevertheless, the Democrats are trying preemptively to extinguish a Republican-populist version of their "resistance" by using the execrable and rightly condemned Capitol riot as a pretext to equate legitimate "opposition" with treasonous "sedition."
"The Democrats' 'resistance' was no organic, spontaneous uprising. It was a well-orchestrated political operation ... Now, on the heels of President Trump's second impeachment, it becomes easier to see the political imperative propelling the Democrats' latest rewriting of history. Their insistence that last summer's rioters were victims, and that the Russian collusion scam was true, reveals their governmental, complicit media, and crony capitalist efforts to cancel at least 74 million Americans—and, in sum, their strategy to preemptively 'Kathy Griffin', i.e., decapitate and debilitate, the Republican-populist opposition.
"Their operative word is fear."
They will also begin immediately to systematically isolate and marginalize the 74 million Americans who voted for Trump!
Doubt it not!
Are you spiritually ready for persecution? Salvation Plan - Free Gift