---
Key Prophetic Understanding
"And the ten horns which thou sawest are ten kings ... For God hath put in their hearts (final 10 rulers of the Earth) to fulfil his will, and to agree (to act in harmony), and give their kingdom unto the beast, until the words of God shall be fulfilled." (Revelation 17:17, KJV)
The leaders of the world are being led by the Holy Spirit to 'act in harmony' until Antichrist is on the world scene. That prophetic time is rushing down upon all mankind.
---
New End Times' Book
"No Uncertain Future"
Our Future is Secure!
A Commentary to the Book of Revelation
For 5,900 years man was confined in travel and communications to 30 miles an hour. In our generation travel has accelerated to hundreds of miles an hour and communications to 186,000 miles a second. Wars, famines, and earthquakes continue to increase and concerns mount over the proliferation of nuclear weapons. Jesus said of these last days that fear would grip the world as to what the future holds. (Luke 21:26)
However, for those who read and study the book of Revelation, this marvelous book of prophecy, there is no need to be uncertain about the future. Dr. Spargimino has done a masterful study on this important book about things to come, reconciling the message to the churches with the judgments of the seals, trumpets, and vials. For the person who has had difficulty placing all the events in the Apocalypse in proper chronological order, this is the book.
184 pages -- Regularly $19.99, Only $14.99, Saving You $5.00

For more study in Revelation check out our collection of 6 DVDs
Get the Complete set. Buy Volumes 1-6 of Mac Dominick's Revelation Studies and save money over buying them individually.
This systematic study combines standard Biblical Interpretation plus a number of distinctive Cutting Edge teachings. You will be blessed and enlightened.
---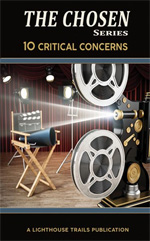 New Booklet - Only 1.95
Booklet: The Chosen: 10 Areas of Critical Importance
The incredibly popular series The Chosen is being described as a "global phenomenon" and growing "movement" that is creating the groundwork for world "revival." However, there are some critical concerns about this series and where it is heading. The following are ten of these concerns:
1) The Chosen and Its Mormon Influencers
2) Are the Biblical Jesus and the Mormon Jesus the Same?
3) The Chosen—"A Definitive Portrayal of God's People"? Beloved, believe not every spirit, but try the spirits whether they are of God: because many false prophets are gone out into the world. (1 John 4:1)
4) "95% of the Content Isn't From the Bible"—Dallas Jenkins -- This means that The Chosen is almost completely man's word—not God's Word.
5) Jonathan Roumie's Spiritual Affinities and His Influence on Millions
6) Dallas Jenkins—Unequally Yoked or Equally Yoked?
7) Seduction by Fiction
8) "Get Used to Different"?
9) The Stage for a Worldwide "Revival" and "The Healing of the World"
10) "Never Underestimate the Enemy"
The incredibly popular series The Chosen is being described as a "global phenomenon" and growing "movement" that is creating the groundwork for world "revival." However, there are some critical concerns about this series and where it is heading. Order yours today
For More - Choose from over 90 titles of these wonderful $1.95 Booklets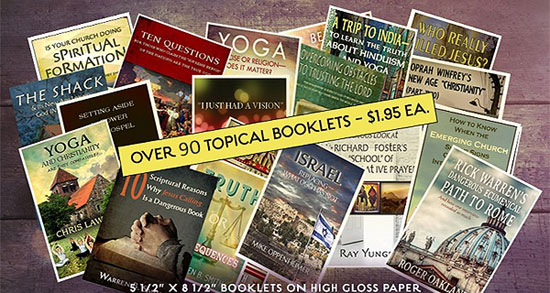 ---
HUGE Price Drop!!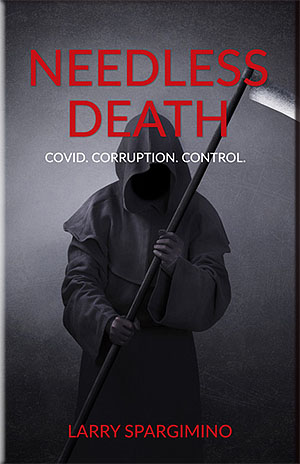 "Needless Death: COVID, Corruption and Control"
New Book by Larry Spargimino
Needless Death will challenge you to develop a sanctified skepticism against big government, big pharma, and organizations with globalist ties.
The year 2020 was one of the most apocalyptic years that had ever come upon Planet Earth. Once the coronavirus hit, it spread worldwide very quickly Never had a virus spread so quickly and so far.
Attempts were made to shut down churches and impose heavy fine on congregations who refused. The virus seemed unstoppable. https://www.cuttingedge.org/detail.cfm?ID=2978
$19.99, now only $14.99
---
Prophetic DVD For These Troublesome Times!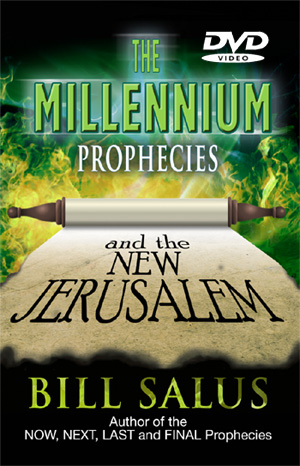 "The Millennium Prophecies and the New Jerusalem" DVD
by Bill Salus
Regularly $24.99, Only $19.99
Most Neglected Prophecy In The Bible
Jesus Christ is about to return and set up His 1000-year Messianic Kingdom upon the earth. The MILLENNIUM Prophecies and the NEW JERUSALEM book explains what this future period will be like
Discover why the Bible says more about the MILLENNIUM than any other period in the past, present or future, including the First and Second Comings of Jesus Christ and the Seven-Year Tribulation Period.
Read More or order https://www.cuttingedge.org/detail.cfm?ID=2977
Buy the book version of this great prophetic title! https://www.cuttingedge.org/detail.cfm?ID=2987
---
HOME - Book Store - Newsletter Archives - Daily News Updates
Read The Most Current Newsletter Online
---
---
Critical News Analysis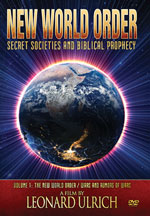 DVD
1. A Putin ally boldly stated that peace with America would be possible only when the "New World Order" was established!
NEWS BRIEF: "Peace With US Only Possible After 'New World Order' – Putin Ally", RT News, 30 Jan 2022
"Hopes that rock-bottom relations between Moscow and Washington can be turned around are unlikely at present, a top Russian politician has claimed, arguing that only when a new world order is established will there be less conflict between the two states." (Emphasis Added)
This rationale for a global dictatorship headed by one man -- a "benevolent" dictator -- is the single most important argument touted by Globalists, pleading for a One World Dictatorship.
Globalists argue that wars are created by differences in Religion and Politics.
Therefore, only when a "Super Man", an 'Ascended Being' who has achieved the status of a 'Perfect Man' has taken absolute control of all nations, can he bring "Peace and Safety" to all mankind.
And, how is he to be produced on the world scene? ("Pike's Vision")
"The secret Pike plan to control the world foresaw the need for three world wars ... The Pike Plan to overthrow the Judeo-Christian Old World Order, and establish the Satanic New World Order foresaw the need for war. However, this war was not the type of warfare the world had seen heretofore. This war was to be on a much larger scale than history had ever recorded. This war was to be global, or world-wide. " (Ibid)
"I. The First World War was designed to enable the Czarist Government in Russia to be finally and completely overthrown." (Ibid)
"II. The Second World War was foreseen to originate between Great Britain and Germany. However, one of the planned results of this war was to strengthen the new Communist Russian government, so that it could weaken and destroy other governments and religions." (Ibid)
"III. The Third World War was foreseen to be begin between Judaism and Islam, and expand to the rest of the world. This prophecy is incredible in many ways, beginning with the understanding that this prophecy of a third world war occurred in 1870, a time when Israel did not exist as a nation, and when no one except Fundamentalist, Bible-believing Christians believed it would ever exist again." (Ibid)
The first two world wars have occurred just as Albert Pike's occult vision stated, and the world is poised to occur just as Pike stated it would.
Jesus concurred!
"And ye shall hear of wars and rumours of wars: see that ye be not troubled: for all these things must come to pass, but the end is not yet." (Matthew 24:6, KJV)
World War I began in 1913, and ended 1918. ("The end is not yet.")
World War II began in 1939 and ended 1945. ("The end is not yet.")
World War III is the final "birth pangs" war which shall put Antichrist on the world's stage, and looms straight ahead of us.
I find it highly instructive that a key leader of the Russian government should place the "New World Order" as the key antidote to the disease of the present world order!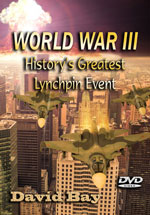 DVD
2. The overriding issue in this coming World War III is the pervasive panic over nuclear warheads exploding over-head.
Elite Plan: "A hair-raising nuclear confrontation ... may, towards the end of the period, threaten man's very survival." [Peter Lemesurier, "The Armageddon Script", p. 223]
News stories are suddenly appearing regularly using this word, "nuclear" or "atomic" very commonly, almost as if the peoples of the world are being conditioned!
NEWS BRIEF: "As Russia-Ukraine Tensions Rise, U.S. 'Stress Tests' New Nuclear War Plan", Newsweek, 1/29/2022
" Russian threats to Ukraine continue and persist, and as the Biden administration contemplates American responses, nuclear weapons lurk in the background ... While nuclear war fighting is being practiced, there's also a new nuclear war plan that is being put through its paces."
NEWS BRIEF: "America's new nuclear option", RT News, 16 Jan 2022
"A new bill before the US Senate that would introduce unprecedented new sanctions against Russia, as well as against top officials including President Vladimir Putin, has soured security negotiations between Moscow and Washington."
NEWS BRIEF: "Russian official says nuclear missile crisis unavoidable without arms curbs", Reuter's News, Jan 27, 2022
"MOSCOW, Jan 27 (Reuters) - Russia said on Thursday that a nuclear missile crisis between Moscow and Washington was unavoidable without measures to ensure restraint and predictability ... Ermakov said that NATO was capable of rapidly deploying nuclear weapons that would be able to strike strategic targets in Russia."
NEWS BRIEF: "Biden in huge U-turn as China and Russia spark major nuclear threat: 'Will be no winners'," News Express, Jan 2, 2022
"US PRESIDENT Joe Biden is expected to make a significant shift from his previously stated policy of Denuclearization after China and Russia pose challenges across the world ... These threats mean that many of the Trump era nuclear policies that President Biden was expected to reverse may still remain in place."
NEWS BRIEF: "North Korea signals it may resume nuclear and ICBM tests, citing 'hostile moves' by the US," Stars & Stripes. Jan 20, 2022
"North Korea may be signaling its intent to restart tests of long-range ballistic missiles and nuclear weapons following a recent statement that took aim at the United States ... North Korea so far in January has already tested five short-range missiles, including one it claimed was a hypersonic weapon capable of "superior maneuverability."
NEWS BRIEF: "Iran Is 'Weeks, Not Months' Away from Nuclear Breakout: State Department", Townhall News, Feb 1, 2022
"... according to a senior State Department official, Iran is continuing to move along with its nuclear ambitions and is now 'weeks, not months' away from having enough fissile material for a nuclear bomb. "
This bogus story has been circulating the world's media since October, 2001, just days after the attacks on 9/11. This next article is certainly one of the most important we have ever posted regarding Iran's possession of nuclear weapons and the theater delivery systems designed to carry them.
Archived Article, June 2002 - "RUSSIAN GENERAL CONFIRMS IRAN HAS NUCLEAR WEAPONS! June, 2002
"NEWS BRIEF: "RUSSIAN GENERAL CONFIRMS IRAN HAS NUCLEAR WEAPONS!", Stratfor Intelligence, Week of June 4, 2002.
"A Russian general's statement about Iran's nukes fails to register with media. Sometime a slip of the tongue is so incredible that no amount of doctoring can explain it. And sometimes a slip of the tongue is as intentional as could be. Take an appearance by Russian Deputy Chief of Staff Gen. Yuri Baluyevsky. He gave a briefing on Friday in Moscow during the Bush-Putin summit and was asked about whether Iran actually fired the Shihab-3 intermediate-range missile in a successful test earlier this month. The second question was whether Iran can threaten Israel, Russia or the United States with its nuclear and missile programs.
Then the Russian general takes a surprise turn: 'Now, as to whether or not Iran has tested something like that. Iran does have nuclear weapons,' Baluyevsky said. 'Of course, these are non-strategic nuclear weapons. I mean these are not ICBMs with a range of more than 5,500 kilometers and more."
Now this is shocking news, indeed! This Russian general has just confirmed that Iran has nuclear warheads and theater missiles with which to deliver them! And, he seems not to be concerned because these warheads cannot yet hit Russian soil. If Iran has nuclear weapons and the missile capability with which to deliver them to Israeli targets, then the entire calculation of military balance in the Middle East may just have changed.
Since Iran purchased nuclear weapons from Brother Pakistan in the weeks following the 9/11 attacks, Mass Media has kept alive the lie that Iranian scientists are working feverishly to design their own nuclear weapons.
Furthermore, Israeli leaders have repeatedly warned that Iran is "weeks away, maybe months away" from developing her own nuclear weapons. No one seems to notice when that Israeli deadline comes and goes without hearing that Iran has, indeed, completed her weapons development program.
Now, today, this Media Fake News can be aired, contributing to the spread of nuclear weapons hysteria -- unreasoning panic.