Popular DVD Back In-Stock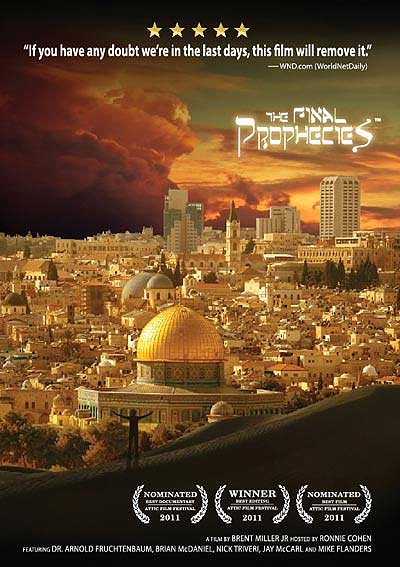 "The Final Prophecies" DVD
Regularly $24.99, Only $19.99
In addition to overwhelming archaeological evidence presented in the film, proving the ancient events off the scriptures have come to pass with shocking accuracy, The Final Prophecies explores the future events that are foretold to result in the death of billions around the world! You will see that unprecedented events unfolding today that are laying the ground-work to fulfill these near future prophecies
For generations, prophecy experts have claimed that the ancient scriptures foretell of an age in which the world will unite in a global financial system with a single currency. Despite the unbelief of millions, such a worldwide system of commerce is surging forward and the currency will be cashless
This DVD will surprise you and may even shock you, but you will discover that you have an excellent tool to witness to an unsaved loved one, coworker, and friends! http://www.cuttingedge.org/detail.cfm?ID=2487
---------- This Week's Hot News-------
I. The former Navy SEAL sniper shot dead at a Texas shooting range was a firm opponent of President Obama's gun control agenda.
The man who murdered this former SEAL is a psychiatric patient, one of the key factors for which we look to determine if the shooter was Mind Controlled.
NEWS BRIEF: Chris Kyle, America's deadliest sniper, was outspoken opponent of gun control", CNN News, February 4, 2013
"Chris Kyle had no regrets about any of the 160 people he killed as a Navy SEAL sniper during his five combat tours in Iraq ... Standing 6 feet, 2 inches tall and weighing a muscular 220 pounds, Kyle developed a deadly reputation in Iraq, prompting insurgents to put a bounty on his head, according to his autobiography."
Chris Kyle served five combat tours in Iraq, and killed 160 enemy combatants, only to be murdered at home on a firing range! Does this prove that living in America today is more dangerous than fighting the war in Iraq?
"When Kyle's military career ended after a decade, he joined other former SEALs to start Craft International, a security company ... He also became a best-selling author, a reality TV personality, a supporter of fellow vets suffering from post-traumatic stress syndrome, an avid hunter and an outspoken opponent of gun control."
The fact that Chris Kyle was an outspoken opponent of gun control at a time when gun control fever is at an all-time high interests me greatly. At minimum, this "coincidence" is highly suspicious; at maximum, it seems logical that someone in the anti-gun lobby wanted the voice of this highly respected former military sniper silenced.
This possibility seems even more likely when we learn next that the man who murdered Kyle was a patient at a psychiatric hospital and was receiving medication to help cope with PTSD (Post Traumatic Stress Disability).
NEWS BRIEF: "Suspect in killing of retired SEAL had been in psychiatric hospital", Star-Telegram, Feb. 04, 2013
"A Lancaster man accused of fatally shooting retired Navy SEAL Chris Kyle and his friend at a gun range Saturday had previously threatened to kill himself and others and had twice been taken to a psychiatric hospital for mental health evaluations ... Eddie Ray Routh, 25, remained in the Erath County Jail in Stephenville on Monday facing two charges of capital murder with bail set at $3 million. Authorities said Routh is on suicide watch and that Sunday night, jailers had to use a stun gun to subdue him when he became combative."
Many of the public shooters have been under psychiatric care and had been taking one or more mind-altering drugs, a deadly combination resulting in mind-control at the hands of a skilled psychiatrist. And, they are programmed to kill themselves once their target is murdered.
Now that we know that the murderer was a temporary patient at a psychiatric hospital, was he taking any mind-altering drugs?
This news article does not say. But, I am very suspicious that he was taking such drugs. Thus, he could have been mentally controlled to carry out this murder. We know one thing for sure: the gun advocacy movement has just lost a very important ally.
II. Just as we predicted in 2006, the Iraq War begun under President Bush is now becoming a war between three factions: Shi'ite, Sunni and the Kurds.
Further, we prove in the DVD shown left, "The New Atlantis", that the plans to invade Iraq go back 400 years ago, to Sir Francis Bacon and Queen Elizabeth I.
Sometimes the truth is stranger than fiction!
NEWS BRIEF: "Why Is Violence Ramping Up In Iraq?", NPR News, 4 February 2013
"Violence has spiked in Iraq in recent weeks. Separate attacks over the last three days have killed more than three dozen people. The violence comes amid fresh political upheaval in the country."
Why has warfare type violence continually been a problem in "post-war" Iraq? Now that Coalition Forces have left the country, why cannot the three sects in Iraq cooperate to build a new country? There are several reasons to consider:
1) These three religious sects have been at war with each other for several hundred years. They despise one another.
2) When Saddam Hussein was dictator, he unnaturally clamped down on these three religious sects, forbidding them to war with each other. His military hold within the country was so strong that these three religious groups could not fight against each other.
Saddam's internal police were also very effective in preventing military arms and explosives from reaching these three groups. They may have continued to hate each other, but they could only throw sticks and stones.
3) When President Bush overthrew Saddam, he loosened the reigns of power that prevented these three groups from warring. As the war progressed, military arms and explosives became much more readily available. In fact, military arms became so widely available that these groups could easily attack each other every single day.
The civil war racking Iraq today is between Shi'ite and Sunni. The Kurds have formed their own nation in northern Iraq and are staying out of the battle in the south. This development will one day result in Bible prophecy being fulfilled! Please take a few moments to read NEWS2150, entitled, "Iraq Now Splitting Into Three Nations -- Bible Prophecy Is Being Fulfilled!".
You will be surprised at how God's End of the Age prophecy foretelling the final days' judgment of Ancient Babylon (Iraq) is being fulfilled to the letter by President Bush's invasion of Iraq!
How bad is the warfare between Shi'ite and Sunni? Consider just the last few days:
Bomber Kills at Least 22: Strikes north of Baghdad
Suicide Bombing Kills 4 in Iraq: second such attack in as many days in Taji
At Least 15 in Attack on Kirkuk Police HQ in Iraq
Al-Qaeda incites Iraq Sunnis: Take up arms against Shi'ite Maliki
Iraq: A Broken Justice System - Iraqi people today face a government that is slipping further into authoritarianism
International journalist detained in Iraq for a week
Yes, all-out warfare looms between Shi'ite and Sunni for control. Iran is Shi'ite and is controlling Prime Minister Maliki, also a Shi'ite. The Sunni faction is funded and armed by Shi'ite Saudi Arabia. The likelihood is that these two religious factions will shed enough of each other's blood that they will be weak and spent, and an inviting target of the Kurds from the north.
When the Kurds strike, they will fulfill God's End of the Age judgment, as we explain in NEWS2150, shown above. What kind of physical judgment is the Kurdish military going to inflict upon the poor Shi'ite and Sunni of Iraq (Ancient Babylon)? Remember, the Kurds of today are the descendents of the Ancient Medes.
"Everyone who is found will be thrust through, and everyone who is connected with the slain and is caught will fall by the sword. Their infants also will be dashed to pieces before their eyes; their houses will be plundered and their wives ravished ... I will stir up the Medes against them, who have no regard for silver and do not delight in gold [and thus cannot be bribed]. Their bows will cut down the young men [of Babylon]; and they will have no pity on the fruit of the womb, their eyes will not spare children. And Babylon, the glory of kingdoms, the beauty of the Chaldeans' pride, shall be like Sodom and Gomorrah when God overthrew them. [Babylon] shall never be inhabited or dwelt in from generation to generation." (Isaiah 13:16-20; Parallel Bible, KJV/Amplified Bible Commentary)
God's judgment against present day Iraq (Ancient Babylon) is going to be fierce, and the Kurds (Ancient Medes) are sitting quietly in the north, awaiting the time when Shi'ite and Sunni bleed each other to death.
Then, the Mede (Kurds) will strike -- just as this prophecy foretells.
III. Americans are finally waking up!
Over 50% of the people now believe that the Federal Government threatens their freedoms!
NEWS BRIEF: "POLL: 53% SAY GOVT THREATENS FREEDOMS", Breitbart News, 1 February 2013
"According to a new Pew Research poll, Americans are increasingly worried about the federal government violating their rights. The survey, conducted January 9-13, showed that 53 percent of Americans believe that the federal government 'threatens their own personal rights and freedoms' ... That is a significant uptick from March 2010."
"Republicans are largely responsible for that increase; 76 percent of Republicans say that the federal government threatens freedoms, and 54 percent said the federal government was a 'major' threat ... Independents agree with Republicans; 55 percent say the government represents a threat, and 33 percent say it represents a major threat. "
Minorities trust the government to act in their best interests. Since minorities represent a major force in the Democrat Party, the Democrats have emerged as the Big Government supporter.
My heart warms right up when I discover that most Americans still think fondly of our Constitution.
"... Americans know that the Constitution still works. And they still believe that government is the greatest threat to their rights. As the Obama administration expands the size and scope of government, so too do they expand the threat to those rights."
Vigilance is the most important weapon we have in fighting to retain our Constitutional government of limited powers. We must continue working and informing the undiscerning concerning the reality that our Government -- both Democrats and Republicans -- are so committed to the coming New World Order that they all are working to destroy our present government.
In the final analysis, there is no real difference between Republican and Democrat Parties (Read full detail in NEWS2477).
---
New Headline News Article
Most Important We Have Ever Written
"World War III Will Be History's Greatest Lynchpin Event!"
Many major events are planned to occur just as World War III begins. Mankind will be systematically hit with unparalleled disasters of every kind as this scripted global war unfolds. But, none of these events will occur until the lynchpin called "World War III" is pulled.
And, they will all occur together. Not one planned event will jump ahead of the others. None will occur until they all occur together. Prophetically, it looks as though history has at least 10 years to run before World War III can begin.
You need not panic. This article is "one of a kind"!
---
Best Values On The Net
Select From 102 Titles!
$9.99 DVD's - Up to 75% Off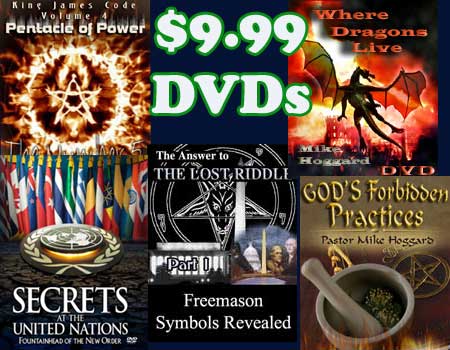 Newest Additions to the $9.99 Category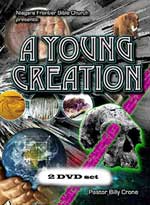 A Young Creation - DVD - 6 Session - 2 DVD Set
One of the greatest lies in education today is the lie that the Earth is millions, and perhaps billions of years old. Students in all levels of education are taught this lie
This mantra of evolutionary teaching actually calls Jesus Christ a liar, God the Father a liar, God?s Word a liar. Therefore, 'A Young Creation' exposes the falsehood of evolutionary dating methods and reveals beyond a shadow of a doubt that we really do have 'A Young Creation' just as the Bible states.
You will explore such topics as:
1) Evidence of Space
2) Evidence of Earth
3) Evidence of Logic
4) Fallacy of Carbon Dating and all other evolutionary dating methods
5) Circular Reasoning of the Geologic Column
6) Rapid Formation of Rocks, Caves, Stalagmites and Stalactites, and even Fossils.
You will also hear direct quotes from evolutionists themselves saying that yes, we very well could have A Young Creation! After watching this series, you too will come to the same conclusion as this person did who stated, ?I myself am convinced that the theory of evolution, especially to the extant to which it?s been applied, will be one of the great jokes in the history books of the future.? http://www.cuttingedge.org/detail.cfm?ID=1693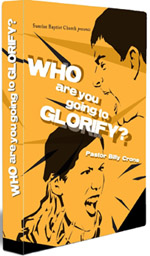 "Whom Are You Going To Glorify? How To Deal With Chronic Complainers"
by Pastor Billy Crone - 2-DVD Set
Regularly $19.99
This study, 'Whom Are You Going to Glorify' video reveals the hidden dangers of a life of constant complaining. Here you will see how Complaining Affects You, Affects Others, Affects the Gospel, and even Affects God.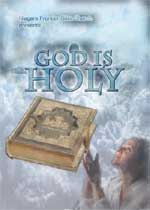 God Is Holy - DVD - 3-session DVD

Danger! Danger! The alarm has sounded! The American Church is under attack! The Body of Christ has fallen under a horrible epidemic where BELIEVERS IN GOD NO LONGER BELIEVE IN GOD!
Believe it or not, we now have Churches full of people who are living like they do not believe in God. Oh, they still say they believe in God, but half the time we act like He?s not there, betrayed by our lips and our actions. This is not only detrimental in our walk with God, but it keeps others from believing in God.
Christians are living like practical atheists because they do not know who God really is! 'God is Holy' shows us that some of the best ways to understand the Holiness of God is not to just look at a Hebrew or Greek word but to simply learn Scripture.
People of God, here are the facts. If the world is ever going to believe our message of hope, forgiveness, and love through Jesus Christ, then you and I must stop acting like practical atheists and start demonstrating by our lips and our lives that 'God Is Holy'. http://www.cuttingedge.org/detail.cfm?ID=1632
Also Visit our $4.99 Offers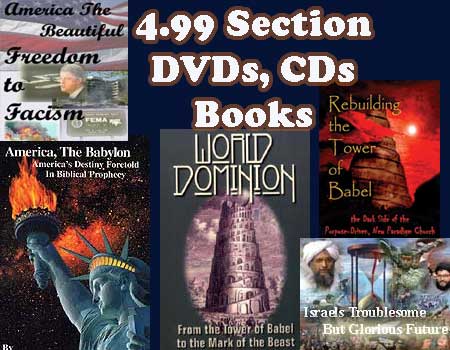 ---
'Genetic Roulette' / 'Medical Murder': Two Sides of A Coin
Combination DVD Offer, 3 DVD Set
Regularly $44.94 if purchased separately
On Sale $29.94, Saving you $15.00
The stark messages in 'Genetic Roulette' and 'Medical Murder' are two sides of the same coin. 'Genetic Roulette' proves the scientific dangers inherent in Genetically Modified Foods. They demonstrate how human scientists have taken God's good food and have genetically modified it so that it actually is killing people today!
Never before seen evidence points to genetically engineered foods as a major contributor to rising disease rates in the population, especially among children. Gastrointestinal disorders, allergies, inflammatory diseases and infertility are just some of the problems in humans, pets, livestock and lab animals who eat Genetically Modified soybeans and corn.
Monstanto's strong arm tactics, the FDA's fraudulent policies and how the USDA ignores a growing health emergency are also revealed. This shocking documentary may change your diet, help you protect your family and accelerate the consumer 'tipping point' against Genetically Modified organisms (GMO's).
Also contains a 28-minute expose' on modified seeds, another grave danger to our long-term health.
Dynamic Trailer For "Genetic Roulette" DVD
'Medical Murder' examines the murderous nature of our chemically-based medical industry. Literally, the collaboration between government regulators and chemical medicine producers is so deadly that we can call it 'Architects of Madness'. The third highest cause of death in America is "iatrogenic" -- induced in a patient by a physician! But that is not all the horror! A new study proves that aggressive radiation cancer treatments create a far more dangerous cancer cell than the one from which the patient is suffering. 'The new study is yet another blow to the failed and favored mainstream treatment paradigm of trying to cut out, poison out or burn out cancer symptoms (tumors) instead of actually curing cancer.' But, there is more concern; the Government is killing you as it subsidizes the top killers of our population.
Dynamic Trailer For "Medical Murder: Architects of Madness" DVD
This Combination DVD offer has over 5 hours of teaching! http://www.cuttingedge.org/detail.cfm?ID=2470
---

Purchase a 1-Year Subscription, you may select 1 FREE gift
Purchase a 2-Year Subscription, you may select 2FREE gifts
Purchase a 3-Year Subscription, you may select 3 FREE gifts
Purchase a 4-Year Subscription, you may select all 4 FREE gifts
We have changed our FREE gifts available to you when you subscribe to Headline News, adding two Pastor Hoggard DVD's to the Seminar Tapes and the Radio Collection CDROM.
---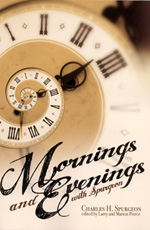 --------Concluding Inspiration ---------"The things which are not seen." 2 Corinthians 4:18
In our Christian pilgrimage it is well, for the most part, to be looking forward. Forward lies the crown, and onward is the goal. Whether it be for hope, for joy, for consolation, or for the inspiring of our love, the future must, after all, be the grand object of the eye of faith.
Looking into the future we see sin cast out, the body of sin and death destroyed, the soul made perfect, and fit to be a partaker of the inheritance of the saints in light. Looking further yet, the believer's enlightened eye can see death's river passed, the gloomy stream forded, and the hills of light attained on which standeth the celestial city; he seeth himself enter within the pearly gates, hailed as more than conqueror, crowned by the hand of Christ, embraced in the arms of Jesus, glorified with Him, and made to sit together with Him on His throne, even as He has overcome and has sat down with the Father on His throne.
The thought of this future may well relieve the darkness of the past and the gloom of the present. The joys of heaven will surely compensate for the sorrows of earth. Hush, hush, my doubts! death is but a narrow stream, and thou shalt soon have forded it. Time, how short—eternity, how long! Death, how brief—immortality, how endless!
Methinks I even now eat of Eshcol's clusters, and sip of the well which is within the gate. The road is so, so short! I shall soon be there.

"When the world my heart is rending
With its heaviest storm of care,
My glad thoughts to heaven ascending,
Find a refuge from despair.
Faith's bright vision shall sustain me
Till life's pilgrimage is past;
Fears may vex and troubles pain me,
I shall reach my home at last."
---
Directory of all news articles
Free Radio Transcripts

Free Headline News Archives

Freemasonry

What Saith Rome

Teachings from the Catechism

Bookstore

Meet the Staff

Weather Control


May Jesus Richly Bless You,
David Bay, Director
866-909-2850 Toll Free Customer Service - Order Line
803-356-2850 Customer Service - Order Line - For Out of Country Customers
803-356-2860 Fax
Thank you for visiting and Please feel free to E-mail Cutting Edge Ministries if you have any questions about our outreach ministry.