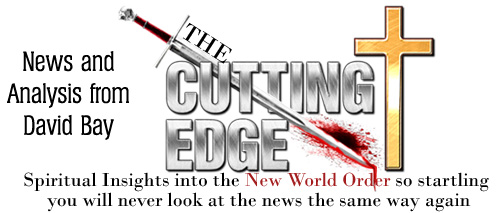 ---
Newsletter - Tuesday, 2/23/2021
HOME - Book Store - Newsletter Archives - Daily News Updates
Read the most current Newsletter Online
Support The Cutting Edge
Just click on this button

to guarantee that Cutting Edge will not disappear for lack of funds. We have a unique message and worldview which has proven correct for the past 23 years.
---
Half Price Sale on DVDs From Michael Samuel Smith
Titles regular 19.99 are now 9.99 - Supplies limited- Titles are as Follows:
The Next Rapture! Shadows and Types In The Old Testament Will Be Realized ;In The Next Rapture'
The Cyrus Effect: President Trump A Type of King Cyrus! (Almost gone)
The Samson Paradox DVD by Michael Smith - Prophecy HIdden Within The Story!
The Mystery of the Red Heifer - DVD
---
Critically Important News Headlines - Analysis Below
1. Foreign leaders are already concluding that Joe Biden is going to be a very weak leader.
Wars beckon, from the Middle East to Southeast Asia, to the Korean Peninsula -- and probably simultaneously!
In fact, people will be frightened that they will welcome a superman to arise to restore "peace and safety"!
2. After hinting that Biden had better toe the Beijing line, China proposes a "Reset".
When Hillary Clinton, as Secretary of State, publicly pushed the big red "Reset" button with Russia's Putin, she greatly opened her bank account!
Then, she accused Donald Trump of being guilty of the very same crimes of which she had been guilty!
3. Finally, the Democrats have actually stated their hidden goals:
"They don't want businesses who cannot pay the $15 Minimum Wage!
4. Supreme Court Justices Thomas, Alito, and Gorsuch are sounding alarms over the 2020 Election.
Why didn't the Court hear the facts of massive voter fraud?
5. As America prepares to slaughter 862,320 babies this year, God's Word thunders from on-high:
"... neither shed innocent blood in this place." (Jeremiah 7:6, KJV)
Herein lies God's principle of Judgment: When the leaders of a nation consistently refuse to carry out the judgment for the crimes being committed, then God will carry out that punishment upon the whole nation!
6. After savaging President Trump about keeping callously keeping minor immigrant children in cages, Biden has callously restarted this program!
Hard-hearted and callous beyond compare, well did the Apostle Paul say of you: (Romans 2:5 -- See Below)
7. Leftist Democrats and Republicans are veering America into Communism / Socialism, the most disastrous system ever invented.
The time has come to remember that Chinese Socialism killed 36 million Chinese because of stupidity inherent within Socialism!
---
"Antichrist & The 'Final Solution' "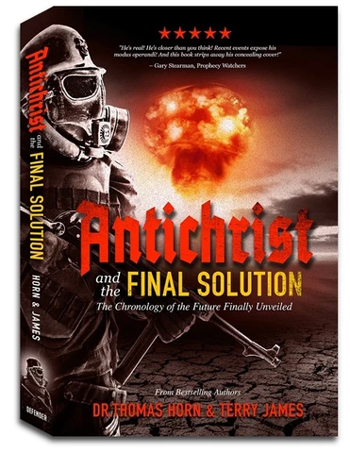 New Book by Tom Horn, Only $19.99
It's been assumed for centuries that a prerequisite for the coming of Antichrist would be a revived world order an umbrella under which national boundaries dissolve and ethnic groups, ideologies, religions, and economics from around the world orchestrate a single and dominant sovereignty. At the head of the utopian administration, a single personality will surface. He will appear to be a man of distinguished character, but will ultimately become a king of fierce countenance (Daniel 8:23) -- ANTICHRIST!
With haughty, dictatorial decrees, he will facilitate a One-World Government, universal religion, and global socialism. Those who refuse his New World Order will inevitably be imprisoned or destroyed until at last he exalts himself above all that is called God, or that is worshiped, so that he, as God, sitteth in the temple of God, showing himself that he is God (2 Thessalonians 2:4).
Bible prophecy depicts this coming tyrant as the deadliest in human history. He will try to carry out a satanic Final Solution to inflict genocide far beyond that done through Adolf Hitler's plan by the same name. And this soon-to-come era is closer than many can imagine; yet, most don't comprehend the events that lie just ahead.
For the first time in decades, the truth of dispensational history is laid out in order that the world can understand what is unfolding now -- and coming very, very soon. https://www.cuttingedge.org/detail.cfm?ID=2948
---
America Is The Planned Key To Resurrection of the Martyred Antichrist!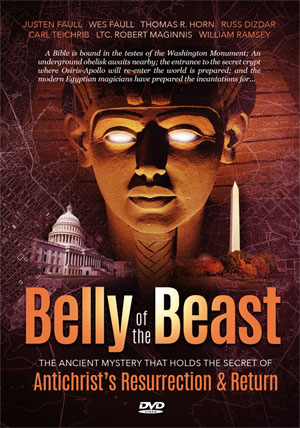 "Belly of the Beast"
"Antichrists Resurrection Planned in Washington DC!"
From 1776, a Shadow Government existed which really controlled the levers of power; under President Obama, this shadow government was transformed into the 'DEEP STATE'!
Washington DC was planned to be a 'High Place' of Luciferian worship, exactly like the 'High Places" in Old Testament times, against which God railed. Washington DC is correctly called the 'most evil place on Earth' with spiritually controlled buildings and seething with occult energy, just as we reported in 'Riddles In Stone'!
Luciferians of Freemasonry, Rosicrucianism and other occult leaders have always viewed world and national events as being controlled by 'National Overlords', demonic beings as revealed in Daniel 10!
US Capitol was built with a secret crypt empty of a body, so that, at the right moment in world history, the body of the assassinated Masonic Christ can be placed within (fulfillment of Rev 13:3); the most powerful Scottish Rite Masonic leaders will then convene to conduct the Aleister Crowley 'Raising of Osiris' ritual which will raise 'Osiris' (Antichrist) from the dead, thus fulfilling Revelation 13:3, so that the power and authority foretold in Revelation 13:4 can be fully established.
Finally, you will understand the Satanic Black Magick power of Hillary Clinton, much as we reported in our video 'Hillary Clinton: Sun Goddess Unleashed'!
Related Videos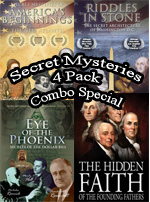 "Secret Mysteries of America's Beginnings"
Combo Pack -- All Four Titles - Save $Money
Entire Combination Offer has almost 12 hours of video in History Channel quality. You will be mesmerized and your view of American history and of our national place in history
The 'Belly of the Beast' DVD, shown above, is the logical and the newest precursor to our 'Riddles In Stone" DVD of this Combo Offer!
Regularly $79.96, Now Only $69.96 for 12 full hours of History Channel Quality teaching!
---
New World-Class DVD From Chris Pinto
"THE TRUE CHRISTIAN HISTORY OF AMERICA"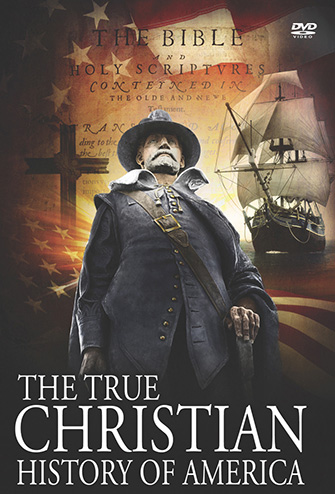 New DVD Title from Chris Pinto
The 'True Christian History of America' is a powerful documentary, showing the Bible-based Christian origins of the early American view of freedom, tracing the principles of liberty back to England and the great Reformation.
For many years, Americans have been taught in our schools and universities that the founding of our Republic was the result of the Enlightenment from France, or from the deists of that time. But is that truly the case? Did the Enlightenment first declare no taxation without representation? Or trial by jury? Were they the champions of freedom of speech, or of the press? And why did Samuel Adams declare that the "reign of political Protestantism" would commence, just before signing the Declaration of Independence?
Filmed on location in the United States, as well as in England, Switzerland, and the Czech Republic, this insightful documentary contains unique interviews with experts from around the world, who relate how the champions of the Gospel pursued the cause of freedom across the centuries, and how it is their beliefs which are enshrined in the Declaration, the Constitution and the Bill of Rights.
At a time when America and the principles of freedom stand in peril, it has never been more important for the Christian world to reclaim its historic heritage. This documentary is perfect for churches, Bible study groups, homeschool parents, or anyone who desires to learn a detailed history on the influence of Christianity in the United States. Watch Video clips online
Presented by Christian J. Pinto Running Time: 150+ minutes --
Other Chris Pinto Titles
---
Critical Analysis of Headline News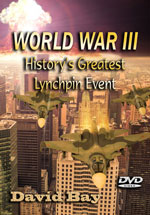 1. Foreign leaders are already concluding that Joe Biden is going to be a very weak leader.
NEWS BRIEF: "Why Iran considers Biden a weak president: A "Pushover President", World Israel News, Feb 22, 2021
"It is only one month into his term in office, and President Joe Biden is already facing criticism from Arabs over his administration's soft policy toward Iran."
"The Arabs say they are worried because Iran sees Biden as a "weak" president, and that is why the mullahs in Tehran and their proxies in Syria, Yemen, Iraq and Lebanon have increased their terrorist attacks in the Middle East."
"In Tehran's eyes, Biden is a pushover," wrote Abdulrahman Al-Rashed, former editor-in-chief of the Saudi newspaper Ashraq Al-Awsat."
If Iran considers President Biden to be a "pushover", they do so because the leaders who control Iran considers him to be that way. Russia and China both consider Joe Biden to be a paper thin president.
My experience for nearly 3 years in the "Pentagon of the East" intelligence station on Okinawa taught me some invaluable lessons, chief of which is that leaders can and do go to war because of miscalculation, misunderstanding what the enemy leader will or will not do.
In this case, China desperately wants to annex Taiwan to restore her national honor, which was badly damaged when Nationalist Chinese forces escaped to the island of Taiwan to set up a government which ultimately became a free and Democrat government.
When you throw on top of this perceived great national dishonor the reality that a Third World War was planned, out of which would stride Antichrist, you can see how important it is that Biden is allowing the perception to rule that he might be soft in his reaction to an cross-channel invasion.
NEWS BRIEF: "Is the Biden Administration Stumbling Into War? "Simple Political Ineptness", American Greatness, Feb 21, 2021
"Wars begin when aggressive powers believe that their targets are weaker, or give the false impression that they are weaker, or at least stay inert in the face of provocation ... The truth is that for the immediate future, the U.S. economy and military remain the strongest in the world. Provoking America is an especially unwise act, given the repercussions that could follow. What reassures our allies is not talk of new bipartisanship, internationalism, and tolerance, but quiet coupled with overwhelming power and a clear message to use it in defense of our interests."
And, herein lies the deepest, darkest danger to the current global order.
China knows the Illuminati Plan to give her back Taiwan (Bilderberg Meeting, 1954) and she knows that she has bought Joe and Hunter Biden's loyalty. Se does not have to be concerned that American military might should be sufficient to black a Chinese invasion.
She can, and she will, order Joe Biden to not allow American forces to intervene on behalf of Taiwan.
Further, if America's ally, Israel and South Korea are also currently fighting for their lives, then who can be surprised that America might not be able to save the Taiwanese democracy?
Please allow us to conclude this segment by returning to our featured author?
"Our enemies may not see Biden just as elderly and frail, his congressional majorities thin, his animus directed more at the Trump movement than others abroad, but as unlikely to respond to their own aggression."
Wars beckon, from the Middle East to Southeast Asia, to the Korean Peninsula -- and probably simultaneously!
NEWS BRIEF: "Saudi Arabia becomes 'target practice' for Iran-backed militias as Biden pulls support", World Israel News, Feb 22, 2021
"The Biden administration's efforts to 'recalibrate' U.S.-Saudi relations may have led to the emboldening of Iran-linked groups in Yemen and Iraq, which have launched more frequent and increasingly precise airborne attacks against Saudi Arabia in recent weeks, The Wall Street Journal reported Friday."
""The U.S. decision to revoke the terrorist designation of the Houthis was misinterpreted by them as a license to escalate and continue their barbaric behavior within Yemen and the region with support from Iran," a Saudi official said in a written statement."
"Lenderking said there has been a "steady flow" of attacks across the border ... The recent attacks on Saudi Arabia aren't coming from Yemen only. On Jan. 23, drones from southern Iraq struck the main royal complex in the Saudi capital of Riyadh. A Shiite terrorist group that U.S. officials consider a front for Iran-backed groups claimed responsibility."
In fact, people will be so frightened that they will welcome a superman to arise to restore "peace and safety"!
Israel's enemies are also seeing an opportunity with Biden as president.
NEWS BRIEF: "Hezbollah's Nasrallah warns Israel it 'will see things it has not seen' since its founding", World Israel News, Feb 17, 2021
"Hezbollah leader Hassan Nasrallah said on Tuesday that Israel's "home front will see things it has not seen since the establishment of Israel" should war break out between the two sides. 'None can guarantee that 'combat days' won't descend into widespread war. The Israeli home front will see things it has not seen since the establishment of Israel."
Hezbollah has reportedly 250,000 missiles deployed north of Israel. What is the prophesied condition of Israel at the time Russia leads her attack in fulfillment of Ezekiel 38-39?
The first war to erupt will be an attack by Hamas, Hezbollah and the Palestinian Authority. Thus, Israel will be attacked from the North, the South, and from the interior.
I.D.F studies have shown that Iron Dome and attendant systems can be expected to shoot down about 60-70% of the missiles being fired into tiny Israel/
Since the combined total of missiles is 250,000, this destruction percentage will allow 75,000 to strike targets within Israel. The Jewish State will survive but the death and destruction will bring this prophecy to fulfillment: