DVD
1. Three nations in the world absolutely depend upon America's military and diplomatic support to thwart attack:
Israel, South Korea, Taiwan.
Since World War II ended in 1945, America has been a superpower in every way imaginable: Economically, Militarily, and Diplomatically. Consequently, the American President, whomever he may be at any particular time, was considered to be the most powerful man in the world -- a diplomatic King Kong.
Beginning in 1945, when President Harry Truman threw the full weight of his support for the recreation of Israel back in God's Holy Land after nearly 2,000 years of exile, the decision of each succeeding President that the United States would not allow Israel, South Korea, or Taiwan to be invaded or defeated constituted a "security blanket" which each of these three nations began to take for granted.
Leaders of each country mentioned above has taken the firmness of the American president in his calculation as to how to ensure the continued safety of his country during.
"We have America's backing" is the battle cry of each national leader in each moment of time since August, 1945. And that assurance that the American president, whomever he was at the time, could be counted upon to intervene with American forces to defend Israel, South Korea, and Taiwan, was enough to keep the enemies of these three countries from attacking.
However, President Biden is not considered to be the level of leadership of Presidents Truman, Eisenhower, or Trump.
In fact, President Biden is so lightly respected that these three countries might be under terrible existential threat!
NEWS BRIEF: "Putin humiliated Biden in Moscow, says White House stenographer", World Net Daily, March 18, 2021
"Putin knows what happened (in the 2011 meeting). He was there. He knows he compromised Joe Biden, who appeared unprepared to deal with the ruthless, former-KGB agent."
The Russian dictator, Putin, has no respect for President Biden.
Also, Putin knows the details of the Ukrainian bribe of Hunter and Joe. He has the new president in his pocket.
NEWS BRIEF: "In First Big China Test, Team Biden Got Rolled...And It's Painful to Watch", Townhall, March 19, 2021
"Team Biden had their first big foreign policy test with China—and they failed. There's no way to spin it. Even the liberal media is saying the whole meeting in Alaska devolved into anarchy."
"Secretary of State Tony Blinken just exposed how weak we are in dealing with China. They know it. We got trashed on our own soil and from the looks of it, we didn't really respond in any way, shape, or form. We got rolled in front of the cameras."
The Chinese dictator Xi, has no respect for President Biden. He knows to the dollar how many hundreds of millions China has paid to bribe Joe and Hunter and the names of each of the Chinese honeypots (spies) Hunter has know intimately.
He has the new president in his pocket.
Now that Biden has crumpled in front of the Russian and Chinese dictators, lesser tyrants are reacting predictably.
NEWS BRIEF: "US Defenses Hit Some Missiles in Iran-backed Militia Attack – But Even Democrats Criticize Biden's Weak Response". American Defense News, March 5, 2021
"... U.S. and Iraqi officials have said, according to Politico, that they believe that an Iran-backed militia group with a history of targeting Americans in Iraq – Kataib Hezbollah – or an affiliated group was responsible for Wednesday's attack."
"Republicans have criticized Biden's weak response to the escalating Iranian-backed attacks in Iraq ... The Iranian regime seems intent on attacking Americans at the same time the Biden admin wants to give Tehran sanctions relief."
Therefore, the Iranian Ayatollahs have no respect for President Joe Biden, kicking him diplomatically "in the teeth", even though he is attempting to re-enter the 2015 agreement.
NEWS BRIEF: "North Korea threatens Biden", American Military News, March 16, 2021
"North Korean leader Kim Jong Un's sister, Kim Yo Jong, threatened President Joe Biden's administration on Tuesday to stop conducting war games with South Korea in North Korea's first public message to his administration ... 'We take this opportunity to warn the new U.S. administration trying hard to give off powder smell in our land," Kim said in a statement originally carried by state Korean Central News Agency (KCNA) and reported by Reuters. 'If it wants to sleep in peace for coming four years, it had better refrain from causing a stink at its first step'."
Therefore, the North Korean dictator, Kim Jong Un, has zero respect for Joe Biden.
If anyone has reason to believe in American resolve, it would be Taiwan, since that country has seen American aid several times in the last 5 decades.
NEWS BRIEF: "The New Formosa Strait Crisis: Why Taiwan has no nuclear deterrent, Taipei News, March 8, 2021
"In 1988, Dr. Chang trusted the United States to defend Taiwan from a nuclear strike. In the new Formosa Strait Crisis, what bargaining chip does Taiwan have left that can intimidate a predator?"
In other words, can Taiwan depend upon United States' intervention against China since that country possesses nuclear weapons. President Biden might be afraid to start shooting at a country which possesses a similar level of nuclear capability to U forces!
NEWS BRIEF: "U.S. Military Is Worried China Could Start World War III", The National Interest, March 22, 2021
"I would submit that we've got more than 40 years of the strategic ambiguity has helped keep Taiwan in its current status," Adm. Davidson said. 'But you know, these things should be reconsidered routinely."
Just the fact that an American Admiral is speaking about "reconsidering" America's 40-year commitment to the defense of Taiwan should be worrisome enough to cause Taiwan to reach for some Pakistanis nukes "off the shelf", just as Iran did in early 2002!
Israel is also threatened by "Sleepy Joe's" perceived weakness.
NEWS BRIEF: "World War 3 threat: Iran plotting to 'strike Israel directly' to 'send message' to West", Express News, November 30, 2020
"World war 3 fears have grown as Iranian expert Ali Arouzi warned Tehran will want to retaliate and send a message to the US and Israel following the death of Mohsen Fakhrizadeh. Leading scientist Mr Fakhrizadeh was an important figure in the country's nuclear infrastructure and programme. Mr Fakhrizadeh died of his injuries following a bomb and gun attack on his car in the city of Absard on Friday."
Israel admits they need American support against their myriad enemies.
NEWS BRIEF: "Israel needs the B-52 and MOP in order to deter Iran", The Jerusalem Post, March 21, 2021
"US President Joe Biden's administration seeks to negotiate with Iran ... Another scenario is that the 2015 nuclear agreement with Iran, the Joint Comprehensive Plan of Action, might survive ... This could happen if the US is deeply busy with a major crisis somewhere, such as with China."
Can you imagine what would happen quickly if China invaded Taiwan and Biden did not live up to the long-standing verbal agreement that the American President would faithfully order the American military to intervene to protect a strong, vibrant democracy?
Why, within hours, the following "Lynchpin Events" would unleash:
* North Korea would launch her planned massive attack on South Korea
* Israel's enemies would launch a coordinated attack from both North (Hezbollah) and South (Hamas) and from within (Palestinians).
* Russia might attack to unify her Supernation #5.
* China might launch an attack against India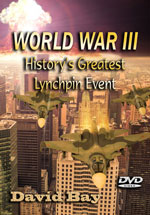 Is it just coincidence that the planned trigger for World War III are these exact nations?
Bible prophecy reveals that Antichrist will be produced on the world scene by a number of signs, including 'wars and rumors of wars'. Demonic familiar spirits told the Elite in 1870 that three world wars will be needed to produce Antichrist. Make no mistake about it: Antichrist will be produced by World War III.
Therefore, the question of the hour is, 'when will this global war begin' and 'what are the signs it is about to commence'? Many major events are planned to occur just as World War III begins. Mankind will be systematically hit with unparalleled disasters of every kind as this planned global war unfolds. But, none of these events will occur until the lynchpin called 'World War III' is pulled.
When the Global Elite pulls this lynchpin event called World War III, events are going to be unleashed in such severity and in such great numbers the peoples of the world will not stand in awe, they will panic and run for the hills. Jesus said that 'men's hearts shall fail them for fear', and the Elite is creating just such climactic events which shall not occur until the lynchpin known as 'World War III' is pulled.
We will show you the 12 major disasters the Elite has created and is waiting only for the beginning of World War III to unleash them all, almost at once. Some of these events are global and some are domestic. As you learn of some ruinous policies being implemented and laws being passed, think of the Lynchpin concept as we teach in this DVD shown above, "World War III: History's Greatest Lynchpin Event".
2. Just as Israel prepares for her Fourth Election, her progress against COVID-19 is so remarkable that Prime Minister Netanyahu can shout, "We have beaten COVID"!
NEWS BRIEF: "'We Beat Covid,' Netanyahu Declares", World Israel News, March 212021
"As the number of new cases of coronavirus in Israel decreases dramatically and restrictions are lifted, Prime Minister Benjamin Netanyahu, in his campaign for reelection just days before the voting, celebrates the country's success ... "
Every politician would love to have the news on his side as he faces a major election! The message to his voters is "re-elect me" because we beat this pandemic because of my stellar leadership.
NEWS BRIEF: "Netanyahu votes: 'Hoping these are the last elections' " , World Israel News, March 23, 2021
"Prime Minister Benjamin Netanyahu and his wife Sara voted in Jerusalem on Tuesday. On his way out of the hall, Netanyahu said, 'hoping these are the last elections', as they are the fourth in less than two years ... "
"Screens were placed between observers at the polls and voters. Masks were required."
3. As Saudi Arabia nears a diplomatic union with Israel, her leaders throw in a 'deal-breaker' demand: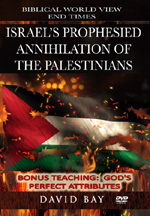 No deal is possible without the creation of a 'Palestinian State'!
NEWS BRIEF: "On Eve of Elections Saudis Signal Israel There's No Normalization without Palestinian State", The Jewish Press, March 22, 2021
"One day ahead of the Israeli election, Riyadh sent a signal to Jerusalem through an unusual article in the popular, Jerusalem-based newspaper Al-Quds, that Saudi Crown Prince Muhammad bin Salman will not agree to normalize relations with Israel until a full-fledged Palestinian state is established, and that Israel's current policy under Prime Minister Benjamin Netanyahu's leadership toward the PA and Gaza Arabs does not allow for normalization between the two countries."
Even Joe Biden supported this ridiculous two-state concept.
NEWS BRIEF: "Biden wants two-state solution, but no Israeli party appears to support idea", World Israel News, March 23, 2021
"While President Joe Biden says his new administration supports aa viable two-state solution' to the Mideast conflict ... not one of the political parties with a chance of making it into the Knesset in Tuesday's vote would say they support such a policy."
Why would no Israeli party support this two-state concept? Because Palestinian leaders since Yassir Arafat in 1991 has made it very plain that they do not want such a 2-state existence with the Jewish State.
Rather, they want only to annihilate all Jews and take over all their land. They want only to finish successfully the genocide against the Jews which Adolf Hitler failed to accomplish during World War II.
4. Do you see a pattern here?
* Leftist Democrats are pushing a draconian Gun Seizure bill
NEWS BRIEF: "Biden: I Don't Have Any of the Facts on Colorado, But We Definitely Need a Gun Ban", Townhall, March 23, 2021
"According to White House Press Secretary Jen Psaki, Biden is considering executive action on gun control ... The way that he sees it is that there a number of levers that any president of the United States can use," Psaki told reporters. "Including working through legislation, including executive action...there's an ongoing process..."
"Speaking from the White House Tuesday afternoon, President Joe Biden admitted he doesn't know or have all of the facts about the shooting that took place in Boulder, Colorado Monday night. Regardless, he called for additional infringement on the Second Amendment rights of law abiding Americans. "
"I don't need to wait another minute, let alone an hour, to take common sense steps to save lives in the future and to urge my colleagues in the House and Senate to act," Biden said. "We can ban assault weapons and high capacity magazines in this country once again. I got that done when I was a Senator. It passed, it was the law for the longest time...we should do it again."