NEW DVD FROM CUTTING EDGE FILMS
"REVELATION: ARE WE IN EARTH'S FINAL HOUR?"
'Jesus' Warning To His 7 Churches', New DVD by Mac Dominick of Cutting Edge Films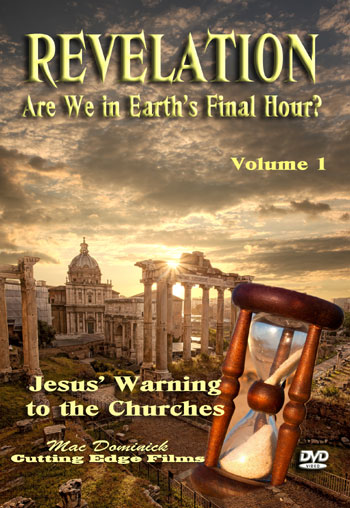 We are going to examine in this series areas which no other teacher has even addressed, but you should expect this kind of in-depth valuable information from Cutting Edge Ministries! Jesus wrote this prophetic book through John the Apostle, addressing:
7 Christian Churches in Asia Minor
7 Prophetic Seals
7 Trumpet Judgments
7 Histories (Persons)
7 Bowls (Vials)
7 Judgments (Dooms)
7 New Things
Since God considers the number Seven as His Perfect Number, we can see that God is offering a final prophetic book which consists of 7 subjects, each of which contains 7 events. A Divinely Perfect Book in all ways!

We are living in an age in which the question, Is there any hope for mankind? seems to become more relevant with each passing hour. Every waking hour is filled with reports of a new crisis, new disasters, new terror threats, and the realization that the fate of all of mankind is spinning out of control.

Additionally, this generation is facing more onslaughts of pure evil than has ever been witnessed in the entire history of man. As we search for answers, we must realize that God has given us a guidebook to prepare us for the future, and that guidebook is none other than the last book of the BibleThe Book of Revelation.

While there have been any who have taught and studied this book, most who teach it either teach it out of the context of the balance of the Word of God or fail to ask the hard questions surrounding the prophecies in this book. We at Cutting Edge Ministries are presenting this series to provide answers to not only the mysteries of this book, but also to deal with difficult subjects and answer the hard questions.

A few of the points we will cover in Volume 1 include:

The Rapture of the Church true or false?

Will the Antichrist be Islamic?

How do we understand Islamic eschatology?

Who is ISIS, and will ISIS conquer the Middle East?

What is the true bloodline of the Antichrist?

What is the fate of Russia?

How can the stars fall to earth from heaven?

Was there any prophetic significance to Nazi Germany?

Can we find the USA in the Book of Revelation?

We will teach the book in a survey format that will mingle a traditional, contextual approach to the book with a digression to apply these teachings and prophecies to cover the influence (or lack of influence) of the events we see taking place right before our eyes.

Run Time is nearly 2 hours Watch the Trailer
Hot News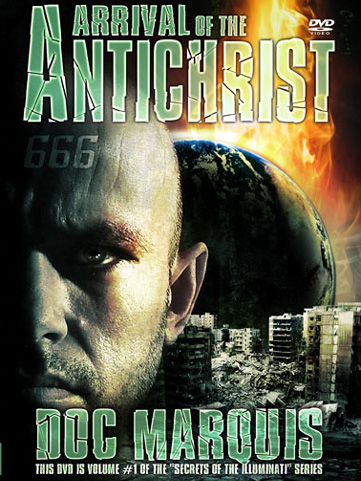 1. Opray Winfrey shamelessly promoted the Antichrist message that Jesus never died, that His bloody sacrifice had no meaning, and that a journey to the slain Christ and His cross would be the "last useless journey" for mankind.
The final apostasy foretold of the Christian Church is now firmly rooted and fully in bloom. The appearance of Antichrist cannot be far away!
NEWS BRIEF: "Happy Belated Easter from Oprah Winfrey's New Age Christ! – The Crucifixion Never Happened", Lighthouse Trails, 3/28/2016
"Somewhat reminiscent of the cult-like individuals who contend that the holocaust in Germany never happened, Oprah Winfrey's 'Jesus'—the New Age Jesus of A Course in Miracles—would have everyone believe that the crucifixion never happened. As Christians around the world have celebrated Christ's resurrection this weekend, Oprah's 'Jesus' of A Course in Miracles would have the world believe that 'A slain Christ has no meaning'."
I find it very disturbing that standard New Age teachings which began to appear within occult bookstores in 1976, when the Movement launched its mainstream effort, is now being popularized by popular icons like Oprah Winfrey! Now, tens of millions of undiscerning women are going to applaud every single doctrinal heresy which comes out of her mouth.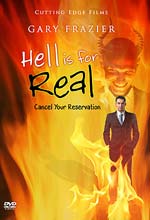 Consider these examples, and weep for the souls who are going to spend eternity in Hell because of these heresies.
* "The crucifixion did not establish the atonement; the resurrection did. Many sincere Christians have misunderstood this." (ACIM Text, p. 36)
* "The journey to the cross should be the last 'useless journey'." (ACIM Text, p. 52)
* "Sacrifice is a notion totally unknown to God. It arises solely from fear, and frightened people can be vicious." (ACIM Text, p. 37)
* "In you the knowledge lies, ready to be unveiled and free from all the terror that kept it hidden. There is no fear in love. The song of Easter is the glad refrain the Son of God was never crucified. Let us lift up our eyes together, not in fear but in faith." (ACIM Text, p. 428)
* "Do not make the pathetic error of 'clinging to the old rugged cross.'" (ACIM Text, p. 52)
These spiritually pathetic heresies are so grievous that anyone who believes in them will miss the only path to eternal salvation which an Almighty God has provided. In His infinite Mercy and Love, God Himself became a man and appeared on Earth to die a Substitutionary Sacrifice for all people who will accept His Substitute Punishment.
"For he hath made him to be sin for us, who knew no sin; that we might be made the righteousness of God in him." (2 Corinthians 5:21 KJV)
We cry out with the Old Testament writer, "Who is a God like You".
Only when a person "clings to the old rugged cross" can he/she be saved. Listen to the most important Scripture which teaches this reality.
"He who believes in Him [who clings to, trusts in, relies on Him] is not judged [he who trusts in Him never comes up for judgment; for him there is no rejection, no condemnation—he incurs no damnation]..." (John 3:18, KJV/Amplified Bible Commentary)
Notice that the only way to receive eternal life in Heaven is to "cling to, trust in, rely on Him"!
For such a person, "never comes up for judgment; for him there is no rejection, no condemnation—he incurs no damnation]..."
What great and wonderful news! All a person has to do is to "cling to the Old Rugged Cross" and to the Savior who sacrificed Himself as a blood sacrifice acceptable to God Almighty, and he/she will be saved.
But, listen to what happens to everyone who does not cling to the Old Rugged Cross:
"but he who does not believe (cleave to, rely on, trust in Him) is judged already [he has already been convicted and has already received his sentence] because he has not believed in and trusted in the name of the only begotten Son of God. [He is condemned for refusing to let his trust rest in Christ's name.]" (John 3:18, KJV/Amplified Bible Commentary)
Oprah Winfrey is spreading eternally damning heresy! Friends do not let friends listen to her!
Click here now to receive Biblical, FREE Salvation!
2. America once again reveals her true inner heart, as she allows another Temple of Baal to be erected, in Times Square, New York City!
New York City thus becomes spiritually in tune with the Baal Worship that has been occurring in Washington, D.C., Government Center, since the late 1700's!
America is now ready to receive the world's "Christ", the leader from Hell whom the Bible calls the "Man of Sin"!
NEWS BRIEF: "Temple to Ba'al, Ancient Idol Worshiped in Biblical Times, Will Stand in Times Square", Breaking Israel News, 3/29/2016
"Next month, a symbol of Biblical paganism which was stamped out after monotheism appeared with the patriarch Abraham will rise in two of the major cultural centers of the world, London and New York ... Using a database of thousands of photos, the Institute for Digital Archaeology will create a full-sized, 15-meter tall, 3D-printed replica of the entrance arch to the Temple of Palmyra ..."
Baal worship continually surfaced throughout the Middle East during ancient times, including in Israel, provoking God to great anger. The most important symbol of ancient Baal worship was his erect penis, otherwise known as an "obelisk", or as the Washington Monument, pictured on the front cover of our award-winning DVD, "Riddles In Stone: Secret Architecture of Washington, D.C."!
Listen as God orders the righteous King of Israel to destroy the obelisks of Baal:
"But you shall destroy their altars, dash in pieces their pillars (obelisks, images), and cut down their Asherim [symbols of the goddess Asherah]..." (Exodus 34:13; KJV/Amplified Bible Commentary)
"They brought out the pillars or obelisks of the house of Baal and burned them." (2 Kings 10:26)
"He took away the foreign altars and high places and broke down the idol pillars or obelisks..." (2 Chronicles 14:3)
"Now when all this was finished, all Israel present there went out to the cities of Judah and broke in pieces the pillars or obelisks, cut down the Asherim, and threw down the high places [of idolatry] and the altars ... until they had utterly destroyed them all." (2 Chronicles 31:1)
"Israel is a luxuriant vine that puts forth its [material] fruit. According to the abundance of his fruit he has multiplied his altars [to idols]; according to the goodness and prosperity of their land they have made goodly pillars or obelisks [to false gods]." (Hosea 10:1)
As we demonstrate in our DVD, "Riddles In Stone", Government Center in Washington, D.C., serves one predominate pagan god, Baal. His obelisk -- Washington Monument -- stands boldly in the seat of political power, between the White House and the Congress. Stretching in front of the obelisk is another Satanic creation, the "Reflecting Pool"! Luciferians believe that a body of water is a special portal between heaven and earth, which can be readily used by demons to pass back and forth between Satan's minions and the earthly dimension.
But, there is more representatives of Baal. On public buildings in Government Center are busts of Baal and his consort, the Corn Goddess. Baal owns Washington, D.C., and has from the beginning, because Baal is the god of Freemasonry and our key Founding Fathers were dedicated Masons!
Even though God ensured that the hearts of the average American was dedicated to Him in 1776 because of the Great Revival of 1741, the plans of our Founding Fathers was to dedicate the Federal Government and the future of the nation, to Baal.
Street layouts even proclaim the coming of the Masonic Christ, the reincarnation of Baal, the one whom the Bible calls "Antichrist". We prove this fact in our DVD, "Riddles In Stone"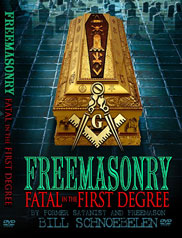 Let us return to this featured news story for more information about Baal worship.
"The Temple was originally dedicated to the Mesopotamian god Ba'al, whose principal forms of worship were burning babies alive and bisexual orgies. Symbolizing a major religion that challenged Judaism, Ba'al was mentioned in the Bible over 90 times, becoming the archetype of worshipping evil."
Can you see why God hated Baal worship so greatly? Can you see why He ordered their altars and their obelisks destroyed and burned? Yet, America has been dedicated to Baal from the very beginning, in 1776!
But, there is one more bit of horror to understand. Freemasonry has exerted great control over our Federal Officials and over the Presidency. President Obama is a 32nd Degree Prince Hall Mason, and Presidents George H.W. and George W. Bush were Skull & Bones Masons
Many tens of thousands of men at all strata of our society are Freemasons. Why is this fact important? We prove in this DVD pictured above, "Freemasonry: Fatal In The First Degree", that Freemasonry is Satanic from the First Blue Lodge Degree right up through the 33rd Degree. The first degree of Masonry is taken directly from the first degree of Satanism, where the initiate bows his knee to Baal and Lucifer and MARRIES Baal! The first initiation degree is a spiritual marriage to the god Baal.
Now, America is building a brand new idol to Baal, in Washington, D.C. God is calling to us:
"She has become a resort and dwelling place for demons, a dungeon haunted by every loathsome spirit, an abode for every filthy and detestable bird ... Come out from her, my people, so that you may not share in her sins, neither participate in her plagues. For her iniquities (her crimes and transgressions) are piled up as high as heaven, and God has remembered her wickedness and [her] crimes [and calls them up for settlement]." (Revelation 18:3, 5)
3. Syria's President Assad has been stripped of most of his power, as the combination of war and of negotiations slowly drain the power of his previous dictatorship.
When the negotiations are concluded, Assad will not be able to resist the Global pressure to surrender his National Sovereignty so Supernation #7 can be established.
NEWS BRIEF: "Analysis: Assad, the rehabilitated dictator - He would likely only rule a fragmented portion of the country", The Jerusalem Post, 3/29/2016
"whether Syrian President Bashar Assad will still be in power in one year's time and you'll likely receive a cagey reply ... he could still stumble and fall from power ... Western leaders have already changed their attitudes toward Bashar Assad remaining in power ... "
He would likely only rule a fragmented portion of the country..."
Assad would no longer be able to oppose the imposition of National Sovereignty over all parts of the Middle East by Supernation #7 ; and, he may be told he can stay in power for a certain length of time before stepping down, much like North Vietnam agreed to withhold its final attack for two years after American soldiers left the country.
NOTE: This Newsletter continues after the advertisement, below.
---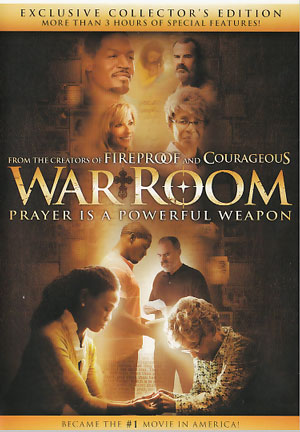 "War Room" DVD
Prayer Is A Powerful Weapon
Filled with heart, humor, and wit, 'War Room' follows Tony and Elizabeth, a couple who seemingly have it all---good jobs, a beautiful daughter, and their dream home.
But their appearances are deceiving: Tony relishes in his professional success and flirts with temptation, while Elizabeth resigns herself to increasing bitterness. Their marriage is on the verge of crumbling until their lives take an unexpected turn. When Elizabeth meets Miss Clara, she challenges Elizabeth to create a battle plan of prayer for her family by establishing a 'war room'.
This new film from the Kendrick brothers is a vivid reminder that prayer is powerful weapon.
'War Room' is a terrific movie, gripping and inspiring! It has that dynamic mix of good acting, an interesting storyline, and humor tossed in at the right moments.
Run Time: 120 Minutes
---
4. The Palestinians edge closer to war with Israel!
Finally, radical / terrorist Hamas merges with the slightly less radical faction, Fatah.
Hamas will quickly take over Fatah and combine its resources in its plan to annihilate the state of Israel.
NEWS BRIEF: "Hamas, Fatah Unite Forming Powerful Terrorism Coalition", Breaking Israel News, 3/28/2016
"Delegations from rival Arab terror groups Hamas and Fatah (PLO) met on Saturday evening in Doha, Qatar, to discuss implementing their 2014 reconciliation agreement, leading Hamas member Ismail Radwan told Turkish state news agency Anadolu ... In April 2014, Hamas and Fatah signed their reconciliation agreement that called for the formation of a unity government to oversee legislative and presidential elections. A unity government was composed two months later, but it never governed in either the Hamas-run Gaza Strip or the PLO-run PA."
Hamas leadership has long contended that the Palestinians could never successfully destroy Israel as long as their leadership was divided between Fatah and Hamas.
There could be no greater sign of impending war between Israel and the Palestinians than if these two warring factions could unite.
Sounds of war in Israel are growing more ominous all the time!
5. "Common Core" is aggressively expanding the reach of the Federal Government into every single Public School classroom in America -- even into schools whose administrators are aggressively fighting this educational cancer.
"Common Core" is the 'dumbed-down' educational standard for the "Common Herd"!
NEWS BRIEF: "Common Core A Part of Leftist Centralized Education Plan, Says Heritage Foundation Report", Breitbart News, 20 March 2016
"The Common Core standards initiative is part of the progressive push to centralize education, says the Heritage Foundation in a new report – a compilation of essays by experts in education policy in the United States."
The verb used in this sentence is far too mild to convey the genuine horror and danger to the education of our children. The words "to centralize education" should read "to seize control of education. Federally mandated "standards" have been so "dumbed-down" that students graduating within this new Public School system will barely be able to toil as factory workers in this coming New World Order!
In fact, in this DVD pictured above -- "Escaping The Trap of Common Core: Setting Our Children Free" -- we quote John D. Rockefeller as saying that he does not want highly educated students graduating from high school, just factory workers!
The coming New World Order will provide Industrial Tycoons like Rockefeller with his complaint worker bees, who will be just thankful they have any job whatsoever in this new system!
And, yes, by the way, the god of tycoons like John D. Rockeller will be the Masonic Messiah, whom the Bible will call Antichrist!