1. The Countdown to the World War III which will put Antichrist on the world scene, has begun.
The following trigger events are moving into place:
A. President Biden is now so incoherent, and mentally deficient, that not even his handlers can hide the truth.
NEWS BRIEF: "Leader of Free World Is Incoherent, Having to be Propped Up Physically and Intellectually"," Canada Free Press, April 5, 2021
"... the 'Trump point' about liberal media bias and protection of Joe Biden was proven after American news sites had 'no mention' of Joe Biden's falls while boarding Air Force One ... Leader of the Free World is incoherent, having to be propped up physically and intellectually… After the stumble, the websites of MSNBC, CBS News, the Washington Post, Lost Angeles Times and the New York Times all had no mention of Biden's stumbling incident,"
As we have stated before , we believe the nearly incompetent President Biden will figure prominently as the World War III script unfolds.
B. Biden is said to be pressuring Ukraine to attack Russian positions in Crimea.
NEWS BRIEF: "Why is the Biden Administration Pushing Ukraine to Attack Russia?", Ron Paul Institute , April 5, 2021
"On March 24th, Ukraine's President Vladimir Zelensky signed what was essentially a declaration of war on Russia. In the document, titled Presidential Decree No. 117/2021, the US-backed Ukrainian leader declared that it is the official policy of Ukraine to take back Crimea from Russia The declaration that Ukraine would take back Crimea from Russia also followed, and was perhaps instigated by, President Biden's inflammatory and foolish statement that "Crimea is Ukraine."
Therefore, Russian forces are in the air and are probing NATO defenses in Europe and American defenses in Alaska.
NEWS BRIEF: "NATO allies intercept 6 groups of Russian aircraft over Europe: Had to scramble 10 times", UPI News, March 30, 2021
"NATO fighter jets intercepted six different groups of Russian military aircraft Monday, the alliance said. Jets from the alliance scrambled 10 times to shadow Russian bombers and fighters during "an unusual peak of flights" near NATO airspace over the North Atlantic, North Sea, Black Sea and Baltic Sea ..."
"Last week two Tu-160 heavy bombers flew a 6,000-mile route from western Russia included the Arctic Ocean, the Norwegian Sea and Norway's coast -- regions where NATO is conducting Bomber Task Force exercises ..."
NEWS BRIEF: "Pentagon on alert as Russia steps up saber rattling", The Hill, 4/4/2021
"Russia has upped its saber rattling in Eastern Europe and the Arctic, a move that has put the Biden administration on alert. In the past two weeks, Moscow has moved to test Washington and its allies on land, in the air and at sea with a buildup of military equipment in eastern Ukraine, military flights near Alaskan airspace and submarine activity in the Arctic."
C. Russian forces are now active in The Arctic.
"... in late March, three Russian nuclear ballistic missile submarines simultaneously broke through several feet of ice in the Arctic in a military drill, a maneuver that comes as the Kremlin has moved to raise its defenses in the Arctic." (Ibid.)
NEWS BRIEF: "Satellite images show large Russian military build up in Arctic", The Hill, 4/5/2021
"Russia is building up military equipment in the Arctic and testing new weapons there as it looks to assert dominance of the region ... Russia is building upon military bases, hardware and underground storage facilities on its Arctic coastline, with bombers, MiG31BM jets and new radar systems close to the Alaskan coast, according to satellite images ... provided ... by space technology company Maxar."
"Included in the buildup is the Poseidon 2M39 unmanned stealth torpedo, a so-called super-weapon powered by a nuclear reactor. "
"The buildup has been all the more apparent in recent days, with Russia holding military flights near Alaskan airspace and submarine activity in the Arctic."
D. China continues her daily air force intrusion into Taiwan's early identification airspace.
NEWS BRIEF: "Taiwan Strait a 'Powder Keg' That Could Set Off World War, Military Expert Warns, Newsweek, 4/6/2021
"The Taiwan Strait is a "powder keg" that has the potential to trigger a world war, a military analyst said on Tuesday as a panel of experts gathered to discuss U.S. foreign policy from a Taiwanese perspective."
"A Chinese aircraft carrier task group led by Liaoning is currently conducting what Beijing has called a "routine" combat exercise east of Taiwan, while the U.S. military monitors the drill in the Pacific."
"The Taiwan Strait now resembles the Balkans before the outbreak of the First World War, Ma added, saying the 'window for peace'—a non-violent resolution to relations between China and Taiwan—was growing ever smaller."
"... the powder kegs of war are spread throughout the Taiwan Strait and the surrounding region.' "
NEWS BRIEF: "China moves aircraft carrier near Taiwan and threatens 'regular' drills as tensions mount", MSN News, 4/6/2021
"China is holding new naval drills involving an aircraft carrier battlegroup near Taiwan, and has threatened to make such exercises a regular occurrence in future amid mounting tensions between Beijing and Taipei ... Taiwan has accused China of bolstering its ability to attack the island, which is self-governing but claimed by Beijing as a breakaway province. The Taiwanese defence ministry said in a review last month that Beijing was deploying "grey zone" warfare tactics to subdue Taiwan and wear it down with repeated drills."
NEWS BRIEF: "China Just Practiced Its Wartime Bomber Encirclement Of Taiwan", Flipboard News, 4/6/2021
"If China ever makes good on decades of threats and posturing and attacks Taiwan, Chinese hackers, rocketeers and bomber crews likely would fire the first shots, initiating a potentially devastating war that could draw in the United States and remake the world order."
China has moved 250 armed speed boats into the waters claimed by the Philippines.
NEWS BRIEF: "Philippines Demands China Remove 250 Vessels at 6 islands, Reefs", Taiwan Sun, April 1, 2021
"MANILA, PHILIPPINES - The Philippine government said Wednesday that more than 250 Chinese vessels it believes are operated by militia have been spotted near six Manila-claimed islands and reefs in the disputed South China Sea and demanded that China immediately remove them. The gathering of the Chinese-flagged vessels, along with four Chinese navy ships at a Chinese-occupied manmade island base, "is hazardous to navigation and safety of life at sea" and may damage coral reefs and threaten the Philippines' sovereign rights, a government body overseeing the disputed waters said."
Chinese has launched a cyberattack against Taiwan.
NEWS BRIEF: Chinese cyberattacks on Taiwan foreign ministry surge", Taiwan Sun, 3/31/2021
"The number of Chinese cyberattacks targeting Taiwan Foreign Ministry's computer systems in 2020 was about 39 times greater than the number of attacks in 2018 ... According to the report, there was an average of 2,100 attacks daily last year, and about 770,000 attacks in total, up from about 20,000 attacks in 2018. The information security officials have expressed grave concern about the Chinese cyberattacks as they have also become more sophisticated, source said."
"This report comes as 10 Chinese warplanes entered Taiwan's air defence identification zone (ADIZ) on Monday, the 17th day of such intrusions in March alone."
E. North Korea has moved advanced artillery into place near the DMZ. And South Korea's Liberal President is seen by China as a "weak link"!
NEWS BRIEF: "Latest NK missile nuclear-tipped, hard to intercept", The Korea Herald, March 31, 2021
"The two ballistic missiles North Korea tested a week ago could carry nuclear warheads and would be hard to intercept with South Korea's missile defense systems ... They could put a nuclear warhead on each KN-23," the Sejong Institute said, referring to the missiles. The report cited experts including Jefferey Lewis of the California-based Middlebury Institute of International Studies. He said the North could mount nuclear warheads."
" The UN and Japan had officially acknowledged the North had the technology to make warheads small."
NEWS BRIEF: "US monitoring North Korea moving rocket launchers to border", American Military News, March 23, 2021
"U.S. and South Korean military officials are closely monitoring North Korea after detecting signs that it's moving multiple rocket launchers to a western island near its southern border ... North Korea is moving launchers and other weapons onto the inter-Korean border islet of Changrin."
"Changrin previously hosted artillery firing drills involving coastal guns in November 2019, but the deployment of multiple rocket launchers may pose an even greater threat..."
Now, let us reexamine the actual wording of the Illuminati Plan regarding the role to be played by North Korea:
"There will be numerous local conflicts in the Far East, the Middle East, and Africa. A hair-raising nuclear confrontation in Korea may, towards the end of the period, threaten man's very survival." (Peter Lemesurier, The Armageddon Script: Prophecy In Action, p. 222-223, written in 1981, Emphasis Added)
You can simply see how world events right now are moving mankind to a nuclear confrontation!
The Global Elite is pre-positioning numerous explosive events so that they can be exploded into a huge world disaster by a single external event, similar to how a Fuel Air Bomb works.
A Fuel-Air bomb operates very simply. "Fuel-air explosives form highly gaseous mixtures which, when detonated, produce much more blast than fire. For their size and weight, they provide a much larger blast than any other weapon except for nuclear devices; in fact, the blast can mimic a small nuclear explosion ... Some are launched from aircraft, others from helicopters or ground vehicles."
These events are forming a "highly gaseous mixture" which when ignited, can set the world on fire, the fire of World war III.
2. Communist Senator Bernie Sanders reveals that, once the New World Order is in place, even the rich will be stripped of their money!
Sanders singles out Amazon's CEO, Jeff Bezos!
NEWS BRIEF: "Bernie Sanders: Amazon CEO Bezos' Power, Wealth 'a Serious Problem'," Breitbart News, April 4, 2021
"Sunday on MSNBC's "The Mahdi Hassan Show," Sen. Bernie Sanders (I-VT) warned of the "serious problem" posed by Amazon CEO Jeff Bezos, who is one of the richest men in the world ... "
""I think it's a serious problem," Sanders replied. "When we talk about income wealth inequality, it's not just that two people — Bezos being one of them — own more wealth than the bottom 40% of the American people. That is wrong unto itself. "
Why is it wrong for one genius who had a new idea that really became popular with American citizens, to have "more wealth than the bottom 40% of the American people."
Did Bezos steal this wealth? Pure Marxism automatically believes that no one can become filthy rich unless he stole from a whole lot of people.
Thus this new system of Socialism/Communism being forced upon us will turn and eat people like Jeff Bezos and that new system of retailing he originated and perfected will disappear, along with the 75% tax rate.
And, tens of thousands of jobs, too.
THAT is one huge reason this type of system never works.
3. President Biden is cooperating with "similar minded" leaders throughout the world in imposing a global tax!
NEWS BRIEF: "Biden Admin Wants Global Minimum Tax Rate on Companies", The Epoch Times, April 5, 2021
"Treasury Secretary Janet Yellen said the Biden administration is working with other like-minded world leaders to introduce a global minimum tax rate on companies."
""We are working with G20 nations to agree to a global minimum corporate tax rate that can stop the race to the bottom. Together, we can use a global minimum tax to make sure the global economy thrives based on a more level playing field in the taxation of multinational corporations, and spurs innovation, growth, and prosperity."
That phrase "race to the bottom" refers to Trump's steep tax cuts to American corporations. What these people have in mind is to raise taxes to a level high enough to ALMOST produce deep recession.
Countries would struggle along with mediocre economies, much like the European Union.
If the world is to have a global government, it needs the global authority to impose a global tax.
A "Mark of the Beast" global economy is on the way!
4. Biden's 'Infrastructure Act' will impose pure Marxism / Communism in America.
NEWS BRIEF: "All For the Greater Good?", Canada Free Press, April 5, 2021
"The United Nations (that useless organization that never accomplished any of its original goals) wants you to be excited. The World Economic Forum (WEF) and the oligarchs of Europe and Davos with regulars like Sir Klaus Schwab, George Soros, Bill Gates, Angela Merkel, Prince Charles (more like members of Spectre) want you to be excited. The Deep State right here in Washington, D.C. wants you to be ecstatic. Joe Biden would like you to be excited, but he doesn't know why.
""Twenty-four world leaders on Tuesday, March 29, have issued a call for a global pandemic treaty, an international agreement to implement the Great Reset (a sort of Fourth Reich)."
"No more sovereign nations. No more capitalism. No more private property. You will own nothing. You will rent everything (no guns, thank you). No more Constitution or Bill of Rights. No more eating meat. And, they insist you will be happy! This is Marxism in its purest form."
Why are so many intelligent Americans cooperating to establish a system of violent, bloody dictatorship which has failed spectacularly during the past 100 years?
The answer will absolutely shock you!
[Jim, show the black/white cartoon which we used in the newsletter of sept 3, 2020, https://www.cuttingedge.org/newsletters/NewsAlertArchives/2020/Sep-3-2020.htm)
The truth is that Capitalists created Communism with the concept that Capitalism would cooperate with Communism to produce a new, more advanced system known as the New World Order. This concept was expressed by a formula: Thesis Vs. Anti-Thesis=Synthesis
This political cartoon was created by Robert Minor and run in the St. Louis- Dispatch newspaper in 1911. At this point in history, the link between Karl Marx's Communism and Capitalism was far more widely known than today.
Karl Marx is being given a ticker-tape parade down Wall Street. Marx has his thesis on Socialism (Communism) tucked under his arm, as he is being greeted by several of the most prominent Wall Street businessmen:
George Perkins, shaking Marx's hand, then a partner of J.P. Morgan
Andrew Carnegie, (Andy) waiting behind Marx with outstretched hand
J.P. Morgan tipping his hat to Marx
John D. Rockefeller (John D.) to Marx's right, smiling smugly
John Ryan, of National City Bank, standing beside John D. Rockefeller
Why are America's leading businessmen so happy with Marx's theories? Because, under the utopia envisioned by Communism, they would have an absolute monopoly over every aspect of the world economy. Riches beyond measure beckon.
The political side of this American New World Order Plan is represented by Teddy Roosevelt, shown with his typically toothy smile. ("Wall Street And The Bolshevik Revolution, by Anthony Sutton)
Therefore, the Capitalists of today are vigorously supporting America's trun into some form of Communism because they will not have to compete anymore; the government will regulate who can produce which product. There will not be 12 car makers in the world but only 3! And, these three can legally collaborate on pricing and features so that an awful lot more profit can be realized.
The bottom line is that this new Synthesis system, New World Order, is a system designed only for the "Perfected Man", not for any ordinary people. What, you say, is a "Perfected Man"? Listen to advanced Masonic teaching on this subject.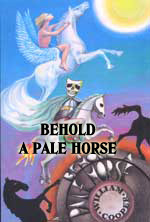 "It is so with the Neophyte. He will begin to realize that Heaven (Wisdom) is not gained by a single bound; but is only to be obtained by mounting step by step, or degree by degree ... He will realize there is no Death, for what we call Death is simply the disintegration of molecular forms, to be made manifest eventually in many others..." (Emphasis Added)
"When man stands erect in his God-hood before the Divine Glory of Light and Truth, with arms outstretched and head uplifted, in conscious knowledge of Divine Love, willing to accept his Karma, then the cross will fall behind him and he will realize that he stands before his Higher Self, the Divine Presence of the Supreme Architect, and positively know that he and his Father are One. He will thoroughly understand that Resignation is what brings him perfect peace and happiness, and unlocks the door leading to Immortal bliss."
Wow, what a revelation these few quotes have been! We realize that Freemasonry is simply identical with the current New Age Religion/Movement. They teach that each person is Divine and each person must "realize" their godhood by working his way up the Ladder of Perfection, to one day stand in Immortal bliss, after numerous reincarnations. Notice they picture man as "standing erect" before God. What does the Bible say? It says the redeemed will "bow" down in worship and awe [Romans 14:11-12; Phillipians 2:10-11; Revelation 4:10]
But, did you see that Freemasonry teaches that Perfected Man and His Father are One? This is truly blasphemous, as it is a counterfeit of the statement Jesus Christ made on several occasions, that He and the Father are One. [John 10:30] This statement also reveals that they view themselves as Divine, as soon as they can go through the required number of reincarnations necessary to purify themselves to the point of becoming Perfected Man.
Of course, the vast majority of common people will never qualify as "Perfected Man". Therefore, the leaders of the New World Order boldly speak of "Benevolent Death", to be carried out by their Masonic Christ during the first 7 years of his reign!
"It is patently impossible to discuss social engineering ... without implying extensive objectives of social control and destruction of human life, i.e., slavery and benevolent genocide." [William Cooper, Behold A Pale Horse, p. 36-37, printed August, 1990; Cooper is a New Age author. ]
This inner secret of the Masonic secret secret society is the force behind the shocking population figure etched into the marble of the "Georgia Guidestones" -- total population will be held to only 500 million, a reduction of 7.5 billion people!
While "Perfected Men" will rule, they are "scarcer than hen's teeth"!
5. The CDC has reported that, in 2020, far more people died by falling than by rifles of all sorts and sizes!
NEWS BRIEF: "Federal 2018 Data: Falling Killed 126 Times More People than Rifles of Any Kind ", Breitbart News, 4 April 2021
"Federal data (CDC) on causes of death in America show that, as recently as 2018, falling accounted for at least 126 times as many fatalities as rifles of any kind — an inconvenient fact for Democrat lawmakers who are currently demanding a new round of nationwide gun controls."
We should ban falling and use President Biden falling three times on the stars of Air Force One as a poster child.