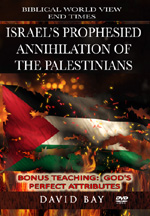 2. The Palestinians -- Hamas, Hezbollah -- seem preparing to breach the Israeli border fence with the Gaza Strip.
NEWS BRIEF: "Hamas Sending Palestinians to 'Go and Die,' Charges Abbas' Adviser" , Breaking Israel News, April 9, 2018
"Mahmoud Al-Habbash, advisor on religious and Islamic affairs for Palestinian Authority Chairman Mahmoud Abbas accused Hamas of intentionally sending Palestinians in Gaza to "go and die," for media publicity. Al-Habbash, who is also a Supreme Sharia Judge, made his remarks during a sermon on Friday in Ramallah and in front of Abbas."
This momentous Palestinian attack on Israel is clearly being spearheaded by Hamas, not the Palestinian Authority!
Hamas vows that her protestors will breach the fence no later than May 14, the 70th Anniversary of Israel's founding -- even it is takes sacrificing "ONE MILLION" Palestinians.
NEWS BRIEF: ""Hamas Vows 'Millions of Martyrs' Over Attempts to Breach the Gaza Fence ", April 7, 2018
"JERUSALEM, ISRAEL—As expected, thousands of protesters backed by Hamas burned hundreds of tires, sending plumes of black smoke billowing over the border with Israel ... The crowd appeared to be "significantly smaller," according to Israeli Defense Forces estimates, than the 30,000 who took part last Friday in "March of Return" protests to take back Arab villages lost to Israel in the 1948 war."
Hamas promised that the worst is yet to come.
"Hundreds of Hamas supporters gathered around their shadowy leader Yehiyeh Sinwar at the border and chanted, 'We are going to Jerusalem, millions of martyrs'. In a defiant public threat, Sinwar vowed to 'breach the borders'."
"Hamas has said it will continue the March of Return demonstrations for five more weeks, culminating in a massive protest on the anniversary day of what they call Al-Nakba (the so-called "Catastrophe"), which is Israel's Independence Day, May 15th on the Gregorian calendar. "
Will this May 15 culminate in the prophesied annihilation of the Palestinian people, as God foretold in Obadiah and Isaiah 34? We can only wait to see.
3. "Mad Dog" Mattis, the Defense Secretary, follows orders from President Trump and authorizes deployment of 4,000 Nationals Guard troops to guard the American-Mexican border.
NEWS BRIEF: "Responding to Trump's call, Mattis authorizes 4,000 National Guard troops for U.S.-Mexico border", L.A. Times, April 7, 2018
"Defense Secretary James N. Mattis has signed an order to send up to 4,000 National Guard troops to to the U.S.-Mexico border but barred them from interacting with migrants detained by the Border Patrol in most circumstances."
"The order, issued in response to President Trump's call for using troops to stem illegal immigration, specifies that National Guard troops will assist the Department of Homeland Security along the border but not perform law enforcement missions and will be armed only when necessary for self-defense."
"Trump portrayed it as a victory, however. "We are sealing up our Southern Border," he said Saturday on Twitter. "The people of our great country want Safety and Security. The Dems have been a disaster on this very important issue!"
4. The war between Trump's White House and Mueller's Special Counsel erupted as the FBI abruptly seized files of Trump's personal lawyer.
NEWS BRIEF: "Trump furious after FBI seizes documents from his lawyer ", AP News, April 10, 2018
"WASHINGTON (AP) — Federal agents on Monday raided the office of President Donald Trump's personal attorney Michael Cohen, seizing records on topics including a $130,000 payment made to porn actress Stormy Daniels. A furious Trump, who in the last month has escalated his attacks on Robert Mueller's Russia investigation, said from the White House that it was a "disgrace" that the FBI "broke into" his lawyer's office. He called Mueller's investigation "an attack on our country," prompting new speculation that he might seek the removal of the Justice Department's special counsel."
"The raid was overseen by the U.S. Attorney's office in Manhattan and was based in part on a referral from Mueller, said Cohen's lawyer, Stephen Ryan.
" 'The decision by the U.S. Attorney's Office in New York to conduct their investigation using search warrants is completely inappropriate and unnecessary', Ryan said in a statement. 'It resulted in the unnecessary seizure of protected attorney client communications between a lawyer and his clients'."
Trump immediately stated the obvious, that Lawyer/Client privilege is "dead".
NEWS BRIEF: "Trump Livid After FBI Raids Personal Lawyer: 'Attorney-Client Privilege Is Dead!'," Breitbart News, 10 April 2018
"President Donald Trump continued his frustrated rant against the FBI and Special Counsel Robert Mueller after the office of his personal lawyer Michael Cohen was raided.
"Attorney–client privilege is dead!" Trump wrote on Twitter on Tuesday morning, decrying the investigation as 'A TOTAL WITCH HUNT!!!' "
Trump told reporters on Monday night that the raid was "a real disgrace," "an attack on our country," and "an attack on what we all stand for."
Calls are flowing that Mueller and Rosenstein be fired.
NEWS BRIEF: "Key Republicans warn Christopher Wray, Rod Rosenstein in danger of contempt of Congress and Impeachment", Washington Examiner, April 10, 2018
"Key Republicans are warning that top officials at the Justice Department could be held in contempt of Congress, and possibly face impeachment, as the agency still has not provided Congress documents demanded by lawmakers. House Freedom Caucus Chairman Mark Meadows, R-N.C., told reporters Tuesday evening that some lawmakers are "seriously considering" contempt of Congress."
What are the specific issues which angers Congress?
"... 1.2 million documents related to three investigations looking into former Secretary of State Hillary Clinton's private email server, potential abuses of the Foreign Intelligence Surveillance Act, and the firing of former FBI Deputy Director Andrew McCabe last month."
Chaos rules much of this world today, fulfilling the slogan of the Illuminized Freemasonry: "Out of chaos, order"!
5. A study reveals that President Trump's tax cuts do not specifically a benefit to the rich.
NEWS BRIEF: "GOP's tax cut isn't a gift to the rich, analysis finds", The New York Post, April 7, 2018
"The top 20 percent of wage earners will pay 87 percent of all federal income taxes in 2018, according to a new analysis by the nonpartisan Tax Policy Center. That's up from about 84 percent last year ... The new law reduced taxes for all income levels. Doing so increased the percentage of the total paid by workers earning $150,000 or more."
"Overall, about two-thirds of taxpayers are in line for a tax cut. About 6 percent will pay more, while the rest will see no significant change. Most families earning under $50,000 a year will pay no federal income taxes at all, and many will get money back..."
Meanwhile, Democrats led by Nancy Pelosi, are touring the country in town hall meetings, urging the people to support Liberal efforts to make you pay more taxes!
News Snippets
A. Black leaders are finally beginning to speak out on the boost given black workers by the Trump economy.
NEWS BRIEF: "BET founder: Trump's economy is bringing black workers back into the labor force", CNBC News, 6 April 2018
"The growing U.S. economy and improving business environment is bringing black workers back into the labor force, BET founder Robert Johnson told CNBC on Friday ... In January, the Labor Department reported the unemployment rate among black workers was at its lowest since at least the early 1970s, when the government began tracking the data. The unemployment rate for black Americans spiked in January and then fell in February. The rate was unchanged in March at 6.9 percent."
A prominent black journalist also looks at the current leadership of African-Americans in America.
NEWS BRIEF: "Black Political Power Just Keeps Blacks Poor", by Walter Williams, World Net Daily, April 10, 2018
"It's often thought to be beyond question that black political power is necessary for economic power and enhanced socio-economic welfare ... Between 1970 and 2012, the number of black elected officials rose from fewer than 1,500 to more than 10,000. Plus, a black man was elected to the presidency twice. Jason Riley, a fellow at the Manhattan Institute, tells how this surge in political power has had little beneficial impact on the black community."
"Riley adds that the formula for prosperity is the same across the human spectrum. Traditional values – such as marriage, stable families, education and hard work – are immeasurably more important than the color of your mayor, police chief, representatives, senators and president ... the major barrier to black progress today is not racial discrimination. The challenge for blacks is to better position themselves to take advantage of existing opportunities, and that involves addressing the anti-social, self-defeating behaviors and habits and attitudes endemic to the black underclass."
B. At least one of the thousands of Roman Catholic Cardinals feels scandalized by Pope Francis' declaration that Hell does not exist.
NEWS BRIEF: "Cardinal Says Vatican's Weak Response To Pope's Hell Interview 'Scandalized' The Church", The Daily Caller, 4/6/2018
"Cardinal Raymond Burke said the recent scandal over Pope Francis' alleged denial of Hell during an interview caused the church scandal that was 'beyond tolerable' ... 'Instead of clearly re-stating the truth about the immortality of the human soul and hell, the denial only said that some of the words quoted are not of the Pope', Burke said, according to Catholic Herald. "It did not say that the erroneous, even heretical ideas expressed by these words are not shared by Pope and that the Pope repudiates such ideas as contrary to the Catholic faith. This playing with faith and doctrine, at the highest level of the Church, rightfully leaves priests and faithful scandalized."
The Roman Catholic Pope has just launched a "NEW" worldwide church! Other repudiations of key doctrine will follow. Remember, the Illuminati decided, in 1991, that the Roman Catholic Pope, whomever he was at the time, would become the top religious leader of the New World Order Church!
From that perspective, a lot of doctrinal changes are going to be necessary!
C. Many millions of Americans could not believe the revelation that CEO Zuckerberg has been illegally giving personal data which Facebook gathered from its members to the Democrat National Party and to Hillary Clinton in order to deny Donald Trump his victory!
Now, we learn that Zuckerberg has also been working with the rabid Hillary Liberal, Robert Mueller, in his "investigation" into Trump's supposed collusion with the Russians.
NEWS BRIEF: "Zuckerberg Confirms Facebook Is Working with Robert Mueller's Investigation", Breitbart News, 10 April 2018
"Facebook CEO Mark Zuckerberg on Tuesday confirmed that Facebook is working with thespecial counsel investigating Russian meddling in the 2016 election and potential collusion with the Trump campaign. The revelation came during Zuckerberg's appearance in front of the Senate Commerce, Science and Transportation Committee and Senate Judiciary Committee joint hearing on Facebook."
Do you need any more information about how Facebook has blatantly violated its own promises of secrecy in order to elect a blatant Liberal to the White House, thus undoing your vote for Trump?
This kind of illegal activity is what an Absolute Dictatorship looks like!