Tribute To The King James Bible!
"A Christian's Guide To the King James Bible"
History Endorses the KJV -- Final Authority exposes the deceit behind many of the common charges leveled against the A.D. 1611 Authorized Version.
With the fourth-century codices Vaticanus and Sinaiticus being recommended as the two most reliable manuscripts worthy of supplanting the time-honored Textus Receptus, the reader learns the facts of their defective character which reveal their disagreement with each other in over 3,000 places in the Gospels alone.
Final Authority addresses those issues rarely discussed by critics of the King James Bible. As well as the information given above, the reader will learn the following: • Who were the King James translators? • Who were the translators of later Bible versions? • What's wrong with the NIV? • Is the New King James really a King James version? • How involved are Jesuit agents in the attack against the KJV? • and much more! -- 392 pages
Only $19.99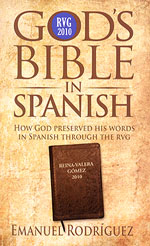 "God's Bible in Spanish"
For me to lead souls to Christ I need a Bible. I have learned that not just any Bible will do. I want a Bible that is completely accurate, with nothing missing. In 1602 God provided the Spanish-speaking world His precious words in the Reina-Valera Bible. However, after 1602, modernistic, ecumenical Bible societies got their hands on our Received Text-based Protestant Bible in Spanish and corrupted it by incorporating Alexandrian Critical Texts.
God answered my prayer. This book reveals the history behind the making of the Reina-Valera Gómez Bible (RVG) and expresses the true motives and desires that drove this work.
Following this fascinating history is a 44 page chart showing the corruptions that found their way into our Bibles, and how they are corrected in the RVG.
Only $12.99
---
---------- This Week's Hot News -------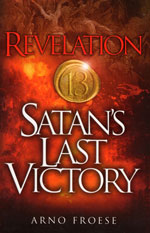 I. U.S. - Pakistan war may be near!
China issues a somber diplomatic warning against America, saying that an attack on Pakistan would be considered an attack on Beijing!
NEWS BRIEF: "US and Pakistan Near Open War", InfoWars, May 23, 2011
"China has officially put the United States on notice that Washington's planned attack on Pakistan will be interpreted as an act of aggression against Beijing. This blunt warning represents the first known strategic ultimatum received by the United States in half a century, going back to Soviet warnings during the Berlin crisis of 1958-1961, and indicates the grave danger of general war growing out of the US-Pakistan confrontation."
This is a serious warning, one which will be carefully received in Washington. The last thing President Obama needs right now is a Chinese invasion of Taiwan in retaliation for an American attack against Pakistan.
Do you remember the somber warning given by President Putin of Russia in April, 2003, as America was warning Iran that Russia would not tolerate any more "Regime Change" in the Middle East? While Putin did not use the words, "an attack on Iran would be considered an attack on Moscow", he was very somber, very blunt and he had Russian warships on special maneuver in the Black Sea during the time of his warning.
President Bush understood Putin's warning and he withdrew American forces in a few months time without having ordered the attack on Iran's nuclear facilities. Since that time, America and Israel have huffed and puffed against Iran, and have repeatedly sent Naval units in the waters off Iran, but have never attacked.
We cover this critically important event in NEWS2003, entitled, "Russian Checkmate In The Middle East".
Once you read this article, you will understand how grave this kind of Chinese warning truly is. You will also realize how Bush's threat against Iran drove her into the arms of Russia, thereby setting the stage for the prophetic invasion of Israel by Russian-led armies as foretold in Ezekiel 38-39. We detail this exciting prophetic fulfillment in NEWS2200, entitled, "Western Intelligence Is Reporting That Russia Is Deliberately Stoking A Propaganda Campaign Designed To Scare Iran Into The Arms Of The Russian Bear -- With The Cooperation of President Bush!"
"Any Attack on Pakistan Would be Construed as an Attack on China"
"This ultimatum was reportedly delivered at the May 9 China-US strategic dialogue and economic talks in Washington, where the Chinese delegation was led by Vice Prime Minister Wang Qishan and State Councilor Dai Bingguo ... Support from China is seen by regional observers as critically important for Pakistan, which is otherwise caught in a pincers between the US and India: 'If US and Indian pressure continues, Pakistan can say 'China is behind us. Don't think we are isolated, we have a potential superpower with us', Talat Masood, a political analyst and retired Pakistani general, told AFP."
Precisely! American pressure on Pakistan and our threat to attack her if she does not allow our forces unbridled access to Taliban units on both sides of the Afghan/Pakistani borders is driving Pakistan into the arms of the Chinese so that the prophecy in the Book of Revelation, 16:12, so that the 200 million man army known as the "Kings of the East" army can march Western China through the Kashmir Pass which is controlled by both Pakistan and China!
We detail how this prophetic stage is being fulfilled in NEWS2446, entitled, "Pakistan Seems To Be Splitting From the United States, Cozying Up To China".
Before we leave this section, we need to ask a question concerning President Obama. During the 2008 campaign, Obama strongly promised a "change you can believe in", and millions of his supporters really thought he would represent a dramatic change from President Bush.
Yet, here we see Obama ordering an increase in the number and in the severity of drone attacks, and he has authorized some air strikes on Pakistani soil. We would have expected this behavior from the "renegade", "lawless" Bush, but not from Obama!
Once again, we are forced to face the reality that 32nd Degree Prince Hall Mason President Obama is simply following the orders of his Illuminati masters, just as did Skull & Bones Bush.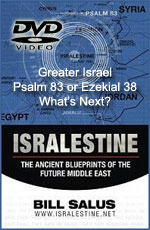 II. Israeli Prime Minister Netanyahu bluntly told President Obama that Israel would never retreat back to 1967 borders!
Immediately, President Obama delivered a speech that was as pro-Israel as any President before him! Seems that this President "got the message"!
NEWS BRIEF: "Israeli Netanyahu Says 'No' 1967 Borders in Peace Deal", Voice of America, May 24, 2011
"Israeli Prime Minister Benjamin Netanyahu spoke to AIPAC - America's largest pro-Israel organization - just three days after meeting with U.S. President Barack Obama at the White House ... 'We can only make peace with the Palestinians if they are prepared to make peace with the Jewish state ... It must leave Israel with security and, therefore, Israel must not return to the indefensible 1967 lines', he said."
Within hours of the Obama speech last week in which he bluntly told Israel they would have to withdraw back to pre-1967 borders, we mounted a strong explanation as to how and why these borders were indefensible. Please read "President Obama is siding with the Palestinians against Israel by demanding that Israel complete a full withdrawal back to her 1967 borders!", Paragraph I of the May 19, 2001 News Alert.
We thoroughly list the reasons these borders are militarily indefensible and show a map of the 1967 Israel. As soon as the Israeli Prime Minister strongly stood against Obama, the President of the United States folded, using English "double-speak" that would have made Bill Clinton proud!
NEWS BRIEF: Geography According to Obama: Palestine 1967 Borders Not 1967 Borders", Monsters & Critics, May 23, 2011
"US President Barack Obama said Sunday his framework for establishing Israeli-Palestinian borders based on 1967 lines would have to account for demographic changes that have taken place since Israel seized control of the West Bank. Speaking to the annual gathering of the American Israel Public Affairs Committee, Obama said the proposal 'allows the parties themselves to take account of the changes, the demographic realities on the ground and the needs of both sides.' "
This comment is almost exactly the opposite which the President made on Thursday, May 19! Palestinian leadership instantly recognized the backtracking for what it represented.
"The Islamism group Hamas slammed Obama and warned that the United States will fail in its efforts to get Palestinians to recognize Israel's legitimacy ... He said that Obama's statement was proof that the US administration is not a fair mediator. "
The fact is simple: Israel cannot defend pre-1967 borders and her military and civilian leaders know it. The Palestinian leadership knows it also, which is why they felt that they won such a great diplomatic victory on Thursday, May 19.
Now, Islamic extremists have fresh concern that Barack Obama may not be their closet friend after all, while Jewish leaders have to wonder if Obama has the backbone to stand up for Israel once the all-out war begins.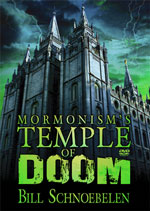 DVD
III. Mitt Romney is the clear front-runner at this point in the GOP Presidential campaign.
NEWS BRIEF: "DECKER: Romney the frontrunner: Second time could be the charm with Midwestern support", The Washington Times, May 20, 2011
"Having Donald Trump and Mike Huckabee - who were both polling in the top three spots - drop out of the Republican presidential contest removed serious competition from the field. The person who benefits the most by having popular candidates not run is Mitt Romney. It's now his race to lose."
"It is now his race to lose".
These words paint a completely different picture than the one at which we were gazing only a month ago. Then, Mike Huckabee seemed poised to seize the majority of Evangelical votes, thereby making him a formidable candidate.
But, now that he has dropped out of the race, Romney seems poised to capture the Evangelical vote if he can only persuade them to hold their collective noses and vote for a Mormon for President. Toward that end, Romney hired an Evangelical Public Relations firm which had worked for him in the 2008 race.
NEWS BRIEF: "PR Exec Works Evangelicals for Romney ", O'Dwyer's, Inside News Public Relations & Marketing Communications, May 18, 2011
"Likely presidential hopeful Mitt Romney has brought in a PR executive experienced in outreach to the evangelical Christian community as the former Massachusetts governor seeks to improve his tepid standing among a key Republican voting bloc."
"Romney's camp said this week it has hired Mark DeMoss, who founded The DeMoss Group in Atlanta 1991 handling PR exclusively for Christian clients like the Billy Graham Evangelistic Association, FamilyLife and Compassion International. "
"In a statement from the campaign, DeMoss cited Romney's public and private sector executive experience to make him qualified for the presidency. 'He has worked in government long enough to know how government works, but not so long that he only knows how to work for the government', said DeMoss, who supported Romney in 2008."
"Romney, a Mormon, faces what the National Journal has called an "evangelical problem" as he struggled to woo those Christian voters in 2008, when they said they had concerns about his religion and conservative positions."
You can expect that the Mass Media propaganda campaign which is about to get underway in real seriousness really quickly will be fought along these lines, with the additional lie that Mormonism is just another brand of Christianity, that we pray to the same Jesus and share the same moral values.
None of this is true, as we vividly demonstrate in our newest DVD, "Mormonism's Temple of Doom: 2012 Election Alert". Additionally, we show Biblically how genuine Christians are forbidden to encourage or support anyone who holds and who practices such false religious doctrines. We have included a Plan of Salvation at the end, because we view this DVD as a "soul-winning" tool.
People who have watched this video love it and some are even buying extra copies to give to family and friends. This 2012 campaign is one which offers genuine Christians a wonderful opportunity to reach Mormons with the true Gospel, if we only know the truth about Mormonism.
IV. NATO seems poised to dramatically escalate the Libyan War!
Could a ground operation soon follow?
NEWS BRIEF: "Libya: British attack helicopters to be deployed", The Telegraph News, 23 May 2011
"British attack helicopters will be deployed in Libya within days in a significant expansion of the military mission against Muammar Gaddafi's forces ... The Daily Telegraph has learned that Apache helicopters will fly into Libya from a Royal Navy warship, in a joint operation with the French. "
"As many as 18 British and French helicopters will be deployed to support rebels trying to consolidate gains against Gaddafi's forces. The helicopter operation – expected to be supported by Special Forces troops – will take the allies closer still to a full ground operation in Libya."
We have predicted from the very first that it seemed likely the Illuminati wanted a ground operation in Libya in order to set the precedent that such heavy-handed tactics would be employed against any strongman dictator who dared resist Western calls to resign.
After Western ground troops overthrow Gaddafi, then every remaining dictator will know that he will suffer a similar fate if he refuses to step down when he is urged to do so.
Regional Government #7 of the Club of Rome Plan is being set up right now. One of the most important prophecies of the entire Bible is being fulfilled right in front of our eyes!
---
"Preacher Harold Camping Sets His Rapture Date of May 21, 2011"
Another false religious teacher, another false date of the Rapture, and another black mark against genuine Christians and their beloved Bible! You can mark this date on your calendar as THE one date the Rapture will NOT occur. http://www.cuttingedge.org/news/n2418.cfm
Rapture! Are Your Lamps Full of Oil?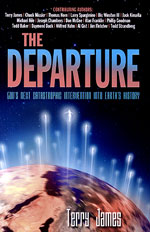 "The Departure"
"God's Next Catastrophic Intervention Into Earth's History"
As the world races toward its momentous end-times encounter with God, cascading fulfillment of Bible Prophecy clearly points to the catching away of the saints -- an event popularly known as the Rapture of the Church. Specific circumstances, which were prophesied to occur in the days just before this Departure, would appear as signs of the nearing moment, including:
1) The emergence of a new global order and global government; 2) Technological developments making possible the Mark of the Beast; 3) Apocalyptic turmoil in the Middle East; 4) Global fascination with occult, demonic, otherworldly manifestations. 5) Departure from the faith giving space to false doctrines; 6) Worldwide violence, upheaval, like it was in the days of Noah
Leading national and international researchers, scholars, authors, and speakers share their specialized knowledge about what you can expect in the coming days, and, more importantly, what you can do to be prepared for the Rapture of the Church. NOTE: We do not agree with every author on every point in this book, as some of the authors do not possess the unique Cutting Edge Worldview. However, this book does contain some really good information and we expect that you will read like the 'Noble Bereans' of Paul's day! Compare what you read with Scripture 'to see if these things are true'. http://www.cuttingedge.org/detail.cfm?ID=2325
Pastor Hoggard DVD - Special Report On The Rapture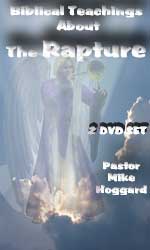 "Biblical Teachings About The Rapture"
At long last! Rapture teaching that is squarely based upon the Bible. Pastor Hoggard provides a fascinating study of the Rapture of the Church that is badly needed at a time when critics of this wonderful teaching are reaching ever- increasing numbers
Did you know that the Rapture is not just New Testament doctrine, but is visible in the Old Testament?
Some say the Rapture is the first event on God's prophetic calendar, but do the Scriptures foretell that an extremely significant event will occur BEFORE the Rapture? And, what might that event be?
Finally, discover why God used the symbolism of a whirlwind when He translated the Prophet Elijah!
This study of the Rapture is the most interesting and decidedly unique you have ever seen
Now you can Biblically answer critics of the glorious Rapture of the Christian Church - http://www.cuttingedge.org/detail.cfm?ID=1916
---
New Headline News Articles
The National Association of Evangelicals is getting ready to align with the Church of Jesus Christ of Latter-Day Saints! http://www.cuttingedge.org/news/n2442.cfm
Mormon Glenn Beck Meets With Southern Baptist Billy Graham, Urging Him "To Come Together" - Yoking Believers With Unbelievers!
Beck is making major inroads to convince Evangelical leaders to support his cause. Beck has even taken control of the "Black Robed Regiment" to finally cement a bridge from Mormonism to Christianity. Genuine Christians are in dire danger of being mightily deceived. http://www.cuttingedge.org/news/n2441.cfm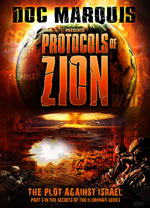 DVD
Why Is China Building Large Cities Completely Devoid of People? The answer will shock you, for a nearly unknown part of the Plan is being implemented. This development means that the appearance of the Antichrist is closer than many think possible.
http://www.cuttingedge.org/news/n2440.cfm
---
Close-Out Bookstore Item -- Save $15.00!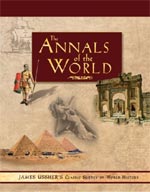 "The Annals of the World"
James Ussher's Classic Survey of World History"
Regularly $34.99, Close-out At $19.99
Wonderful Home School resource, with 960 pages, weighs 5 pounds!
Considered both a literary classic and an accurate historical reference from Creation to 70 A.D. For the first time, this classic work has been translated into modern English.
This treasure trove of material also contains many human interest stories from original historical documents collected by the devoted Christian historian and scholar Archbishop James Ussher. Precisely dated and referenced, this volume is much more than just a fascinating history book -- it is a work of history
Contains over 2,500 citations from the Bible - Is fully indexed, with 8 appendices
A "one-of-a-kind" historical home school resource and we have limited stock on hand!
---

Purchase a 1-Year Subscription, you may select 1 FREE gift
Purchase a 2-Year Subscription, you may select 2FREE gifts
Purchase a 3-Year Subscription, you may select 3 FREE gifts
Purchase a 4-Year Subscription, you may select all 4 FREE gifts
We have changed our FREE gifts available to you when you subscribe to Headline News, adding two Pastor Hoggard DVD's to the Seminar Tapes and the Radio Collection CDROM.
---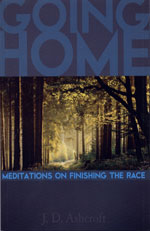 --------Concluding Inspiration ---------"SHARE WITH OTHERS"
"Sell your possessions, and give to the needy. Provide yourselves with moneybags that do not grow old, with a treasure in the heavens that does not fail, where no thief approaches and no moth destroys. For where your treasure is, there will your heaven be also." Luke 12:33-34
It is often said that 'you can't take it with you', as if it were completely true. For those in the world, whose possessions are their fortune, this is surely the case. Christians, however, are given other counsel. Yes, we are told by Jesus to "sell our possessions and give to the poor". This divestiture is a blessing for them, and for us. The Lord makes an account of our generosity here, and deposits our wealth in heaven, where what we have is kept theft-proof and moth-proof (see I Peter 1"3-4).
The Lord makes it clear that acts of love and kindness in this life pay great dividends in the next. What we do on behalf of 'the least of the brethren' Jesus considers to be given to Him. He is pleased when we divest ourselves of earthly wealth in His Name and for His sake. This is a wonderful, positive thing to do as we prepare to die. What we own now another may need when we are gone. Let us, while we have faculties to do so, will out our possessions, being generous not only with those we love, but on those who are in need. Our portfolios must not remain deposited in the bank of Earth, but in the Bank of Heaven. The Lord wants us to use our wealth here in a way that glorifies God in heaven.
In this life, investments in stocks or bonds may be lost during market downturns, and economic recessions. In contrast, every investment we make in heaven is secure, and is not subject to prevailing earthly conditions. Therefore, the prudent investment for the Christian is indeed the Bank of Heaven, which secures our deposits by the Word and faithfulness of Almighty God, the maker of heaven and earth. Let us not cling to earthly wealth that cannot comfort us in eternity, but rather share God's bounty with the poor in our midst, pleasing Him, and meeting their needs.
Closing Prayer
Dear lord, Help me truly have a generous spirit, that I might never cling to wealth, but give away what I have to help those less fortunate that myself. Guide me in the use of the wealth you have given to me, that it might be spent out for your honor and Glory, in Jesus Name, amen.
---
"President Bush:
Evil vs Good Fruits"
Directory of all news articles
Free Radio Transcripts

Free Headline News Archives

Freemasonry

What Saith Rome

Teachings from the Catechism

Bookstore

Meet the Staff

Weather Control

School Shootings

Understanding Clinton
May Jesus Richly Bless You,
David Bay, Director
866-909-2850 Toll Free Customer Service - Order Line
803-356-2850 Customer Service - Order Line - For Out of Country Customers
803-356-2860 Fax