Satan's Warfare Against Mankind
"NOW THE serpent was more subtle and crafty than any living creature of the field which the Lord God had made ... the serpent said to the woman, You shall not surely die" (Genesis 4:1,4)
Regularly $39.98

Combo Offer Only $19.98!

You Save $20.00

Pastor Hoggard presents both the Godly and the Satanic sides in the never-ending spiritual battle in the Heavenlies.


"The Seven Spirits of God" DVD reveals through a study of Revelation 1, that the spirit of Antichrist would manifest itself as the OPPOSITE of each of the seven spirits through lying spirits who seek to destroy lives. You will learn how to discern the manifestation of the Holy Spirit or the spirit of Antichrist in a persons life. You will also be prepared to better to discern the real Antichrist when he arises

"Where Dragons Live" DVD reveals through Revelation 12, Jeremiah, Isaiah and Malachi how the demonic host can wreak severe spiritual damage on you and your family

Great Spiritual Warfare study, and you save money by buying them in this combo offer.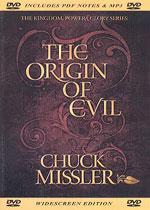 ""The Origin of Evil - When Did Satan Fall? You Might Be Surprised" - DVD
We know that the angels were created before God created the Earth. We discover that Satan had already fallen in Genesis, Chapter 3. The great Biblical Mystery is, exactly when did he fall?
We see substantial Scriptural references to his rebellion, his agenda against God and God's authority, and finally, the eventual catastrophic judgment which ensued because of his sinful rebellion. See the Trailer
http://www.cuttingedge.org/detail.cfm?ID=2028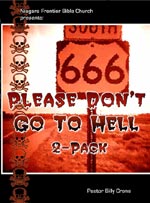 "Please Don't Go To Hell"
Soul-Winning DVD - 2-Disc Set
Even though Jesus talked more about hell than He ever did about heaven and even though He warned us over and over again about such a horrible eternal place, people still refuse to believe Him.
Incredibly Powerful Video Trailer
---
---------- This Weeks Hot News ----------
I. Fear began to spread globally after North Korea's nuclear test, her missile test, and her threat to begin a war!
What was the Illuminati Plan? "THE SCRIPT HAS NOW BEEN WRITTEN"
"A hair-raising nuclear confrontation in Korea may, towards the end of the period, threaten man's very survival." (Peter Lemesurier, "The Armageddon Script", p. 223
With these plans in mind, let us review the manner in which this part of the script is being unfolded.
NEWS BRIEF: "North Korea Threatens Armed Strike", Bloomberg Financial News, May 27, 2009
"North Korea threatened a military response to South Korean participation in a U.S.-led program to seize weapons of mass destruction, and said it will no longer abide by the 1953 armistice that ended the Korean War."
North Korea has threatened for several years now to militarily strike if any of its aircraft or ships are stopped by Western military units to search them for Weapons of Mass Destruction. For the past several years, South Korea has refused to participate in this American-led program for fears that her participation would unduly anger the North. But, now that North Korea has instigated a major provocation with a nuclear test and missile firings, South Korea has just joined the Proliferation Security Initiative, or PSI. The 90 nations participating in this program reserve the right to unilaterally stop any ship on the high seas if that vessel is suspected of carrying illegal Weapons of Mass Destruction or components thereof.
North Korea has warned the South on several occasions that she would consider any South Korean participation in the PSI as a "Declaration of War". Therefore, now that South Korea has decided to join PSI, war fears in the region are growing exponentially.
Even Russia has gotten in on the act.
NEWS BRIEF: "Russia fears Korea conflict could go nuclear ", YNET News, 05.27.09
"Russia is taking precautionary security measures, including military ones, because it fears tensions over North Korea's atomic test could descend into nuclear war ... a stand-off triggered by Pyongyang's nuclear test on Monday could affect the security of Russia's far eastern regions, which border North Korea."
Moscow then became more specific.
" 'We are not talking about stepping up military efforts but rather about measures in case a military conflict, perhaps with the use of nuclear weapons, flares up on the Korean Peninsula', he added."
Russian officials noted that a "war of nerves" is growing throughout the region, but noted that they did not believe North Korea would initiate military action. However, the focus of the actual war threat when the time has come for it to begin will be primarily international, not just regional.
When citizens of the world learn that North Korea possesses accurate 3-stage intercontinental ballistic missiles which can strike cities on the American East Coast, full pandemonium will instantly break out. Calm can prevail now in most areas of the world because virtually no one believes that North Korea can threaten anyone outside the Far Eastern Asia Region. But, once North Korea fires a missile that hits an American East Coast city, men's hearts will immediately begin to melt in sheer terror.
This is the Plan. Jesus warned that, at the End of the Age, men's hearts will fail them for fear.
When might it occur? Lemesurier states that this part of the Plan will occur "towards the end of the period" leading up to the appearance of the New Age Christ. Few of our readers doubt that the world is at this point now. But, such a timeframe might last 10 more years.
Might this crisis be the major crisis of which Senator Biden warned which he said would test President Obama severely and which would cause many people to initially believe that the new President was on the wrong side? We can only wait to see how events unfold.
But, remember the timeline here:
* 1981 - Lemesurier's book is published
* 1994 - President Clinton sent Former President Jimmy Carter to North Korea to "negotiate" a cessation of the North Korean effort to develop their own nuclear warhead capability (Read full details in our archived article, NEWS1720)
* 2002-2008 - President Bush regularly attempted negotiation with North Korea to persuade her to drop her nuclear development program. Bush's efforts are so unsuccessful that he is severely criticized by prominent members of the Council on Foreign Relations (CFR), describing his strategy as bungling.
* May, 2009 - Just 125 days into the Obama Presidency, North Korea suddenly tears up her agreements with the South and with the United States, tests a nuclear device, fires regional ballistic missiles and announces an end to the 1953 Armistice Agreement which ended the Korean War.
War clouds are forming on the Korean horizon, just as the Illuminati has planned. The only question is "when" and for that we can only wait and watch. When this planned war threat explodes upon the world scene, genuine Christians will receive a wonderful opportunity to witness to a very frightened people. We encourage you to print out our Salvation Page and place it in your Bible as so many people have told us they have done. You can then lead a person step-by-step into a personal salvation in Jesus Christ.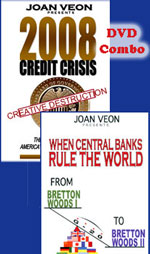 II. The government is apparently intent upon thrusting General Motors into a controlled, swift bankruptcy.
Such a move would greatly increase government control over the beleaguered automaker!
NEWS BRIEF: "Good GM: The Largest IPO in U.S. History?", Seeking Alpha, May 27, 2009
"The most important GM bankruptcy news today is the new UAW agreement. The old proposal was UAW would get 39% of a post-restructuring GM, the USA 50%, bondholders 10%, old common shareholders 1%. The question now arises who is getting (1) the 21.5% the UAW is giving up (or 19% if it exercises the warrant) (2) the 1% shareholders won't get in bankruptcy. The New York Times reports today the government will be getting this equity, but the Wall Street Journal suggests that Obama is undecided."
Why would President Obama be undecided as to how much equity his government will receive?
"There are several issues that may be troubling him about taking the largest stake for the Treasury rather than bondholders and other creditors. One is simply image: the U.S. government doesn't want to be a long term holder of GM equity, especially not the majority, because that's 'socialism'."
The government seems anxious to avoid the "Socialism" label, and for good reason: America's economy is rapidly going into Fascism, a 'kissing cousin' of Socialism.
What is the probable end result?
"... while the Treasury will inevitably end up with the lion's share of the new GM, the larger the stake it seeks, the more headaches it will have..."
American consumers are said to be more comfortable with being General Motors being forced into bankruptcy after seeing how smoothly and quickly the government has handled the Chrysler filing.
NEWS BRIEF: "GM Said to Gain Consumer Trust From Chrysler Bankruptcy Process", Bloomberg Financial News, May 27, 2009
"Chrysler LLC's swift bankruptcy process will give consumers confidence that General Motors Corp. would also emerge quickly if it needs to seek court protection ... A restructured Chrysler is almost ready to emerge from bankruptcy ... Chrysler's May sales were similar to those in April, showing consumers have taken President Barack Obama at his word that he intends for a retooled company to survive ... That leaves consumers feeling more optimistic that if GM goes through a similar process, warranties and service will be provided."
"... 'The government has showed that it's going to put its muscle behind this', said George Magliano, director of automotive research for IHS Global Insight Inc. in New York, in a Bloomberg Television interview yesterday..."
Notice that the consumer's confidence is in Big Government, not in Big Business, thus heralding the dramatic paradigm shift toward Fascism and away from Capitalism. Welcome to the new economy of the New World Order.
III. One of the most important realities concerning Sonia Sotomayor's appointment yesterday to the Supreme Court is that she will provide the sixth (6th) Roman Catholic Justice on the current Court!
Thus, the Vatican controls 66% of the votes on the Supreme Court!
NEWS BRIEF: "Sotomayor would be part of court's Catholic shift", CNN Politics, May 27, 2009
"As Supreme Court hopeful Sonia Sotomayor breaks ground for Hispanics, she is poised to add an exclamation point to another historic demographic shift: the move to a Catholic court. Sotomayor was raised Catholic and if she is confirmed, six out of nine, or two-thirds of the justices on the court will be from the faith. Catholics make up about one-quarter of the U.S. population."
Protestants should be greatly troubled by this trend, because historically, the Roman Catholic Church has been the greatest and most deadly enemy we have ever faced. In fact, during the 300-year Inquisition, untold millions of martyrs received their unjust death sentence at the hands of a Catholic Court!
Furthermore, the Illuminati plans to grant the Roman Pontiff the position of the top religious leader of the global New World Order Religion (Read full details in NEWS1052). This fact means that the Roman Catholic Pope will direct the greatest slaughter of Christians the world has ever seen, fulfilling our Lord's prophecy of Revelation 6:9-11).
The Pope is also the False Prophet of Revelation 13:11-18, a leader pretending to be Christian ("two horns like a lamb"), but whose heart is so blackened by Satan that he will be the one who will force all the peoples of the world to take the "Mark of the Beast".
Since the Illuminati is so committed to the future role of the Pope, it is no wonder that the elite Illuminati secret society, Skull & Bones, forces its members to kiss the foot of a member dressed as the Pope during a number of their rituals.
Therefore, we should not be surprised to learn that the Illuminati has given Roman Catholicism unshakeable control of the American Supreme Court. The slide into anti-christian sentiments can only be enhanced by this Catholic Court.
But, the news gets even more dramatic when we check our featured article once more.
"The current court is composed of two Jewish members -- Justices Stephen Breyer and Ruth Bader Ginsburg. If Sotomayor joins the bench, Justice John Paul Stevens would be the solitary Protestant on a court once dominated by white Protestant men."
I find it difficult to imagine a more powerful symbol of America's slide away from Christian values than this statistic! The High Court now has only one Protestant Justice! Truly, America is no longer a nation rooted to Christian values!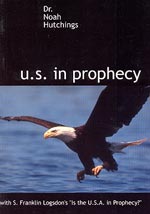 God's warning rings in my ears.
"She is fallen! Mighty Babylon is fallen! She has become a resort and dwelling place for demons, a dungeon haunted by every loathsome spirit, an abode for every filthy and detestable bird ... For her iniquities (her crimes and transgressions) are piled up as high as heaven, and God has remembered her wickedness and [her] crimes [and calls them up for settlement." (Revelation 18:2, 5; Parallel Bible, KJV/Amplified Bible Commentary)
God concludes: "So shall her plagues (afflictions, calamities) come thick upon her in a single day, pestilence and anguish and sorrow and famine; and she shall be utterly consumed (burned up with fire), for mighty is the Lord God Who judges her." (Rev 18:8; Parallel Bible, KJV/Amplified Bible Commentary)
If you have never read a scholarly explanation as to how the Economic Babylon of Revelation 18 is the United States, Dr. Hutchings masterfully explains this complex End Times prophecy, in his book, "U.S. In Prophecy: Proofs that Economic Babylon of Revelation 18 IS The United States", pictured above.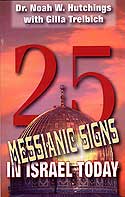 DVD
IV. Suddenly, Jordan is feeling diplomatic heat to allow a Palestinian State to be established on HER soil!
Since more Palestinians live in Jordan than in Israel, it only makes sense to give them some land on both sides of the Jordan River for their state!
The Masonic-led government of King Abdullah II is throwing a fit.
NEWS BRIEF: "Jordan Protests '2 States on 2 Banks of the Jordan' Plan", by Gil Ronen, Israel National News, May 26, 2009
"Jordan's Foreign Minister Nasser Jouda summoned Israel's ambassador in Amman Tuesday to protest a Knesset vote in favor of a statement that Jordan is the Palestinian state ... the Jordanian Foreign Ministry released a statement saying that Jouda 'utterly rejects' the idea of establishing a state for Palestinian Authority Arabs east of the Jordan River and that he demands a formal clarification from the Israeli government."
Of course, the Jordanian government utterly rejects the concept of giving the Palestinians any of their land so 'House of Esau' can have their coveted nation! Do you remember the "Black September" war of 1970, where King Hussein of Jordan militarily attacked Palestinian forces led by Yassir Arafat because he recognized the inherent danger of allowing the Palestinians a powerful voice within Jordan. Let us examine the facts.
NEWS BRIEF: "Black September in Jordan", Wikipedia Encyclopedia
"September 1970 is known as the Black September .. in Arab history and sometimes is referred to as the 'era of regrettable events'. It was a month when Hashemite King Hussein of Jordan moved to quash the autonomy of Palestinian organizations and restore his monarchy's rule over the country. The violence resulted in the deaths of thousands of people, the vast majority Palestinian. Armed conflict lasted until July 1971 with the expulsion of the PLO and thousands of Palestinian fighters to Lebanon."
King Hussein's advisers had warned him that, because the Palestinians represented such a huge population bloc, they could permanently undermine the Hashemite Kingdom. Hussein decided to strike the Palestine Liberation Organization while he maintained a clear military advantage.
Now, let us return to this featured story in Israel National News.
"2 States for 2 Nations on 2 Banks - In a Knesset debate last week, MK Aryeh Eldad (National Union) said that the Arabs in Judea and Samaria should receive Jordanian citizenship because Jordan is the Palestinian state."
This last sentence is entirely correct. The province of Edom in Jordan is the historical location of the Palestinians, so it should be that state on which a Palestinian State should be established. The 'House of Esau' are today's Palestinian people led by the Palestinian Authority and Hamas within Israel, but also residing in the provinces of Moab and Edom, today controlled by Jordan.
This new diplomatic plan continues:
" 'The Jordanian Plan is the only alternative that can guarantee the existence of the State of Israel while satisfying the will of the international community to give the Palestinians a state', MKEldad explained. 'The decision to discuss this alternative was approved by the Knesset just as the Prime Minister discussed the matter with Obama', he noted."
The Mass Media did not report that Israeli PM Netanyahu had discussed this plan with Obama, but then, again, we were told that the new American President was going to announce a "New Plan" for peace between Israel and the Palestinians! Could this be the essence of his "New Plan"? We can only wait to see.
This development is one of the most startling I have ever seen or heard! The implications are huge.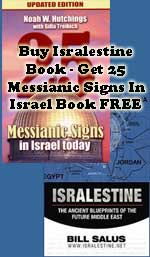 V. Israel is preparing for a major war on all fronts!
The prophesied 'greater Israel' will occur whether the world wants it or not; and, the Israeli armed forces are getting prepared!
NEWS BRIEF: "Are you ready for war?", The Golden Report, May 26, 2009
"Through all of next week starting Sunday May 31st Israel will have the largest civil defense drill in its history, in preparation for war on at least three fronts. We need to know how Israel will function in the event of simultaneous missile strikes from Syria, Hezbollah in Lebanon, Iran and Hamas, the same time having to fight 'Palestinian' terrorist's attacks from the Arab population. The name of this exercise will be called Turning Point 3." (Emphasis added)
Discerning Jews can clearly see the war "handwriting on the wall" through the current clouds of diplomatic maneuvering led by President Obama, Israeli PM Netanyahu and the 22 nations of the Arab League.
"... we are on the verge of an all out war like Israel has never seen in its history ... You might wonder what is the matter with these nuts, but the answer is simple they don't know God and when they are confronted with His reality they refuse to accept His Word or presence in this world ... But I can assure you that when that dust does settle, Israel will be here and God's Word will ring true to many who have been denying Him for so long. God will bring His people the Jews back to this land that He promised Abraham, Isaac and Jacob for the God I serve cannot lie."
We concur! The Arab plan by which they hope to annihilate Israel was originally set forth in 1996, and still seems to be the operative plan (Read full details in NEWS1056 and NEWS1057).
Before we leave this subject, let us review one more critically pertinent detail.
The plan to give the Palestinians their own nation was created, and currently supported, by the Global Illuminati, a collection of secret societies which are Masonic to the core. This plan will entice radical Muslims to support it because they will believe that a Palestinian State will fatally weaken Israel.
But, then, when the Arab states surrounding Israel launch their coordinated attack, Israel will strike back with the incredibly powerful array of weapons with which the Western nations have provided her, plus she will have the support of Michael the Archangel (Daniel 12:1).
These combined Islamic forces will be defeated roundly and the Masonic Christ can arise to rebuild his coveted Solomon's Temple. Please take a few moments to read a most important article from our Archives, NEWS1643, entitled, "Fervent Masonic Desire To Rebuild Solomon's Temple Is The Driving Force Behind Events of The Mid-East Today".
Of course, this all-out war between Israel and her immediate Arab neighbors will instigate the World War III of the Illuminati (NEWS1015, "Albert Pike's Incredible Satanic Vision"), a global conflagration which shall produce Antichrist on the world scene.
Jerry Golden is right: Embattled, tiny Israel will survive and will spread out to the "Greater Israel" which is foretold in Scripture and explained very well in our featured book, above, "Isralestine: Greater Israel WILL Occur Whether World Likes It Or Not".
Then, her leaders will entice the Jewish people to accept this New David Christ as Israel's promised Messiah and the 7-year Tribulation will begin. We are on the exciting cusp of this collection of fulfilled prophecy!
Spread the word and endeavor with all your heart to get people saved while "Today is still called today" and salvation by grace through Jesus Christ is still being offered to mankind!
DVD
VI. Is the Obama Administration considering the proposal to force everyone in the entire population to take three (3) Swine Flu shots this Fall?
The answer is "Apparently so".
NEWS BRIEF: "Obama Administration to Implement Government Flu Shot Program??", YouTube Video, May 21, 2009
"Are the governments of the world preparing to vaccinate the entire populace? It seems that may be the case. According to Reuters 4.9 billion vaccinations against the supposed swine flu could be ready shortly. Documents have been leaked that suggest the CDC is preparing to have a Day of Planning for an H1N1 Vaccination Campaign. The WHO 'is also now saying that because of the outbreak in Japan they may be forced to declare a level 6 pandemic'."
In this video, an NBC anchorwoman interviews Dr. Nancy Steinam, Health Editor of the Washington Post, about the government plan to transform the normal Fall shot program from one shot to three shots.
Literally, this dramatic flu shot program is a "Trust Your Government" scenario and will require a massive Public Relations campaign to convince a distrusting public. Admittedly, millions of Americans are already skeptical that any flu vaccine is trustworthy and safe; therefore, the government will have to accomplish two major goals:
1) Scare everyone almost to death about the danger of Swine Flu;
2) Mount a tremendously effective and massive public relations campaign to convince people that the entire population could become severely sick and/or die.
I cannot help but notice how this intentional scare is going to profit the pharmaceutical companies! Can you imagine the sales and profit from 4.9 BILLION doses? If each dose cost the government $10, sales will reach to $49 billion! And, if the pharmaceutical companies make "only" $5 per dose -- and they may make much more -- then the profits to the manufacturers of flu vaccines will be $25 billion!
As we have stated many times before, while the Illuminati is leading the people to the New World Order, they fully intend to make as much money as possible! Profits from the oil and vaccination companies also are used to fund further progress toward the new global dictatorship.
One final note: While I understand that the final vaccination program which will aid the Illuminati in reducing the world's population by 66% will include a tainted vaccine which shall kill more people than the disease, I am not sure that this Fall's program will be that final fatal flu vaccination.
Rather, it will be a major conditioning vehicle to prepare all citizens for the final deadly vaccine.
The Global Elite can also make much mileage from the alarms of "Conspiracy Theorists" who warn of the fatal nature of the final vaccination program. After hearing of the planned use of tainted vaccinations, people will totally disregard our warnings when this Fall's flu vaccinations do not kill enormous numbers of people.
Then, they will be completely conditioned to accept that final vaccination!