Are you spiritually ready? What Must I Do To Be Saved
---
Unique Combination DVD Offer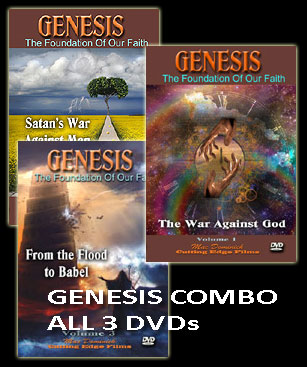 "Genesis: 'Foundation of Our Faith' "
by Mac Dominick
Regularly $74.85 - when bought separately
Only $49.99 Combo Offer. Save $24.86!
Genesis 1 - 'The War Against God'- You will see how Satan battled with God for the future of humanity and how God decisively won each battle
Did you know that the sequence of creation listed in Genesis 1 is precisely the order scientists and mathematicians know that is essential to creating the world?
Mac teaches Genesis One in light of essential faith and in End Times' prophecy, surprising even the most hardened skeptic. In This DVD we present the evidence that much of the physics and evolution taught today is made up, contradictory and unscientific theories contrived by men who hate God!
Run Time 2 hours
Genesis 2 - Satan's War Against Man
Satan suddenly launched a vicious war against man. And, Satan knew exactly where to strike. Taking the form of a Serpent, Satan spoke gracious words to an innocent, gullible Eve.
Genesis 3 - 'From The Flood To Babel'. Mac correctly links the rise of the wickedness of mankind to Nephilim prior to the World Wide Flood. He then covers several current theories about why the tower was built including a way to escape another future flood, a stargate to another dimension or a home for the gods. As a result of the Satanic attacks at Babel, God chose Abraham as the father of a nation to be His inheritance upon the Earth and a conduit for the coming of Messiah and God's ultimate kingdom whereby he will rule and reign forever.
Nearly 4 1/2 hours of run time - https://www.cuttingedge.org/detail.cfm?ID=2964
---
World-Wide Plans For A Deadly Plague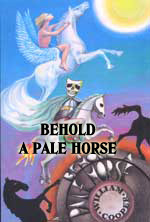 F.E.M.A. Is an "interdepartmental unit which is empowered in the event of a national security emergency to become the unelected national government, a sort of F.E.M.A. secret government, so to speak. A pretext for invoking this emergency can be found almost daily in the newspapers .... anything, in fact." [Page 122] ("Behold A Pale Horse"]
"... the elite would use some other excuse to bring about the New World Order. They have plans to bring about things like earthquakes, war, the Messiah, extraterrestrial landing, and economic collapse. They might bring about all of these things just to make ... sure that it does work. They will do whatever is necessary to succeed. The Illuminati has all the bases covered ... Can you imagine what would happen if Los Angeles is hit with a 9.0 quake, New York City is destroyed by a terrorist-planted atomic bomb, World War III breaks out in the Middle East, the banks and the stock markets collapse, Extraterrestrials land on the White House lawn, food disappears from the shelves, some people disappear, the Messiah presents himself to the world, and all in a very short period of time?" ("Behold A Pale Horse", p. 177]
Coming Into Their New World Order
In this economy, all private property and inheritance would be abolished. Once this economy is established, all individuals in this world will be forced to pledge allegiance to the Anti-Christ in a ceremony entitled a "World-Wide Luciferic Initiation". Then, "later, a permanent tattooed body number invisible under normal ambient illumination" will be marked on each person. ("Behold A Pale Horse", p. 44)

NOTE: The global plan to establish the New World Order as William Cooper so brilliantly informed us in "Behold A Pale Horse", is now finally beginning to occur with great rapidity!
---