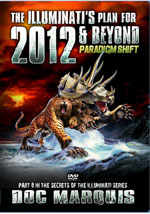 Shipping Now!!
"Paradigm Shift": Is God's 'Deadly Deception' Upon Us?
Perhaps The Most Important "Watchman on Wall" Message EVER!
See New Trailer Below!
New DVD by Doc Marquis, 2-Disc Set - Volume 2
Pre-Sale Continues - Regularly $39.99, Now Just $29.99, through Midnight, July 6
We are praying that the conclusion will challenge Christians to get truly busy in sharing the Gospel with their unsaved loved ones and will bring the unsaved to conviction of sin so they will be saved. We demonstrate that the time is truly short!
On December 21, 2012, the world is supposed to enter into a New Age of spiritual enlightenment and awareness. This astrological chart cast for December 21, 2012, depicts the Yod – the finger of God – pointing to this new spiritual energy and spiritual healing.
For the past several thousand years, mankind has been collectively yearning for a spiritual healing of the nations, a time when wars, hatreds and divisions will miraculously give way to peace, love and unity. New Age literature abounds with this message of hope and change. Authors teach that this idyllic new "Garden of Eden" will occur only after the New Age Christ is on the world scene, leading mankind into a most peaceful New World Order.
In Volume 2, we shall examine some other cultural and spiritual expectations for 2012 and then we shall present the real point-in-history change which the Elite seem to have planned for December 21, 2012, a change known as the "Paradigm Shift". Antichrist cannot arise until and unless this paradigm shift in spiritual values has occurred. Unless God specifically stops the Illuminati, their demonic Guiding Spirits may just have this long-awaited Paradigm Shift planned for December 21, 2012. New Age adherents are looking forward to this day as enthusiastically as we Christians are looking forward to the Rapture of the Church!
3 hours long
New Doc Marquis DVD Combination Offer
You Save $110.00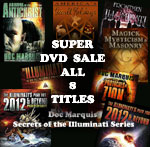 Regularly $309.92 if purchased separately
Combination Offer - $199.92
All Eight Titles by Doc Marquis, 15 DVDs -
---
---------- This Week's Hot News -------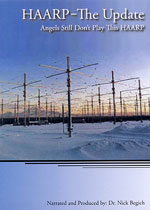 DVD
I. Has this nasty weather so far in 2011 been created by man?
Listen to Defense Secretary William Cohen: "(scientists) are engaging even in an eco-type of terrorism whereby they can alter the climate... remotely through the use of electromagnetic waves."
Altering the climate means scientists have to control wind, rain, and damaging storms! Read these facts and try to deny that these disasters are deliberate.
NEWS BRIEF: "First Half of 2011 Leaves an Astonishing Legacy ", by Chris Dolce, Meteorologist, The Weather Channel, July 5, 2011
"The events that have occurred during the first half of the year have been astonishing. According to the National Oceanic Atmospheric Administration (NOAA), we've already seen eight billion-dollar weather disasters since January! This is an unbelievable number of events of this magnitude crammed into just six months. "
When I read the news that scientists had cracked the genetic code, I cringed, because I knew the Biblical truth that man is inherently wicked and that his first crime against his fellow man was murder. Even though I was years away from knowing anything about the New World Order, I believed that this genetic knowledge would be turned as a weapon against man. Subsequent events have proven my original fears to be well-founded, as the world in the last 20 years has seen a deadly string of disastrous viruses which have been proven to be created in a laboratory!
Likewise, in the 36 years since scientists have been able to control the weather, as Defense Secretary Cohen revealed in 1997, storms have been getting really big and really bad and really deadly. Let us review the facts from this article.
"For perspective, the most billion-dollar weather disasters recorded in one full year (since 1980) is nine in 2008. This was from a wide variety of weather events including tornadoes, floods, drought, wildfires and three hurricanes. With half the year and the peak of the hurricane season ahead of us, it's not out of the question that this undesirable record could be reached in 2011. "
Now, let us review what these eight "billion-dollar disasters" in the first 6 months of this year were:
1) "Jan. 29-Feb. 3 'Groundhog Day Blizzard' - Affected many central and eastern states, causing an estimated $3.9 billion in damages. Chicago recorded its biggest 24-hour snow total with 20 inches. Tulsa, Okla., was buried under 14 inches."
2) "April 4-5 Severe Thunderstorm Outbreak" - A massive wind damage event with tornadoes swept from the Ohio Valley to the South and mid-Atlantic ... More than 1,350 damaging wind reports. 48 confirmed tornadoes. "
3) "April 8-11 Tornadoes and Severe Storm Damage" - Severe thunderstorms and tornadoes hit portions of the Midwest, South and Plains. Total damage estimate of $2.2 billion ... At least 14 confirmed tornadoes in Wisconsin on April 10, a record for any April day in the state."
4) "April 14-16 Tornado Outbreak" - Three-day siege of severe thunderstorms and tornadoes from the central and southern Plains to Mississippi, Alabama, Virginia and the Carolinas. Total damage estimate of $2 billion. Preliminary number of tornadoes: 182."
5) "April 25-30 Tornado Outbreak" - Massive outbreak of severe thunderstorms and tornadoes from the South into portions of the Midwest and Northeast. New estimates indicate total losses may reach $10 billion! 322 fatalities combined in Arkansas, Mississippi, Alabama, Tennessee, Georgia and Virginia."
6) "May 22-27 Tornadoes and Severe Storm Damage" - Severe storms and tornadoes hit a large swath of the country from the Midwest to the South and Northeast ... EF5 tornado demolishes Joplin, Mo., on May 22, resulting in 151 fatalities ... An EF5 tornado carved a 75-mile path across Oklahoma on May 24, including near El Reno, Piedmont and Guthrie. A total of 18 people lost their lives as a result of tornadoes that day in Oklahoma, Kansas and Arkansas. "
7) "Ongoing 2011 Texas Drought and Wildfires" - As of June 28, nearly 72 percent of the Lone Star State was in exceptional drought, the worst category. Total losses to agriculture and cattle are estimated to range from $1.5 billion to $3 billion."
8) "Mississippi River Flooding" - Current economic losses are estimated to be between $2 billion to $4 billion dollars ... The flooding was caused by heavy rains in April from northern Arkansas and southern Missouri to the Ohio Valley. This water all flowed downstream into the Mississippi River, resulting in record flooding. "
Mother Gaia Connection
Since the Illuminati controls both the science and the political leaders of the world, and since they desperately want to create world conditions conducive to their Masonic Christ (Antichrist), would you be surprised to learn that weather science and political considerations are melding together at this point?
The Illuminati is setting the stage for actions their Masonic Christ will take when he is actually on the earth. One of these actions include adopting the "Al Gore" mind set, because Gore faithfully reflects the thinking of the top echelon of world leaders.
The Illuminati frantically wants to reduce earth's population by 66%, the same percentage of people killed by God's judgments in the Book of Revelation.
Starting in 1975, New Age writings have been screaming that this Earth is a living, breathing goddess named Gaia. Our current Industrial Civilization is over burdening Gaia in certain geographic areas with our factories, mines, cities, and humans. Mother Gaia will attempt to rectify this over burdening on her own by creating storms and natural disasters in an attempt to remove the stress of modern civilization; if these storms do not remove the strain, then Gaia will bring greater and greater and greater storms.
The movie, "The Day After Tomorrow" is the perfect pictorial illustration of this "Mother Gaia" doctrine. Please take a few moments to read this June 1, 2004 article, for then you will understand this Newsletter segment.
The areas which are being hit the hardest with these repeated storms just so happen to be areas which the United Nations has declared off-limits to human habitation in the period after the Masonic Christ has arisen.
If you look closely at this U.N. Biodiversity Map, you will discover that over 50% of the United States will be set off limits to normal human activity! This is the plan, and the Mother Gaia doctrine is the key. Since scientists are controlling the weather, they can cause flooding, destructive storms, drought and other climate maladies in the very areas which Antichrist is going to place off-limits to human activity!
Therefore, the Plan calls for the Masonic Christ to declare that these storm-prone areas are precisely the areas in which Mother Gaia needs the pressure to be removed. At that point, he will issue an edict which will set up these "Biodiversity" areas and these huge tracts of land will immediately begin the process of Re-wilding", i.e., letting the land go back to the wild state it was in 400 years ago.
If you find it difficult to believe that human scientists can control the weather, please click to our Weather Control section and read the numerous articles posted there and see the various Bookstore items which clarify this almost unbelievable scientific capability.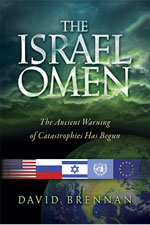 II. Saudi Arabia is warning that they will not find behind Iran in developing nuclear weapons, thus threatening to throw the Middle East into great turmoil.
The problem is that the truth lies in the opposite direction; the reality is that Saudi Arabia and Iran have possessed militarized nuclear weapons since early, 2002!
NEWS BRIEF: "Saudis to NATO: Expect a Mideast nuke race", World Tribune, July 4, 2011
"Saudi Arabia has warned NATO of a nuclear arms race in the Gulf. A senior Saudi prince believed sent by King Abdullah has told NATO that Riyad would not lag behind Iran in any nuclear weapons race. Prince Turki Al Faisal told a NATO conference in June that an Iranian nuclear weapons buildup would prompt a similar effort by Saudi Arabia. "
This entire story is just nonsense! Both Saudi Arabia and Iran already possess nuclear weapons! Please take a few moments to read the truth.
Please read this archived Headline News article which reveals the truth.
NEWS2047, "If Iran Is Truly The Nuclear Threat In The Middle East, Why Are Israel and the United States Ignoring The Third Atomic Threat In The Region?"
Stratfor Intelligence, Week of June 4, 2002, reported that Iran possessed nuclear weapons in early June, 2002!
World Net Daily reported in March, 2002, that the Saudis possessed nuclear weapons and were buying Chinese missiles.
Therefore, all these current news stories are designed to mislead a gullible public!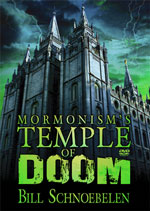 DVD
III. Is President Obama giving Mormon and Conservative candidates a campaign gift that might give them victory in 2012?
NEWS BRIEF: "Obama may be in deep trouble… Chief Justice John Roberts, U.S. Supreme Court ", Red, White and Blue News, July 5, 2011
"According to sources who watch the inner workings of the federal government, a smackdown of Barack Obama by the U.S. Supreme Court may be inevitable. Ever since Obama assumed the office of President, critics have hammered him on a number of Constitutional issues. Critics have complained that much, if not all of Obama's major initiatives run headlong into Constitutional roadblocks on the power of the federal government."
"Obama certainly did not help himself in the eyes of the Court when he used the venue of the State of the Union address early in the year to publicly flog the Court over its ruling that the First Amendment grants the right to various organizations to run political ads during the time of an election. The tongue-lashing clearly did not sit well with the Court, as demonstrated by Justice Sam Alito, who publicly shook his head and stated under his breath, 'That's not true,' when Obama told a flat-out lie concerning the Court's ruling."
"Obama has even identified Chief Justice John Roberts as his number one enemy, that is, apart from Fox News and Rush Limbaugh, Beck, Hannity, and so on. And it is no accident that the one swing-vote on the court, Justice Anthony Kennedy, stated recently that he has no intention of retiring until 'Obama is gone.'
With the Mormon candidates campaigning on saving the Constitution, I find Obama's verbal assault against the Supreme Court and Chief Justice Roberts to be an extremely interesting development. President Obama may just be ready to give Mormon candidates Romney and Huntsman a gift as he will be pictured as threatening the Constitution, which is sacred to the Mormon religion and which is nearly sacred to many Conservatives.
---
Pastor Hoggard's Newest DVD's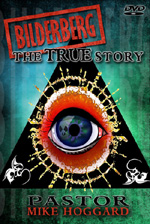 "Bilderberg: The True Story"
New DVD by Pastor Mike Hoggard
Pastor Hoggard demonstrates that Bible prophecy foretold the rise of secret society groups like the Bilderberg Group over 2,500 years ago! You will be amazed at how accurately the Bible foretold the rise of a group of men just like the Bilderberg group at the End of the Age, whose stated mission is to overthrow God and His kingdom on this earth.
Pastor Hoggard shows the true and hidden agenda behind the meeting of the Bilderbergers. Using the attendee list and the Scriptures as a guide, this video reveals that the transformation of society, total domination by the New World Order, and the establishment of the throne of King Antichrist is just around the corner.
A truly inspiring and faith-building expose'.
1 hour 17 minutes long - http://cuttingedge.org/detail.cfm?ID=2332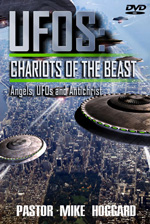 NEW DVD FROM PASTOR HOGGARD
UFOs - Chariots of the Beast: Angels, UFOs and Antichrist
In this nearly two hour video, Pastor Hoggard covers nearly the entire UFO phenomenon from ancient sightings to the Phoenix lights, alien abductions, reptilian aliens, grey aliens, media presentations of the UFO movement in television and films, and much more.
Amazingly, Pastor Hoggard reveals that the entire UFO story from their source to their ultimate goal is plainly revealed in the pages of the Scriptures, including military and government complicity in the alien (fallen angel) plan to conquer the world from Adolph Hitler to Area 51.
Almost 2 hours long
Click Here To See All of Pastor Hoggard's DVD's
---
New Headline News Articles
Is Your Pastor A Member of Freemasonry?
If he is, you must either get him removed or leave that church!

Japan's Industrial Base and America's Heartland Are Under Attack, Being Devastated By Unprecedented Devastation From Tornadoes, Earthquakes And Floods
Who has declared war on us, using weather as their weapon?
Perhaps it is time to take Defense secretary William Cohen seriously when he revealed in 1997 that scientists control weather, set off volcanoes and earthquakes remotely through electromagnetic waves!
Pakistan Seems To Be Splitting From the United States, Cozying Up To China
If Pakistan resumes her traditional alliance with China, the prophecy of the "Kings of the East" in Revelation 16:12 can occur.


"Preacher Harold Camping Sets His Rapture Date of May 21, 2011"
Another false religious teacher, another false date of the Rapture, and another black mark against genuine Christians and their beloved Bible! You can mark this date on your calendar as THE one date the Rapture will NOT occur. http://www.cuttingedge.org/news/n2418.cfm
As if he did not learn his lesson, this false teacher has said he "miscalculated" and sets a new Rapture date of October 21, 2011.
The National Association of Evangelicals is getting ready to align with the Church of Jesus Christ of Latter-Day Saints! http://www.cuttingedge.org/news/n2442.cfm
Mormon Glenn Beck Meets With Southern Baptist Billy Graham, Urging Him "To Come Together" - Yoking Believers With Unbelievers!
Beck is making major inroads to convince Evangelical leaders to support his cause. Beck has even taken control of the "Black Robed Regiment" to finally cement a bridge from Mormonism to Christianity. Genuine Christians are in dire danger of being mightily deceived. http://www.cuttingedge.org/news/n2441.cfm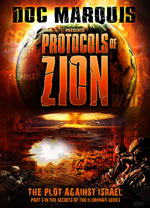 DVD
Why Is China Building Large Cities Completely Devoid of People? The answer will shock you, for a nearly unknown part of the Plan is being implemented. This development means that the appearance of the Antichrist is closer than many think possible.
http://www.cuttingedge.org/news/n2440.cfm
---
Close-Out Bookstore Item -- Save $15.00!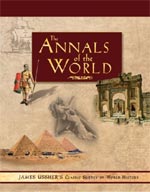 "The Annals of the World"
James Ussher's Classic Survey of World History"
Regularly $34.99, Close-out At $19.99, Quantities limited
Wonderful Home School resource, with 960 pages, weighs 5 pounds!
Considered both a literary classic and an accurate historical reference from Creation to 70 A.D. For the first time, this classic work has been translated into modern English.
This treasure trove of material also contains many human interest stories from original historical documents collected by the devoted Christian historian and scholar Archbishop James Ussher. Precisely dated and referenced, this volume is much more than just a fascinating history book -- it is a work of history
Contains over 2,500 citations from the Bible - Is fully indexed, with 8 appendices
A "one-of-a-kind" historical home school resource and we have limited stock on hand!
---

Purchase a 1-Year Subscription, you may select 1 FREE gift
Purchase a 2-Year Subscription, you may select 2FREE gifts
Purchase a 3-Year Subscription, you may select 3 FREE gifts
Purchase a 4-Year Subscription, you may select all 4 FREE gifts
We have changed our FREE gifts available to you when you subscribe to Headline News, adding two Pastor Hoggard DVD's to the Seminar Tapes and the Radio Collection CDROM.
---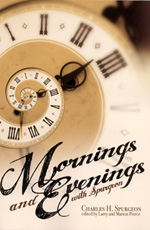 --------Concluding Inspiration ---------"Looking unto Jesus." Hebrews 12:2
"It is ever the Holy Spirit's work to turn our eyes away from self to Jesus; but Satan's work is just the opposite of this, for he is constantly trying to make us regard ourselves instead of Christ. He insinuates, "Your sins are too great for pardon; you have no faith; you do not repent enough; you will never be able to continue to the end; you have not the joy of His children; you have such a wavering hold of Jesus." All these are thoughts about self, and we shall never find comfort or assurance by looking within. But the Holy Spirit turns our eyes entirely away from self: He tells us that we are nothing, but that "Christ is all in all." Remember, therefore, it is not thy hold of Christ that saves thee—it is Christ; it is not thy joy in Christ that saves thee—it is Christ; it is not even faith in Christ, though that be the instrument—it is Christ's blood and merits; therefore, look not so much to thy hand with which thou art grasping Christ, as to Christ; look not to thy hope, but to Jesus, the source of thy hope; look not to thy faith, but to Jesus, the author and finisher of thy faith. We shall never find happiness by looking at our prayers, our doings, or our feelings; it is what Jesus is, not what we are, that gives rest to the soul. If we would at once overcome Satan and have peace with God, it must be by "looking unto Jesus." Keep thine eye simply on Him; let His death, His sufferings, His merits, His glories, His intercession, be fresh upon thy mind; when thou wakest in the morning look to Him; when thou liest down at night look to Him. Oh! let not thy hopes or fears come between thee and Jesus; follow hard after Him, and He will never fail thee.

"My hope is built on nothing less
Than Jesus' blood and righteousness:
I dare not trust the sweetest frame,
But wholly lean on Jesus' name."
"Morning and Evening Devotions", by C.H. Spurgeon
---
"President Bush:
Evil vs Good Fruits"
Directory of all news articles
Free Radio Transcripts

Free Headline News Archives

Freemasonry

What Saith Rome

Teachings from the Catechism

Bookstore

Meet the Staff

Weather Control

School Shootings

Understanding Clinton
May Jesus Richly Bless You,
David Bay, Director
866-909-2850 Toll Free Customer Service - Order Line
803-356-2850 Customer Service - Order Line - For Out of Country Customers
803-356-2860 Fax