---------- This Week's Hot News -------
I. Another public shooting tragedy has occurred on a Naval base, the Washington Naval Yards, killing 13, including the shooter.
Immediately, Democrat Senator Feinstein issued a clarion call for new Gun Control laws!
NEWS BRIEF: "Washington Navy Yard Shooting: 13 People Confirmed Dead, Including Shooter", Huffington Post, 9/16/2013
"One shooter is dead after opening fire Monday morning at the Washington Navy Yard, and Metropolitan Police Chief Cathy Lanier announced Monday night that authorities believe he was the sole person responsible for the shooting. Thirteen people were killed, including the shooter, Mayor Vincent Gray announced at a late afternoon press conference. No motive is known at this time."
"Multiple news outlets identified Aaron Alexis, 34, as the deceased shooter. Originally of Fort Worth, Texas, Alexis recently began working at the Navy yard as a civilian contractor ... Officials said a suspect began shooting inside the Naval Sea Systems Command Headquarters building at 8:20 a.m. Approximately 3,000 people work in the building."
Let us pause here for a moment, to revisit a critically important revelation from a New Age author who had become horrified by the true nature of the New World Order he had worked so hard to advance. His name is Bill Cooper: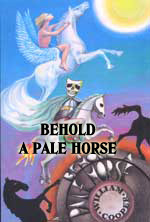 "Using drugs and hypnosis on mental patients in a process called Orion, the CIA inculcated the desire in these people to open fire on school yards and thus inflame the antigun lobby ... The middle class is begging the government to do away with the 2nd amendment. I have found that these events have, indeed, happened all over the country. In every instance that I have investigated -- the incident at the women's school in Canada, the shopping center incident in Canada, the Stockton, California, massacre, and the murder of Rabbi Meir Kahane -- the shooters were all ex-mental patients or were current mental patients who were ALL ON THE DRUG PROZAC! This drug, when taken in certain doses, increases the serotonin level in the patient, causing extreme violence. Couple that with a post-hypnotic suggestion or control through an electronic brain implant, or microwave or E.L.F. intrusion, and you get mass murder, ending in every case with the suicide of the perpetrator." ["Beyond A Pale Horse", p. 225; Emphasis was in the original. written in 1992]
In every public shooting tragedy since Cooper penned these words, the shooter was mentally unstable and was under the treatment of a psychiatrist, was on some kind of mind altering drug -- Prozac cited by Cooper -- and was literally mind controlled.
Was this Naval Yard shooter mentally unstable? Yes, he suffered from mental "black-outs", he heard voices in his head and was generally unstable.
And, like almost every previous shooter, Alexis got himself killed before he could be captured and interrogated.
NEWS BRIEF: "Aaron Alexis Heard Voices: Navy Yard Shooter Was Treated For Mental Health Issues", Huffington Post, 9/17/2013
"U.S. law enforcement officials are telling The Associated Press that the Navy contractor identified as the gunman in the mass shootings at the Washington Navy Yard had been suffering a host of serious mental issues, including paranoia and a sleep disorder. He also had been hearing voices in his head..."
Was Alexis under the treatment of government psychiatrists, as have so many previous public shooters? Incredibly, the answer again is "yes"!
"Aaron Alexis, 34, had been treated since August by the Veterans Administration for his mental problems..."
But, the Navy then acted incompetently, as they did not rescind Alexis' security clearance. Alexis gained entrance into the Naval building only because he still had his security badge.
"The Navy had not declared him mentally unfit, which would have rescinded a security clearance that Alexis had from his earlier time in the Navy Reserves."
Was Alexis being given a mind altering drug, like previous public gun shooters? At this point, I am not sure, but I will continue monitoring news reports.
II. Gun seizure advocates immediately issued calls for strict gun control!
Right on cue, within a few hours after the shooting, Democrat Senator Feinstein called for new, stringent gun control laws.
Remember, New Age author, Bill Cooper, stated that "using drugs and hypnosis on mental patients in a process called Orion, the CIA inculcated the desire in these people to open fire on school yards and thus inflame the antigun lobby ..."
NEWS BRIEF: "Following Navy Yard Shooting, Dianne Feinstein Calls for Stricter Gun-Control Laws", National Journal, 9/16/2013
"Sen. Dianne Feinstein, one of the Senate's leading voices on gun control, called for stricter gun laws in the aftermath of Monday's killings at Washington's Navy Yard. The California Democrat said the deaths of the 12 people Monday were at the hands of a man armed with an AR-15, a shotgun, and a semiautomatic handgun ... When will enough be enough? Congress must stop shirking its responsibility and resume a thoughtful debate on gun violence in this country. We must do more to stop this endless loss of life."
What did Cooper say about the objective was in these horrific public shootings?
"thus inflame the antigun lobby ..."
Others quickly joined Feinstein's call for gun control.
"Dan Gross, the president of the Brady Campaign to Prevent Gun Violence, connected the several mass shootings in recent years to Monday's shooting in Washington ... Senate Majority Whip Dick Durbin, D-Ill., delayed a hearing on 'Stand Your Ground' laws that was scheduled for Tuesday morning in light of the shooting at the Navy Yard. Sybrina Fulton, the mother of deceased Florida teen Trayvon Martin, was among the witnesses set to testify."
Please remember one historic fact: no dictatorship has been successfully established or maintained in a nation where private citizens own guns. Hitler was able to persuade German gun owners to turn in their guns; less than three years later, Hitler swiftly moved to force Germany from a democracy to an Absolute Dictatorship.
The Illuminati plans to overthrow America's Constitution and establish an Absolute Dictatorship unprecedented in world history. So far, they have been stymied by our Constitutional Second Amendment guaranteeing citizens the right to own and to use weapons.

III. The Naval Yard was a government-decreed "gun-free zone", thus giving the shooter a friendly environment in which he could methodically kill 12 innocent people.
He had no worries that someone would 'return his fire'.
NEWS BRIEF: "Another mass shooting….In a gun free zone", Irish Central News, 9/16/2013
"On a naval base where it is against the rules to carry weapons and in a city with some of the strictest gun laws in the US, a gunman chooses to disobey their rules and gun down a dozen victims. The shooting at the Washington Naval Yard in Washington DC on Monday, follows a familiar pattern in mass shooting history: The gunman finds a location where he knows his victims cannot shoot back and he can attain maximum mayhem."
"... this incident shows it is time to stop disarming or making it almost impossible for law abiding citizens to be armed. Most people would think a military installation would be a poor choice for a gunman to find unarmed, defenseless victims. After all most of our military personnel are trained in the use of firearms and are trusted to use those weapons in the defense of our country. But most US soldiers on military bases are not allowed to carry weapons, except for the military police who are usually stretched thin. Regulations forbid military personnel from carrying their personal firearms and make it almost impossible for commanders to issue firearms to soldiers in the U.S. for personal protection."
No shooter trained by Project Orion would be sent into an area in which individual people are allowed to carry guns. Every single mass public shooter has carried out his deadly work in an area where laws prohibit citizens from carrying guns.
" John Lott wrote a book titled: 'More Guns, Less Crime'. In it he has statistics where gun laws have been liberalized and ordinary law abiding citizens were encouraged to own and carry firearms, crime is reduced …mass shootings are almost unheard of. Violent crime rates go down when states pass .... concealed carry laws."
Fortunately, a video exists showing a robbery of a Florida Internet Cafe on July 13, 2012. A 71-Year-Old Grandpa armed with a pistol broke up the crime within seconds, causing the robbers to flee in panic, falling on the floor in their haste to escape with their lives.
See this video and learn the lessons it tells.
NEWS BRIEF: "Senior Citizen Shoots Armed Robbers at Internet Cafe", Guns and Ammo, July 18, 2012
Had this shooter at the Naval Yard known that he could receive return fire, he would not have gone to that location. he would probably have gone to some other place, where he knew was a "Gun Free Zone"!
And, in case he needed help locating such a "Gun Free Zone", he could have downloaded a phone app which would have enabled him to select some other place to commit wanton murder.
NEWS BRIEF: "New cell phone app shows gun friendly/free zones", KTNV News, 9/16/2013
"Mapleton, UT (KTNV) -- A new app has been developed that will tell users if certain zones are firearm friendly or not. GunFreeZoneApp.com, a mobile phone app company, announced the release of the advertising-free version of its mobile phone app, GunFreeZone. The app identifies the nearest 20 commercial locations, including businesses, churches and schools, as either firearm friendly or gun free."
I find this phone application extremely disgusting. This application will identify likely targets for a mentally deranged madman. On the other hand, guys like me can decide at which restaurant I want to eat or which bank I can feel secure in entering.
Truly, we live in a world seized tightly by Satan's "Hand of Madness", as the above Illuminati Card Game card so vividly portrays.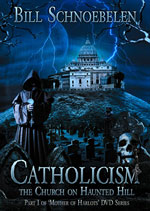 IV. Is Pope Francis I beginning the process of ending forced Priestly Celibacy?
If the Catholic Church ever is serious about ending the steady stream sex abuse cases against priests, Pope Francis must know that he must allow priests to marry.
NEWS BRIEF: "Pope Francis: Priest Celibacy Up For Discussion, Pope's No. 2 Says", Latino Fox News, 9/12/2013
"Archbishop Pietro Parolin, the new Secretary of State of the Vatican, said priest celibacy is 'not a church dogma' and is therefore open to discussion as the church embraces a 'more democratic spirit' under Pope Francis."
Forced priestly celibacy was NEVER a Church dogma; it was never established in either the Old Testament or the New Testament Christian Church. Listen to an explanation given by a former Catholic Priest, Joseph Zaccello: