1. When President Trump agreed to allow Turkey to invade Northeast Syria, did he stab the Kurds in the back?
Let us first examine the Jewish outlook on this momentous development.
NEWS BRIEF: "Trump Gives Green Light To Turkey Over Syria, Displace U.S. Partners", The Jerusalem Post, OCTOBER 7, 2019
"Turkey will soon move forward with its long-planned military operation to create what it calls a 'safe zone' in northern Syria – and U.S. forces will not support or be involved in it ... The move is an extraordinary reversal of US policy that leaves America's allies wondering whether they can still rely on the Trump administration."
"This brief statement puts an end to almost five years of America's anti-ISIS war in eastern Syria, which began with supporting the Kurds who were trapped in the city of Kobani, then under siege by the jihadist group. The US began air strikes in September 2014 to stop ISIS from taking Kobani. Now, five years later, Washington is giving Ankara green light to take over eastern Syria, displace its residents and replace them with its own refugees. This comes after Turkey did the same thing in Afrin earlier this year and displaced 160,000 Kurdish people."
Notice that these last two sentences reveal that Turkey is going to force Kurdish residents out of Eastern Syria and move them somewhere. Where might that be? Hold that thought for a few more moments as we review a bit more information.
NEWS BRIEF: "US troops leave 2 NE Syria posts ahead of Turkish operation against Kurds", DEBKAfile, October 7, 2019
"US troops left two observation posts in NE Syria after a phone call Sunday night between President Donald Trump and Turkish President Recep Erdogan. US sources reported that they agreed that American forces would stand aside for the coming Turkish military operation in the region, start their pullback and refrain from interfering if fighting broke out between the Turkish invaders and the Kurds of the US-backed SDF military."
Democrat AND Republicans alike condemned Trump's move.
NEWS BRIEF: " 'Morning Joe': Trump Pulling Out of Syria 'About as Big a Birthday Present' Putin Could've Had", Breitbart News, 8 Oct 2019
"Brzezinski and Scarborough both agreed that Trump's decision to pull out of Syria was a "birthday present" to Russia President Vladimir Putin. 'The world leader whose birthday it was yesterday was Russia's Vladimir Putin', Brzezinski stated. 'And President Trump may have given Putin a very big birthday present with his decision to withdraw U.S. troops from northern Syria."
" 'Obviously, Donald Trump not only helped the Russians, Donald Trump helped the Syrians, Donald Trump helped the Iranians, Donald Trump helped ISIS. Donald Trump basically helped all of our enemies in the region and just happened to hurt our one true ally, and also hurt America's safety interests, too."
And, now, "Morning Joe" scoffs that Republicans are angry too.
Let us hear from one R.I.N.O. Mitt Romney.
NEWS BRIEF: "Murphy, Romney condemn Trump's Syria withdrawal in joint statement", Stasmford Advocate, Oct 7, 2019
"President Donald Trump's decision to remove U.S. troops from Syria was called a 'betrayal' in a joint statement issued by U.S. Sen. Chris Murphy of Connecticut and Utah Sen. Mitt Romney."
" 'The president's decision to abandon our Kurdish allies in Northern Syria in the face of an assault by Turkey is a betrayal that will have grave humanitarian and national security consequences', the statement said. 'After enlisting support from the Kurds to help destroy ISIS and assuring Kurdish protection from Turkey, the U.S. has now opened the door to their destruction'."
But, is there another reason the President allowed Turkey to take over a small section of Syria?
Where, exactly, is this Turkish incursion planned to occur?
NEWS BRIEF: "Turkey to attack in northeast Syria; US forces to pull back", Kurdish 24 News, October 7, 2019
"On Saturday, Erdogan told an annual conference of his ruling Justice and Development Party (AKP), 'We will carry out a ground and air operation' across the border into Syria, east of the Euphrates River ... Turkish media reported on Saturday that the army was reinforcing its positions around Sanliurfa, across the frontier from the Syrian town of Tel Abyad".
Tel Abyad is a small town right at the Syrian, Turkish border at the 39th Longitude.
Where is Sanliurfa?
"Urfa is a multiethnic city with a Turkish, Kurdish, Armenian and Arab population. Urfa is situated on a plain about eighty kilometres east of the Euphrates River. Its climate features extremely hot, dry summers and cool, moist winters." (Wikipedia)
"Sanli means 'great, glorious, dignified' in Turkish, and Urfa was officially renamed Sanliurfa ("Urfa the Glorious") by the Turkish Grand National Assembly in 1984 ...." (Ibid.)
When Turkish President Erdogan revealed that the operation was going to occur East of the Euphrates River, the issue becomes a lot clearer when you examine the Syrian Map. After eight long years of civil war, as President Assad kept from being swept from power as were his allies in the region -- Morsi of Egypt, Saddam Hussein of Iraq, Ghaddafi of Libya, and others -- he still controls less than one-third of his original nation.
Now that he has been minimalized, his nation can now be picked apart, according to the Illuminati Plan, the "Middle Eastern Map of 2007", published in the American Armed Forces Magazine. (Refer to that map, below)
NEWS BRIEF: "Russia's FM Lavrov vows mediation with Turkey to protect Syria Kurds", Rudaw News, 10/8/2019
"Hariri said President Barzani urged Minister Lavrov to speak to President Recep Tayyip Erdogan about developments in northeast Syria, warning any military intervention could result in yet another wave of displacements from Syria into the Kurdistan Region."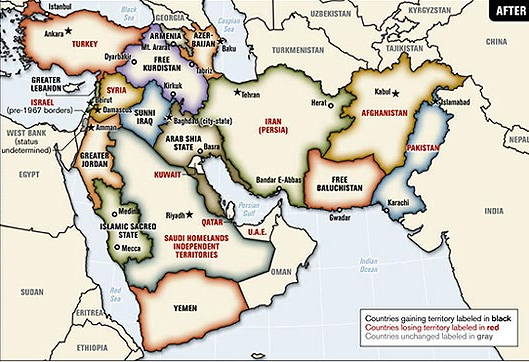 The Turkish invasion may well be occurring because the time to set the boundaries of the new nation, "Free Kurdistan" has arrived. If you look carefully, comparing this map, above, with the more detailed Syrian Map, you will see where this Turkish invasion is planned to occur.
Turkey is attacking at the juncture of the borders of Turkey/Syria/present-day Iraq. And, east of the meandering Euphrates River.
When the Turkish forces gain this territory, they will round up the tens of thousands of Kurds and repatriate them across the new border of "Free Kurdistan"! This repatriation would fulfill the fears of President Barzani, in the quote above! This mass displacement would supply tens of thousands more Kurdish citizens for the new nation, "Free Kurdistan"!
Therefore, President Trump is simply acting in accordance with the 2007 Bush plan for a New Middle East. When all is said and done, the new map of the Middle East will emerge, almost magically, since few people have been paying attention.
And, also, it is impossible to ignore the fact that Iran's threats to Saudi Arabia are occurring at the same time as the Turkish invasion of northeast Syria. This new map reveals that Saudi Arabia is going to be severely truncated.
The Desert Kingdom is going to be humiliated by Iran. The process has already began, and it is ongoing at the same time as this Turkish invasion designed to set a portion of the boundary of "Free Kurdistan"!
NOTE: We detail the process whereby Saudi Arabia will be defeated and humiliated by Iran's proxy Yemeni force, in the DVD shown above, "Bringing Saudi Arabia Down"!
2. Iran has started smuggling precision artillery pieces to Hezbollah in Lebanon, in addition to already smuggling precision missile guidance systems.
NEWS BRIEF: "Iran is smuggling artillery precision parts to Hizballah by Syrian IL-76s through a Syrian air base", DEBKAfile Intelligence, Oct 7, 2019
"... they (Iranians) are running a secret operation codenamed Labeik-1 for smuggling into Lebanon special Iranian equipment for converting Hizballah's long-range artillery into weapons with the navigational capability and precision of ballistic missiles, like the capacities already added to Hizballah's Fatteh-1110 and Zelzal-5 rockets. "
"When Labeik-1 is finished, Hizballah's long-range artillery, the Naze'at 10-H and Naze'at 6-H, which have ranges of 100-150km, will be able to pinpoint multiple targets at any populated area and strategic sites in northern and central Israel up and including the towns of Zichron Yaakov and Hadera."
Iran is taking advantage of a Russian agreement to keep these components from being destroyed by Israel.
"Undeterred, Iran's war planners are going ahead with their plans to upgrade Hizballah's arsenal. But for Operation Labeik-1, Soleimani is taking the precaution of filtering the air-freighted equipment for Hizballah through the T-4 air base. He trusts it will be safe from Israeli air strikes in the light of Israel's commitment to abstain from harming Assad regime facilities as part of its understandings with Moscow. He is therefore counting on any attacks ventured by Israel risking interception by the S-300 and S-400 air defense batteries stationed at the Russian Khmeimim air base in Latakia.'
3. Israel is expertly maneuvering Arab states to sign a "Non-aggression " pact with her, thus isolating Palestinians, just as Divine Prophecy declares.
NEWS BRIEF: "Israel's Foreign Minister Katz Confirms Plan for Non-Aggression Pact with Arab States", United With Israel, Oct 6, 2019
"Israel is in the process of working on a non-aggression pact with several Arab states in the Middle East to face the common threat emanating from Iran, Israel's Foreign Minister Yisrael Katz revealed ... The idea is to take advantage of the historic opportunity of a joint confrontation with Iran's threats to advance interim agreements to end the state of war, and to advance the civil relationship between Israel and the rich Gulf states ..."
In other words, Israel is working to limit the number of Arab states which will join in the coming attack by Iran and her proxy forces -- Hamas, Hezbollah, and the Palestinian Authority. This development can only occur because the rest of the Arab world intensely hates the Palestinians.
Listen to the words of an American intelligence briefing in 1997:
"The Arab war plan does, indeed, call for the annihilation of the Jewish State, but there is another target. The Palestinian Arabs have been a hated thorn to most of the Arab world. While the Arab dictators used the Palestinian Arabs as a terrorist front to recover Arab pride for past battlefield defeats, they never allowed them to settle as citizens in their nations. They know that once these clever, hostile people have an operating state, they can and will cause havoc in the Arab world. They will constantly demand money, using the 'or else' blackmail, as in the past. Therefore, during this coming war, the two targets are both the Jews and the Palestinian Arabs." ("THE NEXT ARAB-ISRAELI WAR", NEWS1057)
Please also note that this attitude of detesting the Palestinians is a direct fulfillment of prophecy 2,600 years ago!
"Thus saith the Lord God concerning Edom (Palestinians). I have made thee small among the heathen: thou art greatly despised." (Obadiah 1-2)
This prophesied Obadiah War is poised to begin and the result will be what God foretold -- the complete annihilation of the Palestinians (House of Esau/Edom)!
DVD
4. Dick's Sporting Goods goes extreme in its battle against First Amendment guns.
Dick's destroyed $5,000,000 worth of "Assault Rifles"!
NEWS BRIEF: "Dick's Destroyed $5 Mil. Worth of 'Assault Rifles' to Keep Them 'Off the Street'," Breitbart News, 6 Oct 2019
"Dick's Sporting Goods CEO Ed Stack told CBS News that his company destroyed $5 million worth of 'assault-style rifles' to keep them out of private hands ... On April 17, 2018, Breitbart News reported that Dick's was destroying its 'assault-style rifle' inventory, rather than returning the firearms to their manufacturers. Fox News quoted a spokesperson from Dick's saying, 'We are in the process of destroying all firearms and accessories that are no longer for sale as a result of our February 28th policy change. We are destroying the firearms in accordance with federal guidelines and regulations'."
Dick's Sporting Goods has paid a steep price for alienating its natural customer base.
"Stack also admitted the Dick's gun control stance has resulted in 'a quarter of a billion [dollars]' in loses. But Stack does not regret the gun control stance. Rather, he is considering taking the company even further down the gun control path. As of right now, 100 Dick's stores no longer sell guns of any kind. Stack is thinking about expanding that policy so that no Dick's store sells a gun."
Does the ACLU control Dick's Sporting Goods now?
5. Once a nation starts wantonly destroying life at one end, that nation will soon be destroying life at the other end.
Doctors are deliberately murdering innocent newly born babies.
NEWS BRIEF: "Stillborn Baby Showed Signs of Life: But This Doctor Put Him in the Morgue Fridge to Freeze to Death", Life News, Oct 7, 2019
"Two doctors in Kazakhstan are facing murder charges after they allegedly allowed a newborn baby to freeze to death in a hospital morgue. The baby boy was classified as 'stillborn', but hospital staff reportedly saw him move before he was placed in the morgue ... Authorities said they uncovered the horrific infanticide case while investigating Dr. Kuanysh Nysanbaev for bribery. Nysanbaev is a head physician at a regional perinatal hospital in Atyrau, Kazakhstan, according to the report."
" 'After the child gave signs of life, the doctors, instead of taking urgent measures, decided to act according to paperwork already issued saying the child was stillborn', Kabdula said. He said they put the baby in a morgue refrigerator and left him to die ... he baby died in the refrigerator'."
Doctors are now increasingly murdering the disabled, the mentally handicapped and the elderly.
NEWS BRIEF: "Nevada Passes Law Allowing Doctors to Starve Dementia Patients to Death", Life News, Oct 7, 2019
"This is stunning. Nevada has passed a law allowing competent persons to sign an advance directive instructing that all food and water be withheld if they become incapacitated by dementia. In other words, the law allows people to order their future care givers to starve and dehydrate them to death."
"... this provision requires withholding oral or spoon feeding. Realize that this form could force caregivers to starve patients even when they willingly eat and drink — perhaps even if they ask for food or water."
This development runs historically parallel to the actions of Germany's Nazi dictator, Adolf Hitler. When Hitler assumed power in 1933, German doctors had already been killing the disabled, the mentally handicapped and the elderly for several decades.
But, the process was relatively stringent, requiring the signature of the presiding doctor and at least two family members. Hitler took this ongoing euthanasia program and put government resources behind it and liberalized the requirements.
Suddenly, the numbers of the disabled, the mentally handicapped and the elderly being killed by the medical establishment skyrocketed, contributing greatly to Hitler's 20 million victims.
Doctors are now murdering at both ends of LIFE!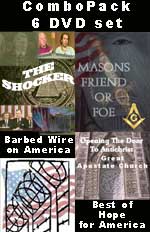 6. AOC now wants to abolish prisons!
NEWS BRIEF: "AOC's latest bright idea: Abolish prisons", NOQ Report, October 8, 2019
"Her latest scheme was to attempt to make a logical argument for 'abolishing prisons' by highlighting anecdotal incidents that represent a tiny portion of the prison population ... This isn't a joke. She's dead serious. This is what the radical progressive left wants for America. Some are calling it anarchy, but that's only partially true. They want to use chaos to force their ultimate goal of authoritarian rule."
Actually, AOC is simply ascribing to a radical New Age belief that all laws and all rules should be simply abolished.
This concept states that most laws are based upon Biblical concepts so they must all be abolished. And that includes laws against murder. After all, murder is simply sending the soul of the victim into the "Reincarnation Cycle" prematurely. But, no one is hurt in the Reincarnation Cycle and they are eventually sent back to Earth to inhabit another body.
The New Age cry is: "There is no death"!
Therefore, while murder is lamentable, the victim is never hurt and eventually reincarnates back as another human being. So, even murder is going to be eliminated in the fantasy world of the New World Order.
By the way:
The last ruler who emptied prisons was Adolf Hitler and he quickly filled them back up again with "Enemies of the State" - Christians mostly.