New Rapture DVD By Doc Marquis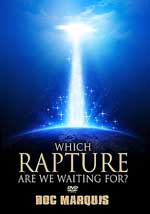 "Which Rapture Are We Waiting For?"
Doc Marquis educates us how the Rapture of the Church is defined in the Bible. Not surprisingly, the Biblical definition is much different than popular belief. From Genesis, the first book of the Bible, to the Book of Revelation, the last book of the Bible, God has instilled a measurable and repeatable pattern dealing with the Rapture of His Church.
Once you understand what a genuine Rapture truly is, you will immediately understand what our Christian forefathers said about this exciting subject, you will understand what God has to say, and you will see God's pattern of other raptures in the Bible. 'There has been more than one rapture in the Word of God'.
'Doc Marquis has assembled the 'magnum opus' of presentations on the '...blessed hope and the glorious appearing of the great God and our Saviour Jesus Christ' (Titus 2:13; Dr. David Schnittger, the Associate Pastor of Southwest Radio Ministries)
DVD is about 2 1/2 hours long -- Only $19.95
Related "Rapture" Bookstore Resources
---
HOT NEWS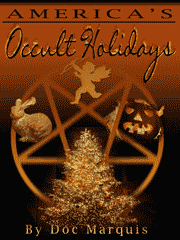 I. Santa Claus was simply and only created to be a clever counterfeit to Jesus Christ.
We offer you a tool by which you can convince unsaved loved ones who have been caught in this spiritual "Santa trap".
NEWS BRIEF: "Winter Solstice 2014: 3 Things To Know About Pagan Yule Celebrations" , International Business Times, December 19, 2014
"December may be marked by Christmas, Hanukkah and Kwanzaa, but for pagans it's the time to celebrate Yule. The holiday marks the winter solstice in the Northern Hemisphere ... In ancient Rome, the weeklong feast of Saturnalia honored the sun god Saturn. Celts believed the sun stood still for 12 days, making it necessary to light a log fire to conquer the darkness..."
From this belief, many people celebrate the "12 Days of Christmas"! Further, note that this celebration is a Sun God event and has been from the beginning. every sun god religion demands human sacrifice, even today, when such a fact is hidden very well from naive modern man.
"Celebrating the rebirth of the sun can be seen in other cultures throughout history ... Egyptians celebrated the return of Ra, god of the sun ... Ancient Greeks held a similar festival called Lenaea. The Roman Empire held Saturnalia celebrations. Scandinavia's Norsemen called the holiday "Yule."
"Germanic peoples would celebrate the winter festival by honoring the pagan god Odin." Did you know that Odin was Adolf Hitler's favorite god? He prayed to Odin daily and performed an Odin ritual just hours before he committed suicide, when Russian troops were only a mile away?
When 'christians' -- the Catholic Church -- began celebrating this pagan sun god holiday, Pope Julias I selected December 25, as that was the date pagans celebrated the Roman Saturnalia. And, make no mistake, this new 'christian' tradition was steeped in the old sun god system.
"... people have traditionally compared the rebirth of the sun with the birth of the son of God' ..."
"For Wiccans and Druids, Yule is one of the eight solar holidays celebrated each year ... Homes are decorated with red, green and white decorations – colors that hark back to Druidic traditions ... Rituals can include meditating in darkness with lit candles, singing pagan carols and lighting Yule logs (either in indoor fireplaces or outdoor bonfires)."
"Evergreen trees can be decorated as well with holiday decorations and pagan symbols. "Call it a Solstice tree', Fox said in a blog post about winter solstice traditions ... " The modern Christmas tree dates back nearly 5,000 years ago, to the ancient Babylonian Mysteries paganism. God specifically demanded that His followers not follow the tradition of decorating a tree. Listen:
"For the customs of the people are vain: for one cutteth a tree out of the forest ... with the axe. They deck it with silver and with gold; they fasten it with nails and with hammers, that it move not. They are upright as the palm tree, but speak not…" (Jeremiah 10:3-5a, KJV)
Therefore, you can see how modern Christmas is celebrated very closely to the tradition of the ancient worshippers of the Biblical sun god, Baal. But, there is much more.
The tradition of Santa Claus shockingly parallels the Biblical attributes of Jesus Christ. We posted an article over ten years ago on this subject, NEWS1132, entitled, "Christ vs Santa Claus: Santa truly has been created to be a counterfeit Jesus to the Secular World!"
We urge you to read how the attributes and the historical truth of Jesus has been blasphemously re-created in Santa Claus. We list 25 attributes of Jesus which are re-created in the Santa story. You will be shocked.
You will also understand the psychological damage a belief in Santa can have in a young child's mind once they realize their parents have been lying to them for years. While giving of gifts is part of the Biblical account of Jesus' birth, be sure that you emphasize the Biblical story during Christmas, not the spiritual counterfeit, Santa.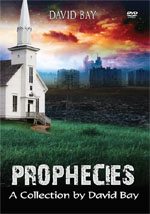 "Prophecies Churches Are Ignoring"
DVD Combo Set by David Bay - Volume 1
Reg $89.94, Only $39.94 Get Details
Why are so many pastors so reluctant to teach prophecy?
Cutting Edge Director, David Bay, teaches six hard-hitting lessons on six unique End Times instances where events are fulfilling prophecy, but no one is reporting it. Six hot topics on three discs
II. A cop shoots another black teen in Missouri, close to the shooting of Michael Brown in Ferguson.
Just as one killing dies down, another takes its place.
NEWS BRIEF: "Fatal Cop Shooting of black teen in Berkeley, Missouri Sparks Clashes ", NBC News, 12/22/2014
"A cop shot a teenager to death at a gas station late Tuesday just miles from Ferguson, Missouri, police said, setting off angry clashes between demonstrators and officers. St. Louis County Police confirmed in a statement that an officer from the city of Berkeley had 'fired several shots', saying the cop was 'fearing for his life' after a male allegedly pulled out a handgun and pointed it at him. A handgun was recovered at the scene, police added."
If the O.J. Simpson murder trial taught us anything about black/white race relations, it is that blacks uniformly believe that white cops plant evidence at the scene of the crime so that a black defendant may be convicted. Therefore, blacks will instantly reject the "handgun recovered at the scene" statement.
America is edging closer and closer to an all-out race war. Both sides have taken action that sends the flames higher rather than putting them out. While a race war is planned, it is timed to occur at the same time the world is being convulsed by a global war designed to stage Antichrist on the world scene.
And, that will not occur until the nations of the world are reorganized into exactly 10 supernations, each with a leader. Such a reorganization is being carried out -- NEWS2363 -- but this prophetic plan seems at least 5-10 years away.
However, the seeds of hatred are being sown now. When God's prophetic time is completed, this race war will be triggered, and will be aided by decades of hatred and suspicion.
---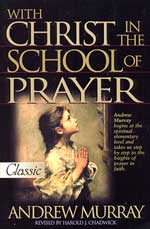 Appeal for Prayer Warriors
Cutting Edge Ministries is pleased to announce that we are partnering with Exodus Mandate in a joint endeavor to create two hard-hitting DVD's warning about the severe spiritual dangers of 'Common Core Curricula' now being implemented in public schools.
Exodus Mandate will bring their spiritual and educational expertise to bear, warning everyone that a child's mental and spiritual well-being are eternally at risk if they are subjected to the Godless curricula of Common Core.
Bill Schnoebelen will be producing a separate DVD warning that the roots of Common Core goes deeply into the occult Mind Control techniques of Madame Blavatsky's House of Theosophy. In other words, Common Core is designed to capture the mind and the soul of all public school education students, K-12. Common Core is spiritual to the root and will capture the vast majority of their children.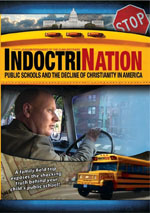 Christian parents must pull their precious children out of Common Core immediately. Toward that end, we shall offer inexpensive and practical alternatives to Public School. Exodus Mandate created the book and DVD entitled, "IndoctriNation", which proved that one of the major reasons American Christian Churches are in such decline is because Christian parents have left their children in Public Schools.
We pray earnestly that the Holy Spirit will use these two Common Core DVD's to spark an End of the Age revival. We will not be finished with these DVD's until July 1, so we have plenty of time to pray and fast to bring the power of Almighty God upon this video project. Will you pray and fast for the next seven months for revival? We believe that this issue can bring such a spiritual conviction upon parents that a revival may be sparked.
Pray, as the eternal souls of millions of Christian children are at stake! Hell awaits too many Christian kids whose souls and minds have been ruined by our Public School system, a tragedy which is only going to get worse once Common Core works its deadly spiritual magick.
May Jesus Richly Bless You All!
---
Aliens / UFO's Important Part of Staging Antichrist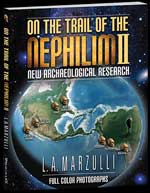 " On The Trail of the Nephilim" - Volume 2
" New Archaeological Research"
New Book by L.A. Marzulli: Free Nephilim Calendar!
Regularly $29.95, On Sale For Only $24.95
The Bible is full of strange and supernatural events. But there is none stranger than the events of the sixth chapter of the Book of Genesis. Theologians have speculated and debated this bizarre passage of Scripture for thousands of years and the debate rages on today hotter than ever! Best-selling author, L.A. Marzulli, lies at the root of this new paradigm, challenging the status quo of historical events and suggesting a cover-up of 'gigantic' proportions.
Traveling to Paracas, Peru, and other relatively-unknown places in South America, the author began to hunt for proof of a hybrid race of beings the Bible calls the Nephilim. His search left no stone unturned public museums, private skull and skeleton collections, secret caves known only to locals, interviews with archaeologists and curators . . . what Marzulli discovered has turned the world upside down, upsetting a few Darwinian apple carts along the way. Once you have laid eyes on a gigantic Nephilim skull, your worldview may change.
God started over with eight people, wiping the corrupt 'Nephilim seed' off of planet Earth. Once a person sets their eyes on a giant skull atop an 8 or 9 foot skeleton, their worldview will change forever. http://www.cuttingedge.org/detail.cfm?ID=2661
Other Alien Bookstore Resources
Iraq -- Ancient Babylon -- is nearing the End Times' final annihilating judgment just as God foretold 2,700 years ago.
The clock of death continues to tick, and soon, Iraq will be history's first 'Dead Nation', a place where no person or animal can possibly live. Mighty Babylon is clearly succumbing to God's inexorable judgment -- and Skull & Bones George Bush drove the prophetic stake through the heart of the ancient nation of Nimrod! http://www.cuttingedge.org/detail.cfm?ID=2641