News Alert & Bookstore Bulletin

Monday, July 11, 2011

Customer Service 1-800-451-8211

Scheduled News Alerts/Newsletters

Mon. 11am - Alert

Thurs. 6pm - Alert
$9.99 Sale On Hoggard Single DVD's Continues Through Midnight Tonight
---

Key Events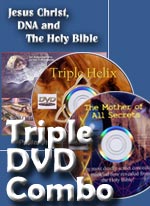 I. Did you know that human DNA is used in some vaccines now?
Aborted human baby tissue is being used in vaccines, causing all sorts of disease and deformity amongst the babies being given these 23 vaccines!
NEWS BRIEF: "One of the Most Inexcusable Vaccine Revelations of All... ", Mercola.com, July 10, 2011
"Former drug company scientist Helen Ratajczak recently created a firestorm of debate from all sides of the vaccine-autism issue when she published her comprehensive review of autism research. This is a massively important study, for more than one reason. One element brought to light that has managed to stay well below the radar is the use of aborted embryonic cells in vaccine production."
CBS News recently reported: "Ratajczak reports that about the same time vaccine makers took most thimerosal out of most vaccines (with the exception of flu shots which still widely contain thimerosal), they began making some vaccines using human tissue. Ratajczak says human tissue is currently used in 23 vaccines. She discusses the increase in autism incidences corresponding with the introduction of human DNA to MMR vaccine, and suggests the two could be linked."
I find it inexcusable that human DNA obtained from aborted babies is being used in vaccines! My religious sensibilities are simply on fire to think that murdered babies' bodies are being used in vaccines. Not only is this practice reprehensible on its own moral grounds, but by using such tissue, vaccine makers are increasing the demand for human tissue, thereby guaranteeing a steady demand for murdered babies!
WE encourage you to click to this featured article, because it lists the specific vaccines in which this human tissue is being used; we simply have neither the time nor the space here to list all 23 vaccines.
Vaccines cultured in human DNA is already suspected in driving up rates of autism: "A recent study by the Environmental Protection Agency (EPA) has led to a question of whether there is a correlation between the abrupt rise in American autism rates with the introduction of fetal cells for use in vaccines (1988). This correlation has prompted researchers to ask the question about how aborted fetal DNA could be causing, or contributing to, the development of autism disorders in children."
Of course, the vaccine industry has mounted a counterattack on this reported autism link. They have recently released findings from their own research which contradicts this autism link, research which has undoubtedly been bought and paid for by the vaccine industry quite handsomely!
This next segment reports the fact that vaccine makers are very careful not to tell you that these vaccines contain human DNA!
"... the ethics of nondisclosure are reprehensible. Drug companies and vaccine policy-makers should not be allowed to decide whether or not to share this information with you. This is information you should have received PRIOR to making a choice about whether or not to vaccinate. "
But, the use of aborted human tissue is not restricted to the vaccine industry!
" With a little further probing, you'll discover the practice of using aborted fetal cell lines extends far beyond vaccines. Biotech companies are using these cell lines in the research and development of products ranging from soup to anti-aging skin creams. For example, a San Francisco cosmetics company, Neocutis Inc., acknowledges that the key ingredient in its anti-aging skin care line, PSP, was developed from an aborted and donated male fetus. The use of fetal tissue in anti-wrinkle creams certainly crosses moral and ethical boundaries for most consumers, especially when companies choose to HIDE this information. But it gets worse…
Cells from an aborted fetus may have been used to create flavor enhancers for your soup or soft drink. Yes, you read that right. PepsiCo, Kraft Foods, and Nestle are reported to have partnered with a biotech firm called Senomyx, which uses human embryonic kidney cells taken from an electively aborted fetus (HEK 293) in their product testing to find flavors that will positively affect human taste receptors."
My goodness, we have just become the new cannibals! Against our own will!
God is taking notes and names in this merchandising of murdered babies. The cry of the innocent shall not go unpunished!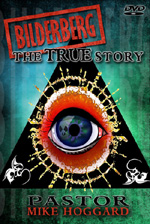 II. America launches worldwide drone warfare!
NEWS BRIEF: "Risk-Free Above The Law: U.S. Globalizes Drone Warfare ", by Rick Rozoff, Global Research, July 7, 2011
"Last week the Washington Post, the New York Times and other major American newspapers reported that the U.S. launched its first unmanned aerial vehicle (drone) missile attack inside Somalia ... the strike in Somalia marked 'the expansion of the pilotless war campaign to a sixth country," as the remote-controlled aircraft have already been employed to deadly effect in Afghanistan, Iraq, Pakistan, Yemen and most recently Libya'."
"Recent reports in the American press reveal that the Pentagon will establish a new air base in the Persian Gulf from which to intensify drone strikes in Yemen ... "
This next segment reveals that this intensification of the drone war has occurred under President Obama -- the man whose campaign slogan was "change you can believe in". People would have expected that this kind of warfare could have been carried out by that "Republican, Right-Wing" President, George W. Bush; after all, Bush was Skull & Bones. But, to our disbelief and to the consternation of Obama supporters, Barack Obama is the warmongerer!
What kind of impact can these tiny drones have against the people in these targeted regions? The answer might surprise you.
"A recent Refugees International report stated that over 250,000 Afghans have been forced to flee their towns and villages during the last two years, over 91,000 so far this year: 'Not only have NATO-led troops and Afghan forces failed to protect Afghans, but international airstrikes and night raids by U.S. Special Forces were destroying homes, crops and infrastructure, traumatising civilians and displacing tens of thousands of people'."
The major problem with drone strikes is the wide collateral damage.
"In Pakistan, CIA drone strikes aim at terrorists but end up killing mostly civilians. Public outrage is growing. Hatred and anger foster more terror ... There is fury in Yemen over the killing of scores of civilians by the drone strikes..."
Why is the Obama Administration so keen on using drones?
"The administration's theory implies that the president can wage war with drones and all manner of offshore missiles without having to bother with the War Powers Resolution's time limits."
Now you know that officials of the Obama Administration are just as eager to side-step legal limitations as any "Right-Wing" President in our history! There is not "a dime's worth of difference" between Republican and Democrat, as they are equally committed to the coming New World Order!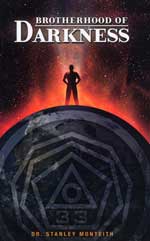 III. President Obama's political "hardness of heart" is on display in the "Fast and Furious", or "Gunrunner" plan.
The idea of giving guns to criminals under any circumstances is either the dumbest idea on record or points to a hidden agenda!
NEWS BRIEF: "Eric Holder Feigns Ignorance of Operation 'Fast and Furious' Now, But He Bragged of Overseeing Its Implementation in 2009", Big Government, July 11, 2011
"News about Operation "Fast and Furious" is now ubiquitous. Acting ATF Director Kenneth Melson's Fourth of July testimony to Senator Charles Grassley and Representative Darrell Issa blew the cover off what appears to be one of the biggest political cover-ups in the last 50 years."
What is 'Operation Fast and Furious' and why has it proven to be so explosive as it has been made public?
"Operation "Gunrunner" was the plan to sell guns to 'straw purchasers' with suspected ties to the Mexican cartel. Apparently, ATF was then banking on those purchasers to walk the guns across the border into Mexico. Operation 'Fast and Furious' was the plan to follow those guns until they were in cartel hands and then make apprehensions. (For the record, I concur with those who believe this was all an attempt to flood the border with weapons in order to create a degree of chaos sufficient to convince us of the supposed-need for more gun control in America.)"
The idea of giving criminals guns under any pretext is either a very dumb idea or a concept designed to accomplish another task, as this paragraph, above, indicates. I believe that this program is designed to accomplish the goal of establishing a North American Union by creating a regional disaster for which a regional solution can be advocated.
In other words, once the guns are flooding from America into Mexico, then the argument can be made the only solution is a police force from a regional government, i.e., a North American Union.
And, yes, gun control is probably one of the reasons for implementing this stupid gun program
Attorney Holder has implicated himself in this sorry mess.
"... the problem with Holder's feigned ignorance is that he gave a speech in Cuernavaca, Mexico, on April 2, 2009, in which he boasted about Operation 'Gunrunner' and told Mexican authorities of everything he was doing to insure its success."
Watch this unfolding disaster, because this thing could derail Obama's re-election chances very quickly.
---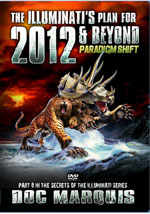 "Paradigm Shift: The Illuminati's Plan For 2012 And Beyond"
Is it possible that the Satanic Paradigm Shift leading to a Universal Mind could come in the form of a world-wide Marion apparition? We demonstrate that the Roman Catholic Papacy is anxiously awaiting just such an apparition as it will validate the Catholic Church as the only true worldwide church and will propel the Pope into position as the top world religious leader. Satanists call this event the Paradigm Shift while Catholics would call it a "Marion Apparition", but the result will be the same, the Universal Mindset.
Perhaps The Most Important "Watchman on Wall" Message EVER!
Now Shipping!!
See New Trailer Below!
New DVD by Doc Marquis, 2-Disc Set - Volume 2
On December 21, 2012, the world is supposed to enter into a New Age of spiritual enlightenment and awareness. The astrological chart cast for December 21, 2012, depicts the Yod – the finger of God – pointing to this new spiritual energy and spiritual healing.
For the past several thousand years, mankind has been collectively yearning for a spiritual healing of the nations, a time when wars, hatreds and divisions will miraculously give way to peace, love and unity. New Age literature abounds with this message of hope and change. Authors teach that this idyllic new "Garden of Eden" will occur only after the New Age Christ is on the world scene, leading mankind into a most peaceful New World Order.
In Volume 2, we shall examine some other cultural and spiritual expectations for 2012 and then we shall present the real point-in-history change which the Elite seem to have planned for December 21, 2012, a change known as the "Paradigm Shift". Antichrist cannot arise until and unless this paradigm shift in spiritual values has occurred. Unless God specifically stops the Illuminati, their demonic Guiding Spirits may just have this long-awaited Paradigm Shift planned for December 21, 2012. New Age adherents are looking forward to this day as enthusiastically as we Christians are looking forward to the Rapture of the Church!
3 hours long
We are praying that the conclusion will challenge Christians to get truly busy in sharing the Gospel with their unsaved loved ones and will bring the unsaved to conviction of sin so they will be saved. We demonstrate that the time is truly short!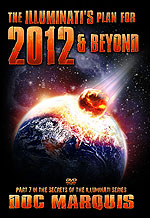 "The Illuminati's Plan For 2012 And Beyond"
Doc's best DVD yet! Now that you have read and heard the noise and chatter about the year 2012, you will be pleased to know the truth of the Illuminati Plan for 2012, from a man who knows the Plan thoroughly, former Illuminati Luciferian, Doc Marquis!
Doc thoroughly examines the lying expectations of Mass Media as to what may happen on or after December 21, 2012, and begins the journey of identifying the most probable event which may really occur, an event not even discussed by Media!
Is the New Age Christ ready to appear? Is the end of the world near? Are we doomed to destruction? Do we have any hope http://www.cuttingedge.org/detail.cfm?ID=2264 witch Doc Marquis takes up the daunting task of revealing the truth behind December 21, 2012.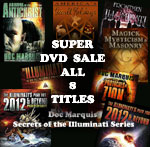 "Combo Offer DVD: Secrets of the Illuminati Series"
All Eight Titles by Doc Marquis, 15 DVDs, , Save $110
Each of these unique DVD's provides information on a part of the Illuminati Plan which only a former Satanist / Illuminati would know. Furthermore, much of the information Doc Marquis provides is the 'Oral Plan', which is the parts of the plan to produce Antichrist which is so evil that it is never written down.
'Paradigm Shift: 2012 & Beyond, Volume 2', reveals more important Mass Media expectations as to what may happen on 12/21/2012 and then reveals that the Paradigm Shift is intended to be a global mass demon possession which shall produce the Universal Mind in every unsaved person on Eath. Is this the time of the prophesied 'Strong Delusion'? http://www.cuttingedge.org/detail.cfm?ID=2333
---
Great Books For Only $5.00
"Biblical Lovemaking"

A Loving Look At The Song of Solomon

"The Love of Money"
NOTE: Quantities are limited to stock on hand
---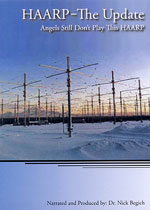 DVD
New Headline News Articles
Is Your Pastor A Member of Freemasonry?
If he is, you must either get him removed or leave that church!
Japan's Industrial Base and America's Heartland Are Under Attack, Being Devastated By Unprecedented Devastation From Tornadoes, Earthquakes And Floods
Who has declared war on us, using weather as their weapon?
Perhaps it is time to take Defense Secretary William Cohen seriously when he revealed in 1997 that scientists control weather, set off volcanoes and earthquakes remotely through electromagnetic waves.
Defense Secretary of Defense said of scientific control of weather -- "It is real"!
http://www.cuttingedge.org/news/n2447.cfm
"Pakistan Seems To Be Splitting From the United States, Cozying Up To China: If Pakistan resumes her traditional alliance with China, the prophecy of the "Kings of the East" in Revelation 16:12 can occur."
http://www.cuttingedge.org/news/n2446.cfm
---
New Bible Study Book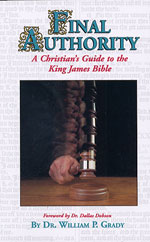 "Final Authority: A Christian's Guide To the King James Bible"
History Endorses the KJV -- 'Final Authority' exposes the deceit behind many of the common charges leveled against the A.D. 1611 Authorized Version.
With the fourth-century codices Vaticanus and Sinaiticus being recommended as the two most reliable manuscripts worthy of supplanting the time-honored Textus Receptus, the reader learns the facts of their defective character which reveal their disagreement with each other in over 3,000 places in the Gospels alone.
In short, 'Final Authority' addresses those issues rarely discussed by critics of the King James Bible. As well as the information given above, the reader will learn the following: • Who were the King James translators? • Who were the translators of later Bible versions? • What's wrong with the NIV? • Is the New King James really a King James version? • How involved are Jesuit agents in the attack against the KJV? • and much more!
392 pages - http://www.cuttingedge.org/detail.cfm?ID=2330
---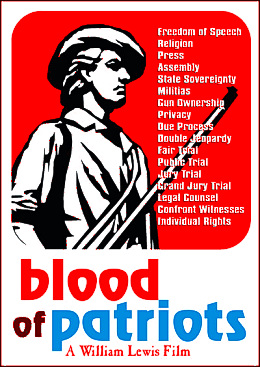 "Blood of Patriots!"
"Returning To The Original Founding Father Vision For America"
New Dynamic DVD!
What has happened to the country our Founding Fathers established, a new country free from government intrusion in every aspect of our lives?
1) Dictatorial Congress passing laws without reading them; 2) USA Patriot Act; 3) End of Habeas Corpus; 4) End of Posse Committees; 5) Real I.D. Act; 6) Model Emergency Health Powers Act; National Health Care.
We've already lost so much…Is it too late to turn back? How do we go about returning freedom to the population? What do we do? After all, those who do not learn from their history are destined to repeat it.
'Blood of Patriots' delves into the debates and thoughts of those who forged this nation. With the help of our Founding Fathers and the Bill of Rights, Blood of Patriots paints a clear picture of the rights we, the population of the United States, should hold dear and expect.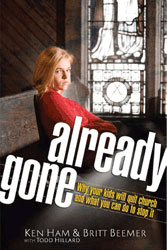 "Already Gone" DVD
"America's churches have lost an entire generation of believers"
Emphasis is on High School Students
If you look around in your church today, two-thirds of the young people who are sitting among us have already left in their hearts; soon they will be gone for good.
This is the alarming conclusion from a study Answers in Genesis commissioned from America's Research Group, led by respected researcher Britt Beemer. The results may unnerve you - they may shake long-held assumptions to the core - but these results need to be taken seriously by the church.
Already Gone reveals: • Why America's churches have lost an entire generation of believers • The views of 1,000 twenty-somethings, solidly raised in the church but no longer attending - and their reasons why • Relevant statistical data effectively teamed with powerful apologetics.
The study found that we are losing our kids in elementary, middle school, and high school rather than college, and the "Sunday school syndrome" is contributing to the epidemic, rather than helping alleviate it. This is an alarming wake-up call for the church, showing how our programs and our approaches to Christian education are failing...and our children are paying the price. Though the statistics reveal a huge disconnect taking place between our children and their church experience, Already Gone shows how to fight back for our families, our churches, and our world. We can make a difference today that will affect the statistics of tomorrow in a positive and Christ-focused way! http://www.cuttingedge.org/detail.cfm?ID=2327
Declaring Truth About Mormonism

"Mormonism's Temple of Doom - 2012 Election Alert"

New 2-DVD Set by Bill Schnoebelen

Dynamic Trailer - What's Under That Dome?

Schnoebelen was told by his Coven Master that, if he ever got into trouble, he was to join the Mormon Church because it was 'created by Witches for Witches'! But, in the past 50 years, the Mormon (LDS) Church has managed to grow from a small fringe cult to a major world religion of considerable respectability. Mormons like Mitt Romney and Glenn Beck have achieved amazing followings and many Americans have come to believe that Mormons are just another Christian denomination with fine, conservative, family-based values.

However, beneath the sweet surface of LDS Public Relations, there lurks one of the most dark and twisted religions to emerge in American history. You will discover that, just as Mormonism is not Christian, the Mormon Family is not the same as the Christian Family.

We include a section warning genuine Christians not to support a Mormon for President, providing critical Scriptural references. Evangelical leaders are already urging Christians to support a Mormon for President. http://www.cuttingedge.org/detail.cfm?ID=2297




---

"Combo Offer DVD: Secrets of the Illuminati"

All Six Titles by Doc Marquis, 7 DVDs, , Save $80

Regularly $229.94, Now Only $149.94, You Save $80

Each of these unique DVD's provides information on a part of the Illuminati Plan which only a former Satanist / Illuminati would know. Furthermore, much of the information Doc Marquis provides is the 'Oral Plan', which is the parts of the plan to produce Antichrist which is so evil that it is never written down.

6 DVD titles, over 18 hours of teaching, Save $80

Doc Marquis uses the King James Bible

Trailer Available At Each Item's Location in the Shopping Cart - http://www.cuttingedge.org/detail.cfm?ID=2249


---

Call us for Customer Service at 800-451-8211

Subscription Promotion

Cutting Edge cannot continue unless we keep a certain level of Yearly Subscriptions and so once or twice a year we run a special giveaway subscription offer. Please reach out at this most difficult time to help support Cutting Edge Ministries. We are reaching 120,000 people a year with the Gospel in five languages so your subscription will enable that wonderful spiritual eternal fruit to continue.

One Year Subscription - Choose 1 FREE Item

Two Year Subscription - Choose 2 FREE Items

Three Year Subscription - Choose 3 FREE Items

Four Year Subscription - Choose 4 FREE Items

Click here to subscribe or just check out the gift options:

---
View Our Entire Video Viewing Room
As always we ask you to pray daily for this ministry.
Be sure to visit the Sale items and Special offers sections where you will find 28 Special offers and 121 items on Sale.
David Bay, Director, Cutting Edge Ministries
1792 South Lake Drive, Ste. 90 PMB 300, Lexington, SC 29073

800-451-8211