News Alert & Bookstore Bulletin

Monday, July 23, 2012

Customer Service 1-800-451-8211

Scheduled News Alerts/Newsletters

Mon. AM - Alert

Thurs. PM - Alert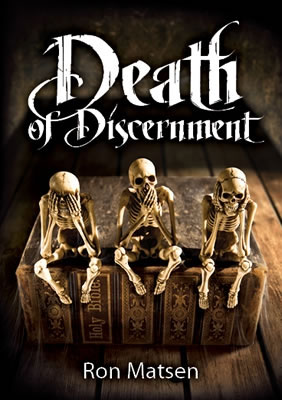 "Death of Discernment"
New DVD by Ron Matsen
Only $19.95
Why can't pastors view End Times events in the light of Bible prophecy? Why are pastors just repeating standard Christian / Republican Wisdom, which is off the mark by a mile?
Of all the end-time themes discussed in the Bible "deception and apostasy in the church" is listed more times than any other end-time "sign of the times".In fact, deception of Christian leaders has reached an all- time high, so very high that pastors and Deacons and Elders no longer possess any kind of meaningful Biblical discernment.
Why are many pastors more interested in building a new church than in warning their flock that the End of the Age is here and its Antichrist is very, very close?
Christian Church leaders are literally "the blind leading the blind", so everyone in that church is going to fall into the proverbial ditch (Hell).
This DVD is a call to return to normal Biblical discernment!
The End Times demands Biblical discernment on the part of every Christian. http://www.cuttingedge.org/detail.cfm?ID=2440
Mormonism Unmasked 2012
Regularly $69.93, Now Only $49.93, Saving You $20.00
This year, 2012, is shaping up to be the 'Year of the Mormon', as a Mormon is set to capture the Presidential Republican nomination. How are genuine Christians to vote? We can't stand Obama, and Romney is a highly-ranked member of a pagan religion. Do we "hold our noses" and vote for the 'lesser of two evils', as many are saying?
Bill Schnoebelen, former Satanist/Mormon/Freemason, provides the authoritative answer!
'Mormonism's Temple of Doom: 2012 Election Alert' DVD thoroughly informs us as to what this religion truly believes coming from Schnoebelen who was once a Mormon. At the end we demonstrate how the Bible forbids us to support a Mormon for any office.
'Throne of Fools' proves that there is no difference between Democrat and Republican, Obama and Romney. We have not had a real choice for almost 100 years! At the very end, Bill Schnoebelen tells us how he is going to vote.
'A Mormon President' proves that Mormon leadership has had an obsession for gaining control over our government since the days of Brigham Young, 150 years ago. That obsession can turn tragic for American Christians should a Mormon ever wield the powers of the White House.
Regularly $69.93 if you buy these three DVD's separately; you save $20.00 buying this Combo Offer
5 hours of teaching! http://www.cuttingedge.org/detail.cfm?ID=2439
---
Key Events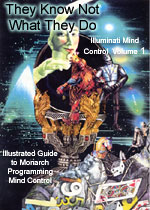 I. Evidence continues to mount that the Colorado movie shooter was as Mind Controlled as have other shooters over the past 20 years.
In just a few days, President Obama is going to sign the United Nations' treaty against small arms, an accord which will make gun ownership illegal.
Is this timing coincidental? You be the judge.
NEWS BRIEF: "Colorado Batman shooting shows obvious signs of being staged", Natural News, July 20, 2012
"There is already conjecture that James Holmes may have been involved in mind-altering neuroscience research and ended up becoming involved at a depth he never anticipated. His actions clearly show a strange detachment from reality, indicating he was not in his right mind. That can only typically be accomplished through drugs, hypnosis or trauma (and sometimes all three)."
The firm linkage between Prozac and/or Ritalin to mass murders at public schools is the worst-kept "open secret' in the modern era. We have already noted the statement made by New Age author, Bill Cooper, in "Behold A Pale Horse", when he said:
"Using drugs and hypnosis on mental patients in a process called Orion, the CIA inculcated the desire in these people to open fire on schoolyards and thus inflame the antigun lobby. This plan is well under way, and so far is working perfectly. The middle class is begging the government to do away with the 2nd amendment." (Page 64)
Then, Cooper addresses Prozac specifically: "I have found that these events [public shootings] have indeed happened all over the country. In every instance that I have investigated -- the incident at the women's school in Canada, the shopping center in Canada, the Stockton, California, massacre, and the murder of Rabbi Meir Kahane -- the shooters were all ex-mental patients or were current mental patients who were all on the drug PROZAC! This drug, when taken in certain doses, increases the serotonin level in the patient, causing extreme violence. Couple that with a posthypnotic suggestion or control through an electronic brain implant or microwave or E.L.F. intrusion, and you get mass murder ..." [Cooper, p. 225; emphasis in original]
If you "Google, Advanced Search" listing on this issue, you will be shocked.
"Prozac + School Shootings" = 144,000results
"Ritalin "+ School Shootings" = 108,000 results
Informed people in the secular world seems to know exactly the linkage between these drugs and violent school shootings. Conservative Christians just have to come up to speed in their understanding. Returning to the quote, above, drugs are only one avenue by which a person can suffer such mind altering changes that he can be transformed from a normal person into a mass murderer.
As former Satanist, Cisco Wheeler, states in her book, "They Know Not What They Do", occultists for years have exercised a "dark art" by which they can achieve mind control over a person. "This is the first volume in a series of three which explains and exposes the methodologies and horrors of Monarch trauma- based mind control." The old "MK Ultra" CIA program is alive and well and Satanists have known about it for years.
Now, let us return to our featured news story.
"His behavior already reveals stark inconsistencies that question the mainstream explanation of events. For example, he opened fire on innocent people but then calmly surrendered to police without resistance. This is not consistent with the idea of 'killing every one'. Furthermore, he then admitted to police that his apartment was booby-trapped with explosives. If you were really an evil-minded Joker trying to kill people (including cops), why would you warn them about the booby trap in advance? It doesn't add up."
"Holmes was clearly provided with exotic gear (and bomb-making skills) ... this guy was equipped with exotic gear by someone with connections to military equipment. SWAT clothing, explosives, complex booby-traps... c'mon, this isn't a "lone gunman." This is somebody who was selected for a mission, given equipment to carry it out, then somehow brainwashed into getting it done."
New Age author, Bill Cooper, is entirely correct: "Using drugs and hypnosis on mental patients in a process called Orion, the CIA inculcated the desire in these people to open fire on schoolyards and thus inflame the antigun lobby. This plan is well under way, and so far is working perfectly. The middle class is begging the government to do away with the 2nd amendment." (Page 64)
"This is not your run-of-the-mill crime of passion. It was a carefully planned, heavily funded and technically advanced attack. Who might be behind all this? The FBI, of course, which has a long history of setting up and staging similar attacks, then stopping them right before they happen ... As you soak all this in, remember that the FBI had admitted to setting up terror plots, providing the weapons and gear, staging the location of the bombings and even driving the vehicles to pull it off! This is not a conspiracy theory, it's been admitted by the FBI right out in the open. Even the New York Times openly reports all this..."
"Where does an unemployed, introverted medical school student get the training to deploy sophisticated booby traps, tactical body armor, weapons systems and more? Certainly not in graduate school! All this leads to an obvious third party influence over all this. Someone else taught this guy these skills and funded the acquisition of the equipment."
This next news story, from England, reports Holmes' obsession with mind-altering states.
NEWS BRIEF: "Batman Colorado shooting: James Holmes fixated by altered states of mind", The Telegraph, 23 July 2012
"James Holmes, the alleged 'Joker' gunman, described his fascination with altered states of mind in a lecture to other students, and dosed up on prescription medication before the atrocity, it emerged on Sunday ... After the massacre Holmes calmly told detectives he had taken 100mg of the prescription painkiller Vicodin, and identified himself as "The Joker". The same drug was found in the system of actor Heath Ledger when he died of an accidental overdose of prescription drugs in 2008. Ledger played The Joker in the previous Batman film The Dark Knight. Vicodin side-effects can include euphoria, paranoia and, in rare cases, hallucinations. "
While many people are starting to wake up to this horrific reality, that our government is working behind the scenes to topple this Old World Order so they can institute the New World Order, enough of the population is still unaware that the government continues to work and to plan to bring about the terrible changes they have been planning for over 200 years.
Finally, watch this video showing how anyone can stop a massacre in five seconds.
We agree wholeheartedly, although the mild profanity was not necessary to get the point across.
II. This coming week, President Obama is going to sign the United Nations accord outlawing small arms.
Are Americans tired enough of all the "crazed gunmen" attacks that they will allow this treaty to be ratified?
NEWS BRIEF: "Colorado Batman shooting shows obvious signs of being staged", Natural News, July 20, 2012"
"More and more, this shooting is looking like a deliberate plot staged by the government itself much like Operation Fast and Furious pulled off by the ATF which helped smuggle tens of thousands of guns into Mexico for the purpose of causing "gun violence" in the USA, then blaming the Second Amendment for it.
All this looks like James Holmes completed a "mission" and then calmly ended that mission by surrendering to police and admitting everything. The mission, as we are now learning, was to cause as much terror and mayhem as possible, then to have that multiplied by the national media at exactly the right time leading up the UN vote next week on a global small arms treaty that could result in gun confiscation across America."
"Even Forbes.com wrote about this quite extensively, warning readers about the coming gun confiscation effort related to the UN treaty. The story was authored by Larry Bell -- "U.N. Agreement Should Have All Gun Owners Up In Arms" -- and says the UN treaty could "override our national sovereignty, and in the process, provide license for the federal government to assert preemptive powers over state regulatory powers guaranteed by the Tenth Amendment in addition to our Second Amendment rights."
"In other words, this has all the signs of Fast & Furious, Episode II. I wouldn't be surprised to discover someone in Washington was behind it all. After all, there's no quicker way to disarm a nation and take total control over the population than to stage violence, blame it on firearms, then call for leaders to 'do something!' Such calls inevitably end up resulting in gun confiscation..."
We have repeatedly stated that no dictatorship in world history has ever been able to survive when its population owns significant quantities of guns. For example, , Adolf Hitler successfully disarmed private guns before he brutally imposed the Nazi dictatorship over all of Germany. Therefore, as America and the entire world is heading for the appearance of Antichrist and the greatest, most repressive government in history, we should not be too surprised to realize that even New Age authors are warning that the government is engaged in deliberately staging seemingly senseless attacks on unarmed civilians in order to so tire out the average citizen that he / she will demand the government finally move against our guns.
In fact, Doc Marquis boldly stated in his DVD pictured above, "The Illuminati Is Fulfilling Bible Prophecy", that the Illuminati plans to orchestrate events in such a way as to tire out the people, emotionally and mentally. Once the people are sufficiently exhausted mentally and emotionally, they will demand changes and will accept whatever changes their current government leaders propose. Even if government leaders propose radical changes like "temporarily" dissolving the Constitution, an emotionally weary nation might accept this scenario, especially if it is timed right after another terrorist attack.
Listen to the Plan of the Illuminati, written 200 years ago:
"There is another reason also why they will close their eyes: for we shall keep promising them to give back all the liberties we have taken away as soon as we have quelled the enemies of peace and tamed all parties .... It is not worth to say anything about how long a time they will be kept waiting for this return of their liberties" (The Protocols of the Learned Elders of Zion", Protocol Number 11, "We Are Wolves" section)
This is the final goal, planned to occur after privately owned guns are confiscated.
What does Mitt Romney saying about this movie shooting catastrophe?
III. Mitt Romney quoted a phrase out of the Book of Mormon as he reacted compassionately to the death toll of the shooting.
NEWS BRIEF: "How the Aurora shooting allowed a glimpse into Mitt Romney's Mormon faith", Alaska Dispatch, July 21, 2012
"In his response to the mass shooting in Aurora, Co lo., Mitt Romney offered a rare glimpse into his Mormon religion – one of those public moments for the man who would be the nation's political leader but who so far has been very private about his personal faith. 'Today we feel not only a sense of grief, but perhaps also of helplessness', Mr. Romney said. 'But there is something we can do. We can offer comfort to someone near us who is suffering or heavy-laden. And we can mourn with those who mourn in Colorado'."
This reference, "we can mourn with those who mourn in Colorado" seems to come directly out of the Book of Mormon.
"As ye are desirous to come into the fold of God, and to be called his people, and are willing to bear one another's burdens, that they may be light; Yea, and are willing to mourn with those that mourn; yea, and comfort those that stand in need of comfort, and to stand as witnesses of God at all times and in all things, and in all places that ye may be in, even until death, that ye may be redeemed of God, and be numbered with those of the first resurrection, that ye may have eternal life." ( Mosiah 18:8-9, Book of Mormon).
These words of encouragement and compassion parallel those of President Obama.
One Protestant scholar uttered a profound truth, probably without realizing it.
" 'Moments like these call for our commander in chief to act as a theologian in chief, and Romney did that today', Stephen Prothero, a religion professor at Boston University and the author of the American Bible, told CNN."
Most Americans believe that the office of President of the United States is purely political, devoid of any religious element; but, the fact is, that the President does have influence in matters of religion, if he chooses to exercise them. Citizens look up to and want to admire, their President. During times of crisis, people will listen to what the President says religiously. For this reason, God chose Israel's first kings and expressed His choice through His religious prophet. What criteria did God use in choosing a king? He looked upon his heart, a heart that yearned for God.
How is a person's heart prepared and shaped for life? Through his religion. Therefore, it is important to realize that Romney's heart was shaped by a neo-pagan religion called Mormonism, a religion "created by witches for witches" (Bill Schnoebelen, "Mormonism's Temple of Doom" DVD, pictured above.)
Both candidates dramatically slowed their campaigning and both stayed away from the subject of Gun Control as possible!
NEWS BRIEF: "Obama Joins Romney in Gun-Control Silence After Shootings", San Francisco Chronicle, July 22, 2012
"President Barack Obama and Republican challenger Mitt Romney have spoken little about gun control in their campaigns for the White House and showed no sign of shifting course after one of the deadliest shootings in recent U.S. history ... Speaking yesterday in Fort Myers, Florida, Obama made no mention of gun control as he called for a moment of silence for the victims ... Romney, who as Massachusetts governor in 2004 signed legislation banning assault-style weapons, also sidestepped the gun issue in a speech in Bow, New Hampshire, calling the killings a 'hateful act'."
Mitt Romney did act to ban "assault-style" weapons, so we can assume that he will one day support a ban on all types of weapons, since he could never have received the support of the Elite to capture the Republican nomination unless he was supportive of all the Plan all the way. At the right time, we shall see the true beliefs of Romney on Gun Control, and it will undoubtedly parallel that of Obama. We shall just have to wait to see events unfold.
Remember, there is no difference between Republican and Democrat on key, fundamental issues, including the plan to impose Gun Control over the nation. This card from the Illuminati Card Game clearly illustrates that, at the right moment, the government is going to brutally act to seize all guns, resulting in much bloodshed.
Gun Control is the Plan and will be instituted by the President of the United States at the right crisis moment in history, whether he be Democrat or Republican.
---
NEW Hoggard DVD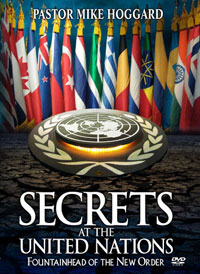 "Secrets At The United Nations"
"Fountainhead of The New Order"
Part 1 - Does the United Nations and the Tower of Babel have anything in common? Yes! Pastor Mike Hoggard delves into the world of the United Nations, their purpose, and what it is hiding and what is concealed in their innocent looking logo.
Pastor Mike breaks down the occult symbols of the UN logo's laurel leaf, the sections of the globe, and the vital significance of the North as the center point. This video is a very timely expose of the United Nations being the foundation of the new world order and whose true history starts way before 1945. Scriptures reveal Lucifer's plan to deceive the nations, and bring about his goal to rule the world!
Part 2 - Something wicked this way comes -- and it's coming from the North. . Why is the center or focal point of the UN logo the North? What is the Biblical significance of this particular direction? Scripture after Scripture describes North as a spiritual realm- Lucifer's earthly followers have been working to fulfill his ambition to be like the Most High, exercising total control of humanity.
Pastor Mike again ties together Biblical numerical correlations, ancient pagan practices, the Zodiac, New Age thought, the Vatican, Freemasonry secrets and Bible prophecies that will take place, perhaps very soon.
Like unto no other, a brutal invasion (of the 4th kind) is coming from the North! Are you spiritually prepared?
Almost two hours long, shipping 7/18 - http://www.cuttingedge.org/detail.cfm?ID=2437
---
66% to 75% Discounts Off 80 DVD Titles
Variety is good; price is EXCELLENT!
Two New Titles Added To $9.99 Category
Regular Price: $29.99
Sale Price: $9.99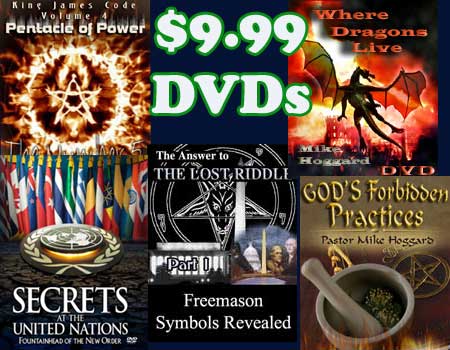 DVD Value- Priced Category $9.99
Regular Retails Up To $40, Dual Disc Sets
---
Nephilim / Giants Threaten Us - Again
Nephilim / Giants In History Past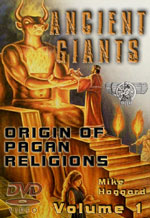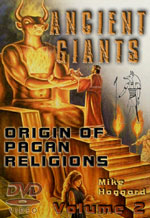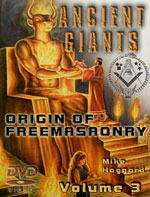 "Ancient Giants: Origin of All Pagan Mystery Religions" -- Including Freemasonry
Pastor Hoggard has created a masterpiece with this three-part series!
In Volumes 1 and 2, entitled, "Ancient Giants: Origin of Pagan Religions", Pastor reveals that, not only did Giants exist in the Ancient World, but their religious teachings to mortal men created the various Pagan Mysteries Religions of Babylon, the Egyptian Mysteries, the Chaldean Mysteries and a whole host of lesser pagan religions.
Pastor Hoggard comes full circle in his expose' of the Ancient Giants creating all the Ancient Pagan Religions, by demonstrating that the Giants created Freemasonry, in Volume 3, "Ancient Giants: Origin of Freemasonry"! Pastor shows example after example where the legends of Freemasonry abound with the names of gods and goddesses which were created by the Giants. This DVD is a scathing indictment of Masonry and will enable you to understand how true the Masonic Title is 'Ancient and Accepted' Freemasonry.
Still only $14.99 each, even though these DVD's each run about one hour, 30 minutes long.
Nephilim / Giants Intervening In World History NOW / Again!
Nephilim / Giants Manipulating DNA Research!
| | | |
| --- | --- | --- |
| | | |
| "Jesus Christ, DNA and the Holy Bible " - $14.99 | "Mother of All Secrets: Most Deadly Secret Concealed by Mankind Now Revealed In the Holy Bible" - $14.99 | "Triple Helix: Genetically Changing Mankind Into Beasts" - $14.99 |
| Science is catching up with the Bible! In this video, Pastor Michael Hoggard shows the amazing correlations between the Holy Bible and DNA, and how the Gospel message is literally encoded in our genetic structure | Men who worship the occult regularly consult with familiar spirits so they can take counsel against God. Therefore, the conspiracy by which they seek to overthrow God is demonic to its core. | Modern genetic scientists have created a Triple Helix DNA strand, a change which transforms the man God created into a Beast! |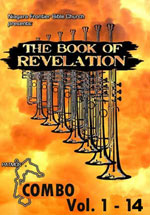 "Blessed is he that readeth, and they that hear the words of this prophecy, and keep those things which are written therein: for the time is at hand." (Rev 1:3)
A Study of Revelation is most needed NOW!
"COMBO OFFER: Dynamic 'Book of Revelation' Study"
by Pastor Billy Crone
All Fourteen DVD Volumes -- all 42 DVD's - On Sale! You Save $269.92
Regularly $419.86, Now Only $139.86 - Only $9.99 each
Or, you can buy individual DVD's at only $9.99 by looking in "Related Items" below this combination offer.
---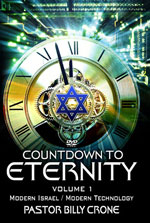 "The Ultimate Final Countdown" DVD
2-DVD Set by Pastor Billy Crone - 4 Hours Long
Regularly $39.99, Only $19.99
The 'Final Countdown' takes a look at 10 signs given by God to lovingly wake us up so we'd give our lives to Him before it's too late. These prophetic signs are many, but there are 10 REALLY IMPORTANT ones to which we really need to pay attention.
These 10 prophetic signs are: 1) The Jewish People and their reborn nation, Israel; 2) Modern Technology; 3) Explosion of Worldwide Unrest/ Upheaval; 4) Unprecedented Falsehood; 5) Rise of Wickedness and Perversion; 6) Rise of Religious Apostasy; 7) One World Religion; 8) One World Government; 9) One World Cashless Economy; 10) The Mark of the Beast.
This 2-DVD set addresses two of these issues:
The Jewish People and their reborn nation, Israel in three aspects:

* Reborn as Israel
* Rebuilding of the Temple
* Relationship to the coming Antichrist.
Modern Technology in two aspects:

* Increase of Travel, Knowledge & Unrest;
* Two Witnesses, False Prophet & Antichrist.
NOTE: The trailer we show covers all 10 of these prophetic areas which are unfolding right in front of our eyes.
4 hours of solid prophetic teaching - ORDER NOW
---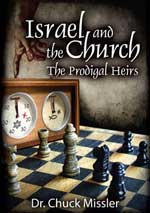 "Israel and the Church: The Prodigal Heirs"
Has The Church Replaced Israel?
DVD by Dr. Chuck Missler
One of the most burning issues of our current age is whether the return of Israel back to her land in 1948 was fulfillment of God's ancient prophecies or was just an accident of history. What you believe has great ramification for your view of the world and God's role -- or lack of role - for present-day Israel.
Dr. Missler asks several burning questions: 1)Has God abandoned Israel? 2) Has the Church 'replaced' Israel? 3)What does the Bible say?
As we watch the world events, it is clear that Israel is following her prophetic scenario, and a new chapter is about to be writtenand there may be a big surprise on our near horizon!
Great tool to reach people who believe the Church has replaced Israel
Contains 2 hours of teaching - http://www.cuttingedge.org/detail.cfm?ID=2433
---
New Headline News Article: Election 2012
DVD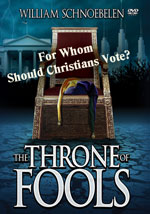 "Presidential Election 2012"
"Are we REALLY faced only with the choice of "Lesser of Two Evils"?


How would Jesus have voted? Which Party Would He Have Considered The "Lesser of Two Evils"? Pharisee or Sadducee; Democrat or Republican; Obama or Romney; Baphomet or Baal?

We have attempted to prove to you that the Democrat Party and the Republican Party are equally evil, as they pursue an equally evil plan to bring the world into the Kingdom of Antichrist, also known as the "New World Order".
Thus it follows that the men in top leadership of each party are equally evil.
Evangelical Christians have no idea whatsoever of the intrinsically evil nature of the Republican Party. They have thoroughly convinced by Evangelical "wolves in sheep's clothing" that a goodly number of top Republican leaders are Christian. Such Evangelicals have been as completely deceived as the Apostle Paul warned:
"For such men are false apostles, spurious, counterfeits, deceitful workmen, masquerading as apostles, special messengers of Christ (the Messiah). And it is no wonder, for Satan himself masquerades as an angel of light; So it is not surprising if his servants also masquerade as ministers of righteousness..." (2 Corinthians 11:131-5; Parallel Bible, KJV/Amplified Bible Commentary)
This article is a clarion call for Evangelical Christians to wake up to spiritual reality and to do the right thing when they enter the voting booth!
---
"A Mormon President: Mormon Leadership Has Always Coveted The White House"
If Americans today realized the depth of the power seeking desire that was in the heart of the Founder, Joseph Smith, and then realize that LDS leaders possess this same obsession today, they would be scared to death of a Mormon President. Mormon leaders have always wanted to win the Presidency of the United States. When assassinated in 1844, Joseph Smith was planning to run for President.
Through dramatic reenactments and interviews with top historical experts, A Mormon President looks for answers to timely questions which have great significance today since, especially since a Mormon - Mitt Romney -- is going to be the Republican nominee for President in 2012.
Do the Mormons have an agenda for the White House? As Bill Schnoebelen reveals in "Mormonisms Temple of Doom: 2012 Election Alert", Mormons have always had an agenda, as can be proven by that secret pod room on the top of the Mormon Temple in Washington, D.C. You can't understand the difficulties facing Romney in winning the election until you understand Joseph Smith, the original founder of Mormonism
Is America ready for a Mormon President? American liberties could be in real danger should a Mormon become President.
The DVD also contains a bonus section about Mitt Romney, Jon Huntsman, and other modern-day Mormon candidates.This election could decide the fate of America. Our national soul is going to be tested as never before. http://www.cuttingedge.org/detail.cfm?ID=2419
---
New Books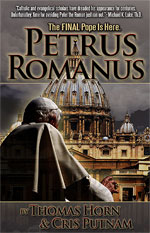 "PETRUS ROMANUS"
Will The Next Pope Be The Final "Peter The Roman"? The Prophesied False Prophet is alive, awaiting in the wings!
Is the next Pope after Benedict XVI the final Pope, the False Prophet of Revelation 13:11-18, and the world religious leader who will force all peoples of the earth to take the 'Mark of the Beast'?
St. Malachy prophesied from a vision in 1595 that 111 Popes would serve and die in office; the 112th Pope would be 'Peter The Roman', 'PETRUS ROMANUS', the man whom the Bible calls the False Prophet, the Beast who has two horns like a lamb (Rev 13:11).
This book also reports: 1) The 60-Year-Old Jesuit Codex predicting the arrival of PETRUS ROMANUS in 2012.
2) What Jonathan Edwards believed about the Kingdom of Antichrist and the year 2012.
3) The secret Vatican ceremony enthroning Lucifer as King, as reported by Malachi Martin.
4) The Fourth Secret of Fatima and other suppressed Maian texts.
5) The secret in the US Capital and the Vatican tied to 2012, and the Dragon.
528 pages - http://www.cuttingedge.org/detail.cfm?ID=2416
---
Be sure to visit our Face Book page
and like us so we can keep you updated
and you can share us with your friends.




---

Call us for Customer Service at 800-451-8211

Subscription Promotion

Cutting Edge cannot continue unless we keep a certain level of Yearly Subscriptions and so once or twice a year we run a special giveaway subscription offer. Please reach out at this most difficult time to help support Cutting Edge Ministries. We are reaching 120,000 people a year with the Gospel in five languages so your subscription will enable that wonderful spiritual eternal fruit to continue.

One Year Subscription - Choose 1 FREE Item

Two Year Subscription - Choose 2 FREE Items

Three Year Subscription - Choose 3 FREE Items

Four Year Subscription - Choose 4 FREE Items

Click here to subscribe or just check out the gift options:

---
As always we ask you to pray daily for this ministry.
Be sure to visit the Sale items and Special offers sections where you will find 28 Special offers and 121 items on Sale.
David Bay, Director, Cutting Edge Ministries
1792 South Lake Drive, Ste. 90 PMB 300, Lexington, SC 29073

800-451-8211