News Alert & Bookstore Bulletin

Thursday, January 31, 2013

Scheduled News Alerts/Newsletters

Mon. AM - Alert

Thurs. PM - Alert
Hot News
Trailer
I. Yemeni citizens awoke this morning to discover that their capital had been taken over by Western military forces!
Nothing like an invasion of a third-world country by superpower troops to get people's attention!
NEWS BRIEF: "French, British, US warplanes and troops occupy Yemeni capital: Residents woke up under foreign military occupation", StratRisks News, January 30, 2013
"As the UN Security Council continues its Yemen visit after holding a closed meeting with Yemeni and GCC – Gulf Cooperation Council – officials in Sana'a, the capital, residents woke up under foreign military occupation."
Now an invasion of a small country like Yemen while international officials were meeting to plan an orderly transition of political power is a sign of determination, the likes of which are rarely seen in politicians. Remember, the entire war effort throughout the region the Pentagon calls the "Non-Integrating Gap" is remove all strong governments so they can be replaced with weak, divided leadership. This weak government then would provide no resistance to the planned regional government -- Club of Rome's Supernation #8 -- when it demands that all nations within its geographical area surrender their national sovereignty.
The war in Yemen has been going on for some time now and the moment of truth has finally arrived.
"Keen to guarantee the safety of its state officials and ensure that no faction, group or individual will try to derail efforts being made in regards to moving Yemen transition of power forward, the United States of America, France and the United Kingdom took control between them of the sky and the ground."
The military power suddenly thrust into Yemen was impressive.
"Residents told the Yemen Post on Sunday they saw French warplanes patrol the sky of the capital in a great show of strength, which they say they felt a bit 'over the top' ... on Saturday evening 250 Marines arrived in the capital, increasing yet again America's military presence in the country. In addition to the Marines, several American CTU agents – counter-terrorism units – are said to have been deployed throughout the capital to scoop out any potential threat. British troops scattered in Sana'a, criss-crossing with their American counterparts to cover as much ground as possible. Dozens of French warplanes were sent to patrol the sky."
No one can doubt any longer how deep Western commitment is to this "Non-Integrating Gap" plan. This military force is significant compared to any threat posed in Yemen and it came upon the capital quickly and without warning. One Yemeni retired general instinctively knew the goal of Western powers.
" ... A retired General, Ali Mohsen Khawlani stressed that Yemen should have been put in charge of all security details . 'Our armed forces are perfectly capable and well-trained. What kind of message does it send to see foreign troops invade our capital. Are we moving toward a military occupation? Did foreign powers come to announce they will divide Yemen into zones of influence?' "
Yes, General Khawlani, dividing Yemen into "zones of influence", each of which will be significantly weaker than the present Yemeni government, is precisely the plan being carried out right now. The Global Elite are acting in full accord with the Club of Rome Plan which foresees reorganizing all nations of the world into exactly ten supernations. Yemen geographically falls into Supernation #8 and is being weakened so she cannot possibly provide any resistance to the demand to surrender her national sovereignty to the regional government. (Read full details in NEWS2436)
We are privileged to watch prophecy being fulfilled in our Daily News!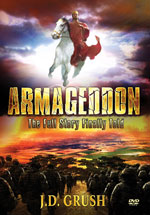 DVD
II. Israeli Air Defense fighter jets attacked a Syrian military convoy carrying Russian-made anti-aircraft missiles to Hezbollah in Lebanon!
These missiles would have been a "game-changer" in the Islamic confrontation with Israel.
NEWS BRIEF: "Israel hit SA-17 missiles shipment ", YNET News, 1.30.13
"Israel conducted an airstrike inside Syria overnight near the border with Lebanon, hitting a convoy of trucks, US and regional officials said Wednesday. The regional officials said Israel had been planning in the days leading up to the airstrike to hit a shipment of weapons bound for Hezbollah in Lebanon. They said the shipment included sophisticated, Russian-made SA-17 anti-aircraft missiles, which would be strategically "game-changing" in the hands of Hezbollah ... SA-17 missiles are self-propelled and have the capacity to hit jets at a low altitude. The system's portability makes it harder to trace and enables it to surprise jets within its range. These attributes could jeopardize IAF jets should they operate against Hezbollah in Lebanon. "
After initially being silent on the subject, American officials finally confirmed that Israeli leaders had informed them before the strike was carried out.
Once again, we can see the determination of Islamic Jihadists to destroy Israel. This tiny nation must always be vigilant in the face of such overwhelming numbers of soldiers that their deadly enemies can field.
I am pleased to note that the Obama Administration had not complained about the attack or questioned Israel's right to defend itself in a pre-emptive strike.
But, at any moment, the situation in this Middle Eastern region can explode into all-out regional war. The Illuminati has planned since 1870 that the final world war needed to produce Antichrist would start between Israel and her Arab neighbors and expand to include the whole world.
That hair-trigger event is now set to explode, producing World War III and the Masonic Antichrist. The only question is, when might this occur?
---
We Need Your Headline News Subscription / Renewal Now
Your faithful support enables us to keep Cutting Edge free for everyone else. Our readers have always loved the indepth correct news analysis found in our "Headline News Analysis".
NEW HEADLINE NEWS ANALYSIS ARTICLES
Most Important Article We Have Ever Written
DVD
"World War III Will Be History's Greatest Lynchpin!"
Many major events are planned to occur just as World War III begins. Mankind will be systematically hit with unparalleled disasters of every kind as this planned global war unfolds. But, none of these events will occur until the lynchpin called "World War III" is pulled.
The Illuminati has prepared many different scenarios which will not be triggered until World War III breaks out. All these events are sitting like a race car at the starting line, engines idling, just waiting for the global war to break out so they can all be triggered at once. Doc Marquis said that these events will occur at a rapid rate, one after another after another. Doc said people's hearts will literally fail them for fear, as they can scarcely comprehend one disaster when they will hear of another and then another and then another. People will be overwhelmed by the succession of so many horrific disasters after another.
But, Doc warned, "none of the planned events will occur before the others". And, the trigger for all these events is World War III, literally a lynchpin holding all planned events in place. Once this gigantic lynchpin is pulled, all these planned disasters will quickly follow. People worldwide will be so upset and so confused by so many disasters happening at once, they will literally leap at any proposal from their leaders that will "solve the problem".
At that point, the New World Order can be established as soon as World War III has run its course and the Masonic Christ appears on the world scene. We are not to panic whenever someone speaks out about one of these disasters, saying that it will occur NOW. We know the Plan for the New World Order and we know the sequential prophecy in Daniel 7:7-8 so we know these events are a number of years away. http://www.cuttingedge.org/detail.cfm?ID=2489
You need not panic.
"And you will know the Truth, and the Truth will set you free." (John 8:32) Jesus' Promise
Support this ministry today with your subscription and get access to this article and ALL headline news articles at Cutting Edge. Your subscription will help us reach a lost world for Jesus Christ. Here is how.
If you will send in a new subscription or renew an existing one, we will give you your choice of the following gifts FREE. https://www.cuttingedge.org/secure/subscriptions/support.html
CHOOSE 1 OF THE FOLLOWING GIFTS FOR EACH YEAR YOU SUBSCRIBE - For a one year subscription at $25.00 choose 1 gift or any two gifts with a 2 year $50.00 subscription. Choose any three gifts with a 3 year $75.00 subscription etc. $150.00 subscription for example you will get a Six year subscription and all six gifts.
Monthly Support - We also need monthly supporters so we can meet our monthly operating costs. From our subscription page you can also select monthly support. Or, if you feel the Lord moving upon you to give a special donation, you can do so by clicking on the link below.
Here is that link again:
https://www.cuttingedge.org/secure/subscriptions/support.html
GIFT CHOICES ( use the link above to subscribe and choose your gift from our selection below )
A. Seminar 1, "America's Leadership of the New World Order" and Seminar 2, "America Determines The Flow of History" in MP3 format on CD. MP3 Audio format for play on your computer as well as CD and DVD players that will play MP3 format. Upload them to your IPOD too. Once you understand the evidence and truth we share with you, you will never look at the news the same way again. You will understand how America has become the nation she is, and you will be able to see the direction in which we are heading.
Nearly 10 hours of audio seminar material plus printable passout notes for the seminars are included on the disc.
Seminar 1- "America's Leadership of the New World Order", shows why this formerly Christian country could become the leader of the Satanic New World Order effort. America today is compared to the Israel in the years prior to God bringing in Nebuchadnezzar to physically destroy Israel in Judgment. Comparisons between Israel then and America today are staggering!
Seminar 2- "America Determines The Flow of History", looks carefully at our national history and discovers that our Founding Fathers had a hidden agenda which set this country on the path of leadership of the Kingdom of Antichrist. Also covered is the demonic Plan for three (3) World Wars, the fact that the Illuminati created Communism between 1846-1848, and the greatest deliberately staged "Dialectic Struggle" of all time -- the Cold War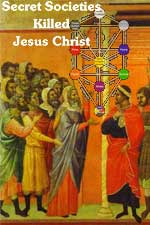 B. MP-3 -- "Secret Societies Killed Jesus Christ" - MP3 Audio on CD

Your understanding of the Gospel account will change forever once you understand the truth of the Jewish leaders who conspired to put Jesus on the cross. This incredible series reveals that the Pharisees and Sadducees who hated Jesus with an unnatural hatred and provoked the Lord into uncharacteristic animosity toward them, were secretly Satanists practicing what later became known as the Cabala (Kabbala, Qabbala).
Now you will know why the Pharisees killed Jesus even though they knew with 100% certainty that He was the Promised Messiah.
Now you will know why these Jewish leaders looked at Jesus' miracles and concluded that He was drawing His power from Beelzebub, one of Satan's chief demons. MP3 audio CDs will play on your computer and can be transferred to your IPod or MP3 player. Many new cars also have CD players that will play MP3 CDs.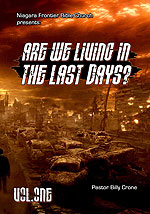 C. DVD - "Are We Living In The Last Days?" New DVD Compilation by Pastor Crone .
"Are we living in the last days?" Is the rapture of the Church imminent upon the horizon? And will this generation see the actual return of Jesus Christ? Pastor Crone compiles snippets of each one of his 14 DVD's thus far on the Book of Revelation to demonstrate how close we are to the very End of the Age.
Join us in this eye-popping provocative video study revealing how we really are living in the last days. Here you will be confronted with undeniable evidence in the form of actual interviews, reports, and news broadcasts from around the world unveiling the shocking truth that the end times are at hand.
These signs include, the Mark of the Beast, Worldwide Upheaval, a One World Government, Economy, Religion, and New World Order, the rebuilding of the last days Jewish Temple, Apostasy in the Church, Moral Decay in our Culture, the Rise of the Antichrist, and much much more!
Are we living in the last days? People, check out the proof for yourself! You won?t believe your eyes!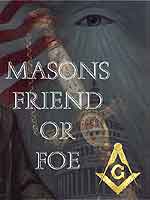 D. DVD - "Masons: Friend or Foe To The Born Again Christian?"
Many of our leaders have sworn allegiance to a Masonic Order of one type of another. Our current election features two brothers in a Masonically- based secret society called "Skull & Bones".
What are these leaders pledging their allegiance to and how deeply entrenched are their goals to America today? Since Freemasonry has attempted so strenuously to claim that they are just a good old boy fraternity that does good works and has a good time, most Americans would be shocked to learn the bitter truth behind that facade.
2 hours, 40 minutes of instruction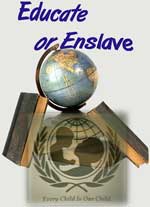 E. DVD - "Educate or Enslave?"
Three United Nations Programs: Outcome Based Education, Goals 2000, School-to-Work
These cradle-to-grave "improvement" plans are designed to reshape our national values and belief systems through our children. This video covers the origin of all these programs, showing how they are designed to completely change the values systems and worldview of our precious children.
Throughout the Clinton and Bush and Obama Administrations, these UN programs steadily made inroads into our educational curricula, reshaping the minds of our precious children into "Global Citizens". - 2 hours, 20 minutes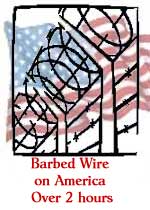 F. DVD -Barbed Wire On America: God's Final Warning - by Dave Wegener
In great film clips, Wegener details the coming plan to institute global dictatorship.
What do: Detention centers, Depopulation, Demilitarization, Foreign Troops on U.S. soil, Mother Gaia worship, Martial Law, and the Anti-terrorism bill have in common? They are all in our immediate future, unless enough Americans wake up to what is planned for us. Great film footage, a must see for all Americans.
Over 2 full hours
---
In closing we want to give a special thanks to all of you who have supported Cutting edge since 1996 and made it possible to now reach over 250,000 people each month, many who read our salvation message and now have a changed life in Jesus Christ. In fact, Cutting Edge is now printed in nine (9) languages and is thrilled to see 150,000 people per year read our Salvation Plan.
Many Christians who do not have a local church who preaches the full counsel of God can find the truth through our articles, books and DVDs that we offer.
During these financially challenging times, we desperately need your help and maintaining a subscription is one of the most important avenues we offer. Literally, we cannot survive without our subscription program. Our Headline News Articles reflect the study of 27 years and are the most insightful of any on the Internet. People have regularly told us over the years that "once they understand the Cutting Edge Worldview, they can never read the news the same way again"!
---
Price Break On All Watchers DVD's
Get All Watchers DVD's -- Only $17.95 Each
Regularly Priced At $19.99 Each

Watchers 1 - "They Are Not Going Away" -- Watch Trailer
Watcher 2 - "Signs In Heaven and On Earth" -- Watch Trailer
Watchers 3 - "Events Mysterious, Unexplained"
Watchers 4 - "On The Edge"
Watchers 5 - "Let Me In"! Watch Trailer

Save $20.00 By Buying The Watchers Combination Offer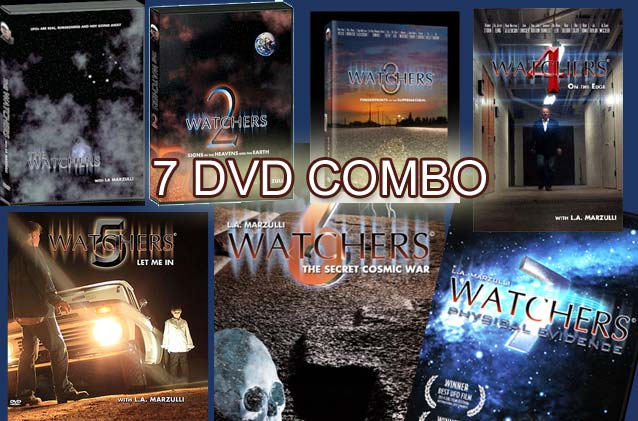 Regularly $99.99
On Sale $79.95
The Watchers 5-DVD Box Set contains all 5 of L.A. Marzulli's best-selling series on the strange and the supernatural, The Watchers.
These are the titles in this 5-pc set: 1) 'UFO's Are Not Going Away'; 2) 'Signs In The Heavens and the Earth'; 3) 'Unseen Supernatural Forces'; 4) 'On The Edge'; 5) 'Let Me In'
---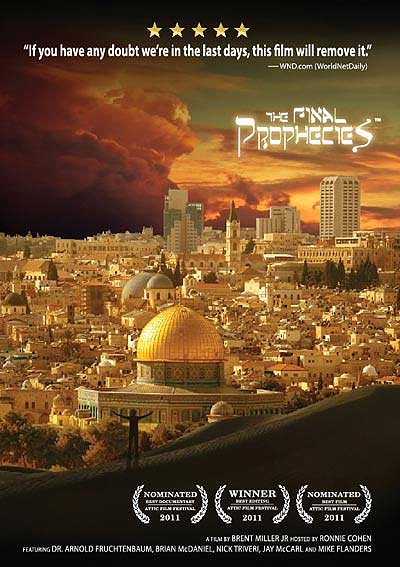 "The Final Prophecies" DVD
If you have any doubt that mankind is living in the last days, this film will remove those doubts.
Regularly $24.99, Only $19.99
In addition to overwhelming archaeological evidence presented in the film, proving the ancient events off the scriptures have come to pass with shocking accuracy, The Final Prophecies explores the future events that are foretold to result in the death of billions around the world! You will see that unprecedented events unfolding today that are laying the ground-work to fulfill these near future prophecies
For generations, prophecy experts have claimed that the ancient scriptures foretell of an age in which the world will unite in a global financial system with a single currency. Despite the unbelief of millions, such a worldwide system of commerce is surging forward and the currency will be cashless
This DVD will surprise you and may even shock you, but you will discover that you have an excellent tool to witness to an unsaved loved one, coworker, and friends! http://www.cuttingedge.org/detail.cfm?ID=2487
---
Six (6) NEW TITLES $9.99 DVD Selection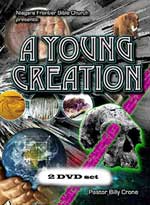 A Young Creation - DVD - 6 Session - 2 DVD Set
One of the greatest lies in education today is the lie that the Earth is millions, and perhaps billions of years old. Students in all levels of education are taught this lie
This mantra of evolutionary teaching actually calls Jesus Christ a liar, God the Father a liar, God?s Word a liar. Therefore, 'A Young Creation' exposes the falsehood of evolutionary dating methods and reveals beyond a shadow of a doubt that we really do have 'A Young Creation' just as the Bible states.
You will explore such topics as:
1) Evidence of Space
2) Evidence of Earth
3) Evidence of Logic
4) Fallacy of Carbon Dating and all other evolutionary dating methods
5) Circular Reasoning of the Geologic Column
6) Rapid Formation of Rocks, Caves, Stalagmites and Stalactites, and even Fossils.
You will also hear direct quotes from evolutionists themselves saying that yes, we very well could have A Young Creation! After watching this series, you too will come to the same conclusion as this person did who stated, ?I myself am convinced that the theory of evolution, especially to the extant to which it?s been applied, will be one of the great jokes in the history books of the future.? http://www.cuttingedge.org/detail.cfm?ID=1693
"Will the Real Church Please Stand Up?"

See Who the REAL Christians REALLY Are
3 Volumes

2-DVD Sets by Pastor Crone - Regularly $19.99, Only $9.99
Hear ye, hear ye! Read all about it! Millions of Christians right now are suffering from traumatic brain injury and don't even know it. A new epidemic is sweeping our churches that's causing untold numbers to completely forget who they are.
So just who are these suffering people? Believe it or not, it's the American Church. Why? Because we say we know who we are as the Church, but half the time with our lips and lives, we're acting like we've forgotten who we are.
We're suffering from practical amnesia. This is not only detrimental in our walk with Christ, it keeps others from believing in Christ. Therefore, this series, 'Will the REAL Church Please Stand Up?' seeks to remind Christians of their God-given identity in Christ.
Each DVD has five subjects:
Volume 1 - We are: 1) Body of Christ; 2) Body of Brides; 3) Body of Brides, continued; 4) Body of Hope; 5) Body of Joy.
Volume 2 - We are: 1) Body of Love; 2) Body of Peace; 3) Body of Strangers; 4) Body of Disciples; 5) Body of Servants.
Volume 3 - We are: 1) : Body of Rebels; 2) Body of Worshipers; 3) Body of Warriors; 4) Body of Witnesses; 5) Body of Winners
http://www.cuttingedge.org/detail.cfm?ID=2488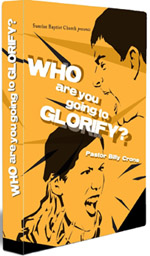 "Whom Are You Going To Glorify?"
"How To Deal With Chronic Complainers"
2-DVD Set by Pastor Crone
If you we're to ask the average Christian whether or not they want to Glorify God, the response would be an overwhelming, "Why yes, of course!" But in reality, the words coming out of our mouths are telling a much different story. And that's because the Bible says we're either glorifying God with our mouths, or we're glorifying the devil, every single day. The words we speak, positive or negative, reveal who it is. Therefore, this study, 'Whom Are You Going to Glorify' video reveals the hidden dangers of a life of constant complaining. Here you will see how Complaining Affects You, Affects Others, Affects the Gospel, and even Affects God.
Whom Are You Going to Glorify? It's either God or the devil. The choice is yours. http://www.cuttingedge.org/detail.cfm?ID=2486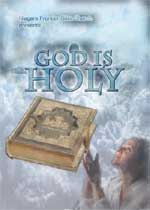 God Is Holy - DVD - 3-session DVD

Danger! Danger! The alarm has sounded! The American Church is under attack! The Body of Christ has fallen under a horrible epidemic where BELIEVERS IN GOD NO LONGER BELIEVE IN GOD!
Believe it or not, we now have Churches full of people who are living like they do not believe in God. Oh, they still say they believe in God, but half the time we act like He?s not there, betrayed by our lips and our actions. This is not only detrimental in our walk with God, but it keeps others from believing in God.
Christians are living like practical atheists because they do not know who God really is! 'God is Holy' shows us that some of the best ways to understand the Holiness of God is not to just look at a Hebrew or Greek word but to simply learn Scripture.
People of God, here are the facts. If the world is ever going to believe our message of hope, forgiveness, and love through Jesus Christ, then you and I must stop acting like practical atheists and start demonstrating by our lips and our lives that 'God Is Holy'. http://www.cuttingedge.org/detail.cfm?ID=1632
Shop all our $9.99 DVD's -- now 105 titles. Best value on the Internet, saving up to 75%.
Some sample titles.
---
Be sure to visit our Face Book page
and like us so we can keep you updated
and you can share us with your friends.




---

Call us for Customer Service at 800-451-8211

---
As always we ask you to pray daily for this ministry.
Be sure to visit the Sale items and Special offers sections where you will find 28 Special offers and 121 items on Sale.
David Bay, Director, Cutting Edge Ministries
1792 South Lake Drive, Ste. 90 PMB 300, Lexington, SC 29073 Email

800-451-8211