News Alert & Bookstore Bulletin

Monday, March 18, 2013

Scheduled News Alerts/Newsletters

Mon. AM - Alert

Thurs. PM - Alert
20% OFF ALL NEW BOOKSTORE ITEMS
Extended To Monday Midnight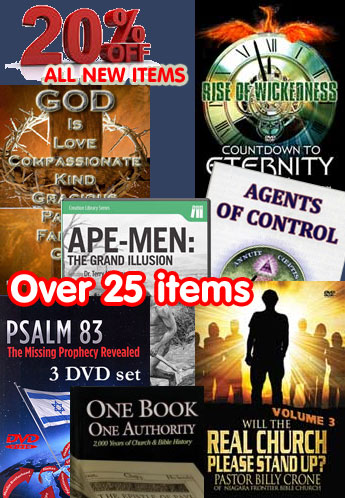 NOTE: THE ENTIRE COUNTDOWN TO ETERNITY SERIES WAS ADDED TO THIS SALE
MARKED DOWN THROUGH
MIDNIGHT MONDAY, 3/18
---
Hot News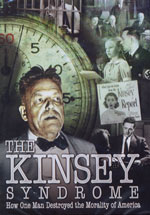 I. How close is the official Republican Party from embracing Gay Marriage, Gay Lifestyle, and Gay Society?
Given strong GOP leanings toward the gay lifestyle, that time may not be far off! What will tens of millions of undiscerning Conservative Christians do when their favorite political party embraces the gay lifestyle? Will they then realize the folly of believing there is a difference between Republican and Democrat Parties?
NEWS BRIEF: "Rob Portman Fallout", Christian Science Monitor, March 16, 2013
"One of their own, Sen. Rob Portman of Ohio, is pushing the issue to the fore, becoming the highest-profile GOP lawmaker to lend support to gay marriage while in office. His reversal on the issue Friday is significant considering he is one of the original backers of the federal Defense of Marriage Act (DOMA) in the 1990s and a constitutional amendment to define marriage as between one man and one woman in 2004."
Portman's reversal is, indeed, a catastrophe! When one of the original supporters of Christian traditional marriage reverses his position and joins the gay side, he is sending a strong message that was dead wrong in taking his original position. Multiply the effect caused by his high political ranking as a Senator from Ohio, and you can begin to see the damage to supporters of the Biblical issue of homosexuality that is being done. This damage may open irreparable breaches in the dam holding America back from fully becoming Sodom.
Thank God the rank-and-file Republican Party is not fully supportive of LGTB rights - yet.
"The platform speeches at the Conservative Political Action Conference (CPAC) this week in Maryland still suggest a party that remains in large opposition to gay marriage. Indeed, recent polls show that a small percentage of registered Republican voters – 23 percent in the latest Quinnipiac University poll – support same-sex marriage ... Changing the party's opposition to gay marriage is likely to gain traction only if it means bringing a sizable voting bloc to their side ... however, gay voters represent a small minority of the Republican Party, and not one that will probably move the outcomes of tight votes one way or other."
Who are some of the other important Republican and Democrat Party leaders currently supporting the Gay Agenda?
NEWS BRIEF: "Prominent political figures who support same-sex marriage",The Washington Post Gallery, March 15, 2013
* President Barack Obama
* Vice President Joe Biden
* New York Gov. Andrew M. Cuomo, Democrat
* Dick Cheney, former Republican Vice President
* New York Mayor Michael Bloomberg (Independent)
* Washington Gov. Chris Gregoire, Democrat
* Maryland Gov. Martin O'Malley, Democrat
* Education Secretary Arne Duncan
* Former President Jimmy Carter, Democrat
* Former President Bill Clinton, Democrat
* DNC Chairman Debbie Wasserman Schultz
* Chicago Mayor Rahm Emanuel, former Obama Chief of Staff
* Former first lady Laura Bush, Republican
Republican Party leaders have quietly sown the seeds of massive gay support within the Republican Party. Did you know that Gays/Lesbians were just as pleased in June, 2002, with the policies of Republican President George W. Bush as they were of President William Clinton? Read full details in Archives, NEWS1652, entitled, "CHRISTIAN CONCERNED WOMEN OF AMERICA [CWA] RAISES THE ALARM ON PRESIDENT BUSH: HIS POLICIES ARE IDENTICAL TO CLINTON'S REGARDING THE GAY AND LESBIAN AGENDA!"
Just last week, we posted a major update on this subject of America becoming another Sodom; please take a few moments to read
NEWS2490, entitled, "In Just 50 Years, America Has Turned "PINK"! Subtitle is: "In February, 1963, the Supreme Court "kicked God out of public schools"; in January, 2013, President Obama allowed a large Lesbian/Gay marching band to participate in his Second Inauguration.

"America has come full circle, from God's blessing to God's curse. America is the new Sodom, and we are living "in the days of Lot" (Luke 17:27-29)
After reading this material, you will realize how important it is for Christian parents to get their precious children out of Public Schools!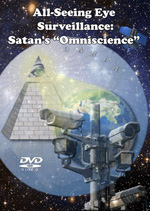 II. A new generation of drones will have the terrifying capability of snatching a human being right off the ground, much like an eagle now can snatch its prey into the air!
Intimidation is a key component if a dictator wants to keep power, and this type of drone will most definitely intimidate.
NEWS BRIEF: "Flying drone gets a terrifying eagle claw to carry off victims: Could snatch human right off the street!", New Scientist, March 14, 2013
"... thanks to a recent development at a lab at the University of Pennsylvania, we may be about to see a return to the days when unseen hunters lurking in the sky could easily snatch a human right off the street. At Penn's GRASP Lab, Justin Thomas and his team have developed a flying drone that can grab an object using a single, three-fingered, 3D-printed claw. The inspiration for the invention was drawn from real flying predators such as the bald eagle. By mimicking the action of the eagle, the team managed to give the drone the ability to successfully grab and carry off an object at a speed of roughly nine body lengths per second."
".. it is fairly easy to imagine law enforcement and the military using this development to grab human targets in coming years. Yes, it's all exactly as terrifying as it sounds, and you can see this future human snatcher in action in the video above ."
Bible scholars have long said that the 'Mark of the Beast' prophecy of Revelation 13:16-18 can come true only if the entire population of the entire world were under the tight grasp of the global dictatorship. People could not "buy or sell" anything unless they had agreed to take the insert which the prophecy calls the 'Mark of the Beast'.
To accomplish this prophecy, the global dictatorship must have accomplished two goals and must exercise those goals on a daily basis.
1) Total surveillance -- no citizen can feel safe from the prying eyes of "Big Brother", even down to the purchase of a newspaper.

2) Total intimidation -- every citizen must be so very afraid of the dictatorship they will willingly cower before its laws. Every dictator, from the Roman Emperors to Adolf Hitler, to Josef Stalin, to the drug kingpin in a major city, knows how valuable intimidation can be in forcing a cowering submission
Can you imagine submissive fear in the minds of most citizens when they realize that they might be picked up off the streets and carried to "who knows where" by a silent flying government drone? Results are going to blow your mind. What does that prophecy say?
"Men's hearts failing them for fear, and for looking after those things which are coming on the earth: for the powers of heaven shall be shaken." (Luke 21:26)
For those who are new to Cutting Edge, what kind of Absolute Dictatorship does the Illuminati intend for all mankind? Listen:
"... The gentiles are a flock of sheep, and we are their wolves. And you know what happens when the wolves get hold of the flock?"

"..... There is another reason also why they will close their eyes: for we shall keep promising them to give back all the liberties we have taken away as soon as we have quelled the enemies of peace and tamed all parties ..... It is not worthwhile to say anything about how long a time they will be kept waiting for this return of their liberties ....." ["The Protocols of the Learned Elders of Zion", Protocol #11 -- The Totalitarian State]

Make no mistake about where this war on Terrorism is leading us -- straight into Totalitarianism! More terror:

"... while the peoples of the world are still stunned by the accomplished fact of the revolution, still in a condition of terror and uncertainty, they should recognise once for all that we are so strong, so inexpugnable, so super-abundantly filled with power, that in no case shall we take any account of them, and so, far from paying any attention to their opinions or wishes, we are ready and able to crush with irresistible power all expression or manifestation thereof at every moment and in every place, that we have seized at once everything we wanted... Then in fear and trembling they will close their eyes to everything, and be content to await what will be the end of it all." [Ibid.; Emphasis added above]
Then, in one fell swoop, the Illuminati confirmed Biblical teaching that world events are proceeding according to a Plan, what historians call a conspiracy:
How does the Illuminati plan to bring all of mankind throughout the world to the point where they can suddenly enslave them all?
"When we come into our kingdom, our orators will expound great problems which have turned humanity upside down in order to bring it, at the end, under our beneficent rule. Who will ever suspect, then, that all these peoples were stage-managed by us according to a political plan which no one has so much as guessed at in the course of many centuries?" [End of Protocol No. 13 ]
Did you catch that telling sentence which proves the fact that world events are being caused by a worldwide conspiracy?
"Who will ever suspect, then, that all these peoples were stage-managed by us according to a political plan which no one has so much as guessed at in the course of many centuries?"
Every day we turn our TV sets on or open our newspapers, we are buried under the accumulated weight of multiple crises which are being trumpeted as posing a fatal threat to the entire Earth. Several years ago, we posted an article which identified five (5) major created crises which are being touted as needed a global government in order to solve them.
Please take a few moments to read our article, NEWS2193, entitled, "Five Major Created Global Disasters Are Being Constantly Preached To The World As Reasons To Form The Global New World Order!"
What does the Bible foretell about End Times events being caused by a worldwide conspiracy? Speaking of the final 10 kings of the earth (NEWS2363), God foretells:
" For God has put it into their hearts to carry out His own purpose by acting in harmony in surrendering their royal power and authority to the beast, until the prophetic words (intentions and promises) of God shall be fulfilled." (Revelation 17:17; Parallel Bible, KJV/Amplified Bible Commentary)
Bible-believing Christians can take solace in the prophetic reality that God is in control, even to the point of putting a plan into the hearts of the final rulers of the earth that, when completed, fulfills all prophecy!
Events are hurtling quickly toward the final End Times. Are you spiritually ready?
If you have never accepted Jesus Christ as Savior, but have come to realize His reality and the approaching End of the Age, and want to accept His FREE Gift of Eternal Life, you can also do so now, in the privacy of your home. Once you accept Him as Savior, you are spiritually Born Again, and are as assured of Heaven as if you were already there. Then, you can rest assured that the Kingdom of Antichrist will not touch you spiritually.
If you would like to become Born Again, turn to our Salvation Page now.
---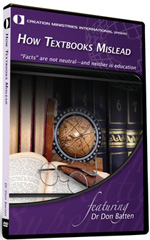 "How Textbooks Mislead" DVD
By Dr. Don Batten
Do you know what your children learn in school? Do you have any idea how public school textbooks are cleverly and expertly written so that young impressionable minds can be twisted and contorted so your child believes in Evolution?
Dr Don Batten investigates the evolutionary teaching in a typical biology text used in senior high school. The textbook uses many deceitful, out-of-date and even fraudulent arguments to indoctrinate students in evolution (everything made itself without a Creator).
Be prepared to equip our youth with answers!
50 minutes long, only $12.95
Watch Most Interesting Trailer
---
"PSALM 83: The Missing Prophecy Revealed"

"How Israel Becomes the Next Mideast Superpower"

This powerful 3 DVD series contains three of the most revealing teachings, complete with instructional images and maps, from Bible prophecy expert, Bill Salus. These 3 DVD's are all included in one package.

The titles are quite interesting: DVD 1 - 'Psalm 83 or Ezekiel 38, Which is the Next Middle East News Headline?'; DVD 2 - 'The Future for America in Bible Prophecy'; DVD 3 - 'The Roots of the Mideast Conflict'.

This DVD will help you make sense of today's news events occurring daily in the entire Middle East. - Only $19.99, less the temporary 20% off

Over 4 hours on the 3 DVD's - Available As 360-Page Book

"Agents of Control"

"Deception, Deception, and More Deception"

Only $17.95, Save Money

Less the temporary 20% off

'Agents of Control' takes a close look at world events, supernatural happenings and Ancient Prophecy about to be fulfilled.

Jesus foretold of unprecedented deception at the end of the age. In fact, spiritual, political and economic deception is so pervasive that it easily filled this book. Were the true story told, thousands of such books could be written.

'Agents of Control' is a fast-paced, hard-hitting prophetic portrait of end time events that offers a detailed panorama of how the end of the age could very well unfold. Filled with confirming Scriptures, this exegesis of the last days not only offers an enlightened view of the apocalypse, but it also identifies man's only answer for overcoming globalism and the New World Order of antichrist. An exciting read - Enjoy it!

This book opens your eyes to why world events occur and what Bible prophecy has foretold concerning the future. The clear and thorough way in which this book is presented makes for a very interesting read. A great documentary, not a novel.

193 pages - http://www.cuttingedge.org/detail.cfm?ID=2494
---
Five Powerful Headline News Articles For Our Faithful Supporters
Your faithful support enables us to keep Cutting Edge free for everyone else. Our readers have always loved the indepth correct news analysis found in our "Headline News Analysis".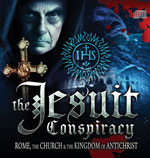 "The New Pope Is The First Jesuit Pope In History!"
Red warning flags should be flying high in your mind from this development, as the Jesuits have the blood of tens of millions on their hands. How evil is the Jesuit Order and their leader, the Black Pope?
http://www.cuttingedge.org/news/n2496.cfm
"Depleted Uranium Poisoning Steadily Spreading Throughout Iraq!"
"God's final End of the Age prophecy against Mighty Ancient Babylon is occurring precisely as Isaiah 13 foretold 2,600 years ago!"
http://www.cuttingedge.org/news/n2495.cfm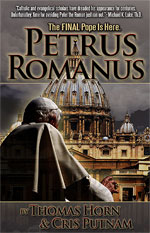 Is The Planned Moment Arriving For The Pope To Preside Over The Building of A Combination Worship Center For All Monotheistic Faiths?
Israel has signed an historic agreement with the Vatican, giving the Pope a seat at King David's Tomb. Is Rome planning to soon move the throne of the Papacy to Jerusalem? Moving the Papal throne from Rome to Jerusalem would carry enormous End Times religious global implications.
http://www.cuttingedge.org/news/n2493.cfm
"America Is Leading Western Powers In A Full-Scale Invasion of Africa!"
Now that the wars in Iraq and Afghanistan are winding down, the West is in full invasion mode destabilizing a major part of the "Non-Functioning Gap" region of the world. The "Pentagon's New Map Strategy" is being brilliantly followed. Have you noticed? Mass Media is either clueless as to what is occurring or they are part of a worldwide coverup.

"In Just 50 Years, America Has Turned "PINK"!
In February, 1963, the Supreme Court "kicked God out of public schools"; in January, 2013, President Obama allowed a large Lesbian/Gay marching band to participate in his Second Inauguration. The President also spoke so glowingly about homosexuality, he legitimized the lifestyle!
America has come full circle, from God's blessing to God's curse. America is the new Sodom, and we are living "in the days of Lot" (Luke 17:27-29)
Are you spiritually ready to live like "righteous Lot" (2 Peter 2:6-9), being daily tortured by all the filthy acts occurring in our nation, and yet able to live righteously for Jesus? Unless the Rapture of the Church occurs first, we Christians are going to have to stand our ground, protecting our loved ones while we aggressively evangelize those lost around us. http://www.cuttingedge.org/news/n2490.cfm
Most Important Article We Have Ever Written
DVD
"World War III Will Be History's Greatest Lynchpin!"
Many major events are planned to occur just as World War III begins. Mankind will be systematically hit with unparalleled disasters of every kind as this planned global war unfolds. But, none of these events will occur until the lynchpin called "World War III" is pulled.
The Illuminati has prepared many different scenarios which will not be triggered until World War III breaks out. All these events are sitting like a race car at the starting line, engines idling, just waiting for the global war to break out so they can all be triggered at once. Doc Marquis said that these events will occur at a rapid rate, one after another after another. Doc said people's hearts will literally fail them for fear, as they can scarcely comprehend one disaster when they will hear of another and then another and then another. People will be overwhelmed by the succession of so many horrific disasters after another.
But, Doc warned, "none of the planned events will occur before the others". And, the trigger for all these events is World War III, literally a lynchpin holding all planned events in place. Once this gigantic lynchpin is pulled, all these planned disasters will quickly follow. People worldwide will be so upset and so confused by so many disasters happening at once, they will literally leap at any proposal from their leaders that will "solve the problem".
At that point, the New World Order can be established as soon as World War III has run its course and the Masonic Christ appears on the world scene. We are not to panic whenever someone speaks out about one of these disasters, saying that it will occur NOW. We know the Plan for the New World Order and we know the sequential prophecy in Daniel 7:7-8 so we know these events are a number of years away.
http://www.cuttingedge.org/news/n2489.cfm
You need not panic.
"And you will know the Truth, and the Truth will set you free." (John 8:32) Jesus' Promise
---
Do You Know? Jesus Celebrated Passover!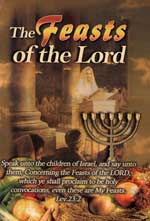 "The Feasts of the Lord In Prophecy" - DVD
5-DVD Set, With FREE Booklet - Nearly 5 Hours of Teaching
Regularly $49.95, Now On Sale $19.95 - You Save $30.00
At last, a DVD which teaches how the seven Jewish Feasts in the Old Testament accurately portray Jesus in both His first and second comings!
The Spring Feasts were Dress Rehearsals for His First Coming and were accurate to the very day!
The Fall Feasts are Dress Rehearsals for His Second Coming, also to the very day!
Your appreciation of the majesty and Omnipotent Glory of Jesus Christ will grow greatly as you see how He controls world events for the entire 6,000 years of world history, and how He has accurately predicted -- through the seven Feast Days of Israel -- His First and Second Comings, accurate to the exact day! http://www.cuttingedge.org/detail.cfm?ID=2168
Other Related Bookstore Resources On Our Holidays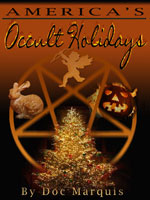 "America's Occult Holidays" DVD
by Former Satanist Doc Marquis
Regularly $29.99, Now Only $19.99
Former Satanist, Doc Marquis, delivers a knockout punch against the practice of all our major holidays, providing details only a former Witch would know. Doc begins by demonstrating how the Illuminati effected the change in our calendar and how that change has affected a dramatic change in our everyday lives. The Illuminati copied heathen holidays from Satanism and then just gave them Christian names. You will be shocked to realize how very pagan our annual celebrations are! You will be shocked to realize how most of the symbols used in our holidays originated within Satanism.
Doc covers the following pagan holidays most of which America fervently celebrates. 1) America's Occult Calendar -- Marquis reveals how our entire calendar is patterned after Illuminism, from January 1 through December 31! 2) Valentine's Day/Groundhog Day 3) St. Patrick's Day 4) Easter 5) Beltaine - May 1 - May Day 6) Halloween (Samhain) 7) Christmas (Yule) With pagan holidays spread throughout the calendar year, you have time to warn your friends and relatives of the dangers of practicing these holidays. http://www.cuttingedge.org/detail.cfm?ID=1460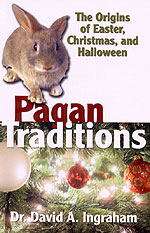 "Pagan Traditions: The REAL Origins of Easter, Christmas, and Halloween"
Book by David Ingraham -- Only $9.99
YOU wouldn't DREAM of dabbling in idolatry or Witchcraft -- would you? YOU have NEVER embraced Witchcraft and the occult -- have you? Surely, the Easter Bunny, the Christmas Tree, and all of Halloween's symbols and legends, are innocent ways of enjoying the holidays -- aren't they?
Author David Ingraham has spent years researching the Biblical origins, practices and contemporary remnants of Paganism. His message is as important for God's people today as the words of the prophets in Biblical times, because God never changes, and what made Him mad 3,600 years ago makes Him mad today -- especially when people dabble in the "cursed objects" of the occult
You will discover that the practices of our holidays come straight out of ancient Witchcraft religions, such as the Babylonian Religion, the Egyptian Mysteries, the unbelievably cruel Druid religion, and many more As you learn that these holidays are steeped in Satanism, your Holy Spirit filled heart will tell you what you need to do. http://www.cuttingedge.org/detail.cfm?ID=1757
---
NEW DVD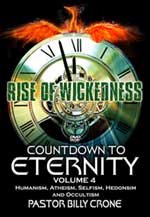 "Countdown To Eternity DVD", Vol 4
"Unprecedented / Exponential Increase In Wickedness"
by Pastor Billy Crone - 4 Hours of Teaching
Regularly $39.99, Now Only $19.99
The 'Countdown' To Eternity 5-Volume series takes a look at 10 major prophetic signs God has given to lovingly wake us up so we'd repent and be saved before it's too late. These prophetic signs are many, but there are 10 REALLY IMPORTANT ones to which we seriously need to pay attention.
'Countdown To Eternity #4' chronicles the unprecedented rise in wickedness throughout the world. The titles of these five areas of wickedness are: 1) Humanism; 2) Atheism; 3) Self-ism; 4) Hedonism; 5) Occultism
Because God is a God of Love and Compassion, He has given wicked mankind incredible numbers of 'signs' by which man can know that the world is spinning very close to the precipice of time called the 'End of the Age', and of his false christ, whom the Bible calls the 'Antichrist'.
Pastor Crone painstakingly chronicles one such 'Sign', the rise of wickedness in five critically important areas of our society and of the world.
A 2-DVD Set, 4 hours long - http://www.cuttingedge.org/detail.cfm?ID=2501
---
Eternal Security of the Believer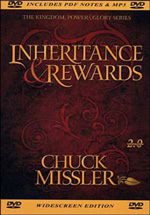 "Inheritance & Rewards"
DVD by Dr. Chuck Missler
Are all believers going to be equal in heaven? Wasn't it all decided at the cross? Is there a difference between overcoming sin and bearing fruit?
Inheritance came to the Firstborn Son by virtue of his birth. Whether he actually secured it depended upon his obedience and the father's choice. Inheritance was subject to condition and obedience. The Abrahamic Inheritance was based on Divine Oath, conditioned on obedience.
Inheritances could be forfeited. The Exodus Generation was promised an inheritance, but failed to obtain it at Kadesh -Barnea. Israel was God's 'firstborn son', yet only 2 people of over 2 million took possession of their inheritance. Even Moses was excluded due to his disobedience. Esau sold his inheritance for a bowl of pottage.
We have been promised an inheritance in the Kingdom to come. But is there more that is required of us than just our acceptance? Does behavior in this life really influence our future?
This study contains 2 hours of teachings - http://www.cuttingedge.org/detail.cfm?ID=2496
---
Great New Additions To $9.99 DVD Category
Choose other DVD titles in the $9.99 category. We now have 106 exciting titles.
---
Support this ministry today with your subscription and get access to this article and ALL headline news articles at Cutting Edge. Your subscription will help us reach a lost world for Jesus Christ. Here is how.
If you will send in a new subscription or renew an existing one, we will give you your choice of the following gifts FREE. https://www.cuttingedge.org/secure/subscriptions/support.html
CHOOSE 1 OF THE FOLLOWING GIFTS FOR EACH YEAR YOU SUBSCRIBE - For a one year subscription at $25.00 choose 1 gift or any two gifts with a 2 year $50.00 subscription. Choose any three gifts with a 3 year $75.00 subscription etc. $150.00 subscription for example you will get a Six year subscription and all six gifts.
Monthly Support - We also need monthly supporters so we can meet our monthly operating costs. From our subscription page you can also select monthly support. Or, if you feel the Lord moving upon you to give a special donation, you can do so by clicking on the link below.
Here is that link again:
https://www.cuttingedge.org/secure/subscriptions/support.html
GIFT CHOICES ( use the link above to subscribe and choose your gift from our selection below )
A. Seminar 1, "America's Leadership of the New World Order" and Seminar 2, "America Determines The Flow of History" in MP3 format on CD. MP3 Audio format for play on your computer as well as CD and DVD players that will play MP3 format. Upload them to your IPOD too. Once you understand the evidence and truth we share with you, you will never look at the news the same way again. You will understand how America has become the nation she is, and you will be able to see the direction in which we are heading.
Nearly 10 hours of audio seminar material plus printable passout notes for the seminars are included on the disc.
Seminar 1- "America's Leadership of the New World Order", shows why this formerly Christian country could become the leader of the Satanic New World Order effort. America today is compared to the Israel in the years prior to God bringing in Nebuchadnezzar to physically destroy Israel in Judgment. Comparisons between Israel then and America today are staggering!
Seminar 2- "America Determines The Flow of History", looks carefully at our national history and discovers that our Founding Fathers had a hidden agenda which set this country on the path of leadership of the Kingdom of Antichrist. Also covered is the demonic Plan for three (3) World Wars, the fact that the Illuminati created Communism between 1846-1848, and the greatest deliberately staged "Dialectic Struggle" of all time -- the Cold War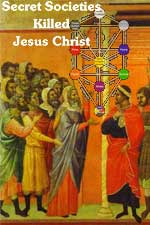 B. MP-3 -- "Secret Societies Killed Jesus Christ" - MP3 Audio on CD

Your understanding of the Gospel account will change forever once you understand the truth of the Jewish leaders who conspired to put Jesus on the cross. This incredible series reveals that the Pharisees and Sadducees who hated Jesus with an unnatural hatred and provoked the Lord into uncharacteristic animosity toward them, were secretly Satanists practicing what later became known as the Cabala (Kabbala, Qabbala).
Now you will know why the Pharisees killed Jesus even though they knew with 100% certainty that He was the Promised Messiah.
Now you will know why these Jewish leaders looked at Jesus' miracles and concluded that He was drawing His power from Beelzebub, one of Satan's chief demons. MP3 audio CDs will play on your computer and can be transferred to your IPod or MP3 player. Many new cars also have CD players that will play MP3 CDs.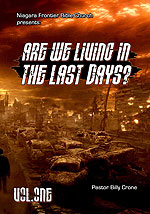 C. DVD - "Are We Living In The Last Days?" New DVD Compilation by Pastor Crone .
"Are we living in the last days?" Is the rapture of the Church imminent upon the horizon? And will this generation see the actual return of Jesus Christ? Pastor Crone compiles snippets of each one of his 14 DVD's thus far on the Book of Revelation to demonstrate how close we are to the very End of the Age.
Join us in this eye-popping provocative video study revealing how we really are living in the last days. Here you will be confronted with undeniable evidence in the form of actual interviews, reports, and news broadcasts from around the world unveiling the shocking truth that the end times are at hand.
These signs include, the Mark of the Beast, Worldwide Upheaval, a One World Government, Economy, Religion, and New World Order, the rebuilding of the last days Jewish Temple, Apostasy in the Church, Moral Decay in our Culture, the Rise of the Antichrist, and much much more!
Are we living in the last days? People, check out the proof for yourself! You won?t believe your eyes!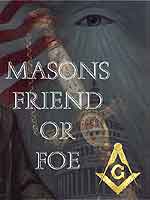 D. DVD - "Masons: Friend or Foe To The Born Again Christian?"
Many of our leaders have sworn allegiance to a Masonic Order of one type of another. Our current election features two brothers in a Masonically- based secret society called "Skull & Bones".
What are these leaders pledging their allegiance to and how deeply entrenched are their goals to America today? Since Freemasonry has attempted so strenuously to claim that they are just a good old boy fraternity that does good works and has a good time, most Americans would be shocked to learn the bitter truth behind that facade.
2 hours, 40 minutes of instruction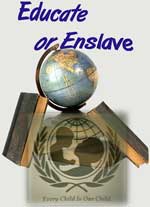 E. DVD - "Educate or Enslave?"
Three United Nations Programs: Outcome Based Education, Goals 2000, School-to-Work
These cradle-to-grave "improvement" plans are designed to reshape our national values and belief systems through our children. This video covers the origin of all these programs, showing how they are designed to completely change the values systems and worldview of our precious children.
Throughout the Clinton and Bush and Obama Administrations, these UN programs steadily made inroads into our educational curricula, reshaping the minds of our precious children into "Global Citizens". - 2 hours, 20 minutes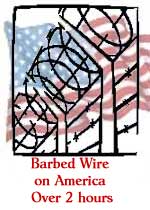 F. DVD -Barbed Wire On America: God's Final Warning - by Dave Wegener
In great film clips, Wegener details the coming plan to institute global dictatorship.
What do: Detention centers, Depopulation, Demilitarization, Foreign Troops on U.S. soil, Mother Gaia worship, Martial Law, and the Anti-terrorism bill have in common? They are all in our immediate future, unless enough Americans wake up to what is planned for us. Great film footage, a must see for all Americans.
Over 2 full hours
---
In closing we want to give a special thanks to all of you who have supported Cutting edge since 1996 and made it possible to now reach over 250,000 people each month, many who read our salvation message and now have a changed life in Jesus Christ. In fact, Cutting Edge is now printed in nine (9) languages and is thrilled to see 150,000 people per year read our Salvation Plan.
Many Christians who do not have a local church who preaches the full counsel of God can find the truth through our articles, books and DVDs that we offer.
During these financially challenging times, we desperately need your help and maintaining a subscription is one of the most important avenues we offer. Literally, we cannot survive without our subscription program. Our Headline News Articles reflect the study of 27 years and are the most insightful of any on the Internet. People have regularly told us over the years that "once they understand the Cutting Edge Worldview, they can never read the news the same way again"!

---
Be sure to visit our Face Book page
and like us so we can keep you updated
and you can share us with your friends.
---
Call us for Customer Service at 800-451-8211
As always we ask you to pray daily for this ministry.
Be sure to visit the Sale items and Special offers sections where you will find 28 Special offers and 121 items on Sale.
David Bay, Director, Cutting Edge Ministries
1792 South Lake Drive, Ste. 90 PMB 300, Lexington, SC 29073 Email

800-451-8211