NEW DVD FROM CUTTING EDGE FILMS
"REVELATION: ARE WE IN EARTH'S FINAL HOUR?"
'Jesus' Warning To His 7 Churches', New DVD by Mac Dominick of Cutting Edge Films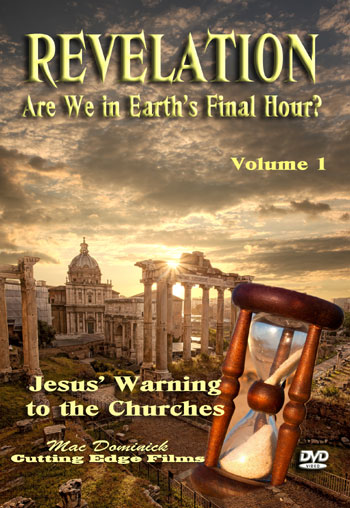 We are going to examine in this series areas which no other teacher has even addressed, but you should expect this kind of in-depth valuable information from Cutting Edge Ministries! Jesus wrote this prophetic book through John the Apostle, addressing:
7 Christian Churches in Asia Minor
7 Prophetic Seals
7 Trumpet Judgments
7 Histories (Persons)
7 Bowls (Vials)
7 Judgments (Dooms)
7 New Things
Since God considers the number Seven as His Perfect Number, we can see that God is offering a final prophetic book which consists of 7 subjects, each of which contains 7 events. A Divinely Perfect Book in all ways!

We are living in an age in which the question, Is there any hope for mankind? seems to become more relevant with each passing hour. Every waking hour is filled with reports of a new crisis, new disasters, new terror threats, and the realization that the fate of all of mankind is spinning out of control.

Additionally, this generation is facing more onslaughts of pure evil than has ever been witnessed in the entire history of man. As we search for answers, we must realize that God has given us a guidebook to prepare us for the future, and that guidebook is none other than the last book of the BibleThe Book of Revelation.

While there have been any who have taught and studied this book, most who teach it either teach it out of the context of the balance of the Word of God or fail to ask the hard questions surrounding the prophecies in this book. We at Cutting Edge Ministries are presenting this series to provide answers to not only the mysteries of this book, but also to deal with difficult subjects and answer the hard questions.

A few of the points we will cover in Volume 1 include:

The Rapture of the Church true or false?

Will the Antichrist be Islamic?

How do we understand Islamic eschatology?

Who is ISIS, and will ISIS conquer the Middle East?

What is the true bloodline of the Antichrist?

What is the fate of Russia?

How can the stars fall to earth from heaven?

Was there any prophetic significance to Nazi Germany?

Can we find the USA in the Book of Revelation?

We will teach the book in a survey format that will mingle a traditional, contextual approach to the book with a digression to apply these teachings and prophecies to cover the influence (or lack of influence) of the events we see taking place right before our eyes.

Run Time is nearly 2 hours Watch the Trailer


REVELATION DVD, by Mac Dominick, Volume 2

"Four Horsemen of the Apocalypse"

Disc 2 details the breaking of the first four of the seven seals, and with the breaking of each of these seals, the lien-holder (God) allows the empowerment of Satan and his minions their opportunity to exercise their will over the earth and mankind. The manifestation of the will of Satan is illustrated as 4 horsemen who are loosed and empowered to work their evil will over the planet earth and its inhabitants. The results are both tragic and devastating:
• Satan will install his man to rule the earth over a one-world government
• This ruler will deceive the Jews into believing he is their long-awaited Messiah and the savior of the world by instituting world peace.
• However, because this is a false peace, war will break out that reveals the evil that controls the planet.
• Subsequently, there will be famine, pestilence, and death to more than one-third of the earth's inhabitants
• Finally, the world ruler will declare war on the Jews and set up his image in a rebuilt Jewish Temple. MORE


2 Hours long, Shipping now .
Hot News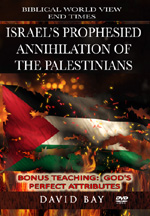 1. The Israeli Defense Force is preparing to withdraw from selected Palestinian areas.
No Israeli -- either military or civilian -- can be caught in the Palestinian area when fulfillment of Obadiah 15-18 occurs!
Precursor to annihilation?
NEWS BRIEF: "Secret Security Warns Government Not to Withdraw IDF From Arab Cities", Breaking Israel News, april 18, 2016
"Israel's clandestine internal security service Shabak recently submitted a classified document attacking the contacts between Israeli officials and the Palestinian Authority (PA) on reducing IDF presence in area A of Judea and Samaria, which is entirely under PA jurisdiction ... The document was delivered to Prime Minister Benjamin Netanyahu, Defense Minister Moshe Ya'alon and other seniors in the security apparatus."
We encourage you to read this news story in its entirety, because it is written according to the flawed concept that Israel plans to continue dealing with the pariah entity known as the Palestinian Authority. As we prove in this DVD, "Israel's Prophesied Triumph Over The Palestinians", Israel's leaders fully intend to wipe out the Palestinians in fulfillment of Obadiah 15-18, and have been erecting 15-foot high concrete blast walls for 15 years now for this very purpose. We show these blast walls in the DVD.
Shabak Security Service might have reason to be concerned that the Palestinian Authority might not be able to be willing to control terrorists operating in their territory in the absence of Israeli patrols.
But, that is not the plan. Israel's leaders are at a tender stage right now. Military preparations are virtually completed and only the smokescreen required to hide their true intentions is now underway.
The IDF has been operating vigorously in the Gaza Strip area, using military bulldozers to find and to destroy tunnels, to sweep aside all potential barriers and just generally keep the area free of Palestinians.
NEWS BRIEF: "IDF operating along Gaza border: IDF official warns of Hamas' growing strength", Israel National News, April 16, 2016
"The IDF is operating inside of the Gaza Strip, according to reports by Arab media outlets. According to a report Thursday night by Ma'an, IDF heavy equipment was spotted just over the border with Gaza. Among the IDF assets reportedly operating in the area are D-9 combat bulldozers."
Even as the IDF is foraging ahead with plans to withdraw from some areas, her commanders are also keeping the most dangerous enemy -- Hamas in the Gaza Strip -- off balance and confused. At this point, disinformation is the order of the day.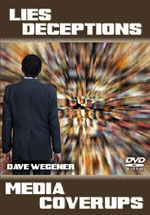 2. Right-Wing Judicial Watch, may have prepared Hillary Clinton's campaign with a nasty "October Surprise".
A hacker dubbed "Guccifer" -- who combines the "style" of Gucci and the "light" of Lucifer -- will go on trial in September, right smack dab in the middle of a campaign who will be stuck with Hillary as it signal bearer.
Prosecutors believe he has devastatingly pertinent information about Hillary's unlawful email usage when Secretary of State.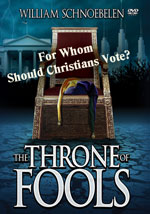 NEWS BRIEF: "An Odd Cloud Rolls Toward Hillary Clinton's Campaign: the Case of an Arrested Romanian Hacker dubbed "Guccifer", Truth Dig, Apr 17, 2016
"... if recent reports published largely (though not exclusively) by right-wing news media have any credibility, the controversy is about to re-erupt with redoubled fury. Some on the right are even predicting that Clinton will soon be indicted."
Hillary indicted? In the middle of her campaign? The calendar here is of utmost importance, for if Hillary is indicted before the Democrat nomination, the Party will just switch to another candidate; but if she is indicted after she has been nominated, the Party could be nearly sunk.
The 2016 Democratic Convention will be held at the Wells Fargo Center in Philadelphia July 25th-28th. Therefore, this date will be seen as the "crossing of the Rubicon", a true point of no return. From this moment, the Democrat Party will be saddled with Hillary.
However, there is one other scenario that brings even more terror to the heart of any Democrat Chieftain, and that is a major shock coming so close to the election that the candidate cannot effectively mount a counterattack.
An 'October Surprise' is an event orchestrated by a political incumbent with the express aim of persuading people to vote for him, not his opponent. Since Presidential elections are held in the first of November, any dramatic event in October severely limits the ability of the opponent to stage a counterattack. Sometimes, the October Surprise is shown later to be fraudulent, but that has never reversed the election outcome.
So, how does this hacker who calls himself Guccifer -- by his own description combines the "style" of Gucci and the "light" of Lucifer -- figure in as the October Surprise for this campaign?
"The reason for the right's breathless anticipation of Clinton's demise is that the mysterious, eccentric and paranoid Romanian computer hacker who broke the email story back in 2013 was extradited to the United States last month pursuant to federal felony charges filed against him in 2014. The theory is that prosecutors will squeeze the hacker for incriminating evidence against Clinton. A trial date in the hacker's case has been set for September, smack dab in the middle of the general election campaign, in federal district court in Alexandria, Va."
What possibly could this one hacker have that could derail Hillary's campaign and cause her to be indicted by a Democrat-controlled Department of Justice? He could provide rich and varied documentation to support the prosecutor's case that 'Clinton may have run afoul of several federal criminal statutes, not only for maintaining the server rather than using official government channels of communication, but for deleting over 30,000 emails that she and her staff unilaterally deemed purely personal before turning over 31,000 emails to the State Department.'
This entire episode could turn out to be very interesting and colorful. The Hillary Coronation Train may never reach the White House from the Philadelphia convention hall!
---
NEW DVD PROPHETIC SET!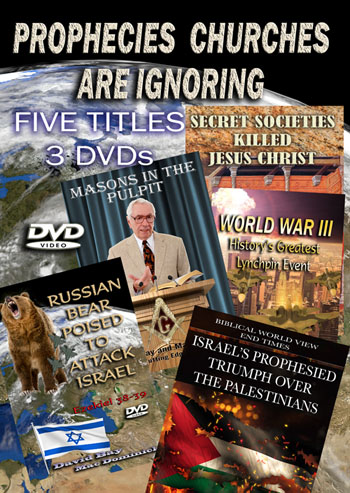 "Prophecies Churches Are Ignoring"
DVD Combo by David Bay
Regularly $84.94,Now only $29.99
You save nearly $55
Why are so many pastors so reluctant to teach prophecy? Why are so many pastors even more reluctant to teach how current events are uniquely fulfilling End of the Age prophecy?
Cutting Edge Director, David Bay, teaches six hard- hitting lessons on six unique End Times instances where events are fulfilling prophecy, but no one is talking about it. Five hot topics on three discs.
1) Israel's Prophesied Triumph over the Palestinians
2) Russian Bear Poised To Strike Israel
3) 'Masons In The Pulpit'
4) World War III: History's Greatest Lynchpin Event
5) Secret Societies Killed Jesus Christ
Each message is followed by a complete Salvation Plan, so each DVD becomes a Soul-Winning tool.
Almost 6 Hours of Teaching -- http://www.cuttingedge.org/detail.cfm?ID=2718
---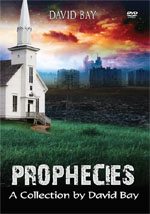 Prophecies a Collection by David Bay- DVD Combo - Volume 1 which contains 3 DVDs with our first six programs.
Here are the six hot topics:
• The Prophetic Beast Arises: Ten Toes of Daniel Are Forming
• Rapture Precedes Israels Final 'WEEK' of History
• Eternal Security: God's Anchor In A Brutal Storm
• End Times' Judgment On Iraq - Worse Than Believed Possible - Isaiah 13
• Israel's Prophesied Annihilation of the Palestinians
• America Identified In Prophecy: Economic Babylon of Revelation 18
Regular Price: $89.94 Sale Price: $29.99
---
View All TV Interviews on Prophecy In The News

"Israel's Prophesied Triumph Over the Palestinians"
"Bringing Saudi Arabia Down: Without Destroying World Economy"
Egypt's Prophetic Tsunami - Isaiah 19
More Interviews On Prophetic Subjects + Southwest Radio Interviews
---