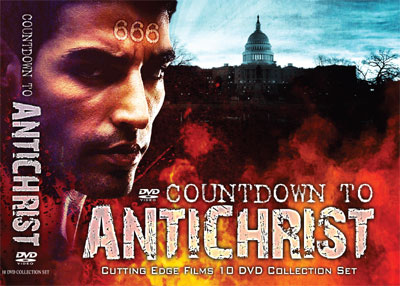 DVD Set
1. Donald Trump is pivoting the focus of his campaign, toward Hillary Clinton.
His first attack is against Bill Clinton and his record of sexually abusing women!
NEWS BRIEF: "Trump: Hillary Clinton an 'enabler' of Bill's infidelity ", Times of Israel, May 9, 2016
"Washington (AFP) — Donald Trump has launched a bitter broadside against Hillary Clinton depicting her as an 'enabler' of Bill Clinton's past infidelities ... 'Hillary hurt many women — the women that he abused', Trump told a rally in Spokane, Washington late Saturday ... 'And just remember this, she was an unbelievably nasty, mean enabler, and what she did to a lot of those women is disgraceful'."
"Some of those women were destroyed not by him, but by the way that Hillary Clinton treated them after everything went down."
Undoubtedly, Trump is aware of the polls which indicated that many radical women voters are furious against Hillary because, after the allegations that President Bill Clinton did have sex in the Oval Office and he did have a string of women he had sexually abused before being elected President, Hillary Clinton stood up strongly for "her man"!
Hillary's defense included criticizing the victims, strongly. Therefore, the very core constituency of radical women may not be as united behind Hillary in 2016 that she believes they are. If this is the case, then Hillary may go down in November.
2. Secretary of State John Kerry -- Skull & Bones -- boldly tells Northeastern College graduates to prepare for a "Borderless World"!
That removal of borders also includes the border between the United States and Mexico!
NEWS BRIEF: "Kerry Tells Northeastern Univ Grads to Prepare for 'Borderless World'," Breitbart News, 8 May 2016
"On Friday, Secretary of State John Kerry took a shot at likely presumptive GOP presidential nominee Donald Trump, particularly for his proposed border wall, during his commencement address at Northeastern University in Boston. Kerry warned the grads not to be susceptible to "soundbite salesmen" and "carnival barkers" and argued walls are not a cure-all for United States' security."
Kerry went on tell the grads to prepare for a "complex and borderless world."
What is this "borderless world" about which Kerry warned? The map of this new world is depicted below.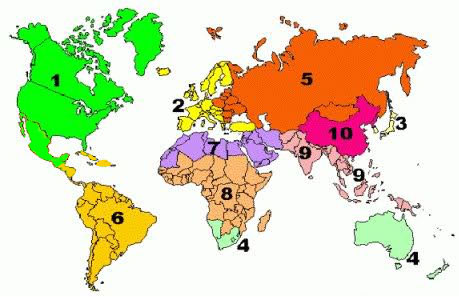 Borders are falling all over the world as these 10 Supernations are falling into place.
It is most interesting as you study Supernation #1, the North American Union.
The borders between Canada / United States and between Mexico / United States are planned to disappear completely.
Presidents since World War II have known this part of the Elite Plan to prepare the world for Antichrist. They just have not told "the masses" about it.
Therefore, the border policy with Mexico is to prepare us for its abolition and to allow as many illegal immigrants to cross as possible. That policy has been followed by Republican Presidents Bush, Sr. and Bush, Jr, as well as Democrat Presidents Clinton and Obama.
I believe that the North American Union will finally be pushed through Congress sometime in the next four years. Which President candidate will be most likely to silence critics enough to get this plan enacted? We have just posted a Headline News Article on this most important subject:
Title: Which Type of President Is More Likely To Ram The North American Union Through A Reluctant Congress?
Subtitle: The answer to this simple question will shock you and change the way in which you think about politics forever!
3. President Obama is preparing to aggressively push Transgender agenda into all Public Schools, including K-12.
NEWS BRIEF: "Obama Will Push Transgender, 'Gender Identity,' Rules on all K-12 Schools ", Breitbart News, 8 May 2016
"President Barack Obama will step up his campaign to change the laws and social expectations about the sexual development of children in schools ... Obama's agenda goes much further than allowing a few 'transgender' youths to use bathrooms or locker rooms reserved for kids of the opposite sex. The new rules will restrict and suppress the views of the vast majority of normal students, and will create procedures to keep parents in the dark about their kids' government-supported experiments in "gender identity."
What "experiments in gender identity" is the Federal Government planning? And without notifying the parents!
"Multiple agencies are expected to be involved … the legal protections include providing transgender students with not just access to bathrooms and locker rooms that align with their gender identity but also affording them protections from bullying, harassment and sexual violence, and a right to privacy concerning their transgender status and transition ..."
Believe it or not, this issue might mobilize the Democrat faithful in November!
"The new campaign could help Democratic turnout in 2016, Politico says. "The building political war over transgender rights has drawn vehement protest from the right and exposed and exacerbated simmering tensions within the Republican Party — and proven to be an effective issue for Democrats to use to mobilize their base."
The time has most definitely come for Christian parents to pull their precious children out of Public Schools, just as we urge in our DVD, "Common Core"!
---
NEW DVD FROM CUTTING EDGE FILMS
REVELATION, Volume 2 - ARE WE IN EARTH'S FINAL HOUR?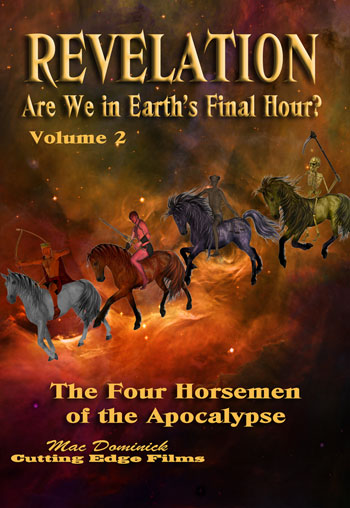 The Four Horsemen of the Apocalypse
New DVD by Mac Dominick
Shipping NOW!!
The control of the earth that Adam transferred to Satan is documented in Heaven in the form of a Title Deed of the Earth. As we take up our study in Revelation chapter 5, we are given by God in this inspired account the details of the exercising of this title deed. As with any deed that is held by a lien holder, payment for the property will eventually come due. In Disc 2 and following, we become witnesses to this payment and the judgment for the abuse of said property by those who were entrusted with its care. The Book with Seven Seals, a seven-sealed scroll, is this very title deed, and as the Lord Jesus Christ breaks each of these seals, the demand for payment is executed.
Disc 2 details the breaking of the first four of the seven seals, and with the breaking of each of these seals, the lien-holder (God) allows the empowerment of Satan and his minions their opportunity to exercise their will over the earth and mankind. The manifestation of the will of Satan is illustrated as 4 horsemen who are loosed and empowered to work their evil will over the planet earth and its inhabitants. The results are both tragic and devastating:
• Satan will install his man to rule the earth over a one-world government
• This ruler will deceive the Jews into believing he is their long-awaited Messiah and the savior of the world by instituting world peace.
• However, because this is a false peace, war will break out that reveals the evil that controls the planet.
• Subsequently, there will be famine, pestilence, and death to more than one-third of the earth's inhabitants
• Finally, the world ruler will declare war on the Jews and set up his image in a rebuilt Jewish Temple.
Disc 2 will detail this account, establish its credibility with prerequisites that show exactly how these events can and will take place, and prepare the viewer for the breaking of the remaining seals that initiate the wrath of Almighty God upon the earth dwellers.
Disc 2 includes answers to the following questions:
• Who is Antichrist, and where will he originate?
• Will the Antichrist be a Muslim as many Evangelicals now teach?
• Will Israel declare war on her Arab neighbors, and finally live in peace and safety?
• Is Russia a threat to Israel, and what does Scripture teach concerning this?
• How will the Jews realize that Antichrist is not their Messiah but rather, evil incarnate?
Buckle your seat belts and join us---this is a wild ride. Order - watch trailer here .
"REVELATION: ARE WE IN EARTH'S FINAL HOUR?" VOL. 1
'Jesus' Warning To His 7 Churches', New DVD by Mac Dominick of Cutting Edge Films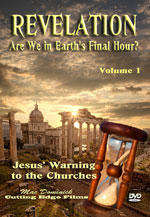 We are going to examine in this series areas which no other teacher has even addressed, but you should expect this kind of in-depth valuable information from Cutting Edge Ministries! Jesus wrote this prophetic book through John the Apostle, addressing:
7 Christian Churches in Asia Minor
7 Prophetic Seals
7 Trumpet Judgments
7 Histories (Persons)
7 Bowls (Vials)
7 Judgments (Dooms)
7 New Things
Since God considers the number Seven as His Perfect Number, we can see that God is offering a final prophetic book which consists of 7 subjects, each of which contains 7 events. A Divinely Perfect Book in all ways!

We are living in an age in which the question, Is there any hope for mankind? seems to become more relevant with each passing hour. Every waking hour is filled with reports of a new crisis, new disasters, new terror threats, and the realization that the fate of all of mankind is spinning out of control.

Additionally, this generation is facing more onslaughts of pure evil than has ever been witnessed in the entire history of man. As we search for answers, we must realize that God has given us a guidebook to prepare us for the future, and that guidebook is none other than the last book of the BibleThe Book of Revelation.

While there have been any who have taught and studied this book, most who teach it either teach it out of the context of the balance of the Word of God or fail to ask the hard questions surrounding the prophecies in this book. We at Cutting Edge Ministries are presenting this series to provide answers to not only the mysteries of this book, but also to deal with difficult subjects and answer the hard questions.

A few of the points we will cover in Volume 1 include:

The Rapture of the Church true or false?

Will the Antichrist be Islamic?

How do we understand Islamic eschatology?

Who is ISIS, and will ISIS conquer the Middle East?

What is the true bloodline of the Antichrist?

What is the fate of Russia?

How can the stars fall to earth from heaven?

Was there any prophetic significance to Nazi Germany?

Can we find the USA in the Book of Revelation?

We will teach the book in a survey format that will mingle a traditional, contextual approach to the book with a digression to apply these teachings and prophecies to cover the influence (or lack of influence) of the events we see taking place right before our eyes.

Run Time is nearly 2 hours Watch the Trailer
NEW DVD PROPHETIC SET!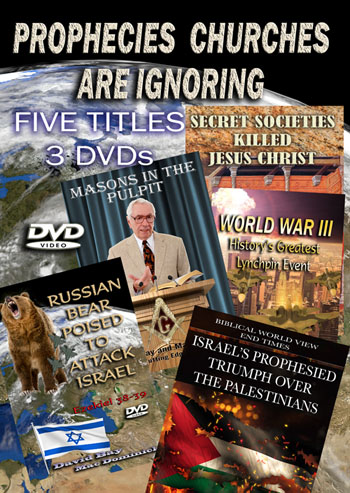 "Prophecies Churches Are Ignoring"
DVD Combo by David Bay
Regularly $84.94,Now only $29.99
You save nearly $55
Why are so many pastors so reluctant to teach prophecy? Why are so many pastors even more reluctant to teach how current events are uniquely fulfilling End of the Age prophecy?
Cutting Edge Director, David Bay, teaches six hard- hitting lessons on six unique End Times instances where events are fulfilling prophecy, but no one is talking about it. Five hot topics on three discs.
1) Israel's Prophesied Triumph over the Palestinians
2) Russian Bear Poised To Strike Israel
3) 'Masons In The Pulpit'
4) World War III: History's Greatest Lynchpin Event
5) Secret Societies Killed Jesus Christ
Each message is followed by a complete Salvation Plan, so each DVD becomes a Soul-Winning tool.
Almost 6 Hours of Teaching -- http://www.cuttingedge.org/detail.cfm?ID=2718
---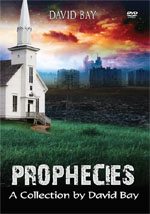 Prophecies a Collection by David Bay- DVD Combo - Volume 1 which contains 3 DVDs with our first six programs.
Here are the six hot topics:
• The Prophetic Beast Arises: Ten Toes of Daniel Are Forming
• Rapture Precedes Israels Final 'WEEK' of History
• Eternal Security: God's Anchor In A Brutal Storm
• End Times' Judgment On Iraq - Worse Than Believed Possible - Isaiah 13
• Israel's Prophesied Annihilation of the Palestinians
• America Identified In Prophecy: Economic Babylon of Revelation 18
Regular Price: $89.94 Sale Price: $29.99
---
View All TV Interviews on Prophecy In The News

"Israel's Prophesied Triumph Over the Palestinians"
"Bringing Saudi Arabia Down: Without Destroying World Economy"
Egypt's Prophetic Tsunami - Isaiah 19
More Interviews On Prophetic Subjects + Southwest Radio Interviews
---