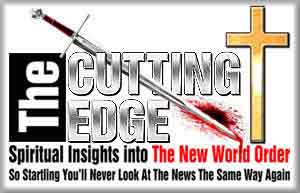 News Alert
Thursday, 1/2/2020
HOME - Book Store - Newsletter Archives - Facebook -- Daily News Updates

Read the full, most current, News Alert online
---
Thank you to our supporters who are making monthly and year end donations to help Cutting Edge in our outreach on into 2020
Will You Help Cutting Edge With A Year-Beginning Donation?

---
Critical Headlines
1. 2019 - The Year The World Went Stark Raving Mad
2020 - Will Our Catastrophe Ram Us Into The Abyss?
2. History Revised Is History Denied?
Israel simply cannot allow her citizens to come to the point where they do not realize that their foundation as a people and as a nation, is founded squarely upon God's Will and upon His Law!
3. The Texas Church shooting proved that "Good Guys With Guns" can protect innocent people just as our Founding Fathers envisioned!
One Liberal columnist showed her moronic view point after the attack was over, and only 2 people --not 242 -- were killed.
4. Iranian proxy forces in Iraq stormed the American Embassy, trying to create an embarrassing "Benghazi" moment for Trump.
After the U.S. Ambassador was safely evacuated:
* The President announced he was not going to allow another "Benghazi"
* Over 4,000 new American troops were on their way, with 750 more immediately dispatched.
* Shi'ite protestors left the American Embassy
5. The Democrat Party continues to allow its deceptive mask to slip;
Party passes a resolution congratulating the unreligious, while criticizing Church-going Christians.
---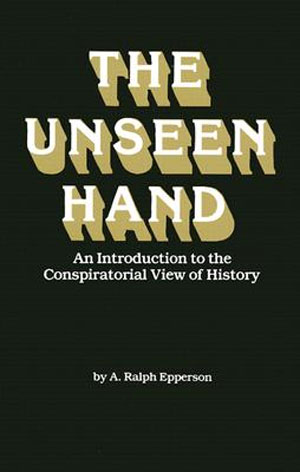 "The Unseen Hand: Introduction To The Conspiratorial View of History"
by A. Ralph Epperson, Only $15.95
NEW PERTINENT QUOTES
One of THE fundamental books anyone needs to understand before they can really make sense of what is happening in your Daily News. Epperson masterfully lays the philosophical groundwork of the global conspiracy; a person can have only one of two views of history. Either they believe events happen by mere chance -- kind of like believing in Evolution; or, they believe key events in history occurred by design, as part of a plan. This latter view is called the "Conspiratorial View of History" and is fully supported by the Bible. Listen:
"And the ten horns which thou sawest are ten kings ... For God hath put in their hearts to fulfil his will, and to agree (to act in harmony), and give their kingdom unto the beast, until the (prophetic) words of God shall be fulfilled." (Revelation 17:12, 16- 17, KJV)
The Global Elite signaled early on in World War II that this was a global war being waged by the United Nations! Few people noticed the change in world order!
"On January 1, 1942, the twenty-five nations at war against Germany and Japan signed a 'Declaration by the United Nations', which pledged that any one nation involved would not sign a separate armistice or peace." ("The Unseen Hand", p. 285)
"When General Douglas Mac Arthur was appointed as the commander of chief of armed forces in the Pacific Theater, he was appointed as the United Nations commander of the South Pacific." (Ibid.)
"So it was becoming apparent just what the purpose of the war was: to give the world a one-world government: a United Nations. (Ibid.)
"In November 1945, Eisenhower returned to Washington to replace Marshall as Chief of Staff of the Army ... Eisenhower was convinced in 1946 that the Soviet Union did not want war and that friendly relations could be maintained; he strongly supported the new United Nations and favored its involvement in the control of atomic bombs." (Wikipedia)
The Satanic leader, Alice Bailey, stated, "The Atomic bomb does not belong to the three nations who perfected it ... It belongs to the United Nations, for use or threatened use ..." ["The Externalisation of the Hierarchy", Alice Bailey, p. 548, written May 1946; Emphasis added; read NEWS1892]
Further Wars Were Planned At Yalta, 1945!
Political Power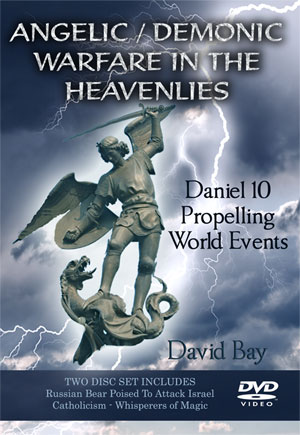 "McCarthy also told the American public that it was at the Yalta Conference in 1945 that Roosevelt and Stalin planned, not only the Korean War ... but also the Vietnamese War ... This must be the product of a great conspiracy, a conspiracy on a scale so immense as to dwarf any previous ... venture in the history of man ..." ("The Unseen Hand", p. 311)
Power From Spiritual Realm
"... this Korean War was planned in order to advance the New World Order. Listen to the demon master spirit, Master D.K., speaking through Alice A. Bailey, explain how this system of planning has worked in history. Speaking of the Yalta Conference attended by President Franklin Roosevelt, British Prime Minister Churchill, and Russian Premier Stalin, Master D.K. stated: 'There, three men, constituting a basic [occult] triangle , met with goodwill and endeavored to lay the groundwork for coming world happenings." [Bailey, "The Externalisation of the Hierarchy", p. 4447-8; Emphasis added]
Do not be deceived: this conspiracy to create the one world order that Antichrist can command originates on the spiritual plane first, and only then is communicated to "Perfected Men" by the familiar spirits. For this reason, this final conspiracy can be passed down from generation to generation for the past 4,000 years!
This concept, that good and evil angels seek to control the affairs of human rulers is clearly taught in Daniel 10, a most important concept you must have if you are to understand the New World Order conspiracy now unfolding in your Daily News!
When former Black Magick Satanist, Doc Marquis, understood this Daniel 10 teaching, he exclaimed, "why, this is exactly the angelic/demonic struggle occurring daily in the supernatural realm.
---
Blasphemous Masonic Plots and Doctrines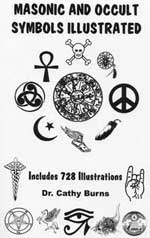 "Masonic and Occult Symbols Illustrated" Book
by Dr. Cathy Burns
Featuring 728 Symbols, 543 pages, including 130 pages of FOOTNOTES
Only $21.95!
Lucifer = Satan = Holy Spirit
"The intellectual LUCIFER IS THE SPIRIT OF INTELLIGENCE AND LOVE; it is the paraclete (advocate), it is the Holy Spirit..." (Eliphas Levi, Freemason, quoted in Burns, p. 189; Emphasis in the original)
Another globally prominent Mason, Helena Petrovna Blavatsky -- founder of the House of Theosophy -- agreed with Levi. Listen:
"Lucifer, or Luciferious is the name. Lucifer is divine and ... the Holy Ghost and Satan at one and the same time..." (Burns, p. 189
Did you know Masons believe that a person must go through Hell before they can get to Heaven?
"The PATH TO HEAVEN SEEMS TO BE THE WAY OF HELL, and intended that way by the Creation". (Lynn Perkins, Mason, quoted by Burns, p. 191)
Former Presidents George H.W. Bush and George W. Bush, and grandfather (Senator) Prescott Bush were all life-long Adepts in a Satanic secret society, "Skull and Bones". The "Initiation Ritual was bizarre and grotesque. New members must pass through ... lying naked in a coffin in a darkened room and must reveal the most intimate details about his sexual history and experiences." (Burns, p. 218)
MASONS PERMITTED TO BOLDLY LIE TO PROTECT FELLOW MASONS
"In the 13th Degree, 'ALL CRIMES ARE TO BE CONCEALED, INCLUDING MURDER AND TREASON'
"YOU MUST CONCEAL ALL THE CRIMES OF YOUR BROTHER MASONS, AND SHOULD YOU BE SUMMONED AS A WITNESS AGAINST A BROTHER MASON, BE ALWAYS SURE TO SHIELD HIM. IT MAY BE PERJURY TO DO THIS, BUT YOU'RE KEEPING YOUR OBLIGATIONS". (Burns, P. 224)
With this in mind, consider this major news story: "Masonic-led Congress Acquitted President Bill Clinton", NEWS1264) dated February 13, 1999)
---
Critical News Analysis -- End of the Age
DVD
1. 2019 - The Year The World Went Stark Raving Mad
NEWS BRIEF: "2019: The Year the World Went Mad", Townhall News, December 31, 2019
"Now that it's over, can we all agree that 2019 was a mess?" For example:
* "... liberals started their crusade to wipe out gender. The party of science decided all of human history and common sense were wrong; evil, actually." A person could just decide that they wanted to switch to the other sex, just be declaration!
What was God's reaction? "He that sitteth in the heavens shall laugh: the Lord shall have them in derision." (Psalm 2:4, KJV)
* "... they do not accept the tolerance of delusions, they insist everyone else embrace those delusions as well. John wanting to be called Janet is one thing, ruining someone's life because they think Janet is using the urinal next to them isn't normal is another. Yet that's where we are, that's what the Democratic Party embraced in 2019."
What does God say to this nonsense? "He feedeth on ashes: a deceived heart hath turned him aside..." (Isaiah 44:20, KJV)
* "... it was the year of investigations. There may be no living man who's been more thoroughly investigated than Donald Trump. Short of murder, there isn't much that the president wasn't accused of by someone, and no one who'd so much as had their picture taken with him who Democrats didn't subpoena. The fact that they found nothing, no illegality, hasn't deterred them."
What is God's response? "Their wine is the poison of dragons, and the cruel venom of asps." (Deuteronomy 32:33, KJV)
"A lying tongue hateth those that are afflicted by it; and a flattering mouth worketh ruin." (Proverbs 26:28, KJV)
* "Journalism died a long time ago, its zombie corpse is still desecrating its memory, and 2019 was a banner year for that desecration."
* "This year will also be remembered as the year of Alexandria Ocasio-Cortez and the time Democrats finally stopped pretending. They stopped pretending to love the country, to love Americans. "
We have repeatedly noted that the Democrat Party has been systematically revealing their true inner heart and never retract nor ever apologize. The Democrats are systematically turning to Communism/Socialism, Absolute Dictatorship, ruinously high taxed, ever higher regulations, gun seizure, and a growing thirst for paganism.
At least they are not pretending anymore. At least, Democrat AOC does not have to pretend what her beliefs are, unlike Democrat Lyndon Johnson.
"Watching the year 2019 come to an end is bittersweet ... They've been subtly subverting and manipulating people for a long time, has the country crossed the tipping point? Will all their lies and division succeed? Or are there enough sane Americans left to turn them back?"
DVD
2020 - Will Our Catastrophe Ram Us Into The Abyss?
NEWS BRIEF: "Prophecy 2020 – Year of Success or Catastrophe?", by Rev. Michael Bresciani , Canada Free Press, January 1, 2020
"The year 2019 found over 12 major nations in protests and unrest, fulfilling many prophetic warnings including those of Jesus…
"And ye shall hear of wars and rumours of wars: see that ye be not troubled: for all these things must come to pass, but the end is not yet." (Mt 24:6)
"This know also, that in the last days perilous times shall come." (2Tim 3:1)
"Over a dozen countries have seen protests and riots across the globe in 2019. (See list in the article)
"We may well expect some problems to be solved if the world was not so bent on leaning left. Leftism produces a sort of cloud of delusion in which good people take up causes that are not really the problem to begin with. Leftism is evil masked in political purpose."
The Biblical formula for deception is simple, but profound!
The two-step formula is this.
1. "The heart is deceitful above all things, and desperately wicked: who can know it?" (Jer 17:9)
2. "And for this cause God shall send them strong delusion, that they should believe a lie:" (2Th 2:11)
The REAL reason that Communist governments murdered over 100 million people in the 20th Century is because they believed Satan's original lie that man is inherently good. They believe that lie. Therefore, when they encounter evil and/or encounter opposition to their utopian dreams, they cannot ascribe this evil to man's inherent evil nature, so they are forced to conclude that men are corrupted by their surroundings. And, they most important force within any society are the adults who are currently running the country.
Therefore, Communist leaders set out to ruthlessly murder all the adults whom they believe are corrupting society, i.e., educated people, religious people, professional people, and even people who wear glasses!
A society based upon Biblical values recognizes that human nature is evil, and, therefore, sets up laws and punishments which is designed to cause people to obey the law and to remove them from society once they are convicted of breaking a law.
One of the very real dangers is that Liberal officials are not protecting innocent, law-abiding citizens by keeping criminals in jail, and separate from citizens.
At this point, the author turns his attention to three separate events which are fulfilling End of the Age prophecies.
1) Events that have advanced beyond the mark and are calling for God's interventional action
A) "flow of dead babies" through abortion'
B) " America's unrestrained call for everything prurient and perverted. Homosexuality, transgenderism, pedophilia and twisted heretofore unheard-of perversions that would make Sodom and Gomorrah blush - have filled the cup of lust to overflowing."
C) "the wasting of the young minds of an entire generation, to the Godless tripe that imagines everything came from nothing. It is considered high thinking..."
2). Events that are looming and threatening the nation and the world
A) "Hanging over the entire nation is the unprecedented vitriol and hatred for a sitting president that is pushing the nation to the brink of civil war. Was Hillary such a prize that her loss should bring about the fall of our republic?"
B) "Hollywood misfits and the democratic gang of malcontents are lending more proof to the evolutionary idea that we descended from apes ..."
C) "Across the nation, our college kids are echoing Chairman Mao's call to destroy the ancient foundations and pull down the remaining signs of days gone by. They have gotten socialism, liberalism and communism mixed up with something that actually works."
D) Leaders of vast institution "have given God His walking papers"
3) "Events that have begun to fulfill prophetic milestones—-and cannot be reversed"
"It is the generation in which Christ will return in power to take away the rule of man over the earth. It is a marker among pre-millennial prophecies because it assures us that all the prophetic signs must and will converge together in one single generation.
"So likewise ye, when ye shall see all these things, know that it is near, even at the doors. Verily I say unto you, This generation shall not pass, till all these things be fulfilled." (Mt 24:33-34)
"It starts with one major prophecy, namely the re-birth of the nation of Israel and the re-taking of the city of Jerusalem. That means 1948 and 1967 respectively. The remaining prophecies that come together in that last generation are far too many to include and explain in one article."
"Pre-millennial prophecies long ago described the coalition of these world powers and that one day they will take a perilous march into the little nation of Israel. It will be the last thing these nations do militarily on the face of the earth."
God is preparing to use tiny Israel as His anvil on which He will beat all nations of the world into judgment and we see the preparations for that judgment every single day of the year. I truly believe that 2020 may be the year when God removes His Church so He can focus on Israel and the many wicked nations who cover the earth.
As we face 2020, we recognize the validity of the opening lines of "A Tale of Two Cities":
"It was the best of times, it was the worst of times, it was the age of wisdom, it was the age of foolishness, it was the epoch of belief, it was the epoch of incredulity, it was the season of light, it was the season of darkness, it was the spring of hope, it was the winter of despair." (Charles Dickins)
This statement so accurately describes 2020 as an era where history is repeating from 1859!
God predicted it all, and He is in control of it all!
"The thing that hath been, it is that which shall be; and that which is done is that which shall be done: and there is no new thing under the sun. Is there any thing whereof it may be said, See, this is new? it hath been already of old time, which was before us." (Ecclesiastes 1:9-10, KJV)
2. History Revised Is History Denied!
NEWS BRIEF: "History revised is history denied", Israel National News, 1/1/2020
"Edmund Burke famously stated that 'those who don't know history are doomed to repeat it" and this adage has proven true time and again'. "
"However, what of those who know history but reject its lessons, and instead manufacture alternative traditions based on partisan fantasy or political ideology? Will they merely repeat the mistakes of the past or ensure a future where truth is subjective and morality relative? If the latter, they risk creating a world devoid of ethical integrity and intellectual honesty."
In fact, the world into which we are heading is a state of utter mental madness, where people have lost the ability to distinguish right from wrong, reality from the clever lie ... today's left has altered the past to conform to a worldview that disparages Israel and traditional Judaism."
"As Rav Saadia Gaon explained more than a thousand years ago, the Jews are a nation founded on Torah whose national survival requires loyalty to its laws and principles. Without Torah, he said, the Jewish nation would have disappeared like any other ancient people swallowed by the sands of time. Is Israel's disappearance the goal of those who now seek to deny Jewish history and suppress Judaism's eternal values?"
Israel simply cannot allow her citizens to come to the point where they do not realize that their foundation as a people and as a nation, is founded squarely upon God's Will and upon His Law!
DVD
3. The Texas Church shooting proved that "Good Guys With Guns" can protect innocent people just as our Founding Fathers envisioned!
NEWS BRIEF: "The Attacks in New York and Texas Move the Gun Control Debate in the Direction the Founders Wanted", Breitbart News, 1 Jan 2020
"Two bloody tragedies, just a few hours apart on December 28-29—the mass stabbings at a synagogue in Monsey, New York, and the thwarted mass shooting at a church in Forth Worth, Texas—have put questions about guns and public safety in a valuable new light. How do we stay safe? Especially in our houses of worship? And what should we do about the menace of marauders in our midst? "
"... in the last few days, we've seen the results of two grisly 'experiments' within our federal system. In New York, the assailant at the Netzach Yisroel congregation managed to stab five worshipers before he was subdued by the police. In Texas, the assailant at the West Freeway Church of Christ managed to shoot and kill two innocent victims before he himself was killed by an armed parishioner. The Fort Worth cops were rushing to the church, and yet, were it not for heroes already on the premises, the assailant might have killed many more in those precious seconds and minutes. "
"Texas Department of Public Safety Director Joeff Williams paid tribute to West Freeway's vigilant guardians on the afternoon of December 29: "The citizens who were inside that church undoubtedly saved 242 other parishioners. … It was miraculous. … [They were] true heroes." And Williams' Republican boss, Texas Gov. Greg Abbott, has been fully supportive of the armed-citizen concept; and as Lt. Gov. Dan Patrick added, "The immediate responder is the most important."
"... in 2019, we can see the life-and-death difference that robust self-defense can make: If an evil-minded gunman walks into an undefended church, he can kill or injure scores. But if an evil-doer walks into a defended church, he himself is dead within seconds. Sorry, Middle Class Joe: It's totally rational for churches to be prepared for trouble. "
The lesson here is that the state of New York reacted to our dangerous predatory society by refusing her citizens to arm themselves for defense, while the state of Texas decided to take the opposite approach, to allow her citizens to arm themselves wherever they go.
Our Founding Fathers believed strongly in "State's Rights' and this issue is left up to the individual states to determine the degree to which laws can be created which define the boundaries of how tightly state authorities will regulate adherence to the Second Amendment.
New York regulates the right to bear arms so tightly that citizens do not normally carry weapons.
Texas regulates the right to bear arms significantly less tightly so that a great many citizens can defend themselves, their loved ones and their churches.
This emphasis on States taking differing positions on the subjects of the day is exactly what our Founding Fathers had in mind when they crafted the Constitution!
NEWS BRIEF: "Second Amendment Foundation: 'Texas Church Shooting Proves Good Guys With Guns Protect Soft Targets'," Canada Free Press, Dec 30, 2019
"The tragic church shooting Sunday in White Settlement, Texas in which church members fatally shot the gunman provides more evidence that good guys with guns are necessary to stop bad guys, and that armed citizens can protect soft targets, the Second Amendment Foundation said today."
"... at least six and possibly seven members of the congregation drew sidearms to defend their fellow church members, and at least one member identified in published reports as part of the church security team fired a shot that took the gunman down ... in the flash of seconds, it is obvious that many more lives were saved by the quick action of a church member who was fortunately armed as a member of the church security team. Had it not been for his quick action and accurate shooting, this could have been much, much worse."
"The fact that so many other church members were also armed, and did not open fire, demonstrates how responsibly armed citizens can perform in an emergency," Gottlieb observed. "The video belies the oft-repeated myth that armed citizens are irresponsible and even dangerous to one another, which is something we address in 'Good Guys With Guns'."
One Liberal columnist showed her moronic view point after the attack was over, and only 2 people --not 242 -- were killed, and she is appalled.
NEWS BRIEF: "Columnist: It is 'Terrifying' That Parishioners Were Armed in TX Church", Breitbart News, 31 Dec 2019
"A columnist writing at AZCentral.com suggests it was 'terrifying' that parishioners were armed at the church in White Settlement, Texas ... On December 31, Elivia Diaz, editorial columnist for the Republic and AZcentral.com reacted to the quick takedown of the gunman by claiming that Wilson's defensive gun use "has turned into a PR tool by gun advocates'."
This author is already trying to redefine the focus of this shooting, from how fortunate everyone was that this quick shooter prevented any more deaths at the hands of this deranged shooter. Then, this Liberal makes a truly dumb statement.
" 'She did not explain what was terrifying about parishioners being armed nor did she point out their self-control or the responsible conduct they demonstrated while their firearms were drawn. Rather, Diaz wrote, "Have we really reached a point when each of us need to carry a firearm anywhere we go?"
The answer is that, yes, America has reached the point where each of us need to carry a firearm, just as they used to do in the Old West.
4. Iranian proxy forces in Iraq stormed the American Embassy, trying to create an embarrassing"Benghazi" moment for Trump.
NEWS BRIEF: "Rioters storm US embassy in Iraq, setting compound on fire and forcing ambassador to flee", Israel National News, 12/31/2019
"Shots fired as thousands of rioters break into US embassy in Baghdad, protesting recent US airstrikes against Iran-backed militia group. The US Ambassador to Iraq, Matthew Tueller, was evacuated from the American embassy in Baghdad Tuesday, along with his staff, after Iraqi rioters breached the embassy's perimeter."
Notice that American military commanders wasted no time evacuating the ambassador and his staff before Iraqi Shi"ite fighters could so seriously penetrated the compound as to kill the ambassador, as was done in the attacks at Benghazi, Libya, under the control of President Obama and Sec/State Hillary Clinton.
After the U.S. Ambassador was safely evacuated, several events occurred:
* The President announced he was not going to allow another "Benghazi"
NEWS BRIEF: "Trump vows US Embassy attack in Iraq 'will not be a Benghazi'," Israel National News, 1/2/2020
"Trump vows US Embassy attack in Iraq 'will not be a Benghazi'! President says situation has been handled 'very well' with dispatch of nearly 100 Marines to compound in Iraq."
* Over 4,000 new American troops were on their way, with 750 more immediately dispatched.
NEWS BRIEF: "US to 'immediately' deploy 750 soldiers to the Middle East after attack on its Baghdad embassy", Rudaw News, 1/1/2020
"ERBIL, Kurdistan Region – Around 750 US troops are to immediately be deployed to the Middle East in response to an attack on the US embassy in Baghdad by supporters of an Iran-backed militia ... The deployment of an infantry battalion from the Immediate Response Force (IRF) of the 82nd Airborne Division is to respond to the attacks on the embassy and the K-1 base, according to Esper. Additional troops could be deployed to the area in the coming days, he added. "
* Shi'ite protestors left the American Embassy
NEWS BRIEF: "Iranian-backed militia supporters withdraw from US Embassy in Baghdad", Rudaw News, 1/2/2020
"ERBIL, Kurdistan Region- Supporters of Iranian-backed militias have withdrawn from the US Embassy in Baghdad following two days of sit-ins ... the groups have withdrawn on the orders of the Iranian-backed Popular Mobilization Forces (PMF), known as Hashd al-Shaabi in Arabic."
It is obvious that another event which President Trump will not allow is a repeat of the Iranian seizure of the embassy in Iran in 1979. Fifty-two American diplomats and citizens were held hostage for 444 days from November 4, 1979, to January 20, 1981.
5. The Democrat Party continues to allow its deceptive mask to slip;
Party passes a resolution congratulating the unreligious, while criticizing Church-going Christians.
NEWS BRIEF: "Democrats Pass Resolution Applauding 'Nonreligious Americans': Criticizing Churchgoers", Christian Headlines, October 29, 2019
"The Democratic National Committee passed a first-of-its-kind resolution Saturday recognizing the 'ethical soundness' and 'importance' of religiously unaffiliated Americans while contending such voters 'share the Democratic Party's values'."
"The resolution – passed at the DNC's summer meeting – was championed by the Secular Coalition of America, an organization that lobbies on behalf of atheists, agnostics and humanists in public policy. The coalition said it was the first time the party had 'embraced American nonbelievers'."
"The religiously unaffiliated, the resolution asserts, "overwhelmingly share the Democratic Party's values," with '70% voting for Democrats in 2018, 80% supporting same-sex marriage ... who contribute in innumerable ways to the arts, sciences, medicine, business, law, the military, their communities, the success of the Party and prosperity of the Nation'."
I find these values repugnant because the Bible condemns them.
But, this is who and what the Democrat Party has become. However, their leaders and their values will fit nicely to a world in which the Church of Jesus Christ has been raptured and in which Antichrist is now the supreme leader!