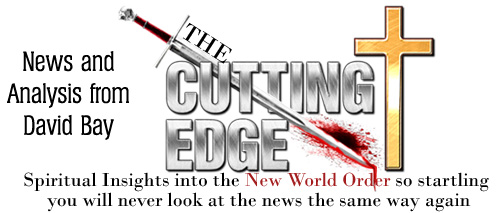 ---
News Alert - Thursday, 10/7/2021
"A righteous man, falling down before the wicked, is as a troubled fountain, and a corrupt spring." (Proverbs 25:26, KJV)
"Wherefore take unto you the whole armour of God, that ye may be able to withstand in the evil day, and having done all, to stand." (Ephesians 6:13, KJV)
---
HOME - Book Store - Newsalert Archives - Daily News Updates
Read the most current Newsalert Online
Just click on this button

to guarantee that Cutting Edge will not disappear for lack of funds. We have a unique message and a worldview which has proven correct for the past 23 years.
---
UPDATE TO OUR CUSTOMERS IN
AUSTRALIA AND NEW ZEALAND
Currently the only service the postal system is offering to Australia and New Zealand is Priority Mail Express. When the Covid situation changes in those countries you will find the less expensive choices of first class and regular priority will be among the choices again.
---
HALLOWEEN = Satan's Most Powerful and Precious Holiday
Do the gates of Hell really open up on Halloween night? Did you know that Satanists believe that, beginning October 1, the veil separating this Earthly dimension from the Abyss begins to thin? Learn more about this and other Occult, Satanic Holidays and avoid the deceptions that lead to destruction and Hell with these great resources.
---
Sons of God & The Nephilim Volumes 1 and 2 DVD
There are many mysteries in this world that historically have Christians running for cover. These are not mysteries that are easily solved, and the hard questions more often than not, go unanswered. Furthermore, these mysteries have found their way into our culture and demand an answer from those who are well-versed in Scripture, or we as Christians stand to lose an entire generation to a culture that is becoming more and more saturated with answers from the occult world. What are the questions that arise from these mysteries? These DVDs have many answers.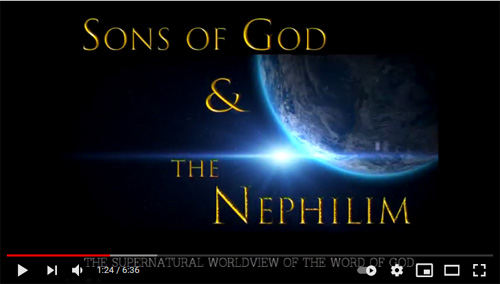 ---
Critically Important News Articles
1. "TRAITOR": R.I.N.O. Senator McConnell abruptly "caved in" to Leftist Democrats in Debt Ceiling battle.
NEWS BRIEF: "Mitch McConnell Caves: Offers Democrats Short-Term Debt Fix",
He becomes the latest in a long line of "Republicans In Name Only" who switch to the Democrats at the time our Republic needed them to stand tall and firm.
NEWS BRIEF: "Ayanna Pressley Takes Victory Lap, Declares 'Climate Justice Is Infrastructure': After GOP Caves to Biden Hoax Bill",
NEWS BRIEF: "ANN COULTER: 10 Million More Votes for Trump If GOP Senate Caves to Obama", Breitbart News, 15 Feb 2016
2. America is collapsing in a manner very similar to the collapse of the Ancient Roman Empire!
NEWS BRIEF: "'Open Borders,' 'Globalism,' 'Tribalism' Are Reminiscent of Rome's Collapse", Breitbart News, 6 Oct 2021
"Victor Davis Hanson, historian, professor, and author of 'The Dying Citizen: How Progressive Elites, Tribalism, and Globalization Are Destroying the Idea of America', said on Wednesday that 'open borders', 'globalism', and 'tribalism' are contributing to a collapse of the United States reminiscent of the fall of Rome.
A Catholic author, Piers Compton, wrote about this collapse 30 years ago:
"There is a feeling abroad that our civilization is in deadly peril ...For civilization declines when reason is turned upside down, when the mean and based, the ugly and corrupt, are made to appear the norms of social and cultural expressions...when evil, under a variety of masks takes the place of good." ("The Broken Cross", by Piers Compton, 1981, p1)
As I read Compton's writing here, I could only think of the mean-spirited nature of the Leftist/Democrat Party and their Media hacks. Never before in American history has the Media so uniformly regurgitated hate and division against Donald Trump.
This daily diatribe overwhelmed most Americans and convinced too many.
Compton continues:
"We of this generation...have become the willing, unconscious, or resentful victims of such a convulsion. Hence, the air of futility that clings about us, a feeling that man has lost faith in himself and in existence as a whole...Never before has man been left without guide or compass...divorced from reality...without religion." ("The Broken Cross", by Piers Compton, 1981, p1-3)
Now, let us turn our attention to the role of the Gibbons' book on the Roman Empire. In 1903, key leaders of the New World Order plan met in New York City to decide how the world could transform into the new order in the 100 years of the 20th Century. (Former Satanist, Doc Marquis)
A few years earlier, each selected participant received a list of the books they were to read prior to arriving for the meeting.
One of the books on this required reading list was Edward Gibbons' monster book entitled, 'The History of the Decline and Fall of the Roman Empire'. The Illuminati had realized that, as Gibbons was chronicling the factors which brought a stable, long-lasting Roman Empire down, he inadvertently depicted how a current long-lasting empire could be deliberately destroyed.
America's destruction was planned to be as identical to that of the Roman Empire as possible. Compton continued:
"The renowned historian, Edward Gibbons, wrote in his masterful work, 'The History of the Decline and Fall of the Roman Empire', that the major reason for the fall of the 1,200-year Roman Empire was an inner, most secret conspiracy within the government itself. All the while that the conspirators were wreaking their damage, they masterfully deceived the citizens of the Empire, through lies and through scoffing at the stupidity of anyone who dared suggest such a thing as a conspiracy. Anyone who does not learn from history is doomed to repeat it, so we must wake up and take notice of the reality of the conspiracy in our midst. (Ibid.)
This plan started with the advent of World War I and is very far advanced. And, as with Rome, native-born traitors who represent " an inner, most secret conspiracy within the government itself" are generating the force that will one day soon bring this government crashing down!
The Elite planned this type of collapse over 100 years ago
3. Did Nancy Pelosi's Archbishop just call her a 'Satanist'?
NEWS BRIEF: "Did Pelosi's Archbishop Just Call Her A 'Satanist'? ", Israel365 News, October 7, 2021
"The archbishop of San Francisco came out with a statement calling politicians who legislate for abortion 'Satanists' ... Addressing his words to lawmakers, in particular Catholic politicians, the archbishop began by saying that "HR 3755, the misnamed 'Women's Health Protection Act of 2021,' shows to what radical extremes the supposedly 'Pro-Choice' advocates in our country will go to protect what they hold most sacred: the right to kill innocent human beings in the womb'."
The Archbishop continued:
"Citing Pope Francis, the archbishop stated unequivocally, 'Abortion is homicide', going on to compare healthcare workers and doctors involved in the process as 'hitmen'."
"The archbishop then hinted that anyone who supports abortion is a 'devout Satanist'."
"This proposed legislation is nothing short of child sacrifice, and clearly in reaction, among other things, to the recently passed Texas Heartbeat bill. It should come as no surprise, then, that that bill is being challenged by none other than The Satanic Temple and precisely on the grounds of religious freedom. Indeed, HR 3755 is surely the type of legislation one would expect from a devout Satanist, not a devout Catholic."
We have consistently reported that a Satanist certainly does consider Abortion to be a human sacrifice to Satan and an absolute requirement to produce the Masonic Christ (Antichrist).
Please take a moment to read this terrible truth and study Doc Marquis' dramatic symbol depicting the massive flow of innocent blood needed ("I, Witch" New World Order Organization)
America is doomed because she has rejected a godly foundation and has substituted a Satanic one. And, now, the time is drawing nigh for God to ensure that all End Times prophecy is fulfilled to the last tiny detail.
Are you spiritually prepared? Click here to discover the Biblical state which Jesus called "Born Again"!
4. President Biden's Banking Nominee is a certified Marxist!
NEWS BRIEF: "Top Republican calls on Biden banking nominee to turn over Marxism thesis from Moscow State", The Washington Examiner, October 06, 2021
"Sen. Pat Toomey, ranking Republican on the Banking Committee, requested President Joe Biden's pick for comptroller of the currency, Saule Omarova, to hand over a copy of the thesis she wrote while attending Moscow State University titled: Karl Marx's Economic Analysis and the Theory of Revolution in The Capital."
This news is simply terrible! On October 1, Biden got a radical environmentalist to be approved for the Bureau of Land Management and now he has a Marxist economist nominated for "Comptroller of the Currency"!
How important is control over the currency. Former globalist banker, Rothschild, said, "give me control of the money and I care not who writes the laws"!
She attended a Marxist university and posted a Marxist thesis on managing the economy.
Marxist theory of how to run an economy has been tried in Russia, China, Cuba, Venezuela and other countries since 1918, and has spectacularly failed every single time.
5. Heavily-Armed Mexican Cartels are taunting and trying to humiliate American Border Patrol.
NEWS BRIEF: "Heavily armed Mexican cartel 'taunting' US soldiers at border", Yahoo News, Oct 6, 2021
"MISSION, Texas — Mexican cartel members dressed in military-like outfits and toting AK-47 rifles have been taunting U.S. soldiers assigned to the southern border, an unprecedented act of aggression, Texas authorities say.
"What's been happening actually this past week is we see a group of individuals that are coming across — they're smuggling people — but what they're doing is they come across the river into the U.S. and smuggle people, they go back into Mexico, and they get their weapons .... assault rifles ... AK-47s ..."
Biden is so dis-respected that even the Mexican mob is beginning to act like an invasion force!