---
NEW PODCAST -
ALL VIDEOS ARE STILL ALSO AVAILABLE ON DVD
OUR NEWEST FLASH DRIVE COLLECTIONS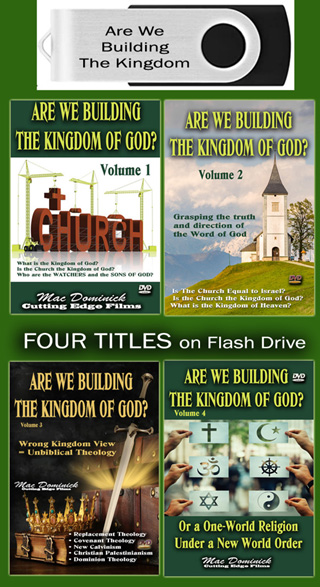 Save $20.00 on the great video combo in MP4 format on a flash drive.
What is the Kingdom of God?

Are we now living in the Kingdom of God?

Who are the WATCHERS and the SONS OF GOD and how do they fit in with Building the Kingdom of God at the End of the Age?

Is the Church the Kingdom of God?
This study begins before Genesis, in Eternity Past, and continues through the Book of Revelation, and will be absolutely critical in maturing your faith at this End of the Age.

Isaiah 9:6-7 is the logical starting point for this study. Jesus Christ is revealed as: * The coming ruler of World Government.

His government shall rule from Jerusalem from the lineage of the Throne of David.
His government shall rule FOREVER.
He shall be Mighty God.
He shall rule with eternal Justice and Peace.
Christians today must focus their gaze upon this final wonderful ruler and His kingdom, because this world is going to have to go through an unparalleled tyrannical kingdom of Antichrist and of God's judgment upon all mankind. No matter how awful events are going to get, remember, you are not home yet!

In the ultimate analysis, who builds God's Kingdom on Earth? Human Church leaders or Jesus Christ?

There is so much on this flash drive that we have put the full description in a PDF file for you.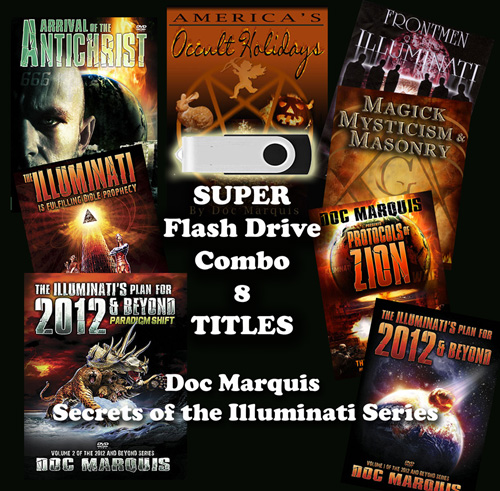 Buy all eight DVD titles of Doc Marquis' Secrets of the Illuminati series and save!
Each of these unique DVD's provides information on a part of the Illuminati Plan which only a former Satanist / Illuminati would know. Furthermore, much of the information Doc Marquis provides is the 'Oral Plan', which is the parts of the plan to produce Antichrist which is so evil that it is never written down. These are the titles:
1) 'Arrival of the Antichrist'
2) 'America's Occult Holidays'
3) 'Front Men of the Illuminati'
4) 'Magick, Mysticism, and Masonry'
5) 'The Protocols of Zion
6) 'The Illuminati Is Fulfilling Bible Prophecy'
7) '2012 & Beyond, Volume 1
8) 'Paradigm Shift: 2012 & Beyond, Volume 2',
8 DVD titles, over 25 hours of teaching Doc Marquis uses the King James Bible There is so much on this flash drive that we have put the full description in a PDF file for you.

Secrets of the Illuminati Collection full description
---
---
We Need YOUR Donation &/or Bookstore Purchase!
Thank You!!


---
Critical News Analysis
1. King Charles becomes the FIRST British Sovereign in history to pose for a Commemorative Stamp without a crown.
NEWS BRIEF: "King Charles becomes first monarch to be featured on stamps without a crown", The New York Post, February 8, 2023
"King Charles III has become the first monarch in British history to be featured on postal stamps without a crown. New stamps featuring the sovereign, who is set to be formally crowned on May 6, were announced by Britain's Royal Mail on Wednesday."
The Prince exercised significant input on the design.
"The feedback we got back [from Charles] was that he wanted it to be simple. It's a very human image, with no embellishment," said Royal Mail director of external affairs David Gold ... What marks this stamp out is that there is no embellishment at all, no crown, just simply the face of the human being, on the plain background, almost saying, 'This is me and I'm at your service.' I think in this modern age it is actually rather humbling'."
Might this be the first step in Charles' becoming 'Savior of the World'.?
Prince Charles saving the world? Many people remember him as being proud and haughty, and mean to the beloved Princess Diana; however, Charles traveled a long way back in many people's minds when he went to Diana's defense against the Mother Queen, after Di had been killed. Further, remember that the man who will ultimately be Antichrist will be a practitioner of Black Magick Witchcraft, just as Daniel 8:23-25 foretells; therefore, he will absolutely ooze charm once he appears on earth, for there are powerful charm rituals guaranteed to "charm" anyone not saved by the Blood of the Lamb!
Is Charles preparing to assume the crown of the world sovereign known as Antichrist?
"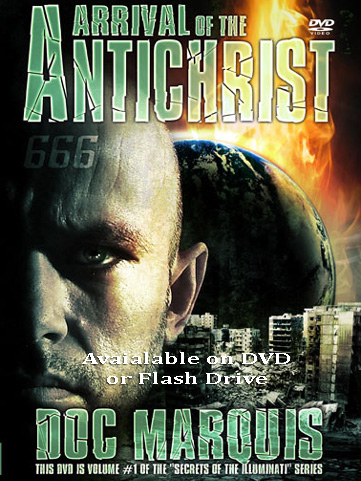 Christians today are often unwilling to debate the possible identity of the AntiChrist, no matter how compelling the evidence." [Antichrist And A Cup of Tea, by Tim Cohen, p. 13; emphasis in the original]
This sentence perfectly summed up my opinion of knowing the identity of Antichrist. I had longed believed that God Himself would reveal Antichrist to the world, so that no one could know his identity beforehand. I took literally the prophetic words:
"And now you know what is restraining him from being revealed at this time; it is so that he may be revealed in his own appointed time." [2 Thessalonians 2:6]
"And then the lawless one (the Antichrist) will be revealed ..." [2 Thessalonians 2:8; both Scriptures quoted from the Parallel Bible, KJV/Amplified Bible Commentary]
The words "will be revealed" obviously and strongly indicate that a power greater than Antichrist will be the One who does the "revealing", and that it will occur at the time chosen by that greater power. Of course, we know the Holy Spirit is that greater power, the "restraining power". Therefore, I believed that no one could know the identity of the man who would be Antichrist beforehand.
However, God told us in Revelation 13:16-18 that his identity could be calculated! Listen:
"Here is room for discernment, a call for the wisdom of interpretation. Let anyone who has the intelligence, penetration,and insight enough, calculate the number of the beast, for it is a human number, the number of a certain man: his number is 666." [Revelation 13:18; Parallel Bible, KJV/Amplified Bible Commentary]
Now, once God reveals Antichrist and allows him to appear on the world scene, any Bible-believing Christian who knows his Scripture will realize this man is Anti-Christ, not Jesus The Christ! Numerous prophecies will begin to be fulfilled, so that no knowledgeable Christian will need to calculate to discover his identity!
Therefore, the time in which a knowledgeable Christian will make a discerning decision regarding the identity of the man who will be Antichrist will be before he is arisen; and, this knowledge beforehand will require Biblical discernment, knowledge of Scripture, and a series of calculations! With this point made to me by a pastor, I bought Antichrist And A Cup of Tea and began to read, albeit still with a high degree of skepticism. About three-fourths of the way through this book, I set it down and said to myself, "All right, I have seen enough calculations and discerning facts to convince me: Antichrist will arise from the House of Windsor'."
To read the entire basis upon which King Charles will be Antichrist, read Tim Cohen's book, "Antichrist and A Cup of Tea"!
2. President Biden delivered a 'State of the Union' address full of lies and distortions, so many we can hardly keep track.
NEWS BRIEF: "Kevin McCarthy: Biden tried 'to goad' GOP with false Social Security claims ", The New York Post, February 8, 2023
"House Speaker Kevin McCarthy said Wednesday that President Biden tried to bait Republicans into outbursts during his State of the Union address by making false claims.... adding that his GOP colleagues should 'not take the bait'."
These lies are some of the ones Biden told in his "State of the Union" address:
"Biden promising 'unity' in his address to Congress"
NEWS BRIEF: "The Mess of an Address: Biden misinforms, ignores, and attacks—and then calls for "unity," as the country collectively slides into ruin", American Greatness, February 8, 2023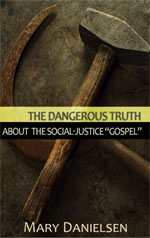 "Joe Biden simply did on Tuesday in his state of the union address what he always does: misinform, ignore, and attack!"
For Example:
* "There is no southern border. Joe Biden destroyed it."
"He greenlighted over 5 million illegal aliens to enter the United States without audit or legality—even as smuggled Mexican drugs kill 100,000 Americans each year."
* "China just violated international law and U.S. airspace. How did Beijing assume rightly that they so easily could get away with it?"
* "He never will concede he stopped the building of the wall. He omits that he demonized innocent border patrol officers. He nullified the immigration laws he swore to uphold."
* " After sending inflation, Biden ignores the $4 trillion he has borrowed in just two years to inflate the national debt, now on its way to over $32 trillion this year and interest rates to astronomical rates, and then seeing them momentarily taper off a bit, Biden declares that he 'lowered' these indices that remain far higher than they were when he entered office."
* "Yet Biden promised hundreds of billions of dollars more in borrowing with no idea of how to pay back the already crushing national debt that will incur $450 billion just to service this year alone."
* "He skipped over how he demolished U.S. deterrence abroad after the greatest humiliation in modern military history, with the flight from Kabul and the abandonment of billions of dollars in military equipment."
* "He never mentions that Russia went into Ukraine because Vladimir Putin saw no downside after this debacle in Afghanistan..."
"Attack! Remember, Biden comes to life only when he smears his enemies while calling for "unity" and "bipartisanship" ... He utterly lied about Republicans demanding a sunsetting of Social Security and Medicare."
"Biden somehow demagogued the lethal violence of black police officers against a black victim in Memphis into evidence of America's supposed racism. He smeared all law enforcement—even as inner-city violent and hate crimes soared as never before. "
"He beat the dead horse of January 6..."
"In sum, it was the same old, same old dishonest Joe Biden: misinform, ignore, and attack—and then call for "unity" as the country collectively slides into ruin."
What does God expect from a king/ruler?
"... remove wicked officials from the king's presence, and his throne will be established through righteousness."
"A righteous man hateth lying: but a wicked man is loathsome, and cometh to shame." (Proverbs 13:5, KJV)
But, there is an eternal punishment due to those who lie:
"But the fearful, and unbelieving, and the abominable, and murderers, and whoremongers, and sorcerers, and idolaters, and all liars, shall have their part in the lake which burneth with fire and brimstone: which is the second death." (Revelation 21:8, KJV)
3. First Lady appeared at the Grammy's last week, to present a music award, thus conferring a mantle of acceptance of the official American government.
NEWS BRIEF: "First Lady Jill Biden presents Song of the Year Grammy to Bonnie Raitt", The Washington Examiner, February 5, 2023
"First Lady Jill Biden presented a the Grammy for Song of the Year to singer Bonnie Raitt for her record, 'Just Like That.' ... Biden also presented a new award for the Best Song for Social Change to Shervin Hajipour. For his song, "Baraye," which was lauded as an anthem for women's rights in Iran, Hajipour was honored with the Grammy. "
But, there was a full-blown Satanic ritual performed on stage, thus conferring an official American government seal of approval!
NEWS BRIEF: ""Ben Shapiro: Satan is so hot right now - Jill Biden showed up to present an award", BPR News, 8 Feb 2023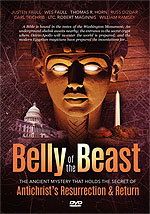 "This week, the Grammy's were held in Los Angeles ... They also featured a full-on satanic ritual onstage ... Their performance, in which the tubby Smith donned a Satan outfit and top hat with horns while Petras gyrated in a cage surrounded by Satan-costumed strippers, made headlines for its transgressive imagery."
"Shadow president of the United States and world's greatest physician Dr. Jill Biden showed up to present an award. And CBS tweeted in anticipation of the Satanic routine, 'We are ready to worship!' (Emphasis Added)"
Whenever a nation's leaders worship Satan, then God ascribes a national condition. in God's eyes. When the leaders of a nation consistently refuse to carry out God's prescribed commandments for specific sins, what must God do to remain true to His total Nature? At His own time, God must carry out His prescribed punishments upon the nation.
Why does God destroy entire peoples?
God has made holiness the moral condition necessary to the health of His universe. Whatever is holy is healthy; sin is a moral sickness which will end the life of God's creation. Since God's first concern for His universe is its moral health, that is, its holiness, whatever is contrary to this is necessarily under His eternal displeasure. TO PRESERVE HIS CREATION, GOD MUST DESTROY WHATEVER WOULD DESTROY IT. When God arises to destroy sin and save the world from moral collapse, He is said to be exercising Judgment. EVERY WRATHFUL JUDGMENT IN THE HISTORY OF THE WORLD HAS BEEN A HOLY ACT OF PRESERVATION. His action in removing the sinful person or nation can be likened to a surgeon removing the cancerous tumor from the body of a beloved patient. The patient lives only because the tumor has been removed.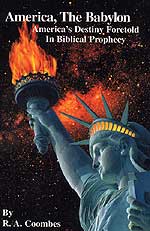 God will one day remove the national sin which Biden, Pelosi, Schumer and others. Prophecy:
"Therefore shall her plagues come in one day, death, and mourning, and famine; and she shall be utterly burned with fire: for strong is the Lord God who judgeth her
And the voice of harpers, and musicians, and of pipers, and trumpeters, shall be heard no more at all in thee; and no craftsman, of whatsoever craft he be, shall be found any more in thee; and the sound of a millstone shall be heard no more at all in thee; And the light of a candle shall shine no more at all in thee; and the voice of the bridegroom and of the bride shall be heard no more at all in thee: for thy merchants were the great men of the earth; for by thy sorceries were all nations deceived..." (Revelation 18:8, 22-23, KJV)
4. "Defund the Police" is the rallying cry of Democrat-run cities!
NEWS BRIEF: "Seattle Crime Report: "Defund the Police" Comes Home to Roost", The New American, Feb 8, 2023
"Without saying so out loud, the latest Crime Report published by the Seattle Police Department (SPD) reveals the natural consequences of the Marxist-backed 'defund the police' initiative ... "reported crime for 2021 was at an all-time high. 2022 totals have now exceeded that with 49,577 reported violent and property crimes." It added that "Aggravated Assault and Motor Vehicle Theft were significantly high in 2022 when compared to a five-year weighted average."
* Gun violence reached an 11-year high in 2022;
* Motor vehicle theft reached a 15-year high in 2022;
* A total of 7,753 individuals were arrested in 2022, an 18-percent (1,174) increase over 2021;
* More than 20 percent of those individuals were arrested at least twice in 2022; and
* The average response time for police in 2022 was more than 10 minutes" (Citizen cannot depend upon police to protect them!)
Highest crime rates imaginable are the "fruit" of such ungodly ideas
NEWS BRIEF: "Denver Is Now America's Crime Capital", The New American, Feb 7, 2023
"Crime statistics for Denver, Colorado's capital city, are astounding. They now put the Mile High City at the very bottom of the safest cities ranking at Neighborhood Scout. Crime in Denver is now worse than that in New York City or Chicago ..."
* "Aggravated assaults, robberies, and homicides, through mid-December 2022, numbered 6,810. Three years ago, that number was 4,924."
* "Property crimes in 2019 were 26,133. In 2022, through mid-December: 42,100."
* "... the murder and assault rates are twice the national rates, and three times the national rate for rapes and robberies."
"The 'gang of four'— four far-left millionaires — had completed their takeover of the state government. In 2004 Republicans held the governor's office and control of both houses of the legislature. By 2007 Democrats held all three positions of power and have never looked back."
It's now referred to as "The Colorado Model." (Emphasis Added)
The gang brought with them their ideology, particularly their agenda supporting the LGBTQ movement ... "
Citizens are "voting with their feet"!
"Does being run by liberal Democrats translate into rising crime for a city? The Daily Signal reported that 27 of the top 30 most crime-ridden cities in the country are run by Democrats ... citizens, contrary to popular belief, are leaving the state."
5. American families are not so supportive of the deviant lifestyle as we have been led to believe.
NEWS BRIEF: "The Grammy's Wasn't Enough for the Woke Mob", American Greatness, February 8, 2023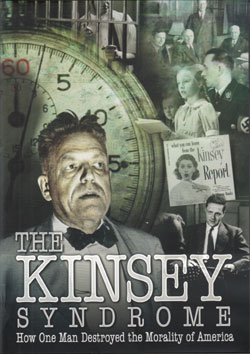 "The Grammy's aired on Sunday night, and despite the award show being the first in years not to suffer from record-low viewership, much of the response to the show has been negative. From conservative revulsion at Sam Smith's satanic performance of the award-winning song, "Unholy," to the Left's performative outrage over a lack of "representation" (whatever that means to them this week), it seems as though another once-enjoyable entertainment staple has entered permanent lose-lose territory. "
"While people all along the political spectrum were put off by various themes and depictions at the awards show, Harry Styles somehow managed to spark negative reactions from both sides—proving just how difficult it is to appease the woke mob.
* "... a rainbow-quilted jumpsuit in keeping with his ongoing effort to model gender fluid colors and styles"
* "this man wore a dress for Vogue magazine ... This time he went more with the ever-popular "pregnant Joker" look, among other outrageous styles."
* "Styles won best album of the year for 'Harry's House', much to the disdain of woke leftists who were upset that a white male won instead of Beyoncé—because to them race trumps any other potential quality of music."
What is the Bottom Line?
"Harry Styles is just one example of how you can do everything to appease the woke mob—even dress like a woman—yet if you're deemed to have the wrong skin color, it will never matter. The people to whom you pander will always want to see you lose."
Disney has been led down the "Woke Pathway" only to discover "Woke Broke"!
NEWS BRIEF: "Disney Skips Down The 'GoWoke, Go Broke' Path With new Animated Divisive Cartoon", Canada Free Press, Feb 7, 2023
"Once upon a time in a land far, far away in central Florida, there was a Magic Kingdom that delighted parents and children. Occupied by two beloved mice and a whole host of enchanting characters, the imaginations of countless children were stimulated to look up and wish upon a star.
"Children were taught to embrace happiness and to understand that their imaginations as well as their abilities were limitless. Parents loved the idea that there was a safe haven that allowed their kids to enjoy their childhood while stoking their fires for growth with upbeat stories."
"Then along came the woke left that soon discovered the moral integrity of the kingdom wasn't magical at all. In fact, it was basically non-existent ..."
* "Dragging a dark black storm cloud behind them, which they ironically refer to as white supremacy, they infiltrated the kingdom. The dark cloud now casts a shadow over the very essence of childhood and rains down terms like reparations, slavery, protest, privilege, racism, and systemic prejudice upon their impressionable psyches."
Disney is no longer a breath of fresh air. Instead they are a gust of vile wind shoving disgusting propaganda, division, and hatred down the throats of innocent children. It's time to boycott Disney and any corporation that ambushes the minds of children."
"Far-Left corporations are daily under the control of woke activists, that fact cannot be denied. Their message promotes self-loathing, guilt and hatred of country."
Welcome to the "woke" activism of the New World Order!
"The New Age Christ cannot appear until and unless a majority of the people accept the values of his kingdom, and it all depends upon the children"!