II. ISIS is uniting the world against Islam.
As the global Western war against Islam enters its fourth decade, ISIS enters the scene in a most bloody and violent manner, giving the Elite a perfect target which will stire public hatred toward the target the Elite wanted to attack in the first place -- Isalm.
NEWS BRIEF: "ISIS Unites the World", The Huffington Post, 2/12/2015
"During the Cold War, science fiction writers and politicians like Ronald Reagan imagined that the threat of an invasion from outer space could break down ideological barriers and unify the world. The arrival of giant bug-eyed creatures bent on death and destruction would prompt world leaders to set aside their petty rivalries for the higher purpose of saving the planet."
New Age author, Bill Cooper, reaches farther back into history to tell us of a similar Elite concept.
"... the secret societies were planning as far back as 1917 to invent an artificial threat from outer space in order to bring humanity together in a one-world government which they call the New World Order." [Bill Cooper, "Behold A Pale Horse", p. 27; Cooper is a New Age author exposing the horror of this plan]
Since Gulf War I in Jan-Feb 1991, the Illuminati has been silently attacking Islam using Depleted Uranium weapons. The objective is to annihilate all members of all three Monotheistic Faiths -- Judaism, Christianity, Islam. They selected Islam as their first target simply because of their sheer numbers (1.4 billion worldwide).
Now, after three decades of war against Islam, the time had come to vigorously stir Western revulsion and hatred toward Islam so the final stage of annihilation could occur. ISIS was created from the Iraqi Sunni groups. As you can see from the Pentagon's New Middle East map, below, while ISIS eventually gets their own nation -- Sunni Iraq -- they are first being utilized as a regional "bowling ball" to knock down the current Middle East Order.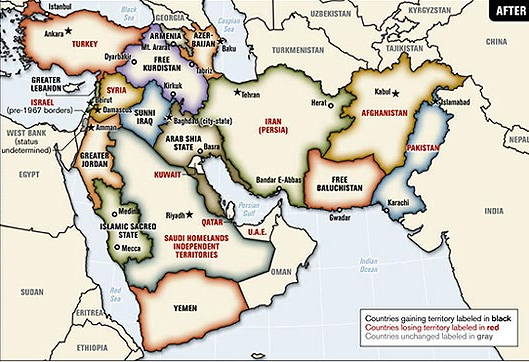 Returning to our original article:
"The latest candidate for world unifier is the Islamic State (or ISIS) ... ISIS has made a name for itself by killing just about everyone ... at the level of global affairs, there hasn't been anything like ISIS since Genghis Khan left immense piles of skulls outside conquered cities and dared the world to gang up against his Mongol horde. "
The violence which ISIS is committing is so graphic and so unreasonable that more moderate Islamic leaders are beginning to complain that ISIS' crimes are reflecting badly on Islam as a whole.
They are right, but that is the plan.
If the silent genocide against Islam is to be carried out, the entire world must be caused to hate them greviously. That part of the genocide is proceeding as planned, as citizens around the world not Muslim are starting to hate the followers of Mohammed strongly.
---
NOTE: We have sold through about 80% of the pamphlets. Gets yours now before they are sold out!
BIBLE PAMPLETS ON SALE HALF PRICE
Regular $3.99 now $1.99 while supplies last. Quantities are limited so order now to take advantage of this close-out sale. Still over 30 titles from which to choose. See the full line-up HERE.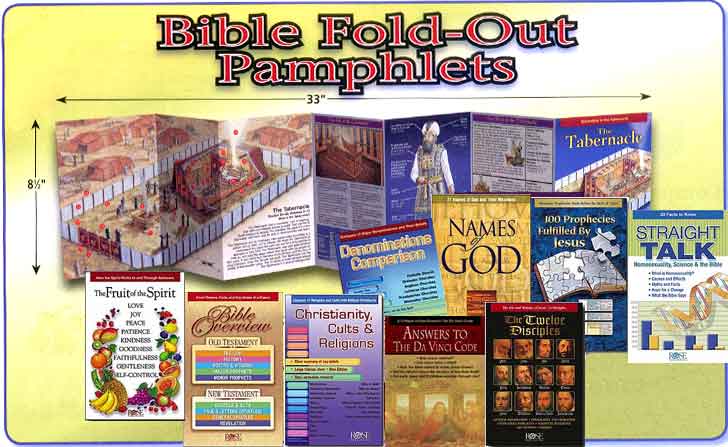 ---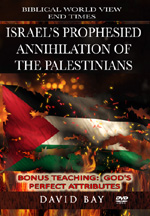 III. Prime Minister Netanyahu will be appealing directly to his Jewish voters in Israel when he speaks to Congress this week.
Never before has an Israeli official delivered a campaign speech to his constituents through the U.S. Congress!
NEWS BRIEF: "Netanyahu's address to Congress will be most important speech of his life", The Washington Post, 2/29/2015
"JERUSALEM — Prime Minister Benjamin Netanyahu's upcoming address to a joint meeting of Congress will probably be the most important speech of his career — and one that has already jeopardized relations between Israel and the United States."
What issue will the Prime Minister bring to the American Congress? Sadly, it is the same tired, over-used, and useless argument that Iran, after supposedly working 11 years to develop a very old technology developed in 1945, is close to achieving an atomic bomb!
"On Tuesday morning, Netanyahu will confront an American president and insist that the future of the State of Israel, and the world, is imperiled by a pending "bad deal" with Iran on its nuclear program. "
The facts are far different:
1) Iran became a nuclear power in early, 2002, buying warheads from Pakistan and missiles from North Korea (NEWS1660)
2) In the 12 years since becoming a nuclear power, Iran has acting responsibly, being held in the grip of "Mutually Assurred Destruction" reality that has deterred America, Russia and every other nuclear power since Hiroshima, 1945 (NEWS2120).
So, why does Israel continue to insist that the Iranian effort to develop their own nuclear weapons technology is so incompetent they are still working on it for so many years?
1) Netanyahu is in the middle of an intense reelection campaign, one which he may lose! He needs to demonstrate his independence from the hated President Obama.
2) The Elite are determined to drive Iran into the arms of the Russian Bear, thus fulfilling the Russian led invasion of Israel of Ezekiel 38-39 (NEWS2200)
3) Threatening Iran continuously keeps the tension high throughout the Middle East, thus giving both sides the ability to carry out plans that would not be possible if the region was at war!
Almost 200 retired Israeli military leaders and political figures signed a memorandum warning Israel and the world that the Prime Minister could be setting off a negative chain reaction against the Jewish state when he delivers his speech to Congress.
NEWS BRIEF: "180 Retired Israeli veterans warn against Netanyahu's speech", The Washington Post, March 1, 2015
" TEL AVIV — Hours after Prime Minister Benjamin Netanyahu set off Sunday for Washington, a group of 180 retired Israeli generals and former top security officials warned that his upcoming address to a joint meeting of Congress on Iran's nuclear program will cause more harm than good."
Netanyahu's speech is likely to produce the following evil affects:
1) "It will not only damage Israel's special relationship with the United States but also undermine military and intelligence ties..."
President Obama has likely already damaged "Israel's special relationship with the United States" by being so pro-Muslim in his policies of the past six years. This reality is illustrated by a comment from an Obama official last year when he called Netanyahu a "chickens**t."
2) "Rather than slowing down Iran's nuclear project, the former security officials said, Netanyahu's speech Tuesday will bring the Islamic republic closer to developing a nuclear bomb."
This statement also reflects the propaganda campaign being waged to deceive: Iran received nuclear warheads "off the shelf" from Pakistan in early 2002 (NEWS1660 )
Since Netanyahu is addressing the Congress at the invitation of Republican Speaker of the House, John Boehnee, one can only assume that Mr. Boehnee is attempting to embarass the Democrat President, Barack Obama. Republicans are already running for the off-season election this Fall, and would love nothing better than to woo many Jewish voters from the Democrat party as possible.
But, here is the key reality: As you listen to Netanyahu's speech, remember that it is only propaganda illusion, not truth.
---
"ObamaCare" Exposed DVD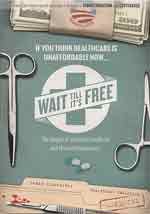 "Wait Til It's FREE - If You Think Healthcare Is Unaffordable Now"
Nothing is more expensive and dangerous than a Government FREE program!
An entertaining and provocative look at the current healthcare crisis. This film takes a hard and honest look at the way we do healthcare in America by looking at every relevant aspect of modern medicine, from the escalating cost of health insurance to the move towards universal government healthcare. The film asks what kind of alternatives there are for families caught between expensive insurance-based coverage and the "Free" government solutions. The film explores the alternatives for individuals, churches, and families, and offers moving and enlightening stories about those that have chosen to follow innovative and independent approaches to healthcare.
Authorities like Dr. Ron Paul (former U.S. Congressman), and John Mackey (CEO of Whole Foods), as well as British experts Theodore Dalrymple (journalist and retired physician) and MEP Daniel Hannan (a British representative to the European Union), all offer unique perspective to this whole issue of government healthcare.
This film goes miles beneath the surface of ObamaCare to expose the 100-year progression of socialized medicine in America. Traveling to my home country of Scotland, I ferret out the eerie truth about waiting lines, death panels, and total disregard for human life in Great Britain's socialized healthcare system.
You will never look at this health care system the same way again. http://www.cuttingedge.org/detail.cfm?ID=2680