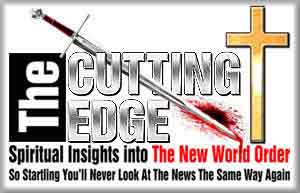 News Alert
Monday 11/20/2017

View the full News Alert online here
Get your daily news from our Daily News Updates -- 40-80 Articles Per Day Trustworthy Articles
=================================================
NEW DVD IN OUR GENESIS SERIES - Volume 2
Shipping Now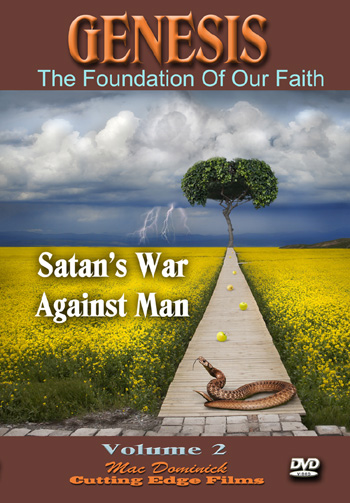 Amidst God's dazzling and resplendent new creation called the 'Heavens and the Earth', created specifically for the happiness and joy of His really special creation, Adam and Eve, Satan suddenly launched a vicious war against man.
And, Satan knew exactly where to strike. Taking the form of a Serpent, Satan spoke gracious words to an innocent, gullible Eve. He convinced her that God REALLY did not mean what He said when he told Adam that they could not eat of the fruit of the Tree of Knowledge and Evil, and then Satan painted such a wonderful word picture of the fruit that Eve simply had to try it.
Satan must have been howling with glee as he witnessed God changing the nature of Adam and Eve to where they would now be susceptible to physical death and they would have to earn their sustenance through hard work fighting weeds and brambles, wild animals, dinosaurs, demons who have taken the form of men (Nephilim, Genesis 6), paranormal activity, parallel dimensions, and a new nature of sin and of murder.
All mankind faced a world as frightening and dangerous as anyone could have possibly imagined. Little did they know Satans true plan, i.e., to so corrupt every human being that Jesus, the Redeemer of Mankind, would be thwarted in His plan to die on Calvary. Therefore, Genesis 6 reveals that Satan flooded the world with Nephilim who mated with human wives, producing a new creation that was no longer purely human, but mixed with demonic DNA.
Satan's strategy was to corrupt the human race and thus make mans redemption impossible. But, God retaliated with a worldwide flood that saved only one genetically pure family that will make the gift of redemption to mankind a reality.
It is an exciting journey that will give you basic theological truths and the answers to may of life's most difficult questions. Please join us as we will take one more step in our quest to reveal how God will ultimately triumph over Satan and empower mankind to share in the glorious victory.
Run Time 98 minutes, Only $19.99 Order your copy - Shipping Now
"GENESIS: The Foundation of Our Faith - Volume 1, The War Against God"
Regularly $24.99, Only $19.99
If you liked Mac Dominick's Revelation Series you will love his Genesis Teaching, because Mac also teaches a combination of Traditional Bible exegesis plus unique Cutting Edge understandings.
'The War Against God'
2 hours run time, Mac plans 3 DVD's in this series Watch the trailer

---
Critical News Headlines -- End Times
1. Death may not be so final in the future
Might distant graveyards be a relic of the past?
2. President Trump is reportedly going to give the Palestinians their own state.
BUT -- is Trump going to REALLY force Israel into the concessions necessary?
Or, is he just pretending, "going through the motions"?
3. Saudi Arabia's war rhetoric against Iran throws the entire region into fear of all-out war.
Saudi rulers should be very careful, as their war in Yemen has proven, the Saudi military is no match for Iran's!
The 2007 Pentagon "New Middle East Map" could easily come into reality following a massive defeat by the Desert Kingdom.
---
Cutting Edge's Truthful Stand On Origin of Our Major Holidays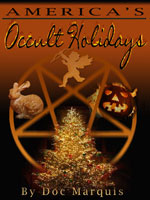 For over a decade now, Cutting Edge Ministries has boldly and truthfully educated our readers as to the occult basis for our annual Holidays. Doc Marquis' DVD -- "America's Occult Holidays" admirably educates you to the reality that our major Holidays are rooted in renamed Satanism.
One of the results of our faithful teaching is that we do not have any meaningful Christmas Gift purchases during November - December.
Would you search your heart to see if you could make a donation to help us during this Holiday period?
We are also introducing new DVD's and Books, whose purpose is to educate you and inform you of current news in light of End Times prophecy. We need your support in the Bookstore.
We're a small non-profit with costs of a top website: servers, staff, studio expenses and programs. We believe everyone should have access to free knowledge, without restriction or limitation. If Cutting Edge is useful to you, please take one minute to keep us online and to keep us reaching out to over 75,000 people a year with the Plan of Salvation.
If the Lord has blessed you this year, and if you value the special prophetic viewpoint which Cutting Edge provides, please favor us now with a special gift. Just click on the green button and follow the prompts.
We have tried to make supporting Cutting Edge Ministry easy and convenient, with our green "Donation Button".

May Jesus Richly Bless You. David Bay, Director
---
---
21 NEW BOOKLETS DESIGNED TO FIGHT OUR SOCIETY'S CURRENT BIBLICAL DECAY
Only $1.95 Each
10 NEW BOOKLETS Just Arrived
ROSE PUBLISHING LEAFLETS BACK IN STOCK Just $3.99 each
---
"Prophecy Fulfilling Now" -- DVD Combo
Regularly $44.97 if bought separately
Only $29.97, saving you $15.00!
The "nuclear confrontation in Korea" will first break out, followed by the Israeli attack against the Palestinians, which fulfills Obadiah and Isaiah 34. Other wars will soon break out, thus giving the Global Elite their World War III!
Then, once Israel is triumphant over her Arab foes once again, the Arabs will turn to Russia, asking for President Putin to invade Israel with his more powerful Russian military, since the Arabs can simply not defeat the Jewish State by themselves. Even though Putin was planning to use the Russian military in a different manner, the Holy Spirit forces the Russian overlord "Gog" to "put a hook in his jaws" to turn him around to lead an attack against Israel in fulfillment of Ezekiel 38-39.
Iran (Ancient Persia) will be destroyed by God as her forces assemble with Russian forces on the border of Israel, just as this Ezekiel prophecy foretold 2,600 years ago! (Amazing detail given in "Russian Bear Poised To Attack Israel")
The Rapture of the Church will occur somewhere along this time frame!
We tell this complete story in the three titles of this Combination Offer!
Christian, look up, for your Redemption draweth nigh!
---
Popular New Titles - From Tom Horn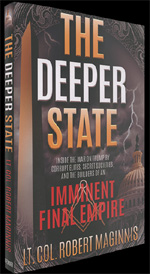 "The Deeper State Book: Inside the War on Trump"
By Secret Societies and World Power Centers
Written by Lt. Col Robert Maginnis
372 pages long, Only $19.95
The Deeper State is about the elites, their secret societies, world power centers and evil motivations behind the chaotic contemporary world pressing all life toward a final one world empire ...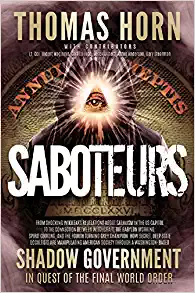 "SABOTEURS Book: Shadow Government In The Quest for the Final World Order"
Dr. Horn returns to Washington, DC to expose a harrowing plot by Deep State Aleister Crowley and Masonic devotees that hold an almost unbelievable secret they do not want you to understand: American society is being manipulated through a Washington-based Shadow Government in quest of that Final World Order prophesied in the books of Daniel, Revelation, and on the Great Seal of the United States!
SABOTEURS goes beyond the superficial chaos currently playing out in the public square and in media against the Trump administration to unveil a far more sinister resistance made up of sorcerous elites, their secret societies, and world power brokers who plot the insidious rise of a messianic strongman figure they call The Grey Champion. http://www.cuttingedge.org/detail.cfm?ID=2801 -- Only $14.95
---
DVD
1. Death may not be so final in the future
NEWS BRIEF: "Death soon may not be so final", NBC News, November 17, 2017
"Strange as it sounds, the human corpse could be the next physical object to vanish from our lives. Within a couple of decades, visiting deceased friends and relatives by traveling to a grassy gravesite may seem as quaint as popping a videotape into your VHS player. By then, our whole experience of death may be drastically different."
For people who believe that a surviving relative needs to see and even feel their dead loved one so that their mind can more completely accept the death, this new paradigm may prove to be a problem.
Survivors will not have a physical body to allow them to achieve "closure". At least this is the thinking of many modern psychologists.
Enter the "Brave New World" of "non-biological" human beings!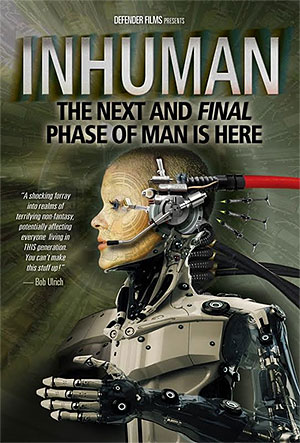 DVD
"If you believe Ray Kurzweil, an outspoken futurist and the director of engineering at Google, computers will soon match the capabilities of the human brain. At that point, our consciousness will become 'We're going to become increasingly non-biological, to the point where the biological part isn't that important anymore', Kurzweil declared in 2013 at a conference predicting the world of 2045. 'Even if the biological part went away, it wouldn't make any difference'."
The process of death is already being transformed in our society.
* In 2015, for the first time ever, more people in the U.S. were cremated than buried
* By 2030, the association predicts, less than one-quarter of the dead will receive traditional casket burials
With the changes in how we handle the departed come changes in how we remember them.
* In the futuristic Ruriden memorial in Tokyo, human remains are packed behind walls of glowing Buddha statues. When visitors swipe a key card, a wash of colorful LED lights illuminate the location of their dearly departed.
"Digital Death Curation."
* "We can create bodies with nanotechnology, we can create virtual bodies in virtual reality', Kurzweil says. 'I think we'll have a choice of bodies; we'll certainly be routinely changing our parent body in virtual reality'."
"Futurist" scientists are feverishly working on deliminating death so that all "Perfected" people in the New World Order can live forever. Combining human parts with computer parts is the most promising avenue by which these selected people can live forever.
But, of course, God will have the final say, and His judgment will surely fall upon mankind who is becoming part-human and part-nonhuman, just as mankind in Genesis 6 had become part-human and part-demon prior to the Great Flood.
However, this time, God's judgments of the Book of Revelation and the Prophets of the Old Testament foretold. God can be counted upon to react vigorously when Satan is attempting to change the human race into a people not human.
Jesus could not return if the human race had been fundamentally changed.
2. President Trump is reportedly going to give the Palestinians their own state.
NEWS BRIEF: "White House Official: Report on peace plan inaccurate, President will offer PA their own state", Israel National News, 11/19/2017
"A senior White House official said on Saturday night that a TV report in Israel which outlined what is supposedly the Trump administration's peace plan for Israel and the Palestinian Authority (PA) was inaccurate ... was 'misleading'."
"The report said that President Donald Trump intends to offer the PA its own state. The plan will include land swaps, but not necessarily along the pre-1967 borders. In addition, the PA will receive millions of dollars to allow it to build a viable economy. At the same time, the report said, since the U.S. recognizes Israel's need for security, IDF forces will be stationed along the Jordan River."
"The plan would not include expelling Arabs or Jews from their homes. According to senior sources in Jerusalem, the subject of dividing Jerusalem has not been discussed.
Now, that is an ambitious plan!
It is also deliberately vague, because negotiations are not yet at a final stage.
But, at some point, the Palestinians are going to have to admit that Israel will remain a state even after a Palestinian State is announced and established. And that admission has always been the point at which the Palestinian negotiators walk out of the talks.
Why do they do that? Yassir Arafat explained that the fundamental objective of talks with Israel is to annihilate all Jews and destroy the nation of Israel, through 'peace talks'!
Since Israel is not going to commit national suicide through "peace" talks, the final conclusion of any such talks is going to be a breakdown in negotiations.
BUT -- is Trump going to REALLY force Israel into the concessions necessary?
Bible prophecy does NOT foretell that the Edomites/Palestinians will ever get their nation; it only foretells that the Palestinian leadership will announce that they have their new state, but nothing will come of it and these leaders will die.
"For my sword shall be bathed in heaven: behold, it shall come down upon Idumea/Edom, and upon the people of my curse, to judgment. The sword of the Lord is filled with blood ... They shall call the nobles thereof to the kingdom, but none shall be there, and all her princes shall be nothing." (Isaiah 34:5-6, 12, KJV)
Or, is he just pretending, "going through the motions"?
3. Saudi Arabia's war rhetoric against Iran throws the entire region into fear of all-out war.
NEWS BRIEF: "Saudi Arabia vows to take on Iran amid warnings region is in 'a dangerous abyss'," CET News, November 19, 2017
"SAUDI Arabia has warned it will not hesitate to defend itself against Iran amid warnings the region is being pushed into a 'dangerous abyss' ... Fears of World War 3 have increased in recent weeks amid a spiralling fallout between the Saudi monarchy and Tehran."
"Today's emergency Arab foreign ministers' meeting was called at the request of Saudi Arabia with support from the UAE, Bahrain, and Kuwait to discuss ways of confronting Iran."
As the Saudi war against Yemen goes into its second year, we should all recognize that the Saudi modern Army, Air Force and Navy are paper tigers and are no match for Iranian forces.
Saudi rulers should be very careful, as their war in Yemen has proven, the Saudi military is no match for Iran's!
The 2007 Pentagon "New Middle East Map" could easily come into reality following a massive defeat by the Desert Kingdom.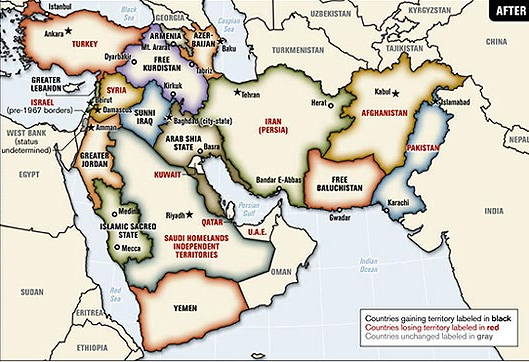 Read full analysis of this map in NEWS2113, entitled "President Bush's 2007"Middle East Map" Is Enraging Friends and Foes Alike"