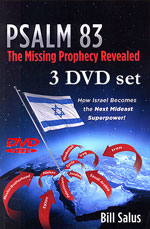 1. God's prophetic encirclement of Israel by her implacable enemies is nearly complete!
The Jordanian military is now conducting massive maneuvers to prepare for an all-out war against Israel!
NEWS BRIEF: "Jordan Holds Mass Military Drill Preparing for War with Israel", Breaking Israel News, November 28, 2019
"The Jordanian Army conducted a series of military maneuvers this week simulating an attempted invasion of the kingdom, but which also appeared to be a message to Israel."
Quite honestly, I have been watching for signs that Jordan will renege on her peace agreements with Israel and join the Palestinian cause in an attempt to annihilate the Jewish State. You see, over 50% of the Hashemite Kingdom of Jordan is Palestinian. For decades now, the kings of Jordan have been very concerned that, one day, the Palestinian Jordanians will rise up to overthrow the minority Hashemite. After all, Palestinian leader, Yassir Arafat, launched a vicious attack on the Jordanian King, on 16 September 1970, which came to be known as "Black September"!
Since then, Jordan's king has been very careful to walk a fine line between loyalty to the Palestinian cause and their deep inclination to support Israel.
Now, it seems as though that fine line is no longer being adhered to, as this massive military drill amply testifies.
"The maneuvers, which took place on Nov. 25 in the presence of Jordan's King Abdullah II, were named 'Swords of Karameh', in an apparent reference to Israel's 1968 military operation against Fatah near the Jordanian village of Karameh, in which the Jordanian Army fought alongside the Palestinian group."
"... the maneuvers involved large numbers of ground and air vehicles, and were aimed at "destroying the vanguard of the enemy and the bridges that can be used as crossing points" into Jordanian territory."
During the same time, Jordanian firefighters conducted a fire drill simulating the burning down of the Islamic "Dome of the Rock"!
NEWS BRIEF: "Jordanian Firefighters Conduct Fire Drill on Temple Mount Preparing in Case Mosque Burns Down ", Breaking Israel News, November 28, 2019
"Firefighters from Jordan arrived in Israel to conduct mass casualty drills in the Case of fire in the Al-Aksa mosque on the Temple Mount. The drill also featured search and rescue operations. Although the stated purpose of the exercise was to react in case a fire broke out at the mosque, sources close to the matter believe that it was yet another Waqf stunt to flex their muscles and try to show Israel that they are in charge of the Temple Mount."
"The event reportedly took place on the same day that the Hashemite Kingdom conducted a mass military drill in the event of a war with Israel."
The fact of the matter is that the Palestinians have been warning their people for the past 50 years that Israel is planning to destroy the "Dome of the Rock" during the war with the Palestinians. Of course, such a destruction would drive Islamic hordes crazy, so crazy they would immediately plan to attack Jerusalem would cause the armies of many Islamic countries to begin a march on the Temple Mount, thus fulfilling Zechariah 12!
In this prophetic passage God reveals Himself to be the personal protector of Israel, thus becoming the most powerful enemy of worldwide Islam.
The First War -- Palestinians - Hamas, Hezbollah, Palestinian Authority, Jordan
The first war to erupt will be an attack by Hamas, Hezbollah and the Palestinian Authority. Thus, Israel will be attacked from the North, the South, and from the interior.
I.D.F studies have shown that Iron Dome and attendant systems can be expected to shoot down about 60-70% of the missiles being fired into tiny Israel/
Since the combined total of missiles is 250,000, this destruction percentage will allow 75,000 to strike targets within Israel. The Jewish State will survive but the death and destruction will bring this prophecy to fulfillment:
"... And they that dwell in the cities of Israel shall go forth, and shall set on fire and burn the weapons ... with fire seven years: So that they shall take no wood out of the field, neither cut down any out of the forests..." (Ezekiel 39:9-10, KJV)
We have stated for a good many years that, while Israel the nation will survive, her devastation will be so grave that she will be thrust backward in time about 400 years ago, where her people depended upon firewood again for cooking and heating.
By the time the IDF wins this war, the destruction will have been so great that the hearts and minds of the Jews will be properly prepared to accept Antichrist as their long-awaited Jewish Messiah!
The Second War -- Russian-led Invasion - Foretold in Ezekiel 38-39
Russia has come alongside Iran to become her protector and her supplier of military hardware, just as God foretold in Ezekiel 38!
Once these massive Arab armies are defeated as God foretells, Arab leaders will turn to Russia for help in destroying Israel. What Arab nations are foretold to march with Russia?
A quick view of a Middle Eastern map will reveal that this invasion will be coming at Israel from both the North and the South. Libya and Ethiopia will be invading from the West, marching through Egypt, and then up from the South. Russian forces, along with those of Iran and Turkey, will be coming from the North. Thus, to the outside observer, it will appear that the nation of Israel will be surrounded by hostile armies.
Turkey was the last nation to reject her pro-Western alignment so she could align herself with Russia.
These are exactly the nations prophesied 2,600 years ago that would be led by Russia against Israel at the very End of the Age. The stage is now set for this alignment.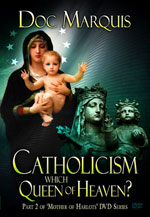 DVD
2. The Vatican dishonors the name of Jesus Christ by gifting the Palestinians a supposed piece of Jesus' original manger in Bethlehem.
NEWS BRIEF: "Vatican Gives Christmas Present to Palestinian Authority in Bethlehem: A Piece of the Manger", November 29, 2019
"The Vatican is transporting pieces of wood to Bethlehem that are claimed to be from the manger that held Jesus when he was born ... the permanent transfer of the relic came as a result of a meeting between Palestinian Authority President Mahmoud Abbas and Pope Francis. Salman said the relics were taken from Bethlehem around 1,000 years ago, and are now likely to be placed inside Saint Catherine's Church, adjacent to the Church of the Nativity in Manger Square, the reputed site of Jesus's birth. The relics are expected to be displayed in ceremonies in Jerusalem on Friday and will arrive in Bethlehem on Saturday, the day the Palestinian town traditionally lights its Manger Square Christmas tree."
Even though we know that this piece of wood is a worthless relic, we still object to publicly honoring Jesus' most implacable enemy.
DVD
3. Even during this time of turmoil and hate and apostasy, many black Christians stand firm, deeply rooted in Biblical Doctrine.
NEWS BRIEF: "As Democrats lurch left, black Christians stand firm in their values", The Washington Examiner, November 27, 2019
"Something remarkable just happened in St. Louis that you probably didn't hear about. The Church of God in Christ, a seven-million-member black denomination, unanimously passed a historic resolution affirming the value and dignity of every human life and opposing the practice of elective abortion in America."
Black Americans are shouting to the Leftist Democrat Party that they are dramatically opposed to Abortion Upon Demand.
Secondly, the Democrat Party is going to be very sorry that their Party Chairman boldly invited any person to leave the Party if they supported restricting and/or eliminating Abortion.
"COGIC does not have a history of institutional involvement with causes typically associated with the Republican Party. Yet given the direction that abortion policy is moving in this country, its leaders felt compelled to act."
Yet, at the same time, pro-abortion forces are moving in the opposite direction.
"The resolution comes at a time when many Democratic politicians, from presidential candidates to state legislators, are proposing and passing pro-abortion legislation that would have been unimaginable just a few years ago ... "
"The COGIC resolution is one of the first national-level responses from everyday African Americans pushing back on this radical pro-abortion agenda ... Abortion disproportionately kills black children. According to the Wall Street Journal, "in New York City, thousands more black babies are aborted than born alive each year, and the abortion rate among black mothers is more than three times higher than it is for white mothers..."
Therefore, on this highly significant issue, national and local Democrat Party members are moving in the direct opposite direction than the individual members of black churches.
The result of these opposite forces should be seen at the polls in November, 2020.
Paul stated that Antichrist cannot arise until and unless the Christian church has completed her descent into error! Therefore, as long as significant numbers of Christians "stand rooted in faith", Antichrist is prevented from arising.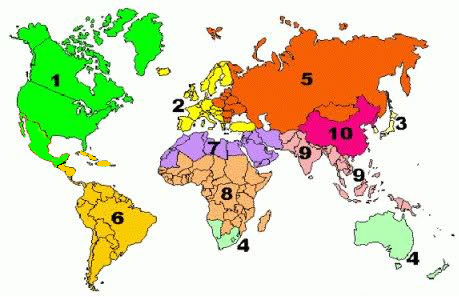 4. Republican Congressman urges his Senators to pass USMCA before the end of the year!
NEWS BRIEF: "Rep. Dusty Johnson: Only eight working days left to pass the USMCA in 2019", by Dusty Johnson, The Washington Examiner, November 27, 2019
"Eight days. That's how many working days the House of Representatives has left this year to pass major legislation. Eight days to pass a budget and eight days to finalize the United States-Mexico-Canada Agreement. For context, President Trump finalized the USMCA with our allies on November 30, 2018 — a year ago."
This congressman then lays out the economic and diplomatic advantages which will flow from the passage of this massive realignment of three sovereign nations: Canada, the United States and Mexico --
* " would add $68 billion to our nation's GDP"
* would add "176,000 jobs"
* "South Dakota exported $924 million worth of manufacturing and agriculture products to Canada and Mexico last year"
* "Canada and Mexico are the first and third largest export markets for American producers ... The new agreement also opens up new markets to dairy, poultry, and eggs..."
No one can dispute these financial advantages from passing the USMCA.
There is only one enormous problem with the USMCA: It is Supernation #1 of the global plan to reorganize the nations of the world into the prophetic Ten Supernations foretold in Daniel 7:7-8:
"I considered the (TEN) horns, and, behold, there came up among them another little horn (Antichrist), before whom there were three of the first horns plucked up by the roots: and, behold, in this horn were eyes like the eyes of man, and a mouth speaking great things." (Daniel 7:7-8, KJV)
If Christians can stop the USMCA, we can stop Antichrist from arising on the world scene!
If Democrat Congressional representatives suddenly change their minds, USMCA can pass quickly.
President Trump could then sign it so quickly as to catch Christians off-guard.
This Supernation #1 is the most difficult for the Elite to carry out and would mobilize all the rest to formally organize the New Order of Nations, the 10 Supernation Confederacy!
5. President Trump is said to be preparing to declare Mexican cartels as "Terrorist Organizations".
NEWS BRIEF: "Mexican Cartels 'Will Be Designated' as Terrorist Organizations: President Trump", Breitbart News, 26 Nov 2019
"President Donald Trump told Bill O'Reilly he will designate some Mexican cartels as Foreign Terrorist Organizations (FTO) ... The Mexican drug cartels kill more than 100,000 Americans every year by the importation of dangerous narcotics," O'Reilly said to President Trump during an interview aired on O'Reilly.com. 'Are you going to designate those cartels in Mexico as terror groups?' "
" 'They will be designated … I have offered him (the Mexican president) to let us go in and clean it out," President Trump responded. "He, so far, has rejected the offer. But at some point, something has to be done."
Mexico's new Leftist President certainly took note, as he immediately requested a meeting with President Trump.
NEWS BRIEF: "Mexico Wants 'Meeting' After Trump Discusses 'Terrorist' Label for Cartels", Breitbart News, 26 Nov 2019
"Mexico City announced efforts to have a "meeting" with U.S. officials after President Donald Trump's recent announcement to designate some cartels as Foreign Terrorist Organizations (FTOs) ... In a prepared statement issued by Mexico's Foreign Relations Ministry, officials reached out to their U.S. counterparts to explore the consequences that terrorist designations would entail.
"In lieu of the good relations that exist between both countries, the Government of Mexico will seek to have a high-level meeting as soon as possible to present Mexico's position and to learn the viewpoints of the authorities from the U.S."
I find it very interesting that President Trump threatens to use our military to clear out the criminal gangs who are now using Mexico as THEIR nation, the Mexican President immediately wants to negotiate!
Before Mexico can join Supernation #1, she must clean out the drug cartels.