"They are enclosed in their own prosperity and have shut up their hearts to pity..." (Psalm 17:10)
---
"DIVIDED NATION! Divided Culture, Church In Chaos"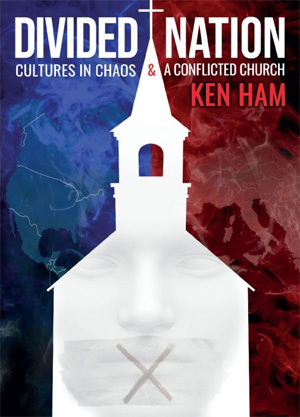 New 162-Page Book by Ken Ham, Only $15.99
America is starting to collapse, morally and spiritually.
We live in a nation divided across political, racial, cultural, and especially religious lines. Can the church regain a position of influence among young people.
This book provides families and their churches biblical mandates to awaken and arise as witnesses in today's turbulent times.
As Christian persecution increases, the Body of Christ needs to prepare to take a bold stand. Ken Ham, CEO and founder of Answers in Genesis-US, the highly acclaimed Creation Museum, and the world-renowned Ark Encounter, sounds the clarion call for Reformation, bringing God's people back to the authority of the Word of God.
Ham addresses five specific critical issues:
* There is no neutral position
* There is no non-religious position
* There are ultimately only two religions -- God or Satan!
* How to think foundationally to develop a truly Christian worldview
Make a stand for the soul of this generation. We are living at a "Watchman on the Wall" moment in our history!
"But if the watchman see the sword come, and blow not the trumpet, and the people be not warned; if the sword come, and take any person from among them, he is taken away in his iniquity; but his blood will I require at the watchman's hand."
---
World-Wide Plans For A Deadly Plague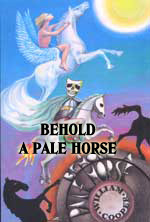 F.E.M.A. Is an "interdepartmental unit which is empowered in the event of a national security emergency to become the unelected national government, a sort of F.E.M.A. secret government, so to speak. A pretext for invoking this emergency can be found almost daily in the newspapers .... anything, in fact." [Page 122] ("Behold A Pale Horse"]
"... the elite would use some other excuse to bring about the New World Order. They have plans to bring about things like earthquakes, war, the Messiah, extraterrestrial landing, and economic collapse. They might bring about all of these things just to make ... sure that it does work. They will do whatever is necessary to succeed. The Illuminati has all the bases covered ... Can you imagine what would happen if Los Angeles is hit with a 9.0 quake, New York City is destroyed by a terrorist-planted atomic bomb, World War III breaks out in the Middle East, the banks and the stock markets collapse, Extraterrestrials land on the White House lawn, food disappears from the shelves, some people disappear, the Messiah presents himself to the world, and all in a very short period of time?" ("Behold A Pale Horse", p. 177]
Coming Into Their New World Order
In this economy, all private property and inheritance would be abolished. Once this economy is established, all individuals in this world will be forced to pledge allegiance to the Anti-Christ in a ceremony entitled a "World-Wide Luciferic Initiation". Then, "later, a permanent tattooed body number invisible under normal ambient illumination" will be marked on each person. ("Behold A Pale Horse", p. 44)

NOTE: The global plan to establish the New World Order as William Cooper so brilliantly informed us in "Behold A Pale Horse", is now finally beginning to occur with great rapidity!
---