They would rather see people die!
"The National File noted that after the vote, the committee chairman, Lucas, posted a video on Twitter in which she vowed to form a Democratic "brick wall" that will throw Republican bills in the trash. She illustrated her declaration by crumpling up a piece of paper and tossing it aside."
This is the REAL attitude of Leftist, Liberal Democrats, not the lying words of compassion used by so many politicians.
3. Liberal, Pro-Abortion Justice Stephen Breyer is retiring from the Supreme Court!
NEWS BRIEF: "Pro-Abortion Supreme Court Justice Stephen Breyer Will Retire", Life News, Jan 26, 2022
"Supreme Court Justice Stephen Breyer will retire after more than 27 years on the nation's highest court. Breyer is a pro-abortion stalwart who has always been on the pro-abortion side in any legal battles over pro-life legislation.His retirement paves the way for Joe Biden to appointment a replacement, who will almost assuredly be a liberal abortion advocate who would vote to keep Roe v. Wade and 63 million abortions in place."
President Biden will certainly nominate a Leftist Black Woman who is staunchly Pro-Abortion.
NEWS BRIEF: "Biden to Nominate Black Woman to SCOTUS", USA Today, Jan 26. 2022
"WASHINGTON – President Joe Biden confirmed Thursday he will honor a campaign pledge to name the first Black woman to the Supreme Court this year, making history as he chooses a successor to replace retiring Associate Justice Stephen Breyer."
One fact is sure: Incompetency Will Reign!
4. The rhetoric from Ukrainian / Russian confrontation took the required sharp turn into a Nuclear standoff.
NEWS BRIEF: "Russian official says nuclear missile crisis unavoidable without arms curbs", Reuters News, JaN 27, 2022
"MOSCOW, Jan 27 (Reuters) - Russia said on Thursday that a nuclear missile crisis between Moscow and Washington was unavoidable without measures to ensure restraint and predictability ... NATO was capable of rapidly deploying nuclear weapons that would be able to strike strategic targets in Russia."
"Moscow thought the United States was making preparations to deploy short or intermediate-range missiles to Europe and the Asia-Pacific region."
China has already invoked the specter of nuclear warfare should the United States come to the aid of Taiwan.
And, this brings us to the original concept of this World War III -- so scaring the peoples of the world so that they will allow any event to occur to them so long as they think their government can preserve their life.
Listen to the original wording:
"A hair-raising nuclear confrontation ... may, towards the end of the period, threaten man's very survival." [Peter Lemesurier, "The Armageddon Script", p. 223]
Therefore, Russia's new nuclear policy is designed to provoke just the kind of nuclear confrontation, and panic, described above -- one that will "threaten man's very survival".
5. America is now engaged in a new Civil War.
The Democrats are the new Confederates.
NEWS BRIEF: "We are in a civil war, and Dems are the new Confederates", World Net Daily, January 24, 2022
"I have good news and bad news.
The bad news is that this is evil. Look around. What Democrats believe in is not "politics as usual," it's not 'liberalism', it's not 'progressive', it's not even 'socialist lite'. It's pure evil. It's the kind of evil we used to fight wars over. It's a combination of communism, fascism, Nazism and the slavery of the Confederate South."
"Yes, Democrats are the new Confederates."
But, the Democrats were also the original racist Confederates, starting in 1829!
Listen to the belief of the old Democrat Party Confederacy as to the inferiority of Blacks, and weep. Listen to the words of the Vice President of the Confederate States, as he publicly spoke to a crowd in Savannah, Georgia, in 1861; hear his disgusting racism.
"In what's now known as the 'Cornerstone Speech', Stephens told a Savannah, Ga., crowd in 1861 that 'our new government is founded upon exactly the opposite ideas [as those of the original Declaration of Independence]; its foundations are laid, its cornerstone rests, upon the great truth that the negro is not equal to the white man; that slavery, subordination to the superior race, is his natural and normal condition. This, our new government, is the first, in the history of the world, based upon this great physical, philosophical, and moral truth." ("1861 'Cornerstone Speech' ", by Alexander H. Stephens, Georgia, Confederate Vice President)
Democrat Southern leaders of the day chimed in as they described the black slaves and their position within the Southern states.
"My own convictions as to negro slavery are strong ...We recognize the negro as ... our inferior, fitted expressly for servitude...You cannot transform the negro into anything one-tenth as useful or as good as what slavery enables them to be." ("40 Top Jefferson Davis Quotes That Reflect His Mind")
"We do not think that whites should be slaves either by law or necessity. Our slaves are black, of another and inferior race. The status in which we have placed them is an elevation. They are elevated from the condition in which God first created them, by being made our slaves. None of that race on the whole face of the globe can be compared with the slaves of the South. They are happy, content, un- aspiring, and utterly incapable, from intellectual weakness, ever to give us any trouble by their aspirations." ("Cotton Is King" speech, James Henry Hammond)
This utterly disgusting view of the African-American race was the key foundation of the entire Southern Confederacy! And, the Democrat Party ruled supreme throughout the South.
The Democrat Party's black slavery system was finally broken by a 4-year Civil War in which 750,000 Union men spilled their blood. The entire Southern Belle Culture was smashed, never to rise again and the major cities and towns were razed to the ground.
As Republican President Abraham Lincoln said:
"... the judgments of the Lord are true and righteous altogether." (President Lincoln, quoting Psalm 19:9). Lincoln viewed the Civil War as God's judgment upon America for her massive national sin of slavery.
How ironic that the propagandists of the Democrat Party today have been able to convince a strong vocal and violent minority to agitate against a non-existent "Inherent Racism", to the point of breaking apart this formerly great nation!
---
Are you ready, my friend, to meet Jesus Christ? Have you been born-again through His blood? If you have, you can truly "look up, for your redemption draweth nigh".
---
New DVD!
Prophetic DVD For These Troublesome Times!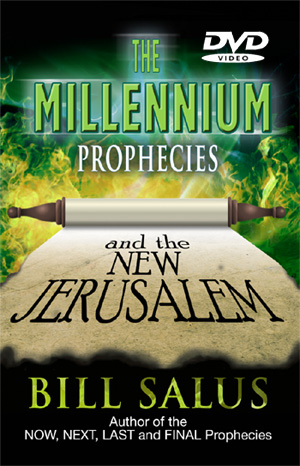 "The Millennium Prophecies and the New Jerusalem"
by Bill Salus
Regularly $24.99, Only $19.99
Most Neglected Prophecy In The Bible
Jesus Christ is about to return and set up His 1000-year Messianic Kingdom upon the earth. The MILLENNIUM Prophecies and the NEW JERUSALEM book explains what this future period will be like
Discover why the Bible says more about the MILLENNIUM than any other period in the past, present or future, including the First and Second Comings of Jesus Christ and the Seven-Year Tribulation Period.
This video encourages Christian believers, warns non-believers and instructs everyone on how to get a PERSONAL PASSPORT into the MARVELOUS MILLENNIUM!
Read More or order https://www.cuttingedge.org/detail.cfm?ID=2977
Buy the book version of this great prophetic title! https://www.cuttingedge.org/detail.cfm?ID=2987
---
Aliens = Ambassadors For Antichrist
NEWS BRIEF: "Pentagon creates new organization to investigate mysterious objects in the sky", Military Times, November 23, 2021
"Faced with growing concerns about mysterious objects in the sky, especially over military installations and training ranges, the Pentagon has created a new organization to search for answers about where they came from and what threats they may pose ... investigations into unidentified aerial phenomenon will now be conducted by the Airborne Object Identification and Management Synchronization Group, nested in the office of the Under Secretary of Defense for Intelligence & Security."
"... It comes in the wake of a June report by the ODNI into objects in the sky that found no explanation for 143 of 144 incidents reviewed."
Luciferian Plan: 'UFO's and Aliens are part of the New World Order. They are benevolent beings which will aid mankind in attaining the goal of becoming one humanity. They will appear at the proper time to enable mankind to make that Quantum Leap of Collective Consciousness -- when the The Christ appears'." (New England Director of the House of Theosophy, Seminar, August 18, 1991)
Sons of God & The Nephilim Volumes 1 and 2 DVD
There are many mysteries in this world that historically have Christians running for cover. These are not mysteries that are easily solved, and the hard questions more often than not, go unanswered. Furthermore, these mysteries have found their way into our culture and demand an answer from those who are well-versed in Scripture, or we as Christians stand to lose an entire generation to a culture that is becoming more and more saturated with answers from the occult world. What are the questions that arise from these mysteries? These DVDs have many answers.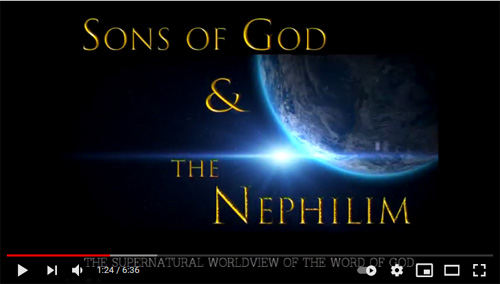 ---