Are you ready, my friend, to meet Jesus Christ? Have you been born-again through His blood? If you have, you can truly "look up, for your redemption draweth nigh".
---
New DVD!
Prophetic DVD For These Troublesome Times!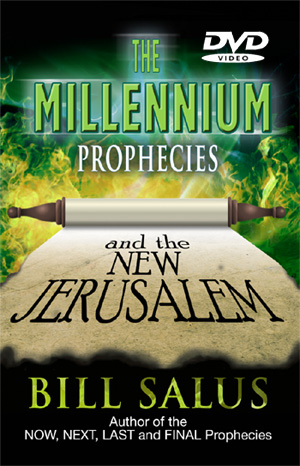 "The Millennium Prophecies and the New Jerusalem"
by Bill Salus
Regularly $24.99, Only $19.99
Most Neglected Prophecy In The Bible
Jesus Christ is about to return and set up His 1000-year Messianic Kingdom upon the earth. The MILLENNIUM Prophecies and the NEW JERUSALEM book explains what this future period will be like
Read More or order https://www.cuttingedge.org/detail.cfm?ID=2977
Buy the book version of this great prophetic title! https://www.cuttingedge.org/detail.cfm?ID=2987
---
Aliens = Ambassadors For Antichrist
NEWS BRIEF: "Pentagon creates new organization to investigate mysterious objects in the sky", Military Times, November 23, 2021
"Faced with growing concerns about mysterious objects in the sky, especially over military installations and training ranges, the Pentagon has created a new organization to search for answers about where they came from and what threats they may pose ... investigations into unidentified aerial phenomenon will now be conducted by the Airborne Object Identification and Management Synchronization Group, nested in the office of the Under Secretary of Defense for Intelligence & Security."
"... It comes in the wake of a June report by the ODNI into objects in the sky that found no explanation for 143 of 144 incidents reviewed."
Luciferian Plan: 'UFO's and Aliens are part of the New World Order. They are benevolent beings which will aid mankind in attaining the goal of becoming one humanity. They will appear at the proper time to enable mankind to make that Quantum Leap of Collective Consciousness -- when the The Christ appears'." (New England Director of the House of Theosophy, Seminar, August 18, 1991)
Sons of God & The Nephilim Volumes 1 and 2 DVD
There are many mysteries in this world that historically have Christians running for cover. These are not mysteries that are easily solved, and the hard questions more often than not, go unanswered. Furthermore, these mysteries have found their way into our culture and demand an answer from those who are well-versed in Scripture, or we as Christians stand to lose an entire generation to a culture that is becoming more and more saturated with answers from the occult world. What are the questions that arise from these mysteries? These DVDs have many answers.
---