Title: Western Pressure Has Now Forced Turkey Out of the Pro-American Orbit and Into the Russian - Iranian Orbit! Turkey is now aligning herself with Russia, just as Ezekiel 38-39 prophecy foretells.
Resources to aid your Understanding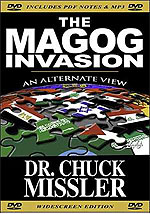 All Foretold Nations Now In Prophesied Place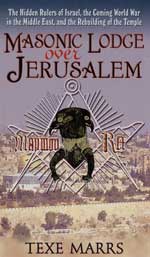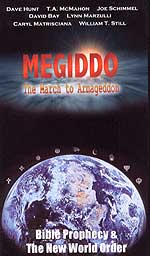 Megiddo - DVD
Fabulous Colored Pictures!
Subtitle: In earlier articles, we noted that President Bush's policies have forced Iran into the Russian orbit, thus preparing her to march with Russian-led forces in the invasion of Israel.
Now, Turkey is moving toward Russia! Just as Ezekiel 38-39 foretold 2,600 years ago!
The New World Order is coming! Are you ready? Once you understand what this New World Order really is, and how it is being gradually implemented, you will be able to see it progressing in your daily news!!
Learn how to protect yourself, your loved ones!
Stand by for insights so startling you will never look at the news the same way again.
YOU ARE NOW ON
THE CUTTING EDGE
Copyright © 2007 Cutting Edge Ministries. All rights reserved. See full copyright notice below.
Since World War II, the armed forces of Turkey have been staunchly pro-Western, even though the average citizen has always been just as staunchly Islamic. In this modern era, these pro-Western generals initiated a number of military coups aimed at a civilian government which they believed had strayed too far from the pro-Western orbit.
These generals even initiated a series of treaties with Israel, the arch-enemy of Islam. These treaties even extended to an exchange of military equipment and exercises! Civilian governments learned the hard way not to wander far from the official line as the generals demanded.
But, all that changed in the November elections of 2002, when a very conservative Islamic Prime Minister won by a landslide! In fact, his win was so huge, so commanding, that the pro-Western generals were very reluctant to overthrow this regime, fearing a massive outpouring of support from the people.
We cover this extremely important story in our Archived Headline News section, NEWS1733, entitled, "TURKEY TAKES ABRUPT TURN TO MILITANT ISLAM IN ELECTIONS JUST CONCLUDED!"
In this article, we noted that one analyst termed the election result as "a political earthquake".
Since Prime Minister Recep Tayyip Erdogan began his quest to slowly, carefully chart an Islamic course for Turkey without incurring the wrath of the Turkish generals, Turkey has slowly, carefully edged away from Europe, Israel, and the United States. The most startling example of this stealthy diplomacy, occurred in 2002-2003, as President Bush was placing a great deal of pressure upon Ankara to allow American forces to stage equipment and supplies in preparation for the Iraq invasion. In late, 2002, Turkish PM Erdogan notified the White House that, not only could America pre-position those supplies, they could also count in up to 100,000 Turkish soldiers invading Iraq from the north.
The White House was extremely pleased, and the Pentagon began offloading immense amounts of supplies, including heavy tracked vehicles like A-1 Abrams Tanks. Suddenly, with the invasion just weeks away, Turkey informed Washington that she had changed her mind, and demanded that the American military pick up all the supplies and equipment already offloaded on to Turkish soil.
Literally, like a whipped dog, the Pentagon sent ships badly needed elsewhere to pick up the supplies on Turkey's soil.
Since that invasion (March 20, 2003), Turkey has gone consistently out of America's orbit. And, lately, because of the factors we share with you, below, Turkey seems to be passing into the Russian/Iranian orbit -- just as we should expect from the Ezekiel 38-39 prophecies.
Now, let us examine the factors which are propelling Turkey out of the Western orbit.
NEWS BRIEF: "Armenian Genocide Resolution in US Congress Could Pass Before April 24", Hulig Breaking News
"The Armenian National Committee of America (ANCA) ... said it believes that the recent changes in the U.S. Congress where now Democrats hold the majority, has brought about the best opportunity in years to defeat Turkey's Armenian Genocide denial campaign ... Unfortunately, this legislation was blocked by former Speaker Dennis Hastert, who refused to bring this resolution to the House floor for a vote. This coming year, the Speaker is Nancy Pelosi, who has supported Armenian Genocide resolutions for over a decade and has already stated she will continue to support this legislation."
The Turkish government of PM Erdogan has reacted very vigorously to the US Congress planning to pass legislation recognizing the historic reality that the Turkish Ottoman Empire did annihilate up to one million Armenians from 1915-1917. Many people have likened this genocide to the Nazi Holocaust of the Jews, a charge which the current Turkish government heatedly denies.
Ankara has put Washington on notice that, if this Armenian Genocide Resolution passes Congress, Turkey will react vigorously to separate herself from most things American. To begin with, Turkey is likely to throw all American forces out of Turkey, including the huge American air base. Additionally, Turkey has denied Washington's request that American bases in Turkey be used in an American attack on Iran.
This next article declares that the Turkish military is preparing an attack in northern Iraq, against the Kurds! As America reportedly is readying an attack on Iran, a Turkish attack against the Kurds would present a huge obstacle against the American military!
NEWS BRIEF: "Turkey readying for spring offensive against PKK", Today's Zaman, 21.03.2007
"The leaves of military personnel have been canceled and additional forces have been deployed to the border with Iraq as the military apparently prepares for an operation against the outlawed Kurdistan Workers' Party (PKK). The measures come amid frustration with US inactivity against the PKK and the expected infiltration of PKK militants from their mountain bases in northern Iraq with the arrival of spring. The military put all troops on alert at the Iraqi border after receiving intelligence reports that the PKK would carry out attacks as the snow melts in mountain passes, thus easing passage from Iraq to Turkey."
This next segment specifies what additional military supplies and troops are moving to this border region. This list does make it sound like a major offensive is planned, as two entire Armies are being moved.
"One week after Basbug's visit, the 2nd and 3rd Armies deployed in the border region were put on alert while Turkish troops were sent to the border and were significantly reinforced. The leaves of military personnel of Turkish troops in Hakkari, Sirnak, Batman and Diyarbakir have been canceled for a period of three months, while heavy restrictions have been imposed on the leaves of troops located to the west of these provinces. Flights across the border by aircraft and helicopters of the Land Aviation Command in Diyarbakir have been stepped up. Alpine Commando Brigades in Sirnak and Hakkari were deployed to the border. All of the 7th Corps military equipment in Diyarbakir, particularly that of the 23rd Division Command and 21st Border Division Command, was renewed, and new weapons have been supplied."
Notice that this next segment acknowledges that this increased military activity is well outside the realm of ordinary.
"The Office of the Chief of General Staff acknowledges extraordinary military activity in this region ... However, Turkey's decision will be shaped according to the steps the US soon takes."
In other words, Turkey is monitoring the steps the United States takes, or does not take, regarding the Kurds in northern Iraq. If Turkey believes America is aiding the Kurds, they will be more likely to launch their "cross-border" attack.
"This activity in the region should not be considered a cross-border operation but as preliminary preparations for a cross-border operation, the intelligence sources say."
Indeed, this activity is very consistent with a normal military build-up which precedes an attack. In the first paragraph, we read that the Kurdish rebels were expected to attack across the northern Iraq border in the Spring; therefore, Turkey's military is planning a rather massive counterattack operation.
Recent diplomatic interchange between Iran and Turkey has been noted in the past several months. If Turkey is planning this operation in cooperation with Iran, we can expect that the timing of the attack into northern Iraq will be timed to occur just before American forces would attack Iran. According to intelligence sources, THE tell-tale sign that an attack is imminent will be when American air fuel tankers begin arriving in bases throughout the region. Once Russian intelligence sees this occurring, she will immediately flash a warning to Iran.
Presumably, this is when this attack will occur, and is planned to try to throw a "monkey wrench" into America's plans against Iran. Some news reports have even indicated recently that Iran may attack northern Iraq from the East, while Turkey attacks northern Iraq from the West. Should that happen, American forces in Iraq will find themselves seriously outnumbered and outgunned by a combined Turkey/Iranian army! And, if American forces are moved out of Baghdad into northern Iraq, the Iranian army is waiting on the border to pour across the southern area of Iraq!
In any scenario thus imagined, the situation is "lose-lose" against Coalition Forces.
And, such an attack might very well stop an American attack on Iran dead in its tracks!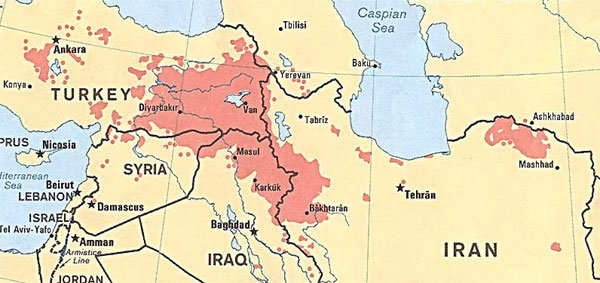 Now, let us review another American action which so greatly angered Turkey last year that it likely convinced even the pro-American generals that the Bush Administration had devised very evil plans against Turkey. Once again, these plans feature the Kurds -- in a partial take-over of sovereign Turkey!

NEWS BRIEF: "Carved-up Map of Turkey at NATO Prompts US Apology", Today's Zaman, 21.03.2007

"A map prepared by a retired U.S. military officer that sketches Turkey as a partitioned country was presented at the NATO's Defense College in Rome, where Turkish officers attend. The use of the map at a conference meeting by a colonel from the U.S. National War Academy angered Turkish military officers ... An American colonel who came to the Defense College for a conference began a lecture on technology. However, a few minutes later he presented a map that showed Turkey as separated, and included an 'independent Kurdistan' on Turkish territories."

Can you imagine the outrage instantly felt by these Turkish senior military officers attending this NATO briefing? Suddenly, they discovered that the Americans had unilaterally re-drawn the map of sovereign Turkey so that a new nation could be carved out, i.e., Independent Kurdistan! In one fell swoop, America infuriated the Turks in three distinct ways:

1) By unilaterally deciding that sovereign Turkey needed to be divided, whether she wanted to or not!

2) By showing that the reason Turkey was planned to be divided was so that the hated Kurds could have their own nation! If you look at the regional map, above, you will see the areas in which Kurds reside in red. Kurds are located in Iran, Turkey, and northern Iraq. They are hated by all three governments and have long pressured America to enable them to create their own nation.

3) By seeming to imply that America was the nation who was planning to force these changes! Since the map came from a high-level military officer in the U.S. National War Academy, any Turk leader would be justified in believing that this map change was being planned at the highest levels in the American political and military establishment.

You can "bet your bottom dollar" that this is the instant conclusion of these Turkish military officers reached.

"In reaction to the U.S. colonel's elaboration on the map ... the Turkish officers left the conference room." (Ibid.)

In quick order, these Turkish military officers informed their government of this new American map.

"Turkish officers also briefed Ankara about the developments relevant to the incident ... The new Middle East map, prepared by retired Col. Ralph Peters and published in the Armed Forces Journal in June, had sparked reactions in Ankara." (Ibid.)

I believe this last sentence represents an attempt to calm the situation down, for it is highly probable that the entire ruling establishment in Turkey -- from the Islamic Prime Minister to the usually pro-American generals -- were first stunned and then emotionally outraged! Turkey knows that President Bush invaded Iraq on a bunch of lies and exaggerations (NEWS1890 and NEWS1890b), that the American army has fatally polluted Iraq with her Depleted Uranium munitions, and that Washington is now regurgitating the same propaganda lies against Iran which she used against Iraq in order to justify invasion.

Now that Turkish leaders have seen this map, they have to conclude that this map does represent the inner-most plans of the Bush Administration for Turkey. For this reason, Turkey is likely to continue moving out of the pro-American orbit she has been in since World War II. That means she will continue to gravitate toward Iran, and that means she will one day end up in the Russian orbit.

Prophetic wheels continue to spin. First, Iran has been forced by Bush threats into Russia's orbit, and now Turkey is likely to follow suit.

Just as the DVD, "The Magog Invasion" states, "all prophetic nations are now in place" to begin this invasion. Truly, these are exciting times in which to live! The End of the Age continues to thunder down the tracks!

Are you spiritually ready? Is your family? Are you adequately protecting your loved ones? This is the reason for this ministry, to enable you to first understand the peril facing you, and then help you develop strategies to warn and protect your loved ones. Once you have been thoroughly trained, you can also use your knowledge as a means to open the door of discussion with an unsaved person. I have been able to use it many times, and have seen people come to Jesus Christ as a result. These perilous times are also a time when we can reach many souls for Jesus Christ, making an eternal difference.

If you have accepted Jesus Christ as your personal Savior, but have been very lukewarm in your spiritual walk with Him, you need to immediately ask Him for forgiveness and for renewal. He will instantly forgive you, and fill your heart with the joy of the Holy Spirit. Then, you need to begin a daily walk of prayer and personal Bible Study.

If you have never accepted Jesus Christ as Savior, but have come to realize His reality and the approaching End of the Age, and want to accept His FREE Gift of Eternal Life, you can also do so now, in the privacy of your home. Once you accept Him as Savior, you are spiritually Born Again, and are as assured of Heaven as if you were already there. Then, you can rest assured that the Kingdom of Antichrist will not touch you spiritually.

If you would like to become Born Again, turn to our Salvation Page now.

We hope you have been blessed by this ministry, which seeks to educate and warn people, so that they can see the coming New World Order -- Kingdom of Antichrist -- in their daily news.

Finally, we would love to hear from you.

You can contact us by mail or email.

God bless you.

Copyright © 2007 Cutting Edge Ministries. All rights reserved. This password protected article and its contents are protected under the copyright laws of the United States and other countries. This article is provided by subscription only for use by the subscriber and all other rights are expressly reserved by the copyright owner. Copying and pasting this article, in whole or in part, into e-mails or as attachments to e-mails or posting it on the Internet is strictly prohibited and may subject the offender to civil liability and severe criminal penalties (Title 17, United States Code, section 501 and 506).

Copying and distributing this article in violation of the above notice is also a violation of God's moral law.


Become a Headline news subscriber HERE.

Subscribe to our free email updates and messages from our editor by entering your email address below :

Return to: