Title: Jesus' Triumphal Entry On Palm Sunday -- The Day He Was Presented to Israel As Their Messiah-King
Resources to aid your Understanding
Subtitle: Our Savior fulfilled THE most exciting and exact prophecies in the entire Bible when He rode into Jerusalem on the donkey with Palm branches spread out on the road, to be proclaimed by the crowd as the King of Israel. Sir Isaac Newton said that the validity of all Bible prophecy could be proven by this one startling fulfillment!
The New World Order is coming! Are you ready? Once you understand what this New World Order really is, and how it is being gradually implemented, you will be able to see it progressing in your daily news!!
Learn how to protect yourself, your loved ones!
Stand by for insights so startling you will never look at the news the same way again.
YOU ARE NOW ON
THE CUTTING EDGE
Copyright © 2008 Cutting Edge Ministries. All rights reserved. See full copyright notice below.
GOD'S UNPARALLELED MATHEMATICAL PROPHECY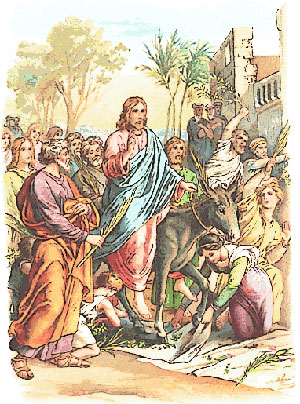 "Seventy weeks [of years, or 490 years] are decreed upon your people and upon your holy city [Jerusalem], to finish and put an end to transgression, to seal up and make full the measure of sin, to purge away and make expiation and reconciliation for sin, to bring in everlasting righteousness (permanent moral and spiritual rectitude in every area and relation) to seal up vision and prophecy and prophet, and to anoint a Holy of Holies."

"Know therefore and understand that from the going forth of the commandment to restore and to build Jerusalem until [the coming of] the Anointed One, a Prince, shall be seven weeks [of years] and sixty-two weeks [of years]; it shall be built again with [city] square and moat, but in troublous times."

"And after the sixty-two weeks [of years] shall the Anointed One be cut off or killed and shall have nothing and no one belonging to and defending Him..." (Daniel 9:24-26a; Parallel Bible, KJV/Amplified Bible Commentary)

The remaining one week is found in verse 27, and refers to the last seven years of earth's history, the period which we know as the "Great Tribulation".

The term "Weeks of Years" was a common Jewish term. It meant literally seven (7) years. The term comes from God's commandment in Leviticus 25:3-4 to farm a piece of land for only six years, allowing it to lie fallow for the seventh. This seven-year period came to be known as a "week of years". Therefore, Seventy Weeks of Years was 490 Hebrew years.

Note this prophecy contains three parts:
1. 7 Weeks of Years (49 Hebrew Years)
2. 62 Weeks of Years (434 Hebrew Years)
3. 1 Week of Years (7 Hebrew Years)

At the precise point in history when the 7 + 62 Weeks of Years occurred, Israel could expect Messiah to announce Himself as Messiah. What great news! This means that Israel could not miss Messiah. All they had to do was to be aware of this prophecy, to count the weeks of years and be cognizant of current events in Israel as they unfolded.

The fact that the Jewish people allowed the fact that the "weeks of years" had come to completion at the time of Jesus' birth and ministry is one of the great tragic stories of the entire Bible, and one of Satan's greatest miracles. Once you understand the facts of this truth, your faith will dramatically increase.

This study will show us several things:
1. Why the Wise Men knew the time for Messiah was close.
2. Why Israel missed Messiah.
3. How this applies to us today.
Let us now consider the meaning of the prophecy.

The Duration of the Prophecy

This prophecy stipulated that Messiah would be presented to Israel and would be killed after 69 weeks of years had elapsed from its starting point. When we multiply 69 times 7, we understand that the time involved here equals 483 Jewish years. Since the Jewish calendar contains 360 days, we can easily see that this prophecy is precisely 173,880 days long. Therefore, we can expect that exactly 173,880 days after the prophecy started, Messiah would present Himself to Israel as their long-awaited Messiah-King.

The Starting Point of the Prophecy (Daniel 9:25a)


In this verse , God said the prophecy would begin "from the going forth (the issuing) of the commandment to restore and rebuild Jerusalem..." At the time God gave Daniel this prophecy, Israel was a slave nation under Babylon; however, God had foretold that this slavery would last only 70 years. This 70-year period was rapidly coming to a close; indeed, non-Jewish history records that the Medo-Persian emperor Artaxerxes issued just such a decree on March 14, 445 B.C. Therefore, precisely 173,880 days from this day should bring us to some significant event in Jesus' life which presented Him to the nation Israel as their Messiah.

The Mathematics Of The Prophecy


A. The First Seven Weeks (49 Jewish Years)

If you study the book of Nehemiah, you will find the account of the Jewish pilgrimage to rebuild Jerusalem following King Artaxerxes' decree. The prophet Nehemiah assumed charge of this rebuilding effort, which was carried out in such extreme hardship and danger that the builders carried swords with them as they were building the walls. Thus was fulfilled precisely the prophecy in verse 25b,"...it shall be built again with city square and moat, but in troublous times."

This effort began in 445 B.C. and culminated in 396 B.C., exactly 49 years, just as foretold.

B. The Second Period (62 Weeks of Years, 434 years)

Daniel 9:26 foretells that the "anointed One" would come after this period and would then be killed. This wording is understood by most conservative scholars to refer to Jesus Christ, not at His birth, but at His presentation as the Messiah-Prince. (John MacArthur, Jr., "The Future of Israel", Word of Grace Communications, Panorama City, CA, 1985, p. 21)

"There were only two events in the life of Christ when He was officially set apart. One was His baptism and the other was His triumphal entry into Jerusalem." (Ibid.)

This latter event has become known as Palm Sunday. When did Palm Sunday occur? "The Messiah (Jesus) came to Jerusalem on Passover in the year A.D. 32, which was April 6." (Ibid.)

C. The two periods combined (7 + 62 = 69 Weeks of Years, or 483 Jewish years, or 173,880 days).

* When we count from March 14, 445 B.C. to April 6, 32 A.D., we have 477 years, 24 days. However, we must deduct one year because only one year lapses between 1 B.C. and 1 A.D. This gives us 476 years, 24 days or 173,764 days.

* Then, we must add 119 days to account for the 119 leap years during these 476 years (476 divided by 4). Now, we have 173,883 days.

* However, there is a slight inaccuracy in the Julian calendar when compared to the solar year. The Royal Observatory in London calculates that a Julian year is 1/128th of a day longer than the Jewish solar year. When we multiply 476 years times 1/128, we get three days. Subtracting three from our figure above, we arrive at the 173,880 days. (5)

Therefore, there are exactly 69 Weeks of Years (173,880 days) between the decree of King Artaxerxes in 445 B.C to rebuild Jerusalem to Palm Sunday, April 6, 32 A.D.!! God foretold to the day when Messiah would present Himself to Israel as their Messiah-King. We see this event recorded in Matthew 21:1-11.

But, immediately after Jesus' triumphal ride into Jerusalem on the donkey, when He was proclaimed the Messiah-King of Israel by the excited throng, Jesus is seen lamenting over Jerusalem and her inhabitants. Let us review this account in Luke 19.

Christ rides into Jerusalem in triumph - Luke 19:28-44

"And when he had thus spoken, he went before, ascending up to Jerusalem. And it came to pass, when he was come nigh to Bethphage and Bethany, at the mount called the mount of Olives, he sent two of his disciples, Saying, 'Go ye into the village over against you; in the which at your entering ye shall find a colt tied, whereon yet never man sat: loose him, and bring him hither. And if any man ask you, Why do ye loose him? thus shall ye say unto him, Because the Lord hath need of him.' And they that were sent went their way, and found even as he had said unto them. And as they were loosing the colt, the owners thereof said unto them, Why loose ye the colt? And they said, The Lord hath need of him. And they brought him to Jesus: and they cast their garments upon the colt, and they set Jesus thereon. And as he went, they spread their clothes in the way. And when he was come nigh, even now at the descent of the mount of Olives, the whole multitude of the disciples began to rejoice and praise God with a loud voice for all the mighty works that they had seen; Saying, Blessed be the King that cometh in the name of the Lord: peace in heaven, and glory in the highest. And some of the Pharisees from among the multitude said unto him, Master, rebuke thy disciples. And he answered and said unto them, I tell you that, if these should hold their peace, the stones would immediately cry out'. " (Luke 19:28-40)

On this day, Jesus fulfilled Daniel 9:24-26a to the letter, as He was proclaimed the King of Israel, on day 173,880 after the Medo-Persian emperor Artaxerxes had issued his decree that Jerusalem should be restored and rebuilt. What a wondrous day for Israel and for all the Jews who had been waiting for centuries for their promised Messiah!

All of Israel and all of Israel's leaders should have been expecting Jesus to be proclaimed as Israel's King on that very day. Official Israel should have turned out in force to greet their Messiah and they should have told the people months in advance that this mathematics of this prophecy was about to be fulfilled. Virtually all Israel should have been lining the road on which Jesus was riding, proclaiming that Jesus the Christ was the Messiah. Not only had Jesus fulfilled every single Messianic prophecy relating to His first advent, He was now going to be declared King on the exact day on which this incredible mathematical formula was scheduled to end.

At the end of the procession, Jesus should have been met by Israel's religious leaders, who would officially proclaim that He was the prophesied Messiah.

However, as we all know, none of this happened. In spite of this incredibly precise Messianic prophecy, Jews missed this prophecy fulfillment, while Israel's leaders were in the advanced stage of planning Jesus' murder on the cross, an event just five days away.

Why did Israel's spiritual leaders miss this incredibly precise prophecy?

The answer is really quite simple. Several hundred years before Christ was born, Jewish leaders began to believe and prop-agate two erroneous teachings. First, they taught that the sacred Scriptures could not be taken literally because they were not totally inspired by God, and thus contained errors. Secondly, they taught that prophecies were not to be taken literally, but spiritually. Prophetic books such as Daniel were not even taught anymore because they contained so much prophecy. After several generations had come and gone, each believing this nonsense, spiritual leaders of Jesus' day were completely unaware of this prophecy. Thus, they were unaware of the "time of their visitation".

Listen to Jesus' rebuke and proclamation of the judgment which would destroy Israel in 70 A.D. and disperse her population for the next 1,900 years.

"And when he was come near, he beheld the city, and wept over it, 42 Saying, If thou hadst known, even thou, at least in this thy day, the things which belong unto thy peace! but now they are hid from thine eyes. 43 For the days shall come upon thee, that thine enemies shall cast a trench about thee, and compass thee round, and keep thee in on every side, 44 And shall lay thee even with the ground, and thy children within thee; and they shall not leave in thee one stone upon another; because thou knewest not the time of thy visitation." (Luke 19:41-44)

It is impossible to comprehend more serious words than this: you, oh Israel, are cursed because you "knewest not the time of thy visitation".

The significance of this study to today is both simple and obvious. The same wrong teaching concerning inspiration of the Bible and its inerrancy is occurring throughout this nation. Most people today are unaware that all 300+ prophecies concerning Jesus' Second Coming are coming to pass or have already occurred. These people are unaware that this has never occurred before. Too many pastors are so interested in increasing their pew-sitters so they can build a new church that they do not want to address the issue of prophecy being fulfilled in the daily news.

Therefore, many people will miss Jesus' Second Visitation, to their eternal peril.

Jesus said emphatically that we who are familiar with Second Coming prophecy would be able to know that He is close to arriving (Matthew 24:33). Jesus also told us what kind of attitude we Christians are to have as we see His Second Coming approaching; in Mark 13:37, He said, "What I say to you, I say to everybody: Give strict attention, be cautious, active, alert, and watch!" This means that each of us should be actively witnessing to our co-workers and friends, we should be very alert to world events as they are occurring, and we should watch our Scriptures daily so the Holy Spirit can keep us true to Jesus Christ as we enter this deceiving time.

We are so very close to the time when Jesus returns for His Church to take them away from the Great Tribulation. If you are not looking forward with anticipation to His Rapture maybe it is because you are not truly saved. Get your heart right with Him today. Are you spiritually ready? Is your family? Are you adequately protecting your loved ones? This is the reason for this ministry, to enable you to first understand the peril facing you, and then help you develop strategies to warn and protect your loved ones. Once you have been thoroughly trained, you can also use your knowledge as a means to open the door of discussion with an unsaved person. I have been able to use it many times, and have seen people come to Jesus Christ as a result. These perilous times are also a time when we can reach many souls for Jesus Christ, making an eternal difference.

If you have accepted Jesus Christ as your personal Savior, but have been very lukewarm in your spiritual walk with Him, you need to immediately ask Him for forgiveness and for renewal. He will instantly forgive you, and fill your heart with the joy of the Holy Spirit. Then, you need to begin a daily walk of prayer and personal Bible Study.

If you have never accepted Jesus Christ as Savior, but have come to realize His reality and the approaching End of the Age, and want to accept His FREE Gift of Eternal Life, you can also do so now, in the privacy of your home. Once you accept Him as Savior, you are spiritually Born Again, and are as assured of Heaven as if you were already there. Then, you can rest assured that the Kingdom of Antichrist will not touch you spiritually.

If you would like to become Born Again, turn to our Salvation Page now.

We hope you have been blessed by this ministry, which seeks to educate and warn people, so that they can see the coming New World Order -- Kingdom of Antichrist -- in their daily news.

Finally, we would love to hear from you.

You can contact us by mail or email.

God bless you.

Copyright © 2008 Cutting Edge Ministries. All rights reserved. This password protected article and its contents are protected under the copyright laws of the United States and other countries. This article is provided by subscription only for use by the subscriber and all other rights are expressly reserved by the copyright owner. Copying and pasting this article, in whole or in part, into e-mails or as attachments to e-mails or posting it on the Internet is strictly prohibited and may subject the offender to civil liability and severe criminal penalties (Title 17, United States Code, section 501 and 506).

Copying and distributing this article in violation of the above notice is also a violation of God's moral law.


Become a Headline news subscriber HERE.

Subscribe to our free email updates and messages from our editor by entering your email address below :

Return to: