Title: Fundamental Pastor installs a Pentagram on the floor of his church school.
Resources to aid your Understanding
Subtitle: Pastors simply do not know the "wiles of the Devil" anymore. Such pastors are spiritually 'blind'.
"Let them alone and disregard them; they are blind guides and teachers. And if a blind man leads a blind man, both will fall into a ditch." (Matthew 15:14)
The New World Order is coming! Are you ready? Once you understand what this New World Order really is, and how it is being gradually implemented, you will be able to see it progressing in your daily news!!
Learn how to protect yourself, your loved ones!
Stand by for insights so startling you will never look at the news the same way again.
YOU ARE NOW ON
THE CUTTING EDGE
Copyright © 2012 Cutting Edge Ministries. All rights reserved. See full copyright notice below.
What should an informed Christian do when he sees his pastor put a pentagram surrounded by a circle on the floor of a church school? A certain pastor did such a thing and a concerned and informed Cutting Edge subscriber contacted me.
The picture to the left is the pentagram on the floor of the Bible school.
This subscriber granted permission for me to reproduce my very long answer to him.
I have reviewed your pictures of the Pentagram surrounded / enclosed by connecting lines. You ask what you should tell the parents of the children who are attending this church school? You tell them plainly and bluntly that a Pentagram is a symbol created in ancient witchcraft for the use of conjuring spirits of demons during a prescribed ritual!!
Further, when a witch prepares to perform a ritual which calls for the Pentagram symbol to be used, that witch will draw the Pentagram on the ground or the floor on which the ritual will be performed and then will draw a circle around it. Later, as the witch is precisely performing the ritual, both he/she and the coven members, will stand inside the Pentagram for protection against the demon being conjured; should anyone step outside the circle, the demon can kill them.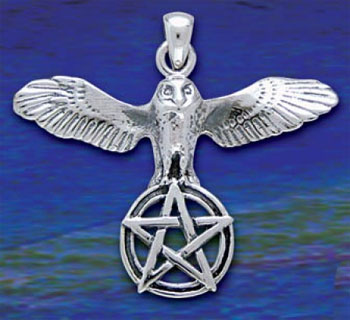 Note the picture I have included of a Moloch Pentagram jewelry where the pentagram is surrounded by a circle. This particular piece of jewelry is from the Black Magick secret society known as the Bohemian Grove, a distinctly Republican society (Read NEWS2100, included).

When a witch wants to perform a "good" ritual, he/she will draw a pentagram with one point up and two down; this is called the "White Magic Pentagram". But, when the witch wants to perform an "evil" ritual which is intended to deliver great harm, he/she will draw a pentagram with two points up and one down, a Black Magick symbol known as the "Goatshead of Mendes" Pentagram. (NOTE: God recognizes no difference between "Good" and "Evil" witchcraft as both serve Satan.)

Therefore, a Pentagram is what the Bible calls a "cursed object" or "an accursed thing", since it was created originally to serve Satan. Listen to what the Bible warns:

Deuteronomy 7:26 – "Neither shalt thou bring an abomination into thine house, lest thou be a cursed thing like it: but thou shalt utterly detest it, and thou shalt utterly abhor it; for it is a cursed thing."
This pastor brought an "accursed object" into the church, thereby making the church and everyone in it "a cursed thing like it".

Deuteronomy 27:15 – "Cursed be the man that maketh any graven or molten image, an abomination unto the LORD, the work of the hands of the craftsman."
Joshua 6:18 – "And ye, in any wise keep yourselves from the accursed thing, lest ye make yourselves accursed, when ye take of the accursed thing, and make the camp of Israel a curse, and trouble it."
All members of your church and all people involved in your school risk making themselves accursed because they are tolerating the existence of this 'accursed thing'.
Joshua 7:1 – "But the children of Israel committed a trespass in the accursed thing: for Achan, the son of Carmi, the son of Zabdi, the son of Zerah, of the tribe of Judah, took of the accursed thing: and the anger of the LORD was kindled against the children of Israel."
The anger of the Lord will be kindled against this church, its pastor and any member who continues attending there or sending their children to school there.

Joshua 7:11 – "Israel hath sinned, and they have also transgressed my covenant which I commanded them: for they have even taken of the accursed thing, and have also stolen, and dissembled also, and they have put it even among their own stuff."
Isn't this what your pastor has done? He has created an accursed thing and has put it "among your own stuff"!
Joshua 7:13 – "Up, sanctify the people, and say, Sanctify yourselves against to morrow: for thus saith the LORD God of Israel, There is an accursed thing in the midst of thee, O Israel: thou canst not stand before thine enemies, until ye take away the accursed thing from among you."
Joshua 7:15 – "And it shall be, that he that is taken with the accursed thing shall be burnt with fire, he and all that he hath: because he hath transgressed the covenant of the LORD, and because he hath wrought folly in Israel."
Joshua 22:20 – "Did not Achan the son of Zerah commit a trespass in the accursed thing, and wrath fell on all the congregation of Israel? and that man perished not alone in his iniquity."
1 Chronicles 2:7 – "And the sons of Carmi; Achar, the troubler of Israel, who transgressed in the thing accursed."
I find it amazing that, when God gets upset about worshipping and serving Satan, He goes on and on and on, verse after verse, ranting about it. Your pastor has set on your floor an accursed object, used even today in witchcraft rituals. Any Pentagram is an accursed object because it was created originally to be used in Satanic rituals and is continuously used in this modern era.
At this point, your pastor is likely to counter with several spurious objections:
1) "This pentagram is just a typical five-pointed star. There is no evidence in the Bible that Satanists ever used a star." He is wrong: Amos 5:26 – "But ye have borne the tabernacle of your Moloch and Chiun your images, the star of your god, which ye made to yourselves."
What was this "star of Moloch"? It is the five-pointed star on the floor of your church. You can see this five-pointed image to Molech - http://molech.weebly.com/molech-pics.html (Picture shown above)
Notice this five-pointed star is surrounded by a circle. Molech is a very nasty pagan god, demanding child sacrifice. Children and babies would be laid upon Molech's outstretched iron hands which had been heated red hot by a fire within the idol. Such children would die almost instantly.
2) "This pentagram is just the star from our national flag." True. But a little-known fact is that our national flag was created by Illuminized Freemasons who were creating a nation who would gradually lead the nations of the world into the New World Order, also known as the Kingdom of the Masonic Christ. The Bible will call him Antichrist. We have produced two very excellent DVD's on this subject: a) "The New Atlantis" and b) "Riddles In Stone: The Secret Architecture of Washington, D.C."
3) "This is just like the star of Texas." The state of Texas is one of the most Masonic influenced states in the entire Union.
4) "This is just a harmless and powerless symbol."
In the 24 years I have been studying Satanism and Witchcraft, I am amazed that Satan is truly the "Prince of the Power of the Air" and the "Lord of this World", just as the Apostle Paul stated. Satan and his human minions can exercise great power, unless the spirit of God reaches out to specifically stop him. Therefore, we need to seriously consider what Satanists are taught about symbols. Satanists believe that, when an occult symbol is created, it begins to throb with power straight from the Abyss. It does not matter on what medium the Satanic symbol is created: paper, the ground, the floor, a painting, a sculpture. This occult belief is why our Illuminized Masonic Founding Fathers gave us a Government Center full – chock full – of Satanic images. (See the DVD, "Riddles In Stone: The Secret Architecture of Washington, D.C." . Our Masonic Founding Fathers believed that, once occult images were created on the ground, they would exude Luciferian power every single second of every single day. Thus, they hoped America would gradually be moved away from genuine Biblical Christianity and into the New World Order of Antichrist.
Given the downward spiritual spiral of America since the Civil War, the occult belief that Satanic symbols vibrate with spiritual energy 24 hours a day, seven days a week, may be entirely correct.
Your pastor may be one of those who has never learned to honor the things sacred to God and hate those things God hates and differentiate between the two. Priests in the Old Testament possessed this spiritual problem.
"Her priests have done violence to My law and have profaned My holy things. They have made no distinction between the sacred and the secular, neither have they taught people the difference between the unclean and the clean and have hid their eyes from My Sabbaths, and I am profaned among them." (Ezekiel 22:26)
I would force the issue toward the kind of pastor which would put such a nefarious symbol on the tile floor of his church school. Is he a Mason? Is he really saved?
This is the kind of issue I would leave a church over. As you examine God's ranting against keeping an "accursed thing" in the camp of Israel, He said that the accursed object was to be destroyed by burning. If God takes the destruction of an accursed object seriously, we certainly should take it very seriously.

This incident is not the first time we have uncovered occult infestation into Christian Churches. Please read:

"Evangelical Church On The Outside - Breathtaking Masonic, Satanic Symbols Adorn The Inside" -- NEWS2174

"Resurrection Eggs" -- Another Sign of Apostasy Within the Christian Church" -- NEWS1162

"Satanic Goatshead of Mendes Pentagram Used In Baptist Church Bulletin! Symbol of Satan In A Church Bulletin!" NEWSW1601


The rank apostasy of pastors like these truly point to the reality that we are truly living at the End of the Age.

Are you spiritually ready? Is your family? Are you adequately protecting your loved ones? This is the reason for this ministry, to enable you to first understand the peril facing you, and then help you develop strategies to warn and protect your loved ones. Once you have been thoroughly trained, you can also use your knowledge as a means to open the door of discussion with an unsaved person. I have been able to use it many times, and have seen people come to Jesus Christ as a result. These perilous times are also a time when we can reach many souls for Jesus Christ, making an eternal difference.

If you have accepted Jesus Christ as your personal Savior, but have been very lukewarm in your spiritual walk with Him, you need to immediately ask Him for forgiveness and for renewal. He will instantly forgive you, and fill your heart with the joy of the Holy Spirit. Then, you need to begin a daily walk of prayer and personal Bible Study.

If you have never accepted Jesus Christ as Savior, but have come to realize His reality and the approaching End of the Age, and want to accept His FREE Gift of Eternal Life, you can also do so now, in the privacy of your home. Once you accept Him as Savior, you are spiritually Born Again, and are as assured of Heaven as if you were already there. Then, you can rest assured that the Kingdom of Antichrist will not touch you spiritually.

If you would like to become Born Again, turn to our Salvation Page now.

We hope you have been blessed by this ministry, which seeks to educate and warn people, so that they can see the coming New World Order -- Kingdom of Antichrist -- in their daily news.

Finally, we would love to hear from you.

You can contact us by mail or email.

God bless you.

Copyright © 2012 Cutting Edge Ministries. All rights reserved. This password protected article and its contents are protected under the copyright laws of the United States and other countries. This article is provided by subscription only for use by the subscriber and all other rights are expressly reserved by the copyright owner. Copying and pasting this article, in whole or in part, into e-mails or as attachments to e-mails or posting it on the Internet is strictly prohibited and may subject the offender to civil liability and severe criminal penalties (Title 17, United States Code, section 501 and 506).

Copying and distributing this article in violation of the above notice is also a violation of God's moral law.


Become a Headline news subscriber HERE.

Subscribe to our free email updates and messages from our editor by entering your email address below :

Return to: