Title: Is The Planned Moment Arriving For The Pope To Preside Over The Building of A Combination Worship Center For All Monotheistic Faiths In Jerusalem?
Resources to aid your Understanding
"Blockbuster Catholic DVD Sales Offer: Which Queen of Heaven, White Sepulcher Christianity, & Church On Haunted Hill Combination Sale:

"Catholicism: White Sepulcher Christianity" DVD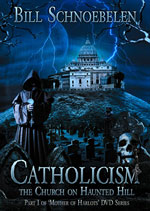 "Catholicism: The Church On Haunted Hill" - DVD by Bill Schnoebelen - Part 1 of 'Mother of Harlots' Series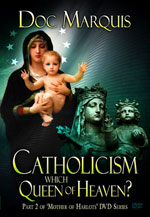 "Catholicism: Which Queen of Heaven Are They Worshipping?"
DVD by Doc Marquis - 2-DVD Set, 4 Hours, DVD #2 in Mother of Harlots Series
Subtitle: Israel has signed an historic agreement with the Vatican, giving the Pope a seat at King David's Tomb. Is Rome planning to soon move the throne of the Papacy to Jerusalem? Moving the Papal throne from Rome to Jerusalem would carry enormous End Times religious global implications.
The New World Order is coming! Are you ready? Once you understand what this New World Order really is, and how it is being gradually implemented, you will be able to see it progressing in your daily news!!
Learn how to protect yourself, your loved ones!

Stand by for insights so startling you will never look at the news the same way again.

YOU ARE NOW ON

THE CUTTING EDGE

Copyright © 2013 Cutting Edge Ministries. All rights reserved. See full copyright notice below.

Earlier this month, Israeli authorities under the leadership of the Moderate Prime Minister Netanyahu, reached agreement with the Vatican to grant the Pope unprecedented authority in Israel, even taking a seat at King David's Tomb! What is going on here? Is Rome planning to move its throne to Jerusalem? Since the Illuminati decided in early 1991, that the Pope, whomever he was at the time, was going to be the top religious leader of the New World Order Religion (NEWS1052), we knew that the Pope would ultimately move to Jerusalem.

Is that time drawing nigh? If the Pope moves to Jerusalem, will he take his "Throne of Peter" with him, ruling his 1.2 billion Catholic faithful from God's Eternal City?

Let us review the news first.

NEWS BRIEF: "Exclusive: A Seat for the Pope at King David's Tomb - Israel seems to have sold Jerusalem to the Vatican", Editorial in Israel National News, February 01, 2013

"An historic agreement has been drafted between Israel and the Vatican. The Israeli authorities have granted the Pope an official seat in the room where the Last Supper is believed to have taken place, on Mount Zion in Jerusalem, and where David and Solomon, Jewish kings of Judea, are considered by some researchers, to also be buried. It is the culmination of a long campaign by the Catholic Church to regain religious stewardship over the place where Jesus is supposed to have broken bread and drunk wine with his disciples on the eve of his crucifixion. This is an enormous issue pushed through without any public debate."

Given the historic hatred the Vatican has expressed toward Jews and their nation, Israel, why would the Netanyahu government grant this kind of authority to the Roman Catholic Pontiff? Just 70 years ago, Pope Pius XII was so enamored with Adolf Hitler that he turned a blind eye toward all reports that Nazis were systematically murdering Jews in what we now call the "Nazi Holocaust". As Nazi Germany was fatally falling beneath the Axis war machine in early 1945, many thousands of Nazi party officials desperately tried to get out of the country. Under Pius XII, the Vatican hastily set up a route of escape using Catholic churches and monasteries, in a route later dubbed the "Vatican's Rat Lines".

Believe me, the attitude of the Catholic Church toward Israel is still white-hot hostile.

Why, then, is Israel granting the Vatican such control over religious places sacred to the Jew? The answer is simple: Prime Minister Netanyahu is simply following the plan of the Illuminati. What is that plan? Please let me explain.

In early 1990, I was being interviewed on a Boston Christian radio station about the coming New World Order. At the conclusion of the hour, I received a phone call at the station, from a man who said he was now a Born Again Christian, but that he had come out of the occult. This gentleman, whom we will call John, said that he was thrilled to hear a Christian leader that had more than a rudimentary idea as to what was going on. Furthermore, John said that he would like to show me much more material I should read to deepen my understanding of the occultic New World Order.

John had been a member of the Worldwide Church of God or Children of God, plus the House of Theosophy. I decided to meet him to ascertain whether he was real or fake, and whether he could be trusted. After our first meeting, John took me to the largest New Age bookstore I had ever seen, in Cambridge, Massachusetts, not far from the Harvard University campus and COOP.

John showed me many books that he recommended, and the sequence in which I should read them. I bought the first book then, and have been reading ever since. God used these occult books to really broaden my understanding of the New World Order Plan. I could not believe the difference it made when I went to the actual source, the books themselves, rather than relying upon excerpts of these books from Christian authors. I discovered, also, that while Christian authors were correct in what they were saying, there was so much more that they were not saying! My horizons of understanding were dramatically widened.

In early August, 1991, John called to tell me that the New England Director of the House of Theosophy, Bill Lambert, was holding a seminar at the Boston headquarters. The name of this seminar, "POSSIBLE AND PROBABLE EVENTS IN THE FUTURE" really piqued my interest!! John said that Bill Lambert was one of the major players in the New World Order Planning, because the House of Theosophy has always been such a major player since Madame Blavatsky had founded it in 1875.

John said that Lambert still considered him a member, so he could get in, with me as his guest. John asked me to keep my identity as a Christian a secret, and just listen and take notes. The revelations derived from this meeting were astounding, not so much for their actual content, but because their plans fulfilled Bible prophecy, and much of what he revealed showed that the Time of the End was truly upon us.

While the meeting lasted for over 2 hours, the few moments Bill Lambert spent talking about the Illuminati designating the Pope -- whomever he was at the time -- as the top religious leader of the new global New World Order Religion, interested me the most. What was that plan for the Pope/

"Sometime between 1985-2010, the following scenario will unfold, depending only on the right set of circumstances: Moslem and Jewish areas in Jerusalem will be combined with Christian to create the New Jerusalem Covenant ... Thus, when the three religious conferences and the three political/business conferences are simultaneously held, a grand merger of all forces will occur world-wide that will move the world in any desired direction."

(NOTE: this three conferences were held in New York City in August-September, 2000 - read full details in NEWS1395, NEWS1402, NEWS1403. You will discover that these three planned conferences did provide a synergistic power which gave birth to the baby New World Order on September 10, 2000. One month, one day later, the attacks of 9/11/2001 occurred. Read startling significance of this time period to the occultist in NEWS1789).

Now, back to the revelations from Bill Lambert.

"Then, and only then, will it be possible to build a combination Temple/Church/Mosque in Jerusalem."

" Bill Lambert refused to say that this combination church building would be built on the Temple Mount, as I directly questioned him. But, note that the specific part of the New World Order Plan, called the New Jerusalem Covenant Project, envisions the establishment of a combination religious Jerusalem -- Islam, Christianity, Judaism. Bill further stated that 'any purely political settlement in the Middle East would not, by itself, bring peace. In other words, a purely political settlement would leave the religious nature of the problem unsolved. Any permanent solution to the Middle East conflict would also have to see the religious portion of the problem solved. Once this religious problem is solved, then the power and influence of the Orthodox Jews in Israel would permanently decline."

What kind of religious action could the Illuminati possibly be planning that would break up the "Middle East logjam"? Lambert explained a few minutes later.

"At the proper moment in history, the Pope will visit the combined Jewish/Christian/Moslem sector of Jerusalem to announce that all religions should be combined into one. This action will then finally break the Middle East logjam."

The Global Elite believes that the financial/religious logjam which has long bedeviled the Middle East will only be broken once the Pope declares that all religions are one, and he is their leader. When will the Pope announce that all religions are one? When he dedicates this combined "Temple/Church/Mosque in Jerusalem".

These negotiations between Israel and the Vatican are nothing more, nor less, than the outworking of this plan I heard on August 18, 1991, from the lips of the New England Director of the House of Theosophy, Bill Lambert. Israel is only ceding the area in Jerusalem where this combined worship center will be built. But, this event, when it does occur, will complete the Ecumenical process started earnestly by Pope John Paul II in 1980 and continued by Benedict XVI.

A combined world religion is one of the major signs of the End of the Age for which all Bible-believing Christians are awaiting.

And, now we see that the Illuminati Plan to create such a global religion is now underway. Contracts for the land have been signed by Israel and the Vatican. It is now just a prophetic moment in time for this event to occur. God's prophecies are being fulfilled constantly. Every genuine believer should be very encouraged.

One final matter. News headlines are screaming that the Vatican is going to move its throne to Jerusalem. While that is possible, I am not sure this course of action is what the Elite has in mind. You see, even though this next Pope will be the False Prophet, Bill Lambert refused to state that the Pope will actually make his Roman Catholic headquarters in this new combination worship center in Jerusalem. In fact, Lambert never actually said that the Pope will make his headquarters in this new Ecumenical worship center.

It seems prudent to me for the Pope to continue governing the Church of Rome from the Vatican. When he has to attend to matters concerning the global ecumenical church, he may hold audience at this new Monotheistic worship center in Jerusalem, or the representatives of other religions may call upon him in the Vatican.

But, one fact is now clear: the plan for a global religion with the Pope as its head is now entering final stages. Israel offers the land, the Vatican agrees and both sign the required paperwork. Soon, we shall hear an announcement that a new combined Jewish/Christian/Moslem worship center in Jerusalem is going to be built.

The End of the Age clock will almost be at Midnight.

Are you spiritually ready? Is your family? Are you adequately protecting your loved ones? This is the reason for this ministry, to enable you to first understand the peril facing you, and then help you develop strategies to warn and protect your loved ones. Once you have been thoroughly trained, you can also use your knowledge as a means to open the door of discussion with an unsaved person. I have been able to use it many times, and have seen people come to Jesus Christ as a result. These perilous times are also a time when we can reach many souls for Jesus Christ, making an eternal difference.

If you have accepted Jesus Christ as your personal Savior, but have been very lukewarm in your spiritual walk with Him, you need to immediately ask Him for forgiveness and for renewal. He will instantly forgive you, and fill your heart with the joy of the Holy Spirit. Then, you need to begin a daily walk of prayer and personal Bible Study.

If you have never accepted Jesus Christ as Savior, but have come to realize His reality and the approaching End of the Age, and want to accept His FREE Gift of Eternal Life, you can also do so now, in the privacy of your home. Once you accept Him as Savior, you are spiritually Born Again, and are as assured of Heaven as if you were already there. Then, you can rest assured that the Kingdom of Antichrist will not touch you spiritually.

If you would like to become Born Again, turn to our Salvation Page now.

We hope you have been blessed by this ministry, which seeks to educate and warn people, so that they can see the coming New World Order -- Kingdom of Antichrist -- in their daily news.

Finally, we would love to hear from you.

You can contact us by mail or email.

God bless you.

Copyright © 2013 Cutting Edge Ministries. All rights reserved. This password protected article and its contents are protected under the copyright laws of the United States and other countries. This article is provided by subscription only for use by the subscriber and all other rights are expressly reserved by the copyright owner. Copying and pasting this article, in whole or in part, into e-mails or as attachments to e-mails or posting it on the Internet is strictly prohibited and may subject the offender to civil liability and severe criminal penalties (Title 17, United States Code, section 501 and 506).

Copying and distributing this article in violation of the above notice is also a violation of God's moral law.


Become a Headline news subscriber HERE.

Subscribe to our free email updates and messages from our editor by entering your email address below :

Return to: