Most Popular DVD In The Bookstore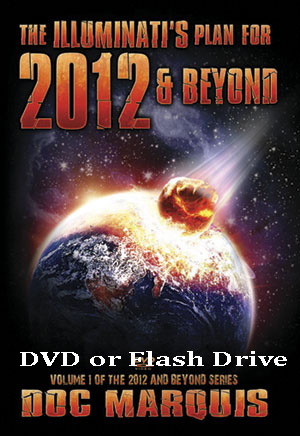 New Doc Marquis DVD - His Best Ever!
"The Illuminati's Plan For 2012 And Beyond"
2-Disc Set - Volume 1
Introductory Offer - Regularly $39.99, On Sale For $29.99
Now that you have read and heard the noise and chatter about the year 2012, you will be pleased to know the truth of the Illuminati Plan for 2012, from a man who knows the Plan thoroughly, former Illuminati Luciferian, Doc Marquis!
After watching this 'One of a Kind' DVD set, you will no longer wonder what will happen after December 21, 2012!
Is the end of the world near? Are we doomed to destruction? Do we have any hope for tomorrow beyond the year 2012? In this new, exciting and riveting 2 part DVD set renowned author and former Illuminati witch Doc Marquis takes up the daunting task of revealing the truth behind December 21, 2012.
At the end, through a unique series of question and answers along with comparisons of the Holy Scriptures Doc Marquis shall reveal the final truth behind the mystery of 2012.
2-DVD Set, nearly 4 hours - http://www.cuttingedge.org/detail.cfm?ID=2304
Will begin shipping on or before 4/15 - Cutting Edge is doing the editing, so we will be on time.
---
---------- This Week's Hot News -------
I. From January 31 through February 4, Secretary of State Clinton recalled virtually all ambassadors from around the world to Washington, D.C.!
Since this move is unprecedented, what on earth is so important that all ambassadors had to be recalled?
NEWS BRIEF: "Hillary Clinton calls historic meeting of ambassadors", Politico News, January 31, 2011
"Secretary of State Hillary Clinton has called top envoys from U.S. embassies to gather in Washington on Monday for a wide-ranging foreign policy meeting. Ambassadors from almost all 260 U.S. embassies, consulates and other posts in more than 180 countries are expected to convene at the State Department for what's being billed as the first meeting of its kind."
As is always the case, the government provides the official cover story, but in many instances, an unofficial reason lurks just beneath the surface. What is the official story as to why all these ambassadors were called back to Washington for an "historic meeting"?
"Officials say the meeting will include discussion of foreign policy priorities for 2011 ... as well as an assessment of the fallout from the release of secret diplomatic cables by WikiLeaks. Clinton will meet individually with diplomats working in unstable countries."
In my opinion, the historic instability in "unstable countries" is the real reason behind this unprecedented recall of ambassadors.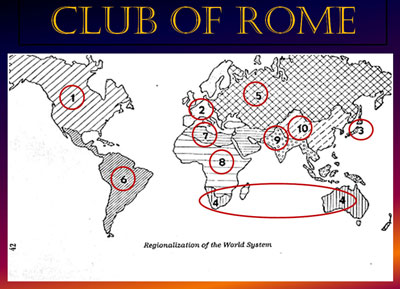 As we have reported on this site every single week since January, the Illuminati is forming Supernation #7 (Northern Africa plus the Middle East) and Supernation #8 (Tropical Africa).
In the region of the world which comprises Supernation #7, startling changes are already accomplished, and more startling changes are underway.
Consider:
10 Pro-Western dictator of Tunisia has been forced out.
2) Pro-Western government of Lebanon has been toppled and is now controlled by the radical Islamic terrorist group, Hezbollah.
3) Pro-Western government of Egypt is teetering. The 29-year dictator, Hosni Mubarak, is under extreme pressure to abdicate his office. News reports have continuously surface the past couple of weeks, saying that the United States is quietly arranging a gracious exit for President Mubarak.
4) Pro-Western government of Jordan is coming under increasing pressure. Just a couple of days ago, the leading protest group warned the King that he would be toppled unless he instituted real and meaningful "reforms".
This word, "reforms" has become the global catchword meaning to change the way the Illuminati Plan wants you to change. What is this Plan? It is the reorganization of all the world's nations into exactly 10 supernations, a fulfillment of Daniel 7:7-8 and Revelation 17:12-18.
5) Yemen is under increasing pressure.
6) The Sudan has split into two parts, North and South through an election. This split weakens the original government of the North and makes it more likely that the Sudan will meekly allow herself to be melded into the coming regional government, Supernation #7.
7) Bahrain is now coming under pressure from dissidents.
What is the strategy the Global Elite is following to create these supernations #7 and #8? After all, there are strongman dictators in some of the countries within these supernations who will resist surrendering their national sovereignty as they are melded into these regional governments.
The Illuminati is following a strategy known as "The Pentagon's New Map"!
Listen to this understanding:
The Pentagon's New Map is a cutting-edge approach to globalization that combines security, economic, political and cultural factors to do no less than predict and explain the nature of war and peace in the twenty-first century ... Barnett's book crystallizes recent American military history and strategy, sets the parameters for where our forces will likely be headed in the future, outlines the unique role that America can and will play in establishing international stability ... For anyone seeking to understand the Iraqs, Afghanistans, and Liberias of the present and future, the intimate new links between foreign policy and national security; the operational realities of the world as it exists today, 'The Pentagon's New Map' is a template, a Rosetta Stone ... There is no book more essential for 2004 and beyond." ("The Pentagon's New Map", by Thomas P.M. Barnett, flyleaf, story in Esquire Magazine, March 2003, p. 174-79, 227-9).
The Pentagon has divided the world into two segments. Since the attacks of 9/11, Wars, Rumors of Wars, Earthquakes in divers places, volcanoes, and pestilence has ravaged countries in the 'Non-Integrating Gap'!
According to Illuminist thinking, there are only two types of nations in the world today:
1. Nations who are already functioning in the new Global System or who are clearly and firmly going in that direction -- the "Functioning Core"
2. Nations who are not now functioning in the Global System and are not likely to do so in the foreseeable future, unless they are kicked into it by U.S. or European troops, or by the threat of invasion. These nations are called the "Non-Integrating Gap".
The strategy being followed by the United States and the European Union is to "shrink the gap".
Therefore, if any country deemed to be part of the "Non-Integrating Gap" resists the drive to meld into a regional government. Naval Commander Thomas P.M. Barnett lists several reasons a nation would be targeted for "Regime Change" so they could be melded into this regional government.
1. Repressive Dictatorship run by one man
2. Repressive Religions that hold on to "Tradition" with all means, thereby resisting the new paradigm
3. Abject poverty is mentioned as a reason a country is not "connected" to the Global System, but poverty is usually the result of a repressive dictatorship that either siphons huge resources out of the economy or is so repressive he won't allow the individual freedoms necessary to produce wealth in the economy.
4. Civil Wars also keep a country from being able to join the "Functioning Core". Thus, troops from the European Union are already in the Congo to put down that Civil War and U.S. troops just might be headed to Liberia.
The United States and Europe, therefore, have decided "to "take real ownership of strategic security" when it invades or threatens to invade, individual countries!". Listen to his arrogant remark:
"Our next war in the Gulf will mark a historic tipping point -- the moment when Washington takes real ownership of strategic security in the age of globalization." [P. 174]
America and Europe have already "taken real ownership of strategic security" in Iraq and Afghanistan. After these countries have been sufficiently destroyed and their original dictatorial governments replaced by more compliant ones, the time has come to draw down our resources in those countries and apply them to the rest of the "Northern Africa and the Middle East".
I believe that the situation had developed in this region so far that Secretary of State Hillary Clinton wanted to ensure that each ambassador in each country in the world was "on the same page" with the plan now unfolding -- a plan developing according to "The Pentagon's New Map" strategy!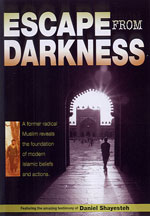 DVD
II. As the struggle against Egyptian President Mubarak matures, the radical Islamic Jihadist group, the Muslim Brotherhood has reactivated its militant arm!
For right now, the Brotherhood has pledged its support for the Illuminati's man, ElBaradi, but they are preparing for war in case it is needed.
NEWS BRIEF: "Muslim Brotherhood awakens terrorist wing', By Aaron Klein, World Net Daily, February 7, 2011
"An Egyptian Islamist terrorist organization founded by the Muslim Brotherhood is re-establishing itself amid the political upheaval in Cairo ... Both Egyptian and Israeli security officials said the group, Al-Gama'a al-Islamiyya, is being reconstituted at the direction of the Muslim Brotherhood. The officials affirmed Al-Gama'a al-Islamiyya serves as the de fact "military" wing of the Brotherhood, which originally founded Al-Gama'a al-Islamiyya."
How serious is this development?
"Al-Gama'a al-Islamiyya is suspected of involvement in the 1981 assassination of Egyptian president Anwar Sadat and it took credit for the 1995 attempted killing of Egyptian President Hosni Mubarak. It has carried out scores of deadly terrorist attacks, some targeting foreign tourists ... The Muslim Brotherhood seeks to spread Islam around the world. Hamas and al-Qaida are violent Brotherhood offshoots."
In recent years, as the Brotherhood came under increasingly effective attack from President Mubarak's forces, they publicly renounced militant violence as a means by which they hope to achieve their goals. However, this development cannot be viewed as anything other than a threat to the Illuminati Plan for regional government.
This next news article tells of the tentative support the Muslim Brotherhood is extending to the choice of the Global Elite, Mohammed ElBaradi.
NEWS BRIEF: "Muslim Brotherhood cagey on government shift: Backs ElBaradi now, but mum about future ", The Washington Times. February 6, 2011
"The Muslim Brotherhood is seeking to make the most of its position as Egypt's largest and best-organized opposition group after initially declining to participate in the pro-democracy protests that have swept the nation. The shadowy group of Arab intellectuals and professionals - which officially is banned by Egypt's secular government - has backed Nobel laureate Mohamed ElBaradei as an interim national leader in transition talks with the government."
"In a phone interview from Cairo with The Washington Times last week, Essam el-Erian, a senior Muslim Brotherhood leader, said there has been no shift in his group's support for Mr. ElBaradei. However, he declined to say whether it would support Mr. ElBaradei in a presidential election. 'When election time comes and we know the candidates and we can see the program for everyone, then we can decide', Mr. el-Erian said."
We can only wait to see how events unfold, but prophecy will be fulfilled, and this reorganization of the almost 200 nations in the world into only 10 supernations will be fulfilled. And, "The Pentagon's New Map" is the strategy by which this goal will be reached.
We cover this strategy very carefully in Doc Marquis' new DVD, "The Illuminati Is Fulfilling Bible Prophecy".
III. The Obama Administration is quickly establishing dictatorial powers through the Department of Homeland Security.
This developing dictatorship is already taking shape just as the "Protocols of the Learned Elders of Zion" foretold!
NEWS BRIEF: "Forget Super Bowl Pat Downs, Big Sis Wants Interrogations And Behavioral Tests", by Paul Joseph Watson,
InfoWars, February 7, 2011
"As part of Homeland Security's complete takeover of society, at future Super Bowls, TSA agents will get to interrogate you at special checkpoints which will use 'physiological' and 'behavioral' tests to determine if you're a terrorist or a criminal."
"Everyone entering the stadium must pass through a magnetometer, such as those used at airports, and get a pat down as part of the screening process. The majority of fans will enter through checkpoints on the east side of Cowboys Stadium," reported the Dallas Star-Telegram on Friday.
"Big Sis seized upon the spectacle of the Super Bowl to saturate the public with the inherently fascist public-private partnership which has given birth to the "See Something, Say Something" monstrosity, the citizen snitch program that has wiped away any doubt that America is now a rotting banana republic. But this only marks the beginning of the role DHS sees itself in assuming as part of its occupation of the country."
Read this list and cry for America. After over nine years of warning that the government planned to use its "War On Terror" to take away the freedoms of average patriotic Americans, these warnings are starting to materialize in our daily lives.
* " 'security events' which purports to monitor 'malintent' on behalf of an individual who passes through a checkpoint"
* " 'security' checkpoints will litter highways and roads, transport hubs, as well as public events and anywhere crowds gather."
* "rest stops to highways and roads in general"
"This in turn will be reinforced by an army of citizen tattle tales being trained to be the eyes of the state under the See Something, Say Something campaign, which was heavily promoted ahead of the Super Bowl."
America is quickly being turned into a land where ordinary, patriotic citizens can be arrested without charges, taken to a secret location and tried secretly. The Patriot Acts 1 and 2 already grant this authority, as well as the power to execute someone secretly!
What kind of dictatorship does the "Protocols of the Learned Elders of Zion" envision?
"These laws will withdraw one by one all the indulgences and liberties which have been permitted ... and our kingdom will be distinguished by a despotism of such magnificent proportions as to be at any moment and in every place in a position to wipe out any ... who oppose us by deed or word." [PROTOCOL 5 -- DESPOTISM AND MODERN PROGRESS]
Did you catch the kind of dictatorship [despotism] that the Illuminati has planned for every nation once they are brought under the rule of Antichrist?
"... a despotism of such magnificent proportions as to be at any moment and in every place in a position to wipe out any ... who oppose us by deed or word."
Further, once they have full control, they plan on "wiping us out".
Can you see how Homeland Security is gradually withdrawing "one by one" all the rights and liberties which we have always enjoyed? These unfolding events are downright insidious!
"The [people] are a flock of sheep, and we are their wolves. And you know what happens when the wolves get hold of the flock? .....

5. There is another reason also why they will close their eyes: for we shall keep promising them to give back all the liberties we have taken away as soon as we have quelled the enemies of peace and tamed all parties .....

6. It is not worthwhile to say anything about how long a time they will be kept waiting for this return of their liberties ....." [PROTOCOL 11 -- THE TOTALITARIAN STATE]
As prophecy is being fulfilled in events overseas, here in America the stage is being set for implementation of the kind of Absolute Dictatorship which would allow the government to force everyone to take the "Mark of the Beast" upon the pain of beheading!
Are you ready to face Jesus in eternity? Are your loved ones, your friends and co-workers?
Well did Jesus warn: "I must work the works of him that sent me, while it is day: the night cometh, when no man can work." (John 9:4)
Are you working to spread the Gospel Seed and tio save souls before the foretold spiritual night falls?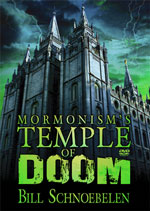 DVD
IV. The whitewashing of Mormonism and its "wacky" beliefs has begun as the Campaign of 2012 begins in earnest!
Now that two (2) Mormons are in the presidential race, the propaganda campaign of which we have been warning since Glenn Beck's "Destiny" rally is beginning.
NEWS BRIEF: "High-profile Mormons in media, politics advance understanding of church: "reporters' questions made it clear that they didn't know much about Romney's faith", The Washington Post, February 7, 2011
"When Mitt Romney ran for president three years ago, calls from reporters came pouring into the public affairs office at the Church of Jesus Christ of Latter-day Saints. The reporters' questions made it clear that they didn't know much about Romney's faith, church officials said."
"As a second Mormon candidate appears likely to join Romney on the list of Republicans seeking to challenge President Obama in 2012, the calls are flooding in again. This time, the questions indicate a better understanding of the religion..."
If American voters have a "better understanding" of Mormons now, what kind of information about Mormons is Mass Media likely to shovel to their average readers? This next Mass Media story may prove to be more typical of the rank disinformation Media is preparing to foist upon this population.
NEWS BRIEF: "Mitt Romney on politics of Mormonism: 'I believe in my Mormon faith and I endeavor to live by it. My faith is the faith of my fathers. I will be true to them and to my beliefs'," CNN Belief Blog, February 2, 2011
"As Mitt Romney eyes a 2012 presidential bid, he is facing the so-called Mormon question again, just as he did during his unsuccessful bid for the 2008 Republican nomination ... A late 2007 Pew poll found that one in four Americans admitted to being less inclined to vote for a Mormon candidate for president. Pew said that among those who were generally less likely to vote for a Mormon candidate, Romney was significantly less popular."
Now notice the huge lie this article tells its readers.
"Another possible sign that Romney's Mormon faith hurt him politically was his loss to the Mike Huckabee - a Baptist minister - in a handful of 2008 presidential primaries in the Deep South. In one of the bigger flaps of that election season, Huckabee told the New York Times "Don't Mormons believe that Jesus and the devil are brothers?"
"Mormons blasted the remark as patently false and the former Arkansas governor later apologized."
Pastor Mike Huckabee apologized for telling the truth? How can this be? Romney was the liar in this situation, for Mormonism does, indeed, teach that Jesus is the spirit brother to Lucifer! Not only does Bill Schnoebelen reveal this truth in his new DVD, "Mormonism's Temple of Doom", but I learned this fact while living in Portland, Oregon, where I knew many Mormons through my business contacts. I can testify that Mormons do believe that Jesus and Lucifer are brothers.
But, Schnoebelen goes one step further. As he relates to the beginner's Initiation Rite, Bill informs us that a play with actors and actresses is enacted where basic Mormon theology is taught. In the Garden of Eden scene, Lucifer is the one who teaches Mormon doctrine to Adam and Eve, and by extension, to all the Mormon initiates!
Neither God the Father nor God Jesus teaches basic Mormon doctrine to these beginners -- Lucifer does! How incredible is this?
Yet, Mike Huckabee backs down in front of Romney's lie and apologizes! This loathsome act is loathsome to the Lord, according to God's precious Word. Listen:
"Like a muddied fountain and a polluted spring is a righteous man who yields, falls down, and compromises his integrity before the wicked." (Proverbs 25:26)
When Mike Huckabee fell down and compromised his integrity before the Mormon Romney, when he was as correct as a man could possibly be, I felt confirmed in my spirit that Huckabee had compromised his integrity before the Illuminati. Remember, I concluded in 1988 that a person cannot even step on to a public stage unless they have already sold out to the Illuminati Plan.
Now, let us return to this featured news article for more surprising information. Mitt Romney is talking of his faith.
"My experience so far both in Massachusetts running as a Mormon guy in a state that's overwhelmingly of other faiths is it didn't seem to get in my way there. Most people in country recognize that in fact the nation itself was founded on the principle of religious tolerance and freedom. We respect other people beliefs and in a lot of cases people who honor faith and try and be true to it."
Chris Pinto realized during the research for the DVD series, "Secret Mysteries of America's Beginnings", that this principle of "tolerating other faiths" sprang up in England just prior to the infamous Gunpowder Plot of 1605, which was carried out by Catholic agents intent upon assassinating King James I.
Catholic leadership prior to this plot conceived of the idea to push the concept of "tolerating" other religions and other religious beliefs. They felt that, if England could agree to this principle, the average British citizen would eventually extend the hand of toleration to the Catholic Church! Fortunately, English leaders saw through the ploy and defeated the proposal.
But, 160 years later, America's Founding Fathers believed strongly in tolerating other religions. Had America imposed the same strict guidelines which the British practiced in 1605, the Mormon Church would never have gotten off the ground in the first place.
Mark my word: as the presidential campaign of 2012 gets underway, we shall hear much propaganda that Evangelical Christians should support a Mormon for President because they are talking about the same essentials that Mormons are talking about, specifically God and the Family.
Nothing could be further from the truth! The Mormon belief that Jesus and Lucifer are brothers tells you all that you need to know about the Church of Jesus Christ of Latter Day Saints. They are truly Luciferian in practice -- just as "Mormonism's Temple of Doom" reveals in great detail.
---
CLOSE-OUT Special Purpose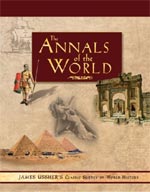 "The Annals of the World"
James Ussher's Classic Survey of World History
Regularly $39.99, Now Only $24.99
You Save $15.00!
Considered both a literary classic and an accurate historical reference from Creation to 70 A.D. For the first time, this classic work has been translated into modern English.
This treasure trove of material also contains many human interest stories from original historical documents collected by the devoted Christian historian and scholar Archbishop James Ussher. Precisely dated and referenced, this volume is much more than just a fascinating history book -- it is a work of history
Contains over 2,500 citations from the Bible
Ussher's original citations have been checked against the latest textually scholarship
Is fully indexed, with 8 appendices
Wonderful Home School resource, with 960 pages, weighing five (5) pounds!
---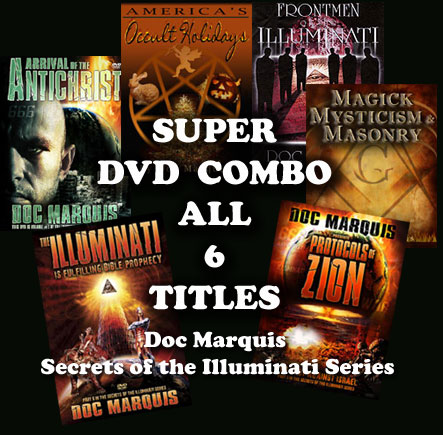 "Secrets of the Illuminati" Combo Offer
All Six Titles by Doc Marquis, 7 DVDs, over 18 hours of teaching
Save $80.00!
Each of these unique DVD's provides information on a part of the Illuminati Plan which only a former Satanist / Illuminati would know. Furthermore, much of the information Doc Marquis provides is the 'Oral Plan', which is the parts of the plan to produce Antichrist which is so evil that it is never written down.
These are the titles: 1) 'Arrival of the Antichrist' ; 2) 'America's Occult Holidays'; 3) 'Front Men of the Illuminati'; 4) 'Magick, Mysticism, and Masonry' - This is THE ONE video every Mason to whom you are witnessing must see! 5) 'The Protocols of Zion: Plot Against Israel' ; 6) 'The Illuminati Is Fulfilling Bible Prophecy' "
Doc Marquis uses the King James Bible
---
New Headline News Articles
Public School Teachers Grading Parents?
If passed, this law will instruct Public School teachers to evaluate, to grade, parents! Asking unchristian teachers to evaluate Christian parents is asking for disaster!
http://www.cuttingedge.org/news/n2439.cfm
Israeli Scientists Warn Residents To Prepare For A Major Earthquake!
The Plan of the Global Masonic leaders is to use an earthquake to knock down the Dome of the Rock so the new Masonic Solomon's Temple can be built on that holy spot!


"Do Christians Actually Know What Mormonism Is And Why The Bible Forbids Us To Have Anything To Do With It?"
A longtime Christian brother talked to me last week, all excited about Glenn Beck. I quickly learned that this Sunday School teacher knew nothing about Mormonism. He did not know enough to be concerned about a Christian making an alliance with Mormonism.
http://www.cuttingedge.org/news/n2433.cfm
"Conspiracy? Yes, Virginia, Satan Has Mounted A Global Conspiracy Against God - Just As Prophecy And Doctrine Foretell"
I find it incredible that many knowledgeable Christians prefer to not believe that a human conspiracy will set the prophetic stage for the appearance of Antichrist. Rather, these type of Christians prefer to believe in a "prophetic evolution" where all prophecies will spring to life out of some sort of primordial goo!
We shall demonstrate the futility of denying Biblical doctrine and teaching that God's prophecies will occur just as He foretold because Satan has caused his adherents to create a plan which will fulfill all His prophecies.
A massive End Times conspiracy is prophesied! Believe it and events today will begin to make sense.
The 2010 midterm elections were the first salvo fired for the 2012 election! Conservatives will be frustrated greatly during the next 2 years and will be told that, in order to complete the overthrow of Obama Liberalism, they must win the White House and the Senate in 2012!
Deliberate Frustration will be the order of the day for Conservatives during the next 2 years! http://www.cuttingedge.org/news/n2432.cfm
"Glenn Beck's New Blockbuster Book 'BROKE' Is Selling By The Millions"
The premise is that America is financially, spiritually and mentally bankrupt and must be rescued. However, it is simply not true that America is financially bankrupt! CAFR is the greatest secret out in the open in a very long time, perhaps in all of human history.
Is this book the first major salvo in setting a Mormon on the path to the White House, so he can fulfill the old Mormon prophecy known as the "White Horse Prophecy"?
"Controlled Conflict Bringing About Controlled Change" - The Hegelian Doctrine In Constant Use In Today's News"
Once you understand this tactic used daily by the Global Elite, in so many circumstances, you will never, ever view the news the same way again! As we head into the 2010 Mid-Term Elections, you need to understand that all political parties are based upon this Hegelian foundation -- Controlled Conflict Bringing About Controlled Change.
http://www.cuttingedge.org/news/n2429.cfm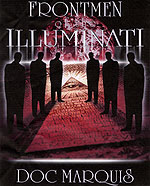 DVD
Council On Foreign Relations (CFR) Pronounces The Winner of The Iraq War To Be -- IRAN!
Incredibly, Cutting Edge posted an article five years ago in which we declared that Iran would be seen eventually as the winner of the Iraq conflict, because that was the Illuminati Plan! -- http://www.cuttingedge.org/news/n2427.cfm
<![if !vml]>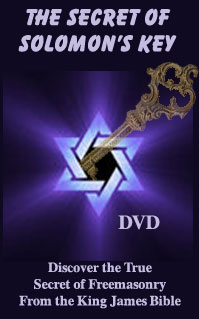 <![endif]> "New Prophetic First -- One-half of Jewish people now support rebuilding the Temple on the Temple Mount"
Normally secular Israel has never shown this strong of support for rebuilding the Temple, showing the effects of Orthodox Judaism. Will the Islamic Dome of the Rock be destroyed on the 'Ninth Day of Av', the most horrible day of the year for Israel?
http://www.cuttingedge.org/news/n2424.cfm
"Take from Freemasonry its dependence on the Temple; leave out of its ritual all references to that sacred edifice, and to the legends and traditions connected with it, and the system itself would at once decay and die ... " (Noted 33º Masonic author, Albert Mackey)
<![if !vml]>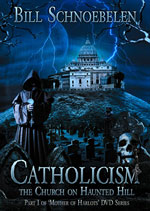 <![endif]> "Catholic Priestly Sex Abuse Is Now Oozing Over Every Continent on Earth!"
The sheer magnitude of the priest's sex scandal is shocking beyond belief; but, remember, the statistics we are about to share with you is simply the proverbial "tip of the iceberg"! The true total numbers of deviant priests and victims reach into the many millions of victims.
Even the infamous Kinsey Report may have its roots in the 12 Centuries of sexual deviancy from priests and nuns and their victims!
http://www.cuttingedge.org/news/n2422.cfm
---

Purchase a 1-Year Subscription, you may select 1 FREE gift
Purchase a 2-Year Subscription, you may select 2FREE gifts
Purchase a 3-Year Subscription, you may select 3 FREE gifts
Purchase a 4-Year Subscription, you may select all 4 FREE gifts
We have changed our FREE gifts available to you when you subscribe to Headline News, adding two Pastor Hoggard DVD's to the Seminar Tapes and the Radio Collection CDROM.
---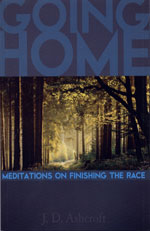 --------Concluding Inspiration ---------"The Comfort Jesus Gives"
"Let not your heart be troubled: Believe in God; believe also in me. In my Father's house are many rooms. If it were not so, would I have told you that I go to prepare a place for you? And if I go and prepare a place for you, I will come again and will take you to myself, that where I am you may be also." ( John 14:1-3)
It is a shock for us to be informed of terminal illness. Thankfully, our Lord has given wonderful comfort to enable us to face the trial before us. Here in this text our Lord has just announced to his disciples that He would be leaving them soon. Instead of focusing upon the cross and suffering to come, Jesus comforted his disciples. These three verses contain some of the most enduring comfort in all of sacred literature. In them Jesus exhorts his disciples to believe in God, to believe in Him, and believe that He will come again to be with them forever.
Jesus comforted his disciples by an exhortation to faith in God. "Let not your hearts be troubled. Believe in God." The disciples' hearts were indeed "troubled", or agitated by the news he had just given them. Not only was Jesus to leave them, Peter, one of their leaders, would deny the Lord three times (John 13:31-38). In this context Jesus gives them a word of comfort, and a message which would see them through their trial. Jesus exhorted them to "believe", which means "to place our trust in someone." Who did Jesus exhort them to trust? God. No greater counsel can be given to disquieted souls than to place our trust in the Lord. God is "our God forever and ever. He will guide us forever." (Ps. 48.14). God will never leave us or forsake us (Heb. 13.5). He is worthy of all our trust at all times.
Jesus also comforted his disciples by exhorting them to believe in him. "Believe also in me." Jesus wanted his disciples to trust him, and place faith in his words to them. In this case he tells them of a work he will perform while absent from them. He says: "In my Father's house are many rooms. If it were not so, would I have told you that I go to prepare a place for you?" Here our Lord makes clear that His life will not be limited by physical death. He also tells them that there is a place in the heavens, a mansion composed of many rooms, owned by God. Moreover, Jesus tells His followers that he is going to that mansion to "prepare a place" for them.
Death is a fearful event. It is also a fearful thing to stand before a holy, omniscient, and just God. Jesus went to the cross in order to eliminate our fear of both of these events. Moreover, he has promised us "a place", a room in the palace of Almighty God Jesus, the Son of the Father, went to heaven to prepare for our arrival there! There is no greater comfort for disciples of Christ than to know that He has made a way for us to be welcome at the throne of God.
Jesus also comforted his disciples by promising to return for them. He says "I will come again and will take you to myself, that where I am you may be also." Here is the first time in the Scripture that Jesus promises that he will return to earth. In the second coming of our Lord, we will be re-united with our Lord, and have fellowship with Him. The most painful part of grief is separation. Jesus defuses that agony with the promise that we shall see Him again. Moreover, implicit in this promise is that God's mansion will be filled with others, who, like His disciples, put their trust in God, and in the work of His Son, Jesus Christ our Lord. If we have a place in the mansion of God, we shall be re-united with all believers who have gone before us; whether Apostles, parents, children or friends.
This great word of comfort brings to the forefront the single most important need we have: We need to believe in God our Father, and the work of Jesus Christ, His only Son and our Lord. If we would only place our faith in the Lord, we will find that we are promised a place in God's heavenly house, with all our believing loved ones.
Dear Lord, grant us the grace of belief, that we might not fear our death, but look forward to our life in heaven with you and all our Christian loved ones. In Jesus Name, amen.
---
"President Bush:
Evil vs Good Fruits"
Directory of all news articles
Free Radio Transcripts

Free Headline News Archives

Freemasonry

What Saith Rome

Teachings from the Catechism

Bookstore

Meet the Staff

Weather Control

School Shootings

Understanding Clinton
May Jesus Richly Bless You,
David Bay, Director
866-909-2850 Toll Free Customer Service - Order Line
803-356-2850 Customer Service - Order Line - For Out of Country Customers
803-356-2860 Fax