At this point, you must understand that all these above mentioned institutions are directed by men and women who hold to these belief systems. Therefore, if the Plan is to abolish these societal institutions which are corrupting the population, you must abolish the people who are carrying these institutions forward. How do you abolish people? By murdering them wholesale.
Only once all the people who hold to these societal institutions are murdered can society begin to rebuild according to the new precepts of Illuminism and Communism. Obviously, for the Christian-based Family to be destroyed, all parents and their children above the age of 7 or 8 years of age must be killed. For Christianity to be destroyed, all pastors must be killed, as well as anyone who was once a member. But, beyond that, entire families must be radically destroyed to ensure that the "cleansing" is complete enough so that the new society will not be corrupted by the influence of any survivors of the old system.
This is why Communism has historically killed so many people. This is why the Illuminati has planned to destroy up to two-thirds of the world's population immediately after they take control.
I would be very surprised if any of the Hollywood Elites who are currently pushing the Communist agenda within the Democrat Party know this bit of history. They have no idea that they would quickly become victims of the madness inherent in Communism!
But you may object, Bernie Sanders is not this type of Communist/Socialist! He seems much less threatening, much more benign.
2. A Bernie Sanders' campaign worker revealed that, if Bernie is not elected, "cities will burn"!
NEWS BRIEF: "Sanders Campaign Aide Threatens Gulags and Violence", FrontPage, January 15, 2020
"A paid Bernie Sanders campaign field organizer has been caught on video declaring "F***ing cities burn" if President Trump is re-elected. He also threatened violence if Sanders does not become the Democratic Party's presidential nominee. Project Veritas captured the staffer, Kyle Juarez, on camera touting Sanders' "free education" policies because it would "teach you how to not be a f**king nazi." He also expressed admiration for Stalin-style gulags, which, Juarez said, "were actually meant for, like, reeducation. Those people who don't accept the revolution should be shot, Juarez warned."
He also defended Russia's Gulag prison systems, which were the key force in the murder of over 100 million political prisoners!
Listen to Christian minister, Richard Wurmbrand, who spent many years as a prisoner in the Soviet Gulag system, explain:
"We did not heed the warning of the Lord to beware of wolves in sheep's clothing. If the clothing speaks to us about doing good to mankind, we get hooked, forgetting that the worst of men can speak beautiful things." (Richard Wurmbrand, "Marx & Satan", p. 130)
May I add: the worst of men can also speak beautifully patriotic things in order to deceive and lead astray an entire nation! (Emphasis Added)
In a nutshell, this describes both Bernie Sanders and these Hollywood Elites pushing a system proven to first be a failure and then a mass murderer!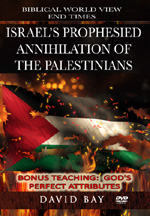 DVD
3. Trump's proposed peace plan for Israel/Palestinians is causing the Palestinian Liberation Organization (PLO) to implode.
NEWS BRIEF: "Trump Plan to end Jewish-Arab conflict sees PLO implode, Israel National News, 2/6/2020
"PLO leader Mahmoud Abbas's dismissive response to President Trump's peace plan spells the end of the road for the PLO as Israel's Arab partner to negotiate an end to the 100 years unresolved conflict between Jews and Arabs. The PLO will maintain its long-standing rejectionist policy of not recognising Israel as the Jewish State after Abbas panned the Trump plan n the following denigrating and unequivocal terms:
" 'They told me Trump wants to send me the deal of the century to read, I said I would not', Abbas told the meeting of Arab League foreign ministers. "
" 'Trump asked that I speak to him over the phone, so I said 'no', and that he wants to send me a letter, so I refused to receive it'."
Can you imagine a more ridiculous action taken by a President of a terrorist organization (Abbas) against the President of the most powerful nation on Earth? Abbas has no idea that the rest of the world will scorn him to shame by his foolish rejection of a plan he admitted that he did not even read!
But God foretold that the House of Esau would be greatly scorned just before God's annihilating judgment. Listen:
"Behold, I have made thee small among the heathen: thou art greatly despised." (Obadiah 2, KJV)
Since Abbas will never agree to any plan which leaves Israel alive, we know that a Palestinian nation will never be created.
NEWS BRIEF: "Our Arab neighbors have always rejected any kind of so-called peace plans", The Jerusalem Post, Jan 7, 2020
"If we start from 1947, our Arab neighbors have always, but always rejected any kind of so-called peace plans that were put on the table. We don't have to go back to 1947. We can go return to the year 2000 when Ehud Barak offered Yasser Arafat well over 90% of Judah and Samaria, including east Jerusalem. He said no and started a war."
"We can talk about the numerous times that Olmert offered PA President Mahmoud Abbas more than Barak's offers. He rejected one after another."
"We certainly cannot say no to sovereignty, but the on the other hand we certainly cannot say yes to a Palestinian state. We have to accept what's good and reject that which is bad .. We already know that we're never going to reach a stage where a Palestinian state, according to the Trump doctrine, will ever come to fruition because they will never ever ever be able to meet the conditions that Trump has laid down for recognition of such a state."
President Trump and his advisers wrote into this "Deal of the Century" the creation of a Palestinian State, knowing full well that the Palestinian leaders would reject. Therefore, this Deal also set in place Israeli sovereignty over all the Biblical lands of Israel.
Prophecy is headed for fulfillment!
"For my sword shall be bathed in heaven: behold, it shall come down upon Idumea (House of Esau, Palestinians), and upon the people of my curse, to judgment ... They shall call the nobles thereof to the kingdom, but none shall be there, and all her princes shall be nothing." (Isaiah 34:5, 12, KJV)
President Abbas is the "prince" of the Palestinians. He will soon proclaim a nation before the entire world, but shall soon be removed by God's judgment and suffer the complete loss of his life and the so-called Palestinian nation!
At that point, God's judgment of Obadiah 1-18 will occur, just as we demonstrate in the DVD shown above, "'Israel's Prophesied Annihilation of the Palestinians' ".
No one not saved will be able to understand how the Jewish people could commit complete genocide against a people when they were the object of Hitler's attempted genocide against them 75 years ago.
The vast majority of Christians are totally unaware of God's judgment pronounced in Obadiah. In prophecy conferences, I have to tell participants where Obadiah is in the Bible.
The answer is that God has prophesied, that at the End of the Age, He is going to use tiny Israel as the anvil upon which He pounds all of Israel's enemies into submission. Only Christians who know Obadiah will be able to answer an angry world's reaction to the slaying of about 4 million Palestinians.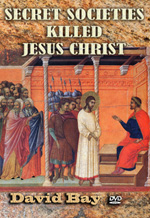 4. Israel's Cabalistic Sanhedrin further prepares Israel to accept their Kingly Messiah.
NEWS BRIEF: "Sanhedrin Gets Authorization to Use Their Trees for Third Temple: Wood and Fruit used in animal sacrifices", Breaking Israel News, Feb 10, 2020
"Five years ago, the Sanhedrin began planting in preparation for the needs of the Third Temple and today is the first day the fruit of their labor can be used ... The wine libation came from vines cultivated using a specific method. Grain offerings were necessary elements in the daily Temple Service. Large amounts of the highest quality olive oil were used in the menorah. Bikurim (firstfruits), brought from the seven species special to the land of Israel, played a seasonal role in the Temple, as did the four species of trees that are used every Sukkoth."
"Even the wood burned on the altar was harvested especially for Temple use and individually checked for worms. Ever-present on the altar were three piles of wood: the first for burning the animal sacrifices, the second for making coals to burn the incense, and the third for the perpetual altar fire commanded by the Bible."
But, there are more requirements:
" 'The Mishna (Talmud) states that the Passover Lamb was roasted on a stick from a pomegranate tree', noted Rabbi Weiss. 'When the Temple is built, we will need millions of these sticks'."
""This relationship with the land of Israel is exclusive to the Jews. The land will only flourish for the Jews and when it does, this is a sign that the Messiah is imminent," Rabbi Weiss said, citing Ezekiel."
"... this year, the Sanhedrin is planting trees in areas that are going to be surrounded by Palestinian controlled regions should the 'Deal of the Century' be enacted. "The Jews have returned and we have taken possession of the land, just as God commanded. The trees bear witness that the land is ours, that it is flourishing as never before, and that it is all for God's glory in the Temple in Jerusalem. Anyone who tries to divide the land, to defile the covenant, is putting himself where no man can be, no matter how great he thinks he is."
Messianic fever is running high and hot within Israel!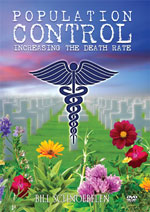 DVD
5. Democrat policy is causing a massive increase in health risks, in lawlessness and in an orderly society.
"Fundamental Goal of the New World Order: "Increase the death rate"!
By whatever means necessary, leaders prior to the onset of the World War Three which will stage Antichrist on the world scene are ordered to "increase the death rate"! This mandate will explain a lot of the reason California is following policies which are proven to "increase the death rate"!
NEWS BRIEF: "Witness Murdered After New York Law Revealed His Identity in MS-13 Trial", Breitbart News, 6 Feb 2020
"A violent crime victim ready to testify against MS-13 Gang members in Long Island, New York, has been murdered after Gov. Andrew Cuomo's (D) latest jailbreak law forced witness names to be revealed to the defense in the criminal case."
"Originally, Rodriguez's identity was protected as a witness against the MS-13 Gang members in the alleged 2018 attack. As Breitbart News warned in December 2019, though, Rodriguez's identity was released to the defense after elected New York Democrats and Cuomo passed a jailbreak law that mandates witnesses for the prosecution be turned over to the defense in criminal trials no later than 15 days after the defendants' arraignment."
"The judge in the trial told the defense not to reveal Rodriguez's identity to their clients until the trial started."
And, now, the totally predictable has just occurred; the star witness in a violent crime trial has been murdered!
This new law threatens the integrity of the entire New York State! Criminals can now be more bold to commit crimes, knowing that they will be provided with the name, address and phone number of every citizen who is slated to testify against them.
NEWS BRIEF: "Buttigieg Doubles Down: No Jail Time for Heroin, Meth Possession", Breitbart News, 10 Feb 2020
"Mayor Pete Buttigieg of South Bend, Indiana, is doubling down on his plan to not send any suspect convicted of drug possession to prison, instead offering a vague plan wherein they will seek treatment services .. Buttigieg reiterated that he will, as president, decriminalize all drug possession — indicating that the thousands of drug traffickers who plead down to possession of drugs every year would never have to spend a day in prison for their crimes."
6. Threat of Bubonic Plague in Los Angeles and San Francisco, constant threats against New York City police and a crucial breakdown in prosecuting criminals in New York State -- these are the fruits of the Democrat's disastrous policies.
NEWS BRIEF: "Official Lies, Bubonic Plague, And California's Homeless Challenge", Forbes, August 19, 2019
"What's worse, in addition to the deplorable plight faced by California's growing homeless population ... almost 130,000 last year, the unsanitary conditions they foster are now becoming a public health risk at large."
And, herein lies the enormous potential for disaster.
"The trash, used needles, and human waste littering California's cities have led to increased numbers of rats and—along with them—fleas and deadly diseases ... A new public health threat may be on the verge of making a deadly appearance: bubonic plague—known in the Middle Ages as the "Black Death"—it was responsible killing about 60% of the population of Eurasia in the mid-1300s."
"The mix of conditions that have caused alarm is, so far, unique to California..."
"... in this case, second-generation anticoagulant rodenticides (SGARs). For the past five years, L.A.'s Department of Recreation and Parks has forgone the use of SGARs, acting on proposed restrictions from the California Department of Pesticide Regulation. Lawmakers in Sacramento have proposed banning SGARs entirely, making it even more difficult to cull California's burgeoning disease-borne rodent population."
The danger is severe, that California's unhealthy condition may reach a point some day when the State suddenly collapses! The evil fruit of Democrat policies will then be painfully apparent to all!
Therefore, both the States of New York and California have undertaken policy changes which can threaten to topple civilized society!
When this predictable disaster does befall these states, upon whom will the Liberal blame fall? Will it be their ridiculous policies or will it be President Donald J. Trump?
That answer is completely predictable.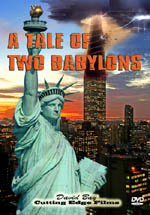 Trailer
7. President Trump is leading America to the fulfillment of Revelation 18:7, and the world applauds.
"How much she hath glorified herself, and lived deliciously ... for she saith in her heart, I sit a queen, and am no widow, and shall see no sorrow." (Revelation 18:7, KJV)
The key emphasis upon America is upon the attitude of citizens just before God's judgment falls (Verse 8). The people of America at that time are very satisfied with their life, are "living deliciously" and are convinced that this good time will never end.
Trump's wonderful policies are bringing this prophetic frame of mind to pass! Consider:
These news stories show this cataclysmic trend.\
NEWS BRIEF: "Trump re-election bid gets boost as poll shows record number of Americans satisfied with life", World Net Daily, Feb 6, 2020
"Amid Democratic wailing and mainstream media gnashing of teeth in the fourth year of President Donald Trump's administration, survey results released Thursday by Gallup show 90 percent of Americans are satisfied with "the way things are going in their personal life."
"The same poll found confidence in the economy is at a 20-year high ..."
"another Gallup poll released on Tuesday that showed Trump's approval rating at the highest of his presidency, indicate that the American people as a whole understand good things are really happening in the country ... 'American satisfaction is at the highest level ever recorded," Trump said. (At the National Prayer Breakfast in Washington, D.C.)
"What the poll showed, though, is that overall, Americans are a pretty contented group..."
NEWS BRIEF: "Trump's Dream Scenario Unfolds With RECORD Approval Rating And Democrats In Complete Chaos", Whatfinger News, 2/11/2020
"Trump's 'Dream Scenario' Unfolds With RECORD Approval Rating And Democrats In Complete Chaos ... Republicans said in an interview that this is Donald Trump's dream scenario. Record high approval amid the collapse of the Democratic party. "
In Revelation 18, God foretells the absolute destruction of America, and He predicts that His physical judgment will fall only after American citizens are historically well-off financially and are bragging about it amongst themselves.
President Trump is leading America down this path as he implements his plan to reinvigorate America. He does not realize that he is leading this country down this path, but he certainly is. This is the type of spiritual trap into which Americans are falling:
"... in the day of the wrath of the Lord ... [wealth] has been the stumbling block of their iniquity." (Ezekiel 7:19)
American citizens are beginning to be so wealthy that they are trapped in their own prosperity.
And, then, they shall be destroyed utterly and for all time.
Americans are on this path toward final judgment and President Trump is unwittingly leading them with full haste.