WEEKLY UPDATES FROM Cutting Edge Ministries, www.cuttingedge.org
2/26/2005      Over 1,400 Articles Posted! 96,000 People Downloading A Salvation Page Per Year!
---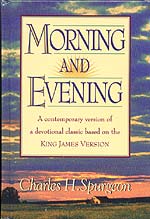 ---------- Inspiration For the Week----------"Ode To True Love" - "He that loveth not knoweth not God." 1John 4:8
The distinguishing mark of a Christian is his confidence in the love of Christ, and the yielding of his affections to Christ in return. First, faith sets her seal upon the man by enabling the soul to say with the apostle, "Christ loved me and gave Himself for me." Then love gives the countersign, and stamps upon the heart gratitude and love to Jesus in return. "We love Him because He first loved us." In those grand old ages, which are the heroic period of the Christian religion, this double mark was clearly to be seen in all believers in Jesus; they were men who knew the love of Christ, and rested upon it as a man leaneth upon a staff whose trustiness he has tried.
The love which they felt towards the Lord was not a quiet emotion which they hid within themselves in the secret chamber of their souls, and which they only spake of in their private assemblies when they met on the first day of the week, and sang hymns in honour of Christ Jesus the crucified, but it was a passion with them of such a vehement and all-consuming energy, that it was visible in all their actions, spoke in their common talk, and looked out of their eyes even in their commonest glances.
Love to Jesus was a flame which fed upon the core and heart of their being; and, therefore, from its own force burned its way into the outer man, and shone there. Zeal for the glory of King Jesus was the seal and mark of all genuine Christians. Because of their dependence upon Christ's love they dared much, and because of their love to Christ they did much, and it is the same now. The children of God are ruled in their inmost powers by love--the love of Christ constraineth them; they rejoice that divine love is set upon them, they feel it shed abroad in their hearts by the Holy Ghost, which is given unto them, and then by force of gratitude they love the Saviour with a pure heart, fervently. My reader, do you love Him? Ere you sleep give an honest answer to a weighty question! ["Morning and Evening Devotions", C.H. Spurgeon]

---------- Cutting Edge Articles Posted ----------
* "FREEMASONRY NOW PUBLICIZING ITS CONTROL OF ISRAEL": Freemasonry now guarantees Israel's existence, just as we stated earlier! Palestinians have to be shaking in their shoes, knowing what is coming next! http://www.cuttingedge.org/news/n2012.cfm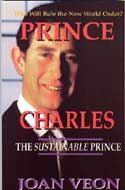 * "FINAL PROOF IS NOW CONCLUSIVE! 'GLOBAL WARMING' IS NOW PROVEN TO BE CAUSED BY HUMAN BEINGS! For once, we agree with the Leftist Environmentalist! Human activity IS causing global warming, for the atmosphere IS heating up. We part ways with these Environmentalists as to WHY Global Warming is occurring and WHO are the culprits. The era of "Sustainability" is breaking fully upon our heads! http://www.cuttingedge.org/news/n2011.cfm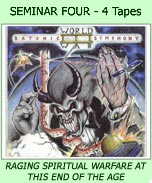 * "BUSH ADMINISTRATION REPORTEDLY HAS SENT ASSASSINATION TEAMS INTO TWO AREAS: 1) AMERICA, TO START KILLING ??? 2) IRAQ, TO START KILLING CLERICS" - America's "Christian" President has again shown his evil fruit, as he carries out actions forbidden by law. When will people start to wake up? - http://www.cuttingedge.org/news/n2010.cfm

Be Sure Your Sin Will Find You Out (Numbers 32:23) -http://www.cuttingedge.org/articles/p240.html





---------- Bookstore Resource Update ----------
Holocaust Past: Adolf Hitler's Holocaust against Jews and other Devalued People. Jews were set aside simply because they were chosen by God for final judgment prior to the return of Israel as a nation.

Holocaust Present: Examines the Holocaust of the Unborn through our Abortion Mills. While Satanists view Abortion as the highest form of sacrifice to Satan, God views abortion as a heinous murder of innocent, helpless unborn children!

Holocaust Future: Shows the prophesied Judgment against America. "To whom much is given, much shall be required", Jesus said. Our national destruction is sure, and prophesied, only the exact timing is unknown.
2 1/2 hours -- over 150 colored slides and many video clips -- integrated into a Multi-Media presentation.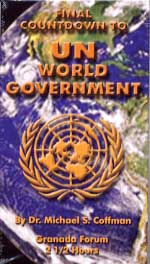 * "Final Countdown To World Government" -- 2 1/2 hour Video - DVD

- VHS

-- Dr. Michael Coffman, CEO of Sovereignty International, uses actual UN, EU, and US documents to prove how globalist Illuminists have quietly manipulated world events to bring mankind to the brink of world government. Using actual quotes from these priceless documents and related graphics, Dr. Coffman weaves the spellbinding story that puts all the pieces together. You will see how radical environmental issues justifies world government; you will see the link between the UN and you, the private citizen; you will see the emerging antichristian, anti-human world religion, and many more related topics.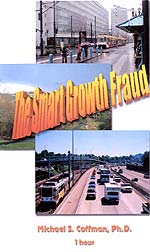 DVD

- VHS

* "The Smart Growth Fraud" - Video - - The U.N. Smart Growth campaign is a fraudulent trap, much as the old Trojan Horse. By its very application, Smart Growth shifts control of private property rights from the individual to the government. Smart Growth is not designed to succeed; it is designed to control people and their activities. Dr. Coffman exposes the direct connection between U.N. Agenda 21 and the deliberate effort by American bureaucrats to change U.S. policy to support this insidious global agenda.
Smart Growth is the next step in exerting international control over all Americans. Both urbanites and rural citizens must understand this encroaching fraud.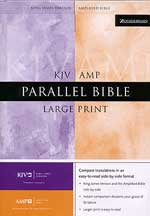 * "LARGE PRINT Parallel Bible - KJV/Amplified Bible Commentary" - Hardcover - Only $39.99!
At last! Our best-selling parallel Bible in LARGE PRINT! This is THE favorite Bible resource of Cutting Edge Ministries! On the left of each page, you read the timeless, priceless KJV, while on the right you see the modern language verse-by-verse Amplified Bible Commentary. Since English is a far inferior language than ancient Greek and Hebrew, significant loss of meaning occurs when one of these dynamic languages is translated word-for-word into English. The Amplified Bible Commentary is written to correct this problem, written verse by verse like a Bible. The KJV on the left solves any problem you might feel with a modern translation, while the Amplified restores much meaning in the original languages.
Contains Concordance for both King James Version and Amplified Commentary.
This Bible will become your favorite study Bible also! - http://www.cuttingedge.org/detail.cfm?ID=1000

View our entire selection of Parallel Bibles, KJV/Amplified Bible Commentary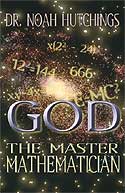 * "God The Master Mathematician", by Dr. Hutchings -- Regularly $10.99, On Sale $8.88 - Save $2.11 each!
The Bible is the most numerically constructed book in the world! Many early church fathers, ministers, and theologians wrote of the complex mathematical designs in Scripture, proving that only a Master Mathematician could have directed this numerical construction. The fact that the 66 books of the Bible, written over a period of 1,600 years by 40 or more writers, most not having preceding or succeeding books, yet continuing the amazing mathematical patterns, proves that a Master Mathematician was in charge.
This book will not drown you in math or technical details, but is written simply to demonstrate that the Master Mathematician who inspired the Scriptures is the same Lord Jesus Christ Who is able to save to the uttermost all who come to HIm in faith. If you have a skeptical friend, he or she needs this book! - http://www.cuttingedge.org/detail.cfm?ID=333

Purpose Driven Church Phenomenon!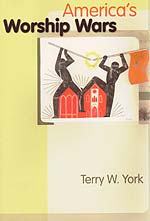 * "America's Worship Wars", by Terry York, D.M.A. - America is engulfed in a religious war today over what sort of worship is most appropriate! Should churches continue to sing traditional hymns or should they embrace contemporary worship choruses? Should churches play organs or electric guitars? Should churches convert to "Purpose Driven" programs?
Author York examines these issues, revealing:
1) Connection between a person's worship style and their philosophy, politics; 2) Predominance of Mega-Churches and Television Churches; 3) Influences that denominations and publishers of hymnals introduce; 4) Pressures put on worship leaders by "Church Shoppers"; 5) Examines church growth, since selecting a worship style is choosing a target audience for future members.
"A community's theology and worship cannot be divorced. Therefore, practical or applied theology (Gospel in the street) fuels the concept of practical or applied worship, a culture in the sanctuary. 'War', a term all too common in our culture, seems destined to become equally common in the church".
At this End of the Age, America IS at war religiously; are you prepared to defend your church? - http://www.cuttingedge.org/detail.cfm?ID=996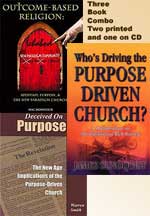 * "Purpose Driven Combo Offer! 'Who's Driving Purpose Driven Church'/'Deceived On Purpose'/'Outcome Based Religion" - Books - Regularly $42.99, On Sale As A Combination Offer For Only $37.99: Saving $5.00 over buying individually
Each book examines the Purpose Driven Church phenomenon from a completely different aspect.
"Who's Driving The Purpose Driven Church" demonstrates that this church movement is really Sorcery in disguise and that it draws heavily from the desperately wicked Humanist Psychologist, Carl Jung.

"Deceived On Purpose" reveals the strong New Age foundation to Purpose Driven. How many of us would ever think the occultic New Age Movement could actually reinvent itself, transforming into a "Christian" church?

"Outcome Based Religion: Apostasy, Purpose, and the Paradigm Shift" shows the huge Biblical errors Rick Warren is teaching. This book on CD also shows that Warren's movement is also contributing mightily to the New Age concept that, before Antichrist could arise, a huge shift in religious thinking -- Paradigm Shift -- must occur. That Paradigm Shift is now under way, greatly propelled by the Purpose Driven Church.
http://www.cuttingedge.org/detail.cfm?ID=993

More Special Combination Offers!

* "World Dominion" PLUS "Barbed Wire Over America" - Combination Offer! DVD

- VHS

Regularly $34.98 if bought individually, Combination Offer only $27.98: Save $7.00
Both these videos reveal the Illuminati Plan, but from different perspectives.
"World Dominion" traces the current drive to a New World Order backwards in time from the Tower of Babel! See how the stage is being set right before your eyes. Learn of the deceptive World Constitution, Earth Charter, unconstitutional Executive Orders, Global Biodiversity Treaty, State of the World Forum presentations by Mikhail Gorbachev. Understand the true agenda of the U.N. - the sinister International Criminal Court, World Court, World Trade Organization, World Bank, and International Monetary Fund. This information will change your life, priorities, and thinking. Shows a person how to receive God's gift of eternal life through Jesus Christ.
"Barbed Wire Over America" demonstrates that the reality of concentration camps now built here is proof that God's physical judgment is close at hand. In great film clips, Wegener details the coming plan to institute global dictatorship. What do: Detention centers, Depopulation, Demilitarization, Foreign Troops on U.S. soil, Mother Gaia worship, Martial Law, and the Anti-terrorism bill have in common? They are all in our immediate future, unless enough Americans wake up.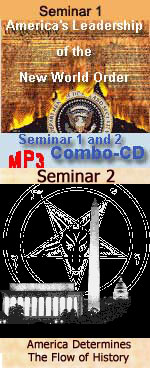 * "Seminar #1 and #2 Combination". MP3 Format
Over 12 hours of seminar instruction for only $14.99! Now both seminars 1 and 2 on one CDROM! MP3 Audio format for play on your computer as well as CD and DVD players that will play MP3 format. Once you understand the evidence and truth we share with you, you will never look at the news the same way again. You will understand how America has become the nation she is, and you will be able to see the direction in which we are heading.
Seminar 1 is entitled, "America's Leadership of the New World Order", and demonstrates how America has been leading the global drive to the Kingdom of Antichrist for over 200 years! As we study the characteristics of a nation leading the world into the realm of Antichrist, we discover that the America today is traveling the same spiritual road Israel traveled in the last years before God brought in the King of Babylon to physically destroy Israel. You will be amazed and shocked at the many parallels.
Seminar 2 is entitled, "America Determines The Flow of History" - details the manner and the path along which the 1776 New World Order Plan has been brought. Shortly after the Civil War, American leadership took full control of the plan to produce Antichrist. That leadership started with Albert Pike, top Freemason in the world, and frequent visitor to the White House. You will learn of Pike's demonic vision of January 22, 1870, that three (3) world wars will be needed to produce Antichrist, and you will be dismayed to see that the first two world wars occurred exactly as the vision stipulated, while the stage is obviously set for the fulfillment of the Third and final World War.
You will see how the Illuminati deliberately created Communism, and why it did so. Once you see how Communism was manipulated globally, you will see how the same techniques of staged battling is continuously being used in this country to invisibly make cultural and religious changes. Seminar Two has been the most well received of all our seminars. -- http://www.cuttingedge.org/detail.cfm?ID=37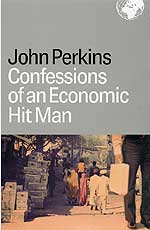 * "Confessions of An Economic Hit Man: How US Global Companies Are Brutally Using Loan Contracts To Advance Cause of Global Government and Economy" -- Enlightening Book Showing How New World Order Is Being Advanced Out of Sight, Out of Mind, Waging Economic War!
Regularly $24.95, On Sale $22.95 -- 250 pages
The riveting, fast-paced personal inside story of how American corporate executives are working to advance the plan to a Global Economy and Global Government through deceptive economic contracts! "Economic Hit Men" are highly paid professionals who cheat countries around the globe out of trillions of dollars. Their tools include fraudulent financial reports, rigged elections, payoffs, extortion, sex, and murder.
Such men convince targeted countries to accept enormous loans for infrastructure development, ensuring that these contracts are issued to US corporations. Saddled with huge debts, these countries then come under the control of the US Government, World Bank and various aid agencies, who then turn into "loan sharks", dictating repayment terms and bullying foreign governments into submission.
Now you will understand why the World Bank and G-8 offered debt relief immediately to countries devastated by the tsunami; such debt forgiveness bonds the debtor country even tighter to the global banking system
Perkins reveals true, powerful, and bone-chilling personal story that names names and connects the dots (David Korten, author of best-selling "When Corporations Rule the World"). - http://www.cuttingedge.org/detail.cfm?ID=984

---------- This Weeks Hot News ----------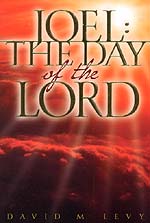 I. President Bush uttered the prophetic phrase, "Peace and Safety" this past week during a speech in Brussels, speaking to European Union ministers. Let us review the pertinent Biblical prophecy:
"For yourselves know perfectly that the day of the Lord so cometh as a thief in the night. For when they shall say, Peace and safety; then sudden destruction cometh upon them, as travail upon a woman with child; and they shall not escape." [1 Thess 5:2-3]
Antichrist will speak much of peace, even though his agenda will be filled with death and destruction. Listen:
"And through his policy also he shall cause craft to prosper in his hand; and he shall magnify himself in his heart, and by peace shall destroy many: he shall also stand up against the Prince of princes; but he shall be broken without hand." [Dan 8:25]
The key phrase upon which you should focus is: "by peace shall destroy many". The entire End of the Age scenario which the Illuminati is forcing upon mankind revolves around "peace". If we can defeat "terrorism", we shall know peace; if Israel will just give the Palestinians their own contiguous state, the region will know "peace"; if America just spreads the Bush brand of "democracy" and "liberty" throughout the world, we shall know "peace".
But why should we be surprised that the rhetoric from our current leaders parallels Antichrist propehcy? Since their efforts are being expended so the Masonic New Age Christ may appear, we should expect much rhetoric of "peace and safety".
Now, let us be clear: we are NOT saying that President George Bush is THE Antichrist; however, he is certainly one of the key leaders of the world right now, committed to globalizing the entire world -- global government, economy, religion -- so Antichrist can appear. With Bush's background in the Black Magick secret society of Skull & Bones, we should expect him to play a key role in this changing of the world so the Masonic Christ may appear. Indeed, since the attacks of 9/11, President Bush has fulfilled every single plan the Illuminati wanted to be carried out after this "government provocateur" attack.
Now, let us examine Bush's speech in Brussels last week. We shall show the key words in bold red as we show you their context.
NEWS BRIEF: "Transcript of Bush address in Brussels", World News, 22 February 2005
"In the long run, we cannot live in peace and safety if the Middle East continues to produce ideologies of murder, and terrorists who seek the deadliest weapons."
"Our efforts are guided by a clear vision: We're determined to see two democratic states, Israel and Palestine, living side by side in peace and security." (Applause.)
I find it very interesting that President Bush uttered these words while talking about Israel, the key nation in all End Times prophecy. Of course, we know that there will be no real peace until the Prince of Peace brings it to this troubled world!
The President's speech contained other key words as well:
Peace: Uttered 17 times

Peaceful: Uttered 4 times
Note: The words, "peace" and "peaceful" were spoken 21 times during this speech. To the occultist, the number '21' is sacred because it is the number of perfection (7) times the number of the pagan trinity (3).
Security: Uttered 13 times.
Note: The occultist views the number '13' as a most important sacred number in this current drive to so globalize the world that their Christ may appear; this number is a number denoting extreme rebelliousness against the constituted authority of the "Old World Order", which is loosely based upon Christianity.
Therefore, this speech was typically occultic, in which the number of repetitive uses of key words was far more important than the rhetoric itself. President Bush was signaling throughout the world that his actions are in line with the overall plan of the Illuminati, a fact of which his European audience was well aware.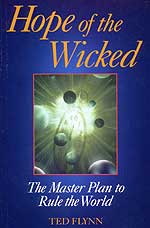 II. Supposedly secret audio tapes between an author and George Bush before he became President were made public last week. These tapes purportedly demonstrated a candid Bush who did not realize he was being taped and who had not yet declared himself a candidate for President. Therefore, these tapes were said to be an accurate window into the soul of the man.
Let us examine a couple aspects which these tapes reveal, for they do give us some interesting insight.
NEWS BRIEF: "In Secretly Taped Conversations, Glimpses of the Future President", by David D. Kirkpatrick, The New York Times, February 20, 2005
"Preparing to meet Christian leaders in September 1998, Mr. Bush told Mr. Wead, 'As you said, there are some code words. There are some proper ways to say things, and some improper ways'. He added, 'I am going to say that I've accepted Christ into my life. And that's a true statement'."
This one paragraph contains two very interesting statements.
First, Bush said he was aware that he was to used certain "code words" in dealing with Christians. We have alluded to the occult science, "Neuro-Linguistic Programming" (NLP), by which President Bush manipulates Christians with words that appeal to their subconscious, making them think he is one of them.
We cover this subject briefly in our Newsletter for September 25, 2004, Paragraph II, quoting from this news article:
NEWS BRIEF: "Words matter: How Bush speaks in religious code", By Bruce Lincoln, Boston Globe, September 12, 2004
We encourage you to click to this newsletter to read of this ancient occult art whereby a practiced occultist learns to manipulate people through speech. During this time before he announced his candidacy for President, George Bush may very well have been practicing this occult art, perfecting it.
Secondly, Bush said that he was going to state a truth: He had accepted Christ. The Born Again Christian will automatically jump to the conclusion that this statement was "proof" that George Bush was a Christian, since he had just stated that he had accepted "Christ".
However, nothing could be further from the truth, for Bush did not say that he had accepted "Jesus Christ", just "Christ". The word, "Christ" refers to the Jewish Messianic Office, and is thought of as more political than religious. This is why the prophet Isaiah predicted:
"For unto us a child is born, unto us a son is given: and the government shall be upon his shoulder... Of the increase of his government and peace there shall be no end, upon the throne of David, and upon his kingdom, to order it, and to establish it with judgment and with justice from henceforth even for ever." [Isaiah 9:6-7]
"Christ" is the Messianic political office, from which Jesus will one day establish His global "government", ruling majestically from Jerusalem.
In several occasions in the New Testament, Jesus is properly referred to as "Jesus the Christ", or simply "The Christ". Jesus is the name of the Divine Person Who fulfilled the office of "Christ", in complete fulfillment of all the Old Testament Messianic prophecies! We shall give you one example, and then list the rest:
"And Simon Peter answered and said, Thou art the Christ, the Son of the living God ... Then charged he his disciples that they should tell no man that he was Jesus the Christ." [Matt 16:16, 20]
Notice that Jesus referred to Himself as "Jesus the Christ." This is absolutely correct. Jesus is His Name, Christ is his Messianic office, which will also be political once He returns to begin His 1000-year reign.
Other verses referring to "The Christ": Matthew 26:63; Mark 8:27, 29; 14:61; Luke 3:15; 9:18-20; 22:67; John 1:41, where John the Baptist declares he is not "The Christ"; John 4:29; 4:42; 7:41; 10:24; 11:27; 20:31; 1 John 2:22; 5:1.
Antichrist will soon come to the world scene, claiming to be "The Christ"; he is supposed to take the specific name of a minor Hindu god, "Maitreya", thus making his full title, "Maitreya the Christ". At this most deceptive time in world history, Christian pastors and discerning church members need to stop referring to Jesus simply as "Christ", to make a firm distinction between Jesus the Christ and Antichrist, who will also carry the title, "Christ" -- "Maitreya The Christ".
Freemasons love to use the word "Christ" without the Name, Jesus. To see the type of "Christ" Masons worship, please take the time to read our article on this subject: "Freemasonry Connection To The New World Order: Teachings About Jesus Christ". Your eyes will be properly opened and you will understand the importance of the fact that President Bush never utters the word, "Jesus". The closest he will ever come is "Christ" -- and now you will know why this is true.
Thirdly, George Bush noted that Christians would not like the fact that he refused to "kick gays". Listen:
"But Mr. Bush also repeatedly worried that prominent evangelical Christians would not like his refusal 'to kick gays'. At the same time, he was wary of unnerving secular voters by meeting publicly with evangelical leaders. When he thought his aides had agreed to such a meeting, Mr. Bush complained to Karl Rove, his political strategist, 'What the hell is this about?' "
Not only has President Bush refused to "kick gays", his policies have been identical to the extremely pro-gay President, Bill Clinton. Further, we have seen Bush cooperate with the flaming gay organization, Log Cabin Republicans, in raising campaign funds!
In late May, 2001, we posted an article in which we examined Bush's First 100 Days, discovering to our horror that gays and lesbians were very much "A-Glow" with Bush's policies toward them and their lifestyle.
All these truths of President Bush's blatantly pro-gay policies stem from his stated refusal to criticize or oppose gays. With this thought in mind, perhaps the next story will carry heavier significance in your mind.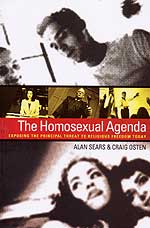 III. President Bush's White House Press Secretary has been "outed" -- he is reported to be gay!
NEWS BRIEF: "Is Bush Press Aide Gay?", by 365Gay.com Newscenter Staff, February 14, 2005
"(Washington) An online investigative journalism site Monday suggested that White House Press Secretary Scott McClellan is gay and was a regular at gay bars in Texas ... RawStory, which has outed other anti-gay Republicans, said its source 'reserved comment on whether McClellan was actually gay, but said he was frequently seen at gay clubs'. It says that another source confirmed McClellan was a regular at gay clubs. McClellan is an Austin native.
"He was often seen in gay clubs in Austin, Texas and was comfortable being there," the source told RawStory. "He's been seen in places that normal people who are looking for heterosexual relationships are not seen alone."
In the news articles we mentioned, above, where we reported that President Bush was as pro-gay as Clinton, we also reported that gay leadership was very pleased with the President's policies, and that they enjoyed close and continuous access to both President Bush and Attorney General Ashcroft! Now, we learn that White House Press Secretary Scott McClellan is believed to be gay, largely because he has been so regularly seen at Austin gay night clubs!
Touring gay night clubs is activity no genuinely Born Again Christian President would tolerate. And, do not for a moment think Bush was unaware of these gay excursions, for the domestic intelligence provided the President is excellent and designed to keep him both physically safe and politically safe. Either the FBI or the CIA would have known of these outings, and would have informed the President.
However, the story does not end with the White House Press Secretary. Listen as this featured story continues:
"RawStory also says there is a link between McClellan and the man who posed as a journalist and had been accredited by the White House. It reports that it has found the man claiming to be Jeff Gannon had sent McClellan a wedding card when the Bush aide married. Gannon, who wrote for two conservative web publications, was exposed last week as J.D. Guckert. The card to McClellan was apparently signed by Guckert."
Who is "Jeff Gannon"? WorldNetDaily says he is reported to be a gay hooker!
NEWS BRIEF: "Homosexual press hot to 'out' Bush figures: Gannon-gate leads to charges about top Republican officials", By Joseph Farah, WorldNetDaily, February 21, 2005
"Disclosures that an alleged homosexual escort working for a pro-Republican website was granted access to the White House press room has led to efforts in the nation's homosexual press to 'out' top-ranking Bush administration officials and GOP leaders based on uncorroborated, undocumented and unnamed sources ... In the last week, reports in New York's Gay City News and 365Gay.com and other homosexual-friendly publications and blogs have made specific allegations about individuals based exclusively on unnamed sources and rumors and playing off the sensational revelations about Jeff Gannon – by daylight a credentialed 'reporter' covering the White House for two politically partisan websites, while allegedly moonlighting as a $200-an-hour male escort and purveyor of explicit websites like HotMilitaryStud.com and MilitaryEscorts.com. Those sites have since been removed from the Internet."
Once again, domestic intelligence services protecting the White House almost certainly would have known of these "saucy details" and would have warned the President. The fact that this activity was allowed to continue until gay sources themselves broke the story speaks volumes about the pro-gay slant of the Bush White House.
Checking with a story from a major English news website, we see more of this connection between White House Press Secretary McClellan and Jeff Gannon/ J.D. Guckert.
NEWS BRIEF: "White House's loyal reporter once worked as gay hooker", By Andrew Buncombe in Washington, The Independent, 20 February 2005
"Washington is abuzz with speculation. The chattering classes can barely control themselves. A gay prostitution ring within the White House? Can it be true? Such an unlikely possibility emerged this week after a right-wing reporter who used an alias to obtain a White House press pass was revealed to possess something of a saucy past. Bloggers revealed that Jeff Gannon, real name James Guckert, had previously worked as a $200-an-hour gay prostitute who advertised himself on a series of websites with names such as hotmilitary stud.com. Mr Guckert has resigned from his job as a reporter for the conservative online news site Talon News, owned by a Texas Republican."
This next segment tells us why "Jeff Gannon" was so popular with White House Press Secretary McClellan.
"It was not Mr Guckert's past that initially attracted attention but rather his habit of asking soft questions of the President or his spokesmen and rewriting White House press releases almost verbatim and posting them as stories..." (Ibid.)
Whenever the Press Secretary found himself facing tough questions, he would immediately call on Jeff Gannon, who would always be able to swing the attention away from the hard questioning, and to some soft, safe area. Gannon would immediately ask McClellan an easy question or two, after which everyone had forgotten the tough question with which the Press Secretary was struggling.
However, the really shocking reality is that Gannon was linked to the White House CIA scandal, where someone within the White House compromised a CIA operative assigned within the Oval Office. The CIA is investigating from whom the leak came, in a case known as the "Valerie Plume" affair.
"He has also found himself at the centre of a major controversy over the outing of Valerie Plame, the undercover CIA operative and wife of ambassador Joseph Wilson. During an interview with Mr Wilson, the reporter suggested he had seen a classified CIA memo ... In a city where access to information is everything, Democrats have demanded an investigation into why Mr Guckert, with almost no background as a reporter, was provided with White House credentials, and how he received access to a classified CIA report." (Ibid)
We have been inundated with news reports that gay leadership is dead set against President Bush's "anti-gay policies" concerning his opposition to "Gay Marriage"; nothing could be further from the truth. Consider a couple of facts not so well known:
1. Prior to late 2003, when the time arrived for President Bush to start his reelection campaign, gay Republican leadership was quite happy with the policies of the President. In fact, groups like Log Cabin Republicans were constantly defending Bush's policies against criticism from Leftist, pro-Democrat gay groups. We have reported these facts in the articles we hotlinked, above.
It was only when the President had to start running for reelection that truth was stood on its head with news releases touting how angry gays and lesbians were with Bush's policies. This type of story was sheer propaganda, designed to fool the undiscerning Christian who pays scant attention.
2. President Bush's so-called opposition to "Gay Marriage" is a farce. Everyone knows that President Bush has always quietly supported "Civil Unions", which is Gay Marriage by another name. In fact, just five days prior to the 2004 election, President Bush boldly declared on national TV that he supported Civil Unions.
NEWS BRIEF: "Bush breaks with GOP on same-sex unions", United Press International (UPI), 10/26/2004
"President Bush broke with the Republican Party platform in supporting states' rights to permit same-sex civil unions. 'I don't think we should deny people rights to a civil union, a legal arrangement, if that's what a state chooses to do so. ... I view the definition of marriage different from legal arrangements that enable people to have rights ... states ought to be able to have the right to pass laws that enable people to be able to have rights like others', Bush told ABC's Charlie Gibson in an interview broadcast Tuesday on 'Good Morning America'." [Newsletter for October 30, 2004, Paragraph I)
Now you have the truth, from President Bush's own mouth. He supports defining marriage as a union between a man and a wife, but he also supports "Civil Unions", a Gay Marriage by another name. Have you been deceived on this issue?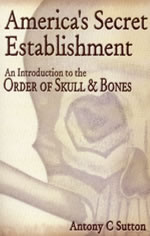 IV. This Jeff Gannon gay hooker scandal may reverberate all the way back to the Reagan/Bush White House!
NEWS BRIEF: "Gannongate threatens to expose a huge GOP pedophile and male prostitution ring", By Wayne Madsen, Online Journal, February 18, 2005
"Now that is has been discovered that 'Jeff Gannon" (real name James D. Guckert), a 'reporter' for Talon News Service, a front operation run by the conservative Republican-oriented GOPUSA.com, was using an alias as a cleared White House reporter, details are emerging that threaten to immerse the Bush administration in a major scandal. 'Gannongate', which is only now being mentioned by the mainstream news media, threatens to expose a potentially damaging GOP pedophile and male prostitution ring dating back to the 1980s and the administration of George H. W. Bush. James D. Guckert, using the name Jeff Gannon and possibly other aliases, was also running gay porn sites, one with a U.S. Marine Corps theme that solicited males for prostitution ... It was also revealed that Jeffgannon.com had been registered by the same Delaware-based company that had registered other Republican-oriented web sites, along with those catering to pornographic military gay themes and male escort services."
Do you mean to tell me that a "GOP pedophile and male prostitution ring" back in the 1980's Reagan/Bush White House?
Yes, that is exactly what I mean. Please take a moment to click on this scanned photograph of The Washington Times, June 29, 1989, entitled, "Homosexual prostitution inquiry ensnares VIP's with Reagan/Bush: 'Call Boys' took midnight tour of White House".
Read this first page of this report and weep. Both Reagan and H.W. Bush claimed to be Christians, so this story seems so out of character as to invite immediate rejection. However, remember both of these men were really Illuminists dedicated to establishing the New World Order. H.W. Bush is particularly noteworthy because he is a lifelong Adept in the Black Magick secret society, Skull & Bones, as is his son, the current President.
Since this is the case, we should expect that homosexuality would be tolerated, even encouraged, at a White House run by a President Bush. You see, all practitioners of the occult teach and belief that Nature must always be in balance. This belief is typified by their teaching on Yin/Yang, Light/Darkness and Heterosexuality/Homosexuality, to mention just a few instances where Mother Nature must be in balance, along with her creatures.
A true occultist will teach, and practice, bi-sexuality, for that preserves the balance in Mother Nature. Therefore, knowing that both Presidents Bush are Bonesmen, we should not be surprised about these revelations of homosexuality within their camp.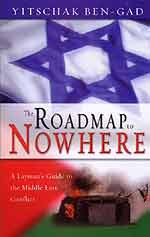 V. Israeli Prime Minister Sharon suddenly shortened the timetable by which he said he was going to evacuate settlers! Why would he do that? The answer may surprise you, for once again, Sharon is revealed as a master strategist.
NEWS BRIEF: "Israeli defence minister to shorten evacuation timetable to hamper resistance", myTELUS News, Friday, Feb 25, 2005
"JERUSALEM (AP) - Israeli Defence Minister Shaul Mofaz has ordered defence officials to drastically cut the timetable for withdrawing from the Gaza Strip and the northern West Bank this summer in an effort to hinder Jewish extremists bent on disrupting the pullout ... Military officials were worried that opponents of the pullout might use to force to resist evacuation. Mofaz told defence officials Thursday night that the planned eight-week evacuation would give the plan's opponents too much time to disrupt it and to recruit reinforcements."
"The government originally planned a 12-week pullout, but shortened it to eight weeks recently. In response to Mofaz's orders, the timetable could now be cut to four weeks, security officials said."
As we stated in last week's newsletter, settlers opposing Unilateral Disengagement underestimated the wily old general. First, he fired the top Israeli Defense Force general and the Head of the Shin Bet Security Service, simply because they personally opposed the disengagement and used the publicity which accompanied their office to share their views to the Israeli people.
But not only did Sharon fire these two excellent soldiers, he then ordered the IDF to seal off all roads leading to and out of the settlements targeted for forced evacuation. Sharon took this unexpected step to prevent tens of thousands of docile protesters from descending upon the area, thus forcing the IDF to physically remove them as well.
Now, we see that Sharon does not intend to give protesters any more time to oppose him than is absolutely necessary. This tactic seems smart, given the dramatically increased sense of anger and desperation amongst the protesters. Listen:
"Thousands of religious Jews gathered in Jerusalem on Thursday night to protest the pullout plan, comparing the evacuation of 9,000 settlers to the Holocaust, where six million Jews were killed. Opposition to the pullout has grown more strident in recent weeks, with some opponents sending threatening letters to government leaders, blocking major Israeli roads with burning tires and calling Israeli security forces Nazis." (Ibid.)
This type of hyperbole is strong stuff, coming as it is from Jews, directed to other Jews. But, even stronger rhetoric is now pouring forth.
"Participants at the rally Thursday held balloons inscribed, 'in each settlement there are more arms, ammunition and weapons-trained men than there were in the Warsaw ghetto', implying that settlers should emulate Jews who rose up against the Nazis during World War II." (Ibid.)
This kind of rhetoric not only incites emotions, it plays into the hands of a ruthless Sharon government. The Prime Minister is already taking advantage of this perceived danger from the Right Wing. A breaking story this past week demonstrated that the Shraon government is already deliberately setting the settlers up for persecution, through a "government provocateur" operation.
NEWS BRIEF: "Undercover Police Agent Responsible for Right-Wing Incitement", Israel National News, 2/21/2005
"A police informant initiated much right-wing incitement in recent weeks ... The paper states that the police agent has initiated some of the more extreme protest acts of recent weeks - acts that were widely attributed to the entire national camp. The activities thus cast a cloud of illegitimacy on the entire anti-disengagement cause ... The agent provocateur was behind a recent bumper sticker which implied that Prime Minister Sharon's death was near. The sticker read: 'Sharon, Lily [the PM's late wife] is waiting for you'. He also recruited people to attend the road-blocking protests of last week, which brought much public wrath upon the anti-disengagement cause."
This type of operation is a typical "government provocateur" sting! An undercover government agent pretends to be someone he is not, i.e., a member of a Right-Wing group protesting Sharon's Unilateral Disengagement. This government agent will then take actions or make statements inflammatory against the government, accomplishing at least two goals simultaneously.
1. The general Jewish public will hear the inflammatory rhetoric coming from this government plant and will immediately think a whole lot less of the Jewish settlers and their cause. In fact, most of the Jewish public is secular, while most of the settlers are religiously observant. This fact means that secular Jews have little tolerance of the religiously observant and are ready to believe the worst about them.
Therefore, when the Sharon government places a police undercover agent amongst the religiously Jewish people and have him speak inflammatory language -- especially threatening words against Sharon and/or other government leaders -- officials know that many secular Jews will readily think the language was real and did come from the settlers.
2. Secular Jews will more readily accept "tough measures" from the Sharon government against the settlers.
In NEWS2009, we thoroughly document the "government provocateur" operation which Sharon has launched against the religiously observant Jews. Read it carefully, for a major assassination attempt may erupt, to be blamed on the settlers. Such an attack on a Sharon government official would produce a groundswell of support for Sharon and his Unilateral Disengagement Plan, crucial support coming at a most crucial time.
And, the entire affair will probably have been a "government provocateur" operation.
This next story speaks loudly and clearly to this reality. You can see that Sharon feels comfortable in the level of support from secular Jewry.
NEWS BRIEF: "Police Plan to Use Non-Jews for Expulsion", Israel National News, 2/18/2005
"Police are preparing non-Jews to force Jews out of Gaza and northern Samaria ... The government plans to close off Gush Katif as a closed military zone from May 15 and thus prohibit non-residents from entering ... most of the policemen are non-Jews and that many Jewish policemen are suffering psychologically from the training they are receiving."
In Seminar 2, "America Determines The Flow Of History", I disclose that, as Russian Communist dictator, Lenin, was attempting to establish firm control over all Russia, he made a startling discovery: Russian soldiers could not be depended upon to be brutal to their own people, even those soldiers hardened by World War I. Similarly, non-Russian soldiers could not be coerced into being brutal to their own people. This was a serious matter, for brutality was absolutely required if Communism was to be established firmly throughout Russia.
The answer was as profound as it was simple: Russian soldiers would be transferred to non-Russian areas, while non-Russian soldiers would be transferred to Russian areas. Thus, Lenin and his Communist thugs could depend upon the willingness of the soldiers to brutalize the civilians in the area under their patrol. The system worked, allowing Communism to find thorough root.
This example seems to be the one followed now by Sharon as he gets ready to forcibly evacuate religiously observant Jews from their settlements. The use of brutality is the next subject discussed by this article.
"Law enforcement officers also have been promised that the police department will not act on any complaints against police brutality during the evacuation ... police are being trained how to use violence without leaving any external signs which could be used as evidence against them ... Police will not wear identity tags in order to prevent any complaints or claims of brutality ... Policemen have been told no complaints will be filed for 'minor things' such as breaking an arm ... The law enforcement agency plans to place four policemen for every resident to be evacuated. They also are preparing how to force mothers to release their babies, who are to be turned over to social workers until mothers agree to board buses." (Ibid.)
Did you catch that last sentence? I never thought I would ever see or hear such treatment planned for Jews by Jewish leaders, especially after Hitler's Holocaust. Listen to this last sentence again:
"They also are preparing how to force mothers to release their babies, who are to be turned over to social workers until mothers agree to board buses."
Can you imagine the brutal reasoning behind this part of the disengagement plan? Mothers are going to have their babies ripped out of their hands, and then will be told that they will not get their loved one back until and unless they agree to board the government bus which will carry them out of the area! Truly, Jesus was right when He said there are Jews who say they are, but are not. Listen to His full remarks.
"I know the blasphemy of them which say they are Jews, and are not, but are the synagogue of Satan." [Rev 2:9]
Are Prime Minister Sharon, and his entire cabinet, Jews who say they are Jews, but are not? Are they provably of the "synagogue of Satan"? Absolutely! These men are Illuminized Freemasons and are most definitely not religiously observant Jews. This is proof positive that Israel was founded by Illuminists and will be run by them until Jesus allows Antichrist to kill two-thirds of them at the mid-point of the Tribulation Period.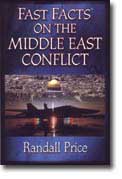 VI. Secretary of State Rice and President Bush each began to sing the same refrain last week, just as Sharon was beginning to go through the most difficult of all actions -- forcing Jewish settlers out of their Biblical land.
The key phrase was "Palestinians need contiguous territory".
NEWS BRIEF: "Bush: Uproot Jews, Give PLO a Contiguous State", Israel National News, 2/22/2005
"US President George W. Bush told policy makers meeting in Brussels Monday that further Israeli withdrawals from Judea and Samaria must lead to a 'viable' and 'contiguous' PLO state. Bush called on Israel 'to freeze settlement activity, help Palestinians build a thriving economy and ensure that a new Palestinian state is truly viable, with contiguous territory on the West Bank'."
"Enunciating a vision that can be attained only by dismantling more Jewish towns and communities in Judea and Samaria, Bush stated bluntly that 'a state of scattered territories [for the PLO] will not work'. Many Jewish communities, reestablished on ancient biblical sites in territory liberated from the Arabs in the Six-Day War, are located along the main highway linking Arab-populated cities in Judea and Samaria. It is these Jewish towns and villages that will have to be dismantled, according to the Bush vision, to make a 23rd 'viable' Arab country in the Middle East."
Evidently, now that the unilateral withdrawal originally foreseen in the 1992-1993 Oslo Accords is irrevocably underway, the time has come for all manner of facade to come tumbling down. During the intervening 12 years since Arafat signed the accords with Prime Minister Rabin at the Clinton White House, officials of the Israeli government always denied that Israel would be required to give up so much land to the Palestinians that her national integrity would be compromised. Virtually every time a conservative leader would reveal that this was, indeed, the plan, a government official would quickly deny that this was the case.
In the past year, Sharon's Deputy PM, Olmert, has suggested further withdrawals were planned, but this is the first time I have heard any highly ranking official -- either Israeli or American -- boldly declare that this much land has to be given over to the Palestinians, who hate Jews so badly they want all of them annihilated. Israel is giving up so much land to these bloody Palestinian terrorists that the Israeli Defense Force is going to be hard-pressed to ensure that Israel can survive a determined, all-out assault from the Palestinians within and the Syrians/Egyptians/Jordanians from without.
We encourage you to study the maps in "Fast Facts On The Middle East", so you can see how improbable this surrender of land really is. Once the Palestinians get control of this much land, Israel will be militarily indefensible, according to established military doctrine. However, discerning Palestinians know that Israel is planning "ethnic cleansing" against all Palestinians, public rhetoric to the contrary notwithstanding.
Remember the fact we reported several months ago: once the Jewish settlers are forcibly removed and once the Security Fence is erected, 99.3 percent of all Palestinians will be separated from the Jews. At that point, the prophecy of Obadiah 15-18 will not be far off.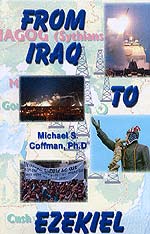 DVD or VHSVII. The scenario we reported several months ago regarding the Iraqi elections seems closer to fulfillment than ever before.
In NEWS2005, we reported that President Bush and Iraqi Administrator Paul Bremer set up the election rules in such a manner as to ensure that they could control who the Iraqi Prime Minister would be, even while giving the public illusion that the Iraqi citizens had actually chosen their government.
The keys to this illusion are the rules which mandates the National Assembly to choose the PM, but which requires that the vote be 66% in favor of the new Prime Minister. The National Assembly could choose whomever they wish, even someone who did not participate in the election!
The guaranteed bottom line of these rules is simple: "... the head of the government will be selected, not elected."
With this in mind, let us review several pertinent news stories:
NEWS BRIEF: "Iraq's Shiites pick Islamist to run for prime minister", By Tom Lasseter, Knight-Ridder Newspapers, reprinted in the Denver Post, February 23, 2005
"Baghdad, Iraq - The dominant Shiite Muslim political ticket Tuesday picked its candidate for prime minister: Ibrahim al-Jaafari, a man who some fear could lead the nation toward theocracy. The 58-year-old doctor got the nod after several days of intense negotiations behind closed doors ... Al-Jaafari is likely to get the two-thirds majority of assembly votes he needs to win appointment by means of a deal with the main Kurdish ticket, which has been promised the less-powerful presidency."
At first glance, this result seems to be consistent with the actual voting, which gave nearly 50% to the Shi'ite Muslim Party. However, the result was hardly announced before Interim PM Allawi was breathing threats against Al-Jaafari and his Shi'ite Party, and announcing plans to contend for the office even though he got only 14% of the vote.
But then, we hear that Allawi is planning to seek the post of "elected" Prime Minister, even though his election support was miniscule compared to the Shi'ite Party!
NEWS BRIEF: "Allawi plans to seek prime minister post: Political jousting continues in wake of Iraqi elections", Houston Chronicle, February 24, 2005
"BAGHDAD, IRAQ - Interim Prime Minister Ayad Allawi announced Wednesday that he would seek to lead the country's next government ... The comments indicated that al-Jaafari's selection did not mark the end of the hotly contested and intricately negotiated political maneuvering that has followed Iraq's Jan. 30 elections ... Under the country's interim constitution, the newly elected 275-seat National Assembly will choose a president and two deputy presidents who will name a prime minister. But the occupants of those posts probably will be chosen beforehand in backroom dealings among the major political parties."
"A spokesman for Allawi, a secular Shiite politician, had said Monday that he would be a candidate for prime minister, the position he has held for eight months in the outgoing interim government. On Wednesday, Allawi made it official, announcing the formation of a coalition to back his bid for the job. He declined to specify his coalition partners."
Then, in a sly manner, Allawi warned Al-Jaafari not to try to establish a religiously-based government -- America's greatest fear coming from this election. Allawi could be the next Prime Minister, even though he fared so badly at the polls. Thanks to the quietly contrived election rules, President Bush could still maneuver the secular, former CIA agent, Allawi, into power.
Another article reports that Allawi is trying to draw the Sunnis into his coalition, even though they boycotted the elections.
NEWS BRIEF: "Interim Iraqi leader aims to challenge Shiite candidate: Ayad Allawi wants to add Sunnis to coalition", By PATRICK QUINN, Associated Press, reprinted in The Times Union, February 24, 2005
"BAGHDAD, Iraq -- Ayad Allawi, the secular interim prime minister, said Wednesday that he's putting together a coalition to try to hold onto the job in the next government and block the candidate of the dominant Shiite political alliance. Allawi's call for an inclusive coalition that would attract minority Sunni Arabs who form the core of the insurgency came as support for Ibrahim al-Jaafari, the leading Shiite candidate, began slipping in his United Iraq Alliance. One day after al-Jaafari, 58, was nominated for the post of prime minister by the clergy-backed alliance, a Shiite political group that supports his one-time challenger, Ahmad Chalabi, threatened to withdraw its support ... A two-thirds majority of the assembly is required for approval of the presidency -- the first step in filling the top positions. For al-Jaafari to become prime minister, he must win the approval of his own Shiite alliance, including Chalabi's supporters, and an additional 44 legislators."
These rules are tough, and are designed to plunge the ruling party into enough disarray that, in order to achieve the 66% level, will require the Shi'ites to compromise again and again and again, so that, finally, they will vote for the secular Allawi. This scenario seems logical and is consistent with what we reported two weeks ago. We shall just have to wait to see how events turn out -- but remember, the Americans will control whomever gets elevated to this post.
VIII. A Palestinian suicide bomber blew up a nightclub in Tel Aviv late Friday, sending shock waves through the official "peace" and "ceasefire" under which the Sharon and Abbas governments are operating.
NEWS BRIEF: "Tel Aviv bomb rocks peace process: Four killed in suicide blast claimed by Islamic Jihad", The Guardian (London), Saturday February 26, 2005
"Tentative hopes of reviving the Middle East peace process were jolted last night when a suicide bomber blew himself up outside a seafront karaoke nightclub in Tel Aviv, killing at least four people and wounding dozens. An air of palpable shock hung heavy over Israel's second city after the first suicide bombing in Israel for almost four months - and the first since the Palestinian president, Mahmoud Abbas, succeeded Yasser Arafat earlier this year ... the attack met with dismay, resignation and impatience on the Israeli side, while the US insisted that the Palestinians take action."
"The suicide bomber struck just as the city's youth were descending on seafront clubs and bars, targeting a queue of dozens of young people waiting outside the Stage nightclub, a popular beachfront venue in a neighbourhood packed with bars, ice cream stalls, nightspots and embassies. Parked cars were wrecked and spattered with flesh and pavements were bloodied. The front of the nightclub was ripped off and other buildings scarred as shrapnel from the explosion tore through the busy Tel Aviv night."
In NEWS2007, we reveal the very deceptive "official peace ceasefire" worked out between Sharon and Chairman Abbas. We encourage you to read this most recent article, for events flowing from this suicide bombing will take the shape we outlined in this article.
Right on schedule, Palestinian Authority Chairman Abbas announced his opposition to this suicide bombing and vowed to arrest those reponsible -- an action Yassir Arafat always took following a major terrorist attack against Israelis.
NEWS BRIEF: "Abbas Pledges to Punish Militants Responsible for Suicide Blast That Killed 4", AP Breaking News, By Mohammed Daraghmeh Associated Press Writer, Feb 26, 2005
"RAMALLAH, West Bank (AP) - Palestinian security forces on Saturday arrested two suspected militants in connection with a suicide bombing that killed four Israelis at a Tel Aviv nightclub, acting on orders from Palestinian leader Mahmoud Abbas to track down and punish those responsible ... Israel and the United States said Abbas has to act quickly and forcefully - despite his long-standing reluctance to confront militants - if he wants to rescue a fragile Mideast truce. Abbas met with Cabinet ministers and security chiefs Saturday to discuss a possible response. Abbas condemned the attack as 'sabotage' and said he was exchanging information with Israel, the United States and Europe. He said he hoped the attack would not derail efforts to resume peace talks."
Arafat was always able to hold both America and Israel at bay with this type of shallow proclamation. But, right beneath the surface, he was always supporting the suicide bombing and always planning the next one.
However, this rhetoric will perpetuate the false facade that this terrorist attack was carried out by "unofficial" terrorists not under the control of Chairman Abbas; thus, the "official" ceasefire between the Sharon government and the Abbas Palestinian governmet can be said to still be strong and "officially" functioning. This fact can be seen by Abbas' statement that " he hoped the attack would not derail efforts to resume peace talks."
Such are the illusions of Middle East "peace".
However, remember this fact as President Bush and leaders throughout the world put immense pressure on Sharon to carve out a Palestinian State from the lands of Biblical Israel. "GOD THREATENS END TIMES JUDGMENT AGAINST NATIONS WHO 'DIVIDE' ISRAEL'S LAND". Biblical Israel belongs to God forever and is not subject to giving portions away.
As if America's physical judgment at the hands of God were not set in stone already because of our great national sins, this action really makes our final annihilating judgment certain.

---------------Cutting Edge Wants To Know What You Think!--------------------------------------
We value your opinion! Cutting Edge readers are the most discerning of people, so what you believe collectively is of most interest to us. Therefore, please take a few moments to tell us what you believe concerning the following questions.
Just click on the link below, answer the questions, and then submit your response. We shall post the results in next week's Newsletter!
=======================================================
May Jesus Richly Bless You,
David Bay, Director
866-909-2850 Toll Free Customer Service - Order Line
803-356-2850 Toll Free Customer Service - Order Line
803-356-2860 Fax