You will hear much more of this practice of turning evil into good and good into evil as we head toward the elections of November, 2020, Just be aware of this peculiar type of evil.
But, Hillary wants Congress to keep on digging against Trump!
NEWS BRIEF: "Keep Digging! Clinton Wants Congress To Pursue Russia Collusion, Even If Mueller Comes Up Empty", Sons of 1776 News, Mach 4, 2019
"Failed 2016 Democratic presidential candidate Hillary Clinton doesn't want Congress to give up on pursuing evidence of President Donald Trump colluding with Russian officials to impact the 2016 elections, even if Special Counsel Robert Mueller's report comes up empty."
I believe the time has already arrived when a significant majority of American voters have reached "TILT" on this type of "Fake News"! The more the Democrats continue to beat this dead donkey, the more they are going to fall in the polls and at the election!
4. We need to review the record of today's Democrat Party and get it forever on the public record, just in time for 2020!
NEWS BRIEF: "Getting the Party of Infanticide on the Record ", American Greatness, March 3, 2019
"Democrats have always been the party of abortion. For a while, the mantra was "safe, legal and rare."; But in the era of the progressive Left, they have turned that slogan on its head. As of last Monday, Senate Democrats have confirmed that their party is now for unrestricted, unregulated, and unlimited abortion."
"Last week, 44 Senate Democrats voted against legislation that would have required doctors to give the same care to infants who survived abortion procedures as they would give to any other infant. So radical is this new Democratic Party that 44 of them in the 'world's greatest deliberative body' would not even consider protecting a baby who, far from being in utero, has kicked and screamed its way into the world."
NEWS BRIEF: "California Democrat Pushes Gun Confiscation As The Ultimate Goal To Prevent All Gun Violence", Explain Life News, March 3, 2019
"Shall not infringe. Shall not infringe. Shall not infringe. How many times do the gun-grabbing Democrats in Congress need to hear these three simple words before they get it through their thick skulls that the Second Amendment to the United States Constitution, which protects and guarantees Americans' God-given right to bear arms, is non-negotiable?"
"... House Democrats are busy scheming up legislation that would make it much more difficult for the people of this country to rightfully buy, sell, and possess firearms. And their ultimate end game, as openly admitted by California Democrat Mike Thompson during a recent press conference, is to eventually confiscate everybody's guns."
NEWS BRIEF: "Maryland Sheriffs Won't Enforce New Gun Law Say It's A 'Suicide Mission' For Cops", Explain Life, March 4, 2019
"Maryland's HB 786 is a "suicide mission" for law enforcement, according to Sheriffs from three Maryland counties. Blue Lives Matter reported that they told the Maryland assembly that taking guns away from citizens would cause citizens to shoot at officers, and the laws were unconstitutional so they will not comply. Wicomico County Sheriff Mike Lewis testified "The way the bill is written, it is impossible to comply, I can't send (my deputies) on a suicide mission."
The problem in Maryland is Baltimore, a Democrat-controlled gun control city out of control.
"We're gonna let them know that we are sick and tired of being penalized for Baltimore City's inability to control crime. If these bills pass, we will not comply… Law-abiding citizens are repeatedly being penalized because of Baltimore City's inability to control their crime. And I'm sorry — I'm not someone's puppet. I'm going to stand up for what I think is unjust and unconstitutional to the American people, including those living in the state in Maryland."
Modern history is filled with examples of what occurs in countries in which private citizens surrendered their arms to the government. In Nazi Germany, Communist Russia and Communist China, the government waited little time clamping an Absolute Dictatorship once guns were surrendered.
And, today, the world is heading into the greatest Dictatorship of all, the "NOVUS ORDO SECLORUM" (New World Order) printed on the back of our One Dollar Bill. United Nations studies of the difficulty taking away guns from a population of 100 million people is very daunting, almost impossible.
As Charlton Heston once remarked that he would surrender his guns only when soldiers could pry them from his cold, dead hands!
NEWS BRIEF: "Kamala Harris Wants To 'Decriminalize' Prostitution", Big League Politics, February 28, 2019
"The Democrat Party continues swerving to the left. The newest zany policy to be embraced by a 2020 front runner: decriminalized prostitution.
"I think so. I do,"; Kamala Harris declared when asked if she thought "sex work"; should not be treated as a crime in an interview with The Root published Tuesday ... Problematically for Harris, when law enforcement is withdrawn in a sensitive area like trafficking, acts between nonconsenting adults are also — de facto — decriminalized."
"We can take the word of law enforcement officers in California, like Officer Tony Herrera, where such decriminalization policies have been tried already, leading some to suggest that it is a de facto legalization of child trafficking."
"Make no mistake, California: This is the legalization of child prostitution,"; Officer Tony Herrera writes at Washington Examiner. "
And, these facts brings us back to our Story #1, above. Democrats have set up child prostitution legalization /child trafficking, within California borders and are naturally protecting such activities within migrant caravans!
Their total absence of Biblical morality is truly disgusting and threatening to the very fabric of America!
---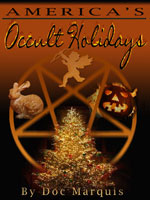 "America's Occult Holidays"
by Former Satanist Doc Marquis
Regularly $39.99, now only $19.99
Did you know that all our annual holidays are rooted deeply into Black Magick Satanism? Doc Marquis, delivers a knockout punch against the practice of all our major holidays, providing details only a former Witch would know.
Doc begins by demonstrating how the Illuminati effected the change in our calendar and how that change has affected a dramatic change in our everyday lives. The Illuminati copied heathen holidays from Satanism and then just gave them Christian names. You will be shocked to realize how very pagan our annual celebrations are! You will be shocked to realize how most of the symbols used in our holidays originated within Satanism.
Doc covers the following pagan holidays most of which America fervently celebrates. 1) America's Occult Calendar -- Marquis reveals how our entire calendar is patterned after Illuminism, from January 1 through December 31! 2) Valentine's Day/Groundhog Day 3) St. Patrick's Day 4) Easter 5) Beltaine - May 1 - May Day 6) Halloween (Samhain) 7) Christmas (Yule) https://www.cuttingedge.org/detail.cfm?ID=1460
Protect Your Children From These Deeply Satanic Holidays
Archived News Articles: "Resurrection Eggs" -- Another Sign of Apostasy Within the Christian Church "
Southern Baptist Apostasy Reaches New Proportions -- Celebrating Easter Eggs -- Easter is BAAL Worship! Another Sign The End of the Age Is Near.
Current News Article
NEWS BRIEF: "Holy war erupts over Jesus 'physically' rising from dead", World Net Daily, January 13, 2019
"When Jesus rose from the dead, was it a physical resurrection of His body, or was He transformed into a spiritual body? That question has sparked a serious dispute in the Church of England, and the archbishop of Canterbury is now being pressured to force his new representative to Rome to resign."
" 'We need to challenge the belief that the resurrection of Jesus from the dead was a physical resurrection', Shepherd says on video."
The Church of England has finally slid so far into the muck and mire of Apostasy that they have landed into the Abyss of Antichrist. When they "challenge the belief that the resurrection of Jesus from the dead was a physical resurrection", they are fulfilling 1 John 4:2-3, quoted below.
"Hereby know ye the Spirit of God: Every spirit that confesseth that Jesus Christ is come in the flesh is of God: And every spirit that confesseth not that Jesus Christ is come in the flesh is not of God: and this is that spirit of antichrist."
The verse of Romans 10:9 also condemns this type of teaching:
"That if thou shalt confess with thy mouth the Lord Jesus, and shalt believe in thine heart that God hath raised him from the dead, thou shalt be saved." (Romans 10:9, KJV)
Personally, I believe that when a person does not believe Jesus rose physically from the grave, that person is not saved!
In fact, this belief comes dangerously close to the teaching of Illuminized Freemasonry! "But, Pike then 'reveals' that Jesus did not actually live a normal human life, but 'took upon Himself only the appearance of a body ...' (Albert Pike, "Morals and Dogma of the Ancient and Accepted Scottish Rite of Freemasonry", p. 564)
Then, a few pages later, Pike returns to this heresy. 'The Light [Jesus] could not unite with the darkness. It put on the appearance of a human body, and took the name of Christ in the Messiah, only to accommodate itself to the language of the Jews ... But the Chief of the Empire of Darkness [Satan, which is Ialdabaoth] caused Him to be crucified by the Jews. Still, He suffered in appearance only ..."