Jesus Did Not Rise From The Tomb On Easter!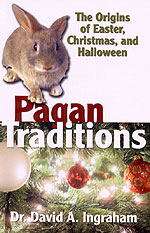 "Pagan Traditions: The REAL Origins"
YOU wouldn't DREAM of dabbling in idolatry or Witchcraft -- would you? YOU have NEVER embraced Witchcraft and the occult -- have you?
Surely, the Easter Bunny, the Christmas Tree, and all of Halloween's symbols and legends, are innocent ways of enjoying the holidays -- aren't they?
You will discover that the practices of our holidays come straight out of ancient Witchcraft religions, such as the Babylonian Religion, the Egyptian Mysteries, the unbelievably cruel Druid religion, and many more - http://www.cuttingedge.org/detail.cfm?ID=1757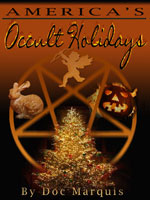 "America's Occult Holidays" DVD
Former Satanist, Doc Marquis, delivers a knockout punch against the practice of all our major holidays, providing details only a former Witch would know.
The Illuminati copied heathen holidays from Satanism and then just gave them Christian names. You will be shocked to realize how very pagan our annual celebrations are! You will be shocked to realize how most of the symbols used in our holidays originated within Satanism. Too many Christians are enthusiastically celebrating Luciferian holidays, thinking they are Christian. Once you understand how very pagan America and the rest of the Western world has become, you can see how God's judgment cannot be far behind.
Doc Marquis only uses the King James Bible - http://www.cuttingedge.org/detail.cfm?ID=1460
---
HOT NEWS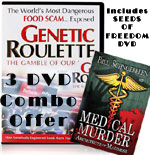 I. Genetically Modified Foods carry the deadly potential of destroying mankind!
What else can we expect when wicked man gains knowledge of man's very existence?
NEWS BRIEF: "GMOs threaten to end all life on Earth: Risk engineering professor and investment expert warns", Natural News, March 6, 2014
"Genetically modified organisms (GMOs) threaten to cause 'an irreversible termination of life at some scale' ... according to Nassim Taleb, an author and distinguished professor of risk engineering at New York University ... Taleb expresses concern not for the potential health effects of GMOs but for the risk they carry of ending all life on Earth."
How can this possibly be true? Taleb explains.
"A single GM seed type has a miniscule chance -- e.g., 0.1 percent -- of causing the breakdown of the ecosystem that all life depends on, also called ecocide. With this one type of seed, it is highly unlikely that total ecocide would ever occur; however, with increasing amounts of GM seed varieties comes cumulative risk. For example, if 100 new GM seed types are produced, then that 0.1 percent chance suddenly becomes a 10 percent chance of global life-ending catastrophe."
The Illuminati serves lord Satan, so they instinctively hate all other humans. Listen to their intense hatred.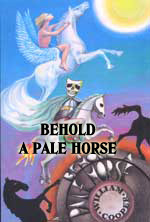 "Take control of the world ... to reduce ... the world to a safe level by a process of benevolent slavery and genocide." ["Behold A Pale Horse", by William Cooper, p. 49]
Can you imagine the arrogance of these Illuminati? They actually view murderous reduction in world population as "benevolent genocide"!
"The only alternative left to the world's ruling elite was to increase the death rate ... they did not relish the possible consequences of an enraged public upon discovering that they were being systematically murdered ... a very short but very deadly global war using nuclear weapons upon select population concentrations was contemplated and ... was not ruled out ... Dr. Aurelio Peccei of the Club of Rome ... advocated that a plague be introduced that would have the same effect as the Black Death of history." [Ibid., p. 167]
This attitude toward killing vast numbers of people parallels End Times prophecy!
"There will be mighty ... pestilences (plagues: malignant and contagious or infectious epidemic diseases which are deadly and devastating." [Luke 21:11; Parallel Bible, KJV/Amplified Bible Commentary]
Fourth Seal: "So I looked, and behold, an ashy pale horse [black and blue as if made so by bruising], and its rider's name was Death, and Hades (the realm of the dead) followed him closely. And they were given authority and power ... to kill .... with plague (pestilence, disease) ..." [Revelation 6:7-8, Ibid]
Jesus solemnly warned us of how deep this hatred for humanity will run in the hearts and the minds of the final rulers of this age.
"And except that the Lord had shortened those days, no flesh should be saved..." (Mark 13:20)
If you do not know Jesus Christ as Savior, you have every right to be terrified. The End of the Age is "worst case scenario"! (If you are not Born Again, click here to discover salvation)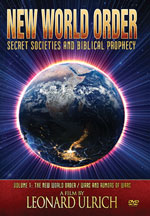 II. As the Ukraine crisis grows exponentially, both Obama and Putin are discovering that the action they can take is severely limited.
The new Global Economy has made America and Russia very interdependent!
NEWS BRIEF: "Ukraine: Goodbye Cold War, hello globalised economy", Al-Jazeera News, 6 March 2014
"While most observers claim that the current conflict over Ukraine is reminiscent of the Cold War, a political economy analysis of the last three days would ... underline how liberal economic interdependence has modified the rules of the game. "
"The reaction from oligarchs in Ukraine as well as the impact that the prospect of war had on both the Russian stock exchange and currency are solid proof that countries cannot operate bluntly as they did during the Cold War without closely monitoring global economic dynamics. "
"However, the capacity of European power to maintain a front of unity has its limit. It started suffering from internal defection as shown by the lukewarm and cautious positions from the Cameron administration highlighting the City's dependence on Russian capital. Indeed, Russian economic retaliation would also have strong impact on some of the largest American companies, including Exxon and PepsiCo.
"But the past week events confirmed this is not a zero-sum game, but rather an economic interdependence where former partners can grow together or lose together, at the expense of their domestic stability."
At this point, we must remember that, while this global economic interdependence is quite true and severely limits the power of one nation over another, the REAL purpose of this crisis is to bring Supernation #5 -- Russia and Eastern Europe -- into reality. Remember also that leaders of both sides of this struggle are really cooperating with each other.
"Also the ten horns that you observed are ten rulers ... For God has put it into their hearts to carry out His own purpose by acting in harmony in surrendering their royal power and authority to the beast, until the prophetic words (intentions and promises) of God shall be fulfilled." (Revelation 17:12. 17; Parallel Bible, KJV/Amplified Bible Commentary]
When the dust finally settles, the Club of Rome plan to create Nation #5 will prevail and Daniel 7:7-8 will have moved one more step toward full completion.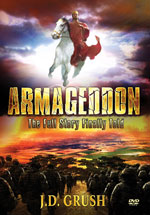 III. When Israeli military intelligence seized a ship carrying missiles and other military weaponry bound for Hamas, they had no idea how dangerous the full cargo was!
Even though tiny Israel is surrounded by 100,000 enemy missiles, this cargo represented a significant threat.
NEWS BRIEF: "Final inventory of seized Iran arms ship: 40 rockets, 180 mortars, 400,000 bullets ", The Jerusalem Post, 3/9/2014
"The IDF released on Sunday an inventory of weapons recovered from the attempted Iranian shipment to Gaza last week on the intercepted freighter Klos C. After detailed analysis carried out by the Engineering Corps, the IDF found 40 M-302 rockets, with a range of between 90 to 160 kilometers, hidden in crates. The Klos C also carried 180 120mm. mortar shells and some 400,000 7.62mm. bullets."
This next news segment reveals the true danger posed by these rockets.
"These are advanced weapons that were intended to threaten the security of millions of Israeli civilians ... the ship was heading for Port Sudan, where the Iranian Quds Force had planned to pick up the rockets and move them overland via Egypt and into Gaza through smuggling tunnels, the IDF determined."
Some news reports indicated that these rockets were sophisticated and poweful enough to represent a "game changer" weapon. 'Such missiles would allow terrorist organizations to launch the next missile campaign against, not only central Israel, Tel Aviv, Jerusalem, and Dimona, but also northern Israel, with missiles that can fly further and carry a much larger warhead.
Since the IDF had been systematically tracking this shipment through various ports over a period of several months, this interception of the deadly cargo is quite a feat.
Israeli citizens are going to suffer badly once the 100,000 missiles their enemy possesses begins to fly against their cities, hamlets, and settlements. This trying time will be "the time of Jacob's trouble", the most terrifying and dangerous moment of Israel's existence. The prophecy of Daniel 12:1 will literally come to pass, as Michael, Israel's guardian angel, will have to spring to her defense.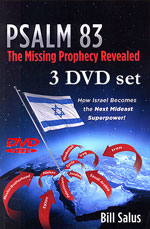 IV. The seizure of these advanced missiles signals that the religious rift between Shi'ite Iran and Sunni Hamas is now over.
"The enemy of your enemy is my friend" - an ancient proverb
NEWS BRIEF: "Is the seizure of Gaza-bound Iranian arms at sea a bad omen for Israel? ", The Jerusalem Post, 3/11/2014
"The intercepted weapons shipment from Iran to Gaza could signal a renewal of ties between Tehran and Hamas. If so, Iran is likely to demand that Hamas pay a price for its patronage - the resumption of rocket fire on Israel."
When Coalition Forces began their invasion of Iraq on March 20, 2003, Iranian diplomats started flying to every single Arab capital in the entire Middle East. They carried with them a sophisticated strategy aimed at defeating America in Iraq.
This strategy first planned to use Iraq as a quagmire with which to ensnare the American giant and her allies, all armed with sophisticated weapons. This strategy has worked to perfection and today, foreign troops are gone. Most Americans now believe that we lost that war, and that all American blood spilt there was wasted.
Iran successfully accomplished her first goal of her grand strategy.
The second major goal of this strategic effort was to "light many fires" within the region. We posted an article on this well thought out military and political strategy, so let us go to that article now.
"Has Iran 'Ignited Many Fires' To Set Off Middle East Regional War?" - NEWS1910
NEWS BRIEF: "Iran Preparing To 'Light Many Fires' To Defeat The Americans", The Jerusalem Post, March 21, 2003
" 'The American Great Satan will never accept an Islamic system. It is coming to Iraq to complete its encirclement of our Islamic Republic before it moves against us. To help the Americans conquer Iraq easily would be suicidal for our revolution.' [Khamenei"s chief foreign policy adviser, former Iranian foreign minister Ali-Akbar Velayati] ... "UNLIKE THE accommodationists who foresee an easy American victory, the confrontationists believe that US involvement in Iraq could become 'the beginning of its end.' He explains:
" 'Iraq is a swamp', Khamenei said in his address to the guards. 'The Great Satan will get caught in that swamp; and that will speed up its inevitable collapse'. In a recent article Velayati spelled out a strategy aimed at 'confronting the Great Satan in a number of fronts.' "
1. Iraq
2. Afghanistan
3. Azerbaijan
4. Israel
The wars in Iraq and Afghanistan are over for the Coalition Forces and the war in Azerbaijan has never materialized. But, Iran gives every indication that she is pursuing her planned war with Israel, just as this strategy foresaw!
Therefore, it makes plain sense that Iran would be building up strong and sophisticated armies around the border with Israel. The prophecy of Zechariah 12 is beckoning! Listen to pertinent excerpts of this incredible prophecy, taking note that it is only now beginning to come true.
" ... in that day I will make Jerusalem a burdensome stone for all peoples; all who lift it or burden themselves with it shall be sorely wounded. And all the nations of the earth shall come and gather together against it ... it shall be in that day that I will make it My aim to destroy all the nations that come against Jerusalem." (Zechariah 12:3, 9)
V. Iraq continues to die. Atomic clock will tick down to the point where no human being can live in this doomed nation.
Depleted Uranium poisoning is spreading all throughout Iraq and one thousand miles from her battlefields.
NEWS BRIEF: "American Dream: "Depleted Uranium has absolutely destroyed the genetic integrity of the population of Iraq", Lanka Web News, February 10, 2014
"In Iraq, the U.S. military has littered the environment with thousands of tons of munitions made from depleted uranium, a toxic and radioactive nuclear waste product. As a result, more than half of babies born in Fallujah from 2007 – 2010 were born with birth defects. Some of these defects have never been seen before outside of textbooks with photos of babies born near nuclear tests in the Pacific. Cancer and infant mortality have also seen a dramatic rise in Iraq. According to Christopher Busby, the Scientific Secretary of the European Committee on Radiation Risk, 'These are weapons which have absolutely destroyed the genetic integrity of the population of Iraq'. After authoring two of four reports published in 2012 on the health crisis in Iraq, Busby described Fallujah as having, 'the highest rate of genetic damage in any population ever studied'."
As Coalition Forces were still battling Iraq troops on the border, I received a phone call from a battlefield surgeon with a friendly nation in the Middle East. This military surgeon spent three hours telling me of the incredibly powerful dangers of Depleted Uranium weaponry which American forces were wielding against Iraq.
We began to investigate further and posted a number of articles in a section entitled, "Depleted Uranium". We encourage you to read them, because the medical humanitarian disaster of which we warned in these articles is now developing right on schedule.
This battlefield surgeon said that, in 20-25 years, Iraq would be a dead nation. No one could live there any more and all surrounding nations will have closed their borders to any Iraqi trying to flee.
God's prophecy of utter doom against Ancient Babylon (Iraq) is coming more true every single day (Read full details in NEWS2499, entitled, "Ancient Babylon -- is nearing the End Times' final annihilating judgment just as God foretold 2,700 years ago in Isaiah 13"
God's voice of doom is ringing clearer every day.
"Mighty Babylon is falling and her days shall not be prolonged"
"They come from a distant country, from the uttermost part of the heavens ... even the Lord and the weapons of His indignation ... to seize and destroy the whole land." [Isaiah 13:5; Parallel Bible, KJV/Amplified Bible Commentary]
Iraq is completely covered with a film of deadly Depleted Uranium, with a half-life of 4.5 billion years. Literally, Bush / Obama have destroyed the whole land.
God's prophecies are being fulfilled completely, as a whole unit, for the first time in over 2,000 years. Christian, look up, for your Redemption is drawing nigh.
---
---
---
Headline News Articles
Is President Obama Going To Make An Announcement Confirming The Existence of Extra-Terrestrials? He has just appointed a "UFO adviser"!
Was Ronald Reagan A Secret Member of the Luciferian Secret Society, The Rosicrucians?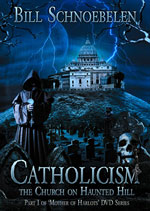 SPECIAL ANNOUNCEMENT
Pope Francis I Preparing To Be The False Prophet Revelation 13:11-18
Your hair will stand on end when you read of the doctrinal heresies and doctrinal reversals initiated by Pope Francis !
"At the proper moment in history, the Pope will visit the combined Jewish/Christian/Moslem sector of Jerusalem to announce that all religions should be combined into one." (Illuminati Plan)
This is the Plan and Pope Francis I is the Man.
BREAKING NEWS JUST IN! Pope Francis has just announced he will visit Jerusalem in May! See details in this article, above.
Abruptly, Significant Progress Occurs In Prophetically Reorganizing All Nations Into 10 Supernations
Prophetic Supernation #9 is forming, with a deadline of December, 2015
South and Southeast Asia (ASEAN) is now coalescing into a single giant nation. When this nation is formed, it will be part of the fulfillment of Daniel 7:7-8
"Gun Control / Seizure Advocates Enter Through Back Door To Achieve Control:
We will pry your gun from your dead, cold fingers" (Lt. Col. Bateman, Homeland Security)".
Shocking Prophetic News: Revelation 18 Prophecy Reveals That America Will NOT Suffer Economic Collapse Until Antichrist Is Here
Subscribe To Headline News For Only $25 per year!
Your faithful support enables us to keep Cutting Edge free for everyone else. Our readers have always loved the indepth correct news analysis found in our "Headline News Analysis".
If you want only to make a donation rather than subscribe to Headline News, simply click on the 'Donation Button' shown to the left and complete the simple form.

---