WEEKLY UPDATES FROM Cutting Edge Ministries, www.cuttingedge.org
5/27/2006      Over 1,400 Articles Posted! Nearly 150,000 People Downloading A Salvation Page Per Year! (Psalm 127:1)
---
---------- Resource Update ---------- Take advantage of our $5.00 off coupon to our treasured customers!
Please note that we have changed our Shopping Cart through the end of business, May 29, to automatically deduct $5.00 from the total of any order over $40.00 -- as long as you put in the "Coupon Code 529", as indicated above. That savings amounts to a 12% discount on that $40 order. During this time of increasing costs for gas and so many other things, we decided that the best thing we could do for our customers was to offer this $5 savings.
You may use this coupon on the purchase of any other promotionally priced item, such as the items listed below which have a FREE product offered in a COMBO offer. You may also use this coupon to buy any of our close-out or Special Offers items.
This coupon is our way of saying "Thank You"!
New in the Viewing Room - See the trailer for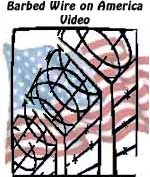 DVD-Barbed Wire On America: God's Final Warning

Price: $19.99



In great film clips, Wegener details the coming plan to institute global dictatorship. What do: Detention centers, Depopulation, Demilitarization, Foreign Troops on U.S. soil, Mother Gaia worship, Martial Law, and the Anti-terrorism bill have in common? They are all in our immediate future, unless enough Americans wake up to what is planned for us. Great film footage, a must see for all Americans.
Over 2 full hours View the Trailer
New in the Reading Room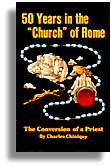 CP-180 - 180 50 Years In The Church of Rome
As a child, Chiniquy memorized scriptures at his mother's knee and developed a deep love for God. Becoming a priest, he wanted desperately to place full trust in his "church", but was hit by waves of doubt as his "church" claimed adherence to the Gospel, yet violated it at every turn. His jealous superiors falsely accused him, but Abraham Lincoln, a young lawyer from Illinois, defended him and saved his reputation. Chiniquy proves that it was the Jesuits who later killed Lincoln, and explains why. Finally, after twenty-five years as a priest in the Roman Catholic Church, his bishop demanded that he give up his precious Bible, and pledge blind obedience to the "church. After a dark night of struggle, he emerged gloriously saved, and led almost the entire Catholic population of St. Anne, Illinois to trust in Christ alone. Here is the finest work ever written to show, from the inside, what Catholicism really is. You will feel Chiniquy's broken heart for Catholics, even as he clearly refutes Catholicism's errors. Now, abridged from the 1886 edition, it is even more readable than before!

Read excerpts from 50 Years in the Church of Rome

---
A Woman Rides the Beast, by Dave Hunt
In Revelation 17, the Apostle John describes in great detail the characteristics of a false church which will be the partner of the Antichrist. Was he describing the Roman Catholic Church? To answer that question Dave has spent years gathering research and indisputable historical documentation (primarily Catholic sources), providing information not generally available.
Also available in VHS Video. Choose either book or video below
Read A City on Seven Hills, excerpt from "A Woman Rides the Beast" by Dave Hunt
---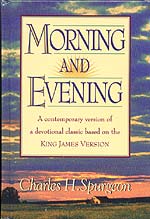 ---------- Inspiration For the Week-------"Wherefore hast Thou afflicted Thy servant?" Numbers 11:11
Our heavenly Father sends us frequent troubles to try our faith. If our faith be worth anything, it will stand the test. Gilt is afraid of fire, but gold is not: the paste gem dreads to be touched by the diamond, but the true jewel fears no test. It is a poor faith which can only trust God when friends are true, the body full of health, and the business profitable; but that is true faith which holds by the Lord's faithfulness when friends are gone, when the body is sick, when spirits are depressed, and the light of our Father's countenance is hidden. A faith which can say, in the direst trouble, "Though He slay me, yet will I trust in Him," is heaven-born faith. The Lord afflicts His servants to glorify Himself, for He is greatly glorified in the graces of His people, which are His own handiwork. When "tribulation worketh patience; and patience, experience; and experience, hope," the Lord is honoured by these growing virtues.
We should never know the music of the harp if the strings were left untouched; nor enjoy the juice of the grape if it were not trodden in the winepress; nor discover the sweet perfume of cinnamon if it were not pressed and beaten; nor feel the warmth of fire if the coals were not utterly consumed. The wisdom and power of the great Workman are discovered by the trials through which His vessels of mercy are permitted to pass. Present afflictions tend also to heighten future joy. There must be shades in the picture to bring out the beauty of the lights. Could we be so supremely blessed in heaven, if we had not known the curse of sin and the sorrow of earth? Will not peace be sweeter after conflict, and rest more welcome after toil? Will not the recollection of past sufferings enhance the bliss of the glorified? There are many other comfortable answers to the question with which we opened our brief meditation, let us muse upon it all day long.
(C.H. Spurgeon, "Morning and Evening Devotions"

)
As so many Christians are literally passing "through the fires of affliction", take heart, for the Holy Spirit will not allow you to be tested above what you can bear (1 Cor 10:13) and His end result in you will be a deeper and more joyful and more fruitful walk with the Master. With the Apostle James, we can sing:
"Consider it wholly joyful, my brethren, whenever you are enveloped in or encounter trials of any sort or fall into various temptations." (James 1: 2; Parallel Bible, KJV/Amplified Bible Commentary)
MEMORIAL DAY BOOKSTORE BLOWOUT!
Remember To Use Your $5.00 Coupon
FREE STUFF COMBO PACKS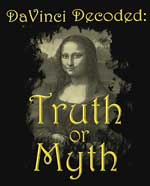 * "DaVinci Decoded: Truth or Myth" - Buy 1, Get 1 FREE -- DVD

-- VHS

----- View First 14 Minutes Online
Remember, until and unless a great majority of the peoples of the world believe the lie of the DaVinci Code, Antichrist cannot appear on the world scene!
Millions of people have read Dan Brown's best seller, the DaVinci Code. This book, though a novel, claims to be based on historical facts that not only question, but blatantly attack the deity of Jesus Christ and the divine inspiration of the Holy Scriptures. In a few months, millions more will be able to see the cardinal doctrines taught in the Word of God directly affronted on the giant silver screen. For on May 15th, The DaVInci Code, starring Tom Hanks and produced by Ron Howard will be released in theaters world wide. The release of this movie will breed a new widespread questioning of fundamental Christianity across the globe.
For this reason, Cutting Edge Ministries now introduces a two hour seminar, DaVinci Decoded: Truth or Myth? In this video seminar, Cutting Edge will give the viewer not only the historical facts to protect individuals who read the book or see the film, but also provide a valuable witnessing tool to reach those who would be led astray by myths that have no historical foundation. If your desire is to take on the "whole armor of God" and not only arm yourself against deception but also be able to effectively defend your own faith against attack---you need to view this video presentation. It will enlighten you as to what is myth and what is truth, and thus prepare you to effectively defend the Faith as you stand for the truth of the Word of God and for Jesus Christ in these perilous times.
This video is the result of 12 years of research and is 2 hours long. Also has 150 colorful PowerPoint slides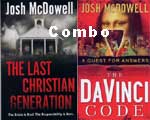 * "COMBO OFFER: Last Christian Generation Book PLUS DaVinci Code Book FREE"
Best Book Offer Ever! Two books for only $12.99!
"Last Christian Generation" - The majority of our churched young people do not believe Jesus is the Son of God, that the Holy Spirit is a real entity, and think 'doing good' earns them a place in heaven. Just as disturbing is that their attitudes and behavior are virtually no different than those of non-Christians.
In this defining message of his 40 years of ministry, Josh McDowell strikes at the heart of the problem and offers a clear solution. "We must bring this new generation face to face with who Christ really is, They know the facts, but they don't know Him, believing distorted views of Christianity.
"The Last Christian Generation" documents the urgency of the crisis but also provides a fresh revelation of the heart of God
"DaVinci Code: Quest For Answers" - Novel has sold over 36 million copies in 44 languages. The movie is certain to shatter box office records. The story makes many assertions that defy foundational Christian beliefs: - that Jesus was not the Son of God and was not born of a virgin. - that Jesus was married to Mary Magdalene, and they had children. - that Jesus was just a man and a charismatic leader, and the early church manipulated historical accounts of Him and made Him a God just to challenge other religions of the day.
Green Key Books is pleased to offer the only tool you'll need to effectively confront the controversy with confidence. -- http://www.cuttingedge.org/detail.cfm?ID=1280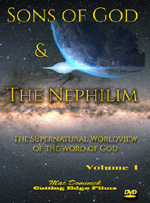 * "The Nephilim Walk Among us Again - End Time Deception" - w/FREE Bonus Audio Tape --
Jesus warned in Mathew 24 that "For as the days of Noe were, so shall also the coming of the son of man be". This video features Cutting Edge staff teacher and lecturer, Mac Dominick, who takes us through a Biblical study of Genesis chapter 6 and other books of the Bible to explain just what was happening in the days of Noah and how Angels married Human women and had Children by them, known as Nephilim.
This Cutting Edge video will take you through the Bible and show why we believe that this has now happened again. Watch and learn why the Nephilim are back! What are demons, aliens and UFOs and what do they have to do with the days of Noah and the Nephilim spoken of in Genesis that were on the "Earth in those days and thereafter"?
The time is now "thereafter"! When you order this video, we shall include as a bonus a FREE audio tape, "Aliens, Antichrist and UFO's".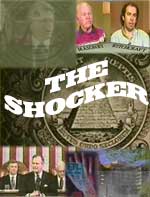 * "Buy "Shocker: Video -- Plus Get Entire Cutting Edge Website CD FREE --- Save $25! DVD

- VHS

The Shocker DVD is the most requested DVD of all! A 2-DVD Series. Through film and news clips, Wegener shows the 12 most shocking subjects to cross his desk in the last few years. Just when you think you have seen, or heard it all, this video will show just how very weird this world has gotten. Subject includes UFO's, Masons, Executive Orders, MJTF, high-technology, concentration camps, the silence of the church, abortion, and more. A must see video.
ALL sections of the Cutting Edge Website are on this CD. All articles, including Headline News, Freemasonry Corner, What Saith Rome?, Weather Control, Depleted Uranium, and much, much more. articles from the Cutting Edge Web site are available on CD Rom for reading offline. The CD will work on Windows and on Macintosh computers that will read PC disks. You must have a browser on the machine to read the CD.
Quite possibly the best value we have ever offered in our Bookstore!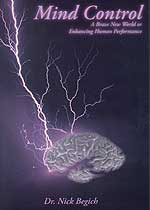 *DVD

-- "Mind Control In The Coming Brave New World" - Plus FREE CDROM - by Dr. Nick Begich
CIA "MK Ultra" Mind Control - Welcome to the "Brave New World", made possible through manipulation of your mind, your emotions and your physical health, using new applied technologies: 1) Biofeedback; 2) Sound waves; 3) Light waves; 4) Acupuncture. While it is possible that each of these practices can be used to enhance human performance, they can also be used to control entire populations, and they have been used by shamans in the ancient past. Military planners around the world are flocking to this new technology.
FREE CDROM provides unbelievable written documentation to support the information Dr. Begich presents. You will have written documentation as you tell others of these Mind Control techniques.
Best-selling author, Dr. Nick Begich, presents the most startling advances in this technological area, providing in-depth information, demonstrations, background information and forecasts of future development.
Enhancing human performance, or externally controlling human beings, is the issue of this day. Control of the human mind by technological, external means, is now a reality.
Approximate running time, 1.5 hours -- NOTE: We realize that Dr. Begich presents this material from a non-Christian perspective and tends toward New Age in his beliefs, but he is the only source speaking of this "Incredible Technologies" that are literally changing the world in which we live and will terribly impact your world and the lives of your loved ones.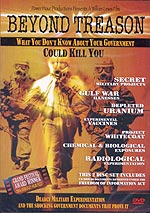 * "Beyond Treason DVD: The Battlefield Disaster Created by Depleted Uranium, Toxic Vaccinations, plus Chemical and Biological Agents With FREE CDROM Providing Written Documentation"

Brave soldiers are dying by inches from a variety of "unknown illnesses". Some are dying of heart failure, others from organ meltdown, and still others from "mysterious causes". While the Pentagon claims to be totally in the dark, experts now believe that these men are dying in various ways because of a combination of Depleted Uranium, toxic vaccines, chemical and biological agents.
As ailing Gulf War Heroes from all 27 coalition countries slowly die of "unknown causes," they wait for answers from their respective governments… but no satisfying or even credible answers have come forth from the military establishment. Records that span over a decade point to negligence and even culpability on the part of the U.S. Department of Defense and their "disposable army" mentality.
The VA has determined that 250,000 troops are now permanently disabled, 15,000 troops are dead and over 425,000 are ill and slowly dying from what the Department of Defense still calls a "mystery disease." How many more will have to die before action is taken?
The FREE CDROM contains thousands of printed pages of supporting documentation, which can be viewed from most any computer using an internet browser
Hear the testimony of experts and of United States military veterans who demand answers to questions that the Department of Defense will not address. Did you know President Clinton signed Executive Order 13139, allowing the Pentagon to perform any experiment for any reason on any soldier, without his knowledge and/or approval?
DVD runs 114 minutes with bonus material. Produced in cooperation with Gulf War Vets. -- http://www.cuttingedge.org/detail.cfm?ID=1069

Bible Study Resources With FREE Materials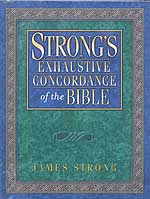 * "Strong's Exhaustive Concordance of the Bible" - FREE CD-ROM Included -- And On Sale Too!
Regularly $25.95, On Sale $15.97, Save Almost $10!
This edition now includes a FREE CD-ROM. Strong's is an indispensable tool that all readers of the Bible will want to own as part of your library. Includes: 1) A monumental reference work containing every word in the KJV and its meaning; 2) Allows you to easily find all Biblical occurrences of a word; 3) The Strong's numbering system is used, and cross-referenced; 4) Includes complete Hebrew and Greek Dictionaries, organized by Strong's numbers, which give brief lexical definitions of each word in the original languages;
This CD includes interactive, interlinked versions of Strong's and many other valuable reference works - easily accessible with either a PC or PDA. This CD-ROM provides ready access to all Strong's information, including enhanced Strongs Hebrew and Greeks Dictionaries, along with commentaries, Bible and Topical Dictionaries, plus reference works revealing manners and customs of Ancient Judaic culture and maps/site data.
Save almost $10, Hardcover -- http://www.cuttingedge.org/detail.cfm?ID=864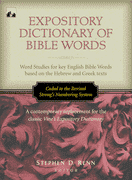 * "Expository Dictionary of Bible Words Based on the Hebrew and Greek Texts": Comes with FREE CDROM
Regularly $29.95, ON Sale $24.95, Save $5.00
This great reference tool also comes with a CD containing all the great tools that the Strong's CD has PLUS the full text of the Expository Dictionary. Everyone who studies the Bible wishes at some point that he or she knew the original Hebrew or Greek in order to better understand a difficult word or passage. The Expository Dictionary of Bible Words gives readers the fruits of a working knowledge Hebrew and Greek without the years of language study. The Expository Dictionary of Bible Words is more than just a handy and thorough alphabetical guide to the English translation of the Hebrew and Greek words used in both Testaments. There are thousands of articles, all arranged alphabetically by English word and coded to Strong's numbering system for ease of use. Each article is divided into two sections — Old Testament (Hebrew) Words and New Testament (Greek) Words — with an entry for the Hebrew or Greek word along with its transliteration, translation, range of meaning(s), and comments on its use in different biblical contexts. A comprehensive system of cross-references aids the reader in finding different words as well as discussions of related words and themes.
Packaged with the Expository Dictionary of Bible Words is a CD-ROM containing the complete text of the Expository Dictionary in several formats for PC and PDA. In addition to providing a stand alone PDF which preserves the format of the print edition (but adds links which allow you to "jump" directly to related references) the full content is also provide in a format compatible with other titles in Hendrickson Publishers' ScriptureLink program and fully integrates with other Bibles and a whole range of available reference works.
http://www.cuttingedge.org/detail.cfm?ID=1092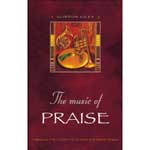 * "The Music of Praise: Meditations on Great Hymns of the Church" w/FREE Music CD
Comes with FREE CD sung by The Ludgate Singers, a group of professional musicians
The Music of Praise explores the meaning and message of fifty-three well-loved hymns—the words, the beauty of the music, and their continuing relevance and inspiration for people today. Music of Praise journeys week by week through the Christian year with the hymn writers and musicians who have promoted and sustained the faith of millions. Designed as both a reference and a weekly reading and worship tool, this book offers thoughts on some of our greatest and most interesting hymns.
Hardcover, 272 pages -- http://www.cuttingedge.org/detail.cfm?ID=891
Remember, you can use your $5.00 Off Coupon even on items which are already on sale!
---------- This Weeks Hot News ----------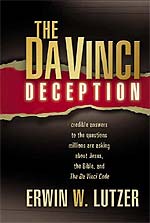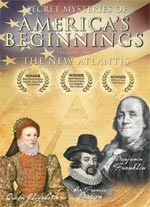 I. The movie "Da Vinci Code" opened this week to record audiences worldwide, revealing that the peoples of the world are ready to hear the one lie without which Antichrist cannot arise. Our video, "Secret Mysteries" also is right on the money in its revelation of the truth of the Gnostics, who originated the "Da Vinci Code" lie.
NEWS BRIEF: "Da Vinci Is #1 In Every Country In Which It Is Being Shown", Deadline Hollywood, mAY 22, 2006
"Final May 19-21 numbers have come in for The Da Vinci Code: a $231.8 million worldwide opening, making it the 2nd biggest ever -- $154.7 mil international, $77.1 mil domestic. Sony is telling me it was #1 in every territory it opened."
NEWS BRIEF: "Da Vinci Code Is 2nd All-Time Largest Opening: Sony attributes teen influence for such huge numbers", Deadline Hollywood, May 19, 2006
"Sony Pictures told me exclusively this morning that Da Vinci Code earned $224 million worldwide, making it the second biggest opening weekend of all time worldwide. (The only movie that did better was Star Wars 3, the last of the prequels, with $254 mil). That DVC figure broke down to $147 mil internationally, and $77 mil domestically. The studio told me that the film is the No. 1 all-time opening weekend internationally.
"DVC was #1 in predominantly Catholic countries Italy and Spain, and #1 or #2 in every South American territory. Sony execs explained to me that the reason for the huge success is that 'young people' including teens were going to see the film worldwide as well as adults. But all audience segments were doing well, even infrequent filmgoers."
Can you see how this movie is appealing to all moviegoers all across the spectrum? Since this movie is major conditioning for the appearance of Antichrist, we should not be surprised to learn that so many people from across the age spectrum are interested in "The Da Vinci Code". Since this popularity is everything Sony Pictures anticipated, we should not be surprised to learn that they plan sequels dubbed for now, "Da Vinci I and II".
NEWS BRIEF: "Sequel Fever: Sony Pictures Has Da Vinci II and III", May 22, 2006
"I'm told it's absolutely true that Sony bought the rights to the Robert Langdon character. Not only is Harvard symbologist Langdon the protagonist in Dan Brown's already written novel, "Angels and Demons," but I know Langdon is also featured in a new book Brown is penning as we speak that takes off where Da Vinci Code leaves off. So that means Sony has the immediate prospect of not only one but two sequels .... Screenwriter Akiva Goldsman, who penned DVC, has already been hired for A&D. "Angels and Demons" is Brown's other published book to feature Langdon: crammed with Vatican intrigue and high-tech drama, it thrusts Langdon together with an ancient and shadowy secret brotherhood, the Illuminati, the most powerful underground organization ever to walk the earth."
Isn't that interesting that the third "Da Vinci" type movie is going to feature the Illuminati? Even as I wonder what kind of treatment Sony Pictures will give the Illuminati, at least the writers admit that this organization is "the most powerful underground organization ever to walk the earth." If the movie is written correctly, that should be one tremendous movie.
The one scene in the "Da Vinci Code" movie which should alert all discerning people to the true nature of the storyline takes place in the deepest part of Rosslyn Chapel, where Robert Langdon and Sophie Neveu have just discovered the place where the sarcophagus containing the body of Mary Magdalene had originally been hidden. Robert's focus suddenly shifts to the wall location where a tremendous number of ancient scrolls are located. At one point on the wall is a genealogy chart! At the top of this chart is King David, with Jesus down below and the Merovingian genealogy listed far below.
This is the key to the appearance of Antichrist, and this chart proves that this is the deliberate intention of this movie. As we have stated before, when the Masonic Christ appears, he must prove to the Jews he is their Messiah for which they have long been awaiting. To convince the Jews, Antichrist must produce a genealogy which goes back unbroken to King David. The only way a Gentile from the "Revived Roman Empire" (Western Europe and Great Britain) can trace his genealogy back to King David is to tie into Jesus somehow.
This lie of the "Da Vinci Code" accomplishes this quite nicely. By claiming Jesus married Mary Magdalene, then inventing her pregnancy with a girl at the time she fled persecution in Israel, then claiming she landed in what is Normandy, France today, and then claiming she married a Merovingian Prince, the secret societies now have a means of tying in their genealogy to Jesus. You see, all nobility in Europe and England have provable ties to the Merovingian bloodline. After this lie ties the genealogy of Antichrist into Jesus, Antichrist is "home free" to King David, as the genealogy of Matthew 1 proves.
Once again, Cutting Edge is proven to be absolutely correct in our expose' of the "Da Vinci Code" in our video, "Secret Mysteries of America's Beginnings: The New Atlantis". You might even consider this video to be the "antidote" to the "Da Vinci Code". We also give an excellent presentation of the infamous Rosslyn Chapel which will greatly aid your understanding of the movie's storyline.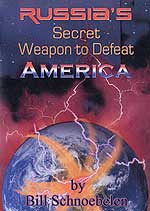 II. Russia is taking the first step internationally to deprive America of the funds and the monetary stability upon which she has always depended to fund President Bush's aggressive "Regime Change" policy in Afghanistan and Iraq.
NEWS BRIEF: "RTS (Russian Trading System) bourse to start trading oil, oil products, gold on June 8", Russian News and Information Agency, May 22, 2006
"MOSCOW, May 22 (RIA Novosti) - The Russian Trading System, Russia's premier stock market, announced Monday that it would start trading in gold, oil and oil products on June 8. The announcement comes in the wake of President Vladimir Putin's state of the nation address May 10, when he said Russia, as a leading oil exporting nation, should establish its own oil exchange to trade crude and petroleum products for rubles. 'The first trading in contracts for gold will commence in Russia on June 8', the RTS said in a statement."
"The stock exchange also said it would start trading in futures and options on oil and oil derivatives, including Urals brand, diesel fuel, jet fuel and fuel oil. Trade will be in rubles based on prices calculated by the Platts agency. The settlement period for a contract is one month and the minimum security guarantee on a contract is 10% of its overall value."
In the next news article, President Putin reveals one of the major reasons for this switch from trading oil and oil products in American currency to the Russian Ruble.
NEWS BRIEF: "Ruble-denominated oil exchanges could launch in 2007 - expert", Russian News and Information Agency, May 11, 2006
"MOSCOW, May 11 (RIA Novosti) - Oil and petrochemical exchanges denominated in rubles could be launched in Russia as early as next year, the head of the presidential administration's expert department said Thursday. In his annual state of the nation address to parliament Wednesday, President Vladimir Putin said that a ruble-denominated oil and natural gas stock exchange should be set up in the country ... 'The ruble must become a more widespread means of international transactions. To this end, we need to open a stock exchange in Russia to trade in oil, gas, and other goods to be paid for with rubles', Putin said Wednesday."
From Putin's own lips, we learn that one of the major reasons Russia is planning to switch from trading oil products in American currency is to build up international demand for Rubles, which would strengthen that currency. Such a move would globally weaken the American Dollar. If other nations follow suit, by offering oil products for sale in another currency -- the Euro for example -- the slide of the Dollar could reach "plunge proportions"! Remember the furor over Iran's proposal to sell her oil in Euros? American leaders are very anxious over this "buzz" over selling oil and other commodity products in currencies other than American. Why are they so nervous?

You see, shortly after President Nixon took America off the Gold Standard, the Dollar lost the stability of gold backing. Further, it allowed the Treasury to print paper fiat money on a huge basis. Experts predicted that the American economy would immediately follow the plunge of its currency worldwide. Why did this not happen?
The Saudis stepped in to force international markets to trade all oil products in American dollars. This worldwide demand for American currency gave it the stability it lost when Nixon took the dollar off the Gold Standard. In fact, all of OPEC meekly followed suit, including nations like Iran and Venezuela. The Dollar has been propped up artificially ever since then.
In the past, Putin is known to have believed that the only reason President Bush could afford his costly "Regime Change" policy was because international oil continued to be sold on global markets in American Dollars. If nations of the world could set up markets which would buy and sell oil products in currencies other than the Dollar, the American currency would weaken significantly, and take away Bush's financial ability to wage his wars.
Since America has made bitter enemies of two other major oil exporting nations -- Iran and Venezuela -- we might expect to see them support Putin's initiative. Attacking American currency through this type of change might be more effective than anything else our enemies could possibly do against our forces.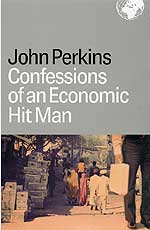 III. Good economic news seemed to abound this week, taking the edge off the inflation report of the previous week.
NEWS BRIEF: "NewsMax Financial Intelligence Is Reporting That An Big Oil Drop In Price Is Coming Soon and Is Advising Their People How To Profit From A Big Oil Price Drop", NewsMax, by Christopher Ruddy, May 24, 2006
"Saudi Arabia's oil minister Ali al-Naimi is warning that oil price hikes and global oil demand could soon disappear. In fact, he is also warning that oil prices could easily "plummet" in the near future. Ali al-Naimi said prices could plummet if an economic crisis drives industrialized nations to find other sources of energy, citing the 1980s – when oil prices dropped by 80 percent after such nations reduced their dependency on oil and turned to alternative energy sources."
Already, this switch is beginning to occur. Not only are Americans buying vehicles which are more gas-efficient, but President Bush is pushing for the rapid development of alternative energy sources. As we have reported in earlier newsletters, high cost gas prices are making the development of shale oil deposits in America financially attractive. Demand for foreign oil is bound to drop as Americans begin to drive less. Last week, Fox TV News reported on a recent poll in which 45% of Americans polled expressed the determination to drive significantly less. This drop in demand is exactly what the Saudi Oil Minister is speaking toward.
How far down does NewsMax Financial Report believe oil could fall?
"Our track record on oil is impressive. In April 2004, Financial Intelligence Report predicted that oil prices would skyrocket from $29 per barrel to over $60 within 12 months. That forecast was dead on. Today we feel that oil prices will continue to dramatically fall in the next 12 months to as low as $40 a barrel! This week crude-oil prices dipped below $69 a barrel on rising U.S. gas supplies and a surprise letter from Iran's leader to President Bush proposing possible solutions to escalating tensions. Recent political fears had helped boost the price of oil to record levels in recent weeks."
We have been reporting for some time now that President Bush's deliberate campaign of military threats against Iran and Venezuela was artificially driving global oil prices higher -- perhaps by as much as $15-$20 per barrel. If you could remove this infantile series of threats against these large oil producing nations, oil prices would immediately begin to fall. Now, let us return to the NewsMax article.
"In fact, many analysts continue to say that oil prices are likely to climb higher this summer – claiming crude-oil production is only barely keeping up with surging global demand. That's nonsense! And you can profit big time from not following the stampeding herd. We feel that oil prices will continue to dramatically fall in the next 12 months to $40 a barrel .... Oil appears to be hitting new highs -- but not for long! We believe a major price decline is already in the works. In fact, the U.S. government admits that crude oil inventories are at 7 year record high -- with 343 million barrels of oil stockpiled in the U.S. alone!"
Other good economic news dominated headlines last week.
NEWS BRIEF: "Outlook: GM rises, Ford falls: Investors see GM rebound while Ford still struggles", Detroit News, May 25, 2006
"General Motors Corp. and Ford Motor Co. have a long way to go to turn around their North American operations, but Wall Street is placing its early bets on GM. Its shares hit a six-month high Thursday after a two-day rally triggered by reports that GM's U.S. factory workers were signing up in droves for buyout offers ... GM's stock has gained 43 percent this year, while Ford shares have shed 8 percent. The divergence partly reflects GM's head start. It launched its restructuring plan first and has moved further along, while investors feel uncertain about Ford's pace. They also worry about the impact of high gas prices on Ford's truck sales. 'The sentiment obviously has ebbed and flowed around the Big Two, but right now GM is catching the momentum', said Glenn Reynolds, an analyst with CreditSights in New York."
"Investment firm Merrill Lynch upgraded GM's stock Wednesday for the second time in less than a month and more than doubled its earnings estimates for the automaker. Investors also were heartened by reports that GM was hiring temporary staff after a higher-than-expected number of workers accepted buyout offers ... S&P said it was concerned about weakening demand for some of Ford's traditionally lucrative SUVs and pickups and its dwindling domestic market share."
During the terrible hurricane season last year, we noted in our newsletter that it seemed that both Ford and GM were placing undue emphasis upon its gas-hungry SUV and pickup lines. We believed then that this strategy at a time of rising gas prices could give foreign competitors such an advantage that it could cause one or both of the American automakers to fall into bankruptcy. Unfortunately, it looks as though we were more correct than even we realized.
America cannot afford to lose either Ford or GM.
This next article speaks to both the drop in oil prices and GM's suddenly improved status.
NEWS BRIEF: "U.S. Stocks Climb on Oil's Drop, GM; S&P 500 Avoids 2006 Loss", Bloomberg Financial News, May 24, 2006
"U.S. stocks rallied for the first time this week after oil dropped below $70 a barrel and the government said new-home sales unexpectedly jumped in April. Microsoft Corp., the world's largest software maker, and General Motors Corp. led the advance. Shares of Toll Brothers Inc., the biggest U.S. homebuilder, rose the most in two weeks ... The inflation scare of the last two weeks is less of an issue,'' said Doug Sandler, chief equity strategist at Wachovia Securities Inc. in Richmond, Virginia. Investors ``should start adding to positions.''
"The S&P 500 rallied 1.99, or 0.2 percent, to 1258.57. It had fallen as much as 0.9 percent, briefly giving up its 2006 gain. The Dow Jones Industrial Average rose 18.97, or 0.2 percent, to 11,117.32. The Nasdaq Composite Index gained 10.41, or 0.5 percent, to 2169.17. Some 2.24 billion shares changed hands on the New York Stock Exchange, the heaviest trading since September. Indexes gained even as three stocks fell for every two that increased on the Big Board. Crude oil lost 2.7 percent to $69.86 a barrel in New York after a government report showed U.S. gasoline stockpiles showed a larger-than-expected gain as imports jumped."
Let us now review home sales in a special report.
NEWS BRIEF: "U.S. Economy: New Home Sales Unexpectedly Increase", Bloomberg Financial News, May 24, 2006
"Sales of new homes in the U.S. unexpectedly rose in April to the highest in four months, even as inventories of unsold houses climbed to a record. Purchases increased 4.9 percent to an annual rate of 1.198 million .... A strong job market is sustaining demand for homes in the face of rising borrowing costs ... The dollar rallied and shares of building companies rose as the report allayed some concerns about a slump in housing. The S&P 500 Supercomposite Homebuilding Index rose 0.8 percent at 12:05 p.m. in New York, about four times the advance in the broader S&P 500."
Many people are planning to move out of states like Massachusetts, where prices for everything are sky-high and where taxes across the board are exceedingly high. Thus, more homes are being placed on the market in these type of states, causing the number of unsold homes to rise. However, the end result seems to be that America's economy is strengthening overall. Remember what former Satanist, Doc Marquis, reiterated to me many times: the Illuminati had decided many years ago that Americans would not allow themselves to be pushed into the New World Order if economic times were hard. Thus, the Elite had decided to keep Americans feeling prosperous right up to the time of the planned Third World War, terrorism in the cities, and economic collapse.
We are seeing the results of this strategy right here, right now.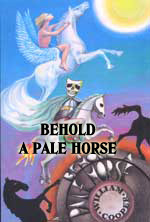 Behold A Pale Horse
IV. The Bush Administration once again proved its lawless nature, as it argued that courts had no right to regulate and oversee government domestic spying programs.
NEWS BRIEF: "Bush Administration Argues That Judgments About Domestic Spying Should Be Decided By Government, Not By Courts", The Scotsman, 25 May 2006
"SAN FRANCISCO (Reuters) - The United States government, not any court, is the best judge of whether to keep programmes such as its controversial effort to eavesdrop on citizens a secret, an assistant attorney general said on Wednesday. Peter Keisler, an assistant attorney general, and other U.S. officials made the claim in the latest filing to a lawsuit alleging that telecommunications firm AT&T illegally allowed the government to monitor phone conversations and e-mail communications.
" 'In cases such as this one, where the national security of the United States is implicated, it is well established that the executive branch is best positioned to judge the potential effects of disclosure of sensitive information on the nation's security', they wrote in a filing on Wednesday evening. 'Indeed, the Supreme Court has repeatedly recognised that courts are ill-equipped as an institution to judge harm to national security'."
No issue is greater than the issue of protecting the rights and liberties of American citizens against government intrusion. However, the Illuminati plan is to collapse our Constitutional form of government in a quest to "protect our national security". New World Order writings make this quite clear, especially Bill Cooper's book, "Behold A Pale Horse".
But, why should we be surprised, because Cutting Edge has been warning since 9/11 that the plan is to collapse America's Constitution and all our protections and liberties in the guise of "fighting terror". Time and time again, President Bush has claimed that, while we must vigorously fight terrorism, we must preserve our liberties and way of life. This claim represents the highest type of hypocrisy, and is the greatest example of looking in the opposite direction of the public rhetoric in order to find the truth (Read NEWS1558; "Breaking Out of the Mental Box: Learning To Look In The Opposite Direction To Discover The Truth).
Do you remember the story in our Newsletter of May 6, 2006, Paragraph III, in which we reported that President Bush had willfully disregarded 750 laws? We are seeing more of this lawlessness in this current story.
President Bush has been unlawful for a very long time. Let us quote a segment from NEWS1885, "Bush/Ashcroft Arguing To Ninth Circuit Court of Appeals That Government Can Torture and Summarily Execute Prisoners Without The Courts Having Any Say Whatsoever".
NEWS BRIEF: "Interrogation, Torture, the Constitution, and the Courts", By JOANNE MARINER, FindLaw's Legal Commentary, January 5, 2004
"In concluding last month that prisoners held on the Guantanamo naval base in Cuba have the right to challenge their detention in federal court, the U.S. Court of Appeals for the Ninth Circuit focused on the question of Guantanamo's legal status. Much of the court's long and scholarly opinion is taken up by a close examination of the terms of the 1903 lease agreement between the U.S. and Cuba, their meaning in Spanish, their interpretation in analogous treaties, and other fairly technical minutiae. But a few phrases that lie near the end of the majority opinion grab the reader's attention. According to the government's stated position in the case, the detainees have absolutely no legal right to question U.S. actions on Guantanamo. Federal court jurisdiction should be foreclosed, government counsel insisted during oral argument before the Ninth Circuit, even if the plaintiffs were to claim that their captors were committing 'acts of torture' on Guantanamo or were 'summarily executing the detainees'."
Let us stop here for a moment to digest what we have just read. The Bush Administration is arguing before the Ninth Circuit Court of Appeals that government authorities have the right to torture prisoners and even execute them with no trial, without the Courts exercising their traditional role of oversight and regulation! The very fact that the government wants to the right to torture and execute prisoners without oversight very strongly suggests that this is their very plan! Indeed, it is, as the following quote from an Illuminist document nearly 200 years old demonstrates. Listen:
"... at the proper time we, the law-givers, shall execute judgment and sentence, we shall slay and we shall spare, we, as head of all our troops, are mounted on the steed of the leader. We rule by force of will, because in our hands are the fragments of a once powerful party, now vanquished by us. AND THE WEAPONS IN OUR HANDS ARE LIMITLESS AMBITIONS, BURNING GREEDINESS, MERCILESS VENGEANCE, HATREDS AND MALICE." ["Protocols of the Learned Elders of Zion", Protocol 9, Subsection 3; Emphasis was in the original]
"IT IS FROM US THAT THE ALL-ENGULFING TERROR PROCEEDS" [Ibid., Subsection 4, Protocol 9; Emphasis was in the original]
"... Then in fear and trembling they will close their eyes to everything, and be content to await what will be the end of it all. WE ARE WOLVES -- The (people) are a flock of sheep, and we are their wolves. And you know what happens when the wolves get hold of the flock? ..... There is another reason also why they will close their eyes: for we shall keep promising them to give back all the liberties we have taken away as soon as we have quelled the enemies of peace and tamed all parties ..... It is not worthwhile to say anything about how long a time they will be kept waiting for this return of their liberties ..." [Ibid., Protocol 11, The Totalitarian State, Subsections 3-6]
Since 9/11, President Bush, Attorney General Ashcroft, and Homeland Security Chief Tom Ridge, have all echoed this theme. They are out to defeat the Muslim enemy to quell "the enemies of peace" and to tame all our enemies. Of course, we have been promised that no American citizen will lose any of his freedoms or his Constitutional Government, for if that were to happen, the Muslim terrorists would win!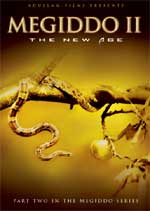 V. Quietly, without fanfare, FEMA and the FBI have started pressuring pastors of local congregations to act as the government's eyes and ears in identifying which of their members might prove to be a threat to the government! Can anyone see and hear the footsteps of Adolf Hitler and his "SS"?
NEWS BRIEF: "Secret FEMA Plan To Use Pastors as Pacifiers in Preparation For Martial Law", Prison Planet, May 24, 2006
"A Pastor has come forward to blow the whistle on a nationwide FEMA program which is training Pastors and other religious representatives to become secret police enforcers who teach their congregations to "obey the government" in preparation for a declaration of martial law, property and firearm seizures, and forced relocation. In March of this year the Pastor, who we shall refer to as Pastor Revere, was invited to attend a meeting of his local FEMA chapter which circulated around preparedness for a potential bio-terrorist attack, any natural disaster or a nationally declared emergency. The FEMA directors told the Pastors that attended that it was their job to help implement FEMA and Homeland Security directives in anticipation of any of these eventualities. The first directive was for Pastors to preach to their congregations Romans 13, the often taken out of context bible passage that was used by Hitler to hoodwink Christians into supporting him, in order to teach them to "obey the government" when martial law is declared."
"It was related to the Pastors that quarantines, martial law and forced relocation were a problem for state authorities when enforcing federal mandates due to the "cowboy mentality" of citizens standing up for their property and second amendment rights as well as farmers defending their crops and livestock from seizure. It was stressed that the Pastors needed to preach subservience to the authorities ahead of time in preparation for the round-ups and to make it clear to the congregation that "this is for their own good."
Cutting Edge has been able to verify this incredible story, from The Power Hour.
In 2001, Cutting Edge warned that the Bush Administration was attempting to bring religious organizations and churches under its control. Please take a moment to read NEWS1465, "President Bush's Plan To Dole Out Federal Money To Faith-Based Ministries Is A Trojan Horse Designed To Weaken And Destroy True Churches".
Please allow us to quote excerpts. We encourage you to read this entire article for all the relevant details.
NEWS BRIEF: "Bush Fleshes Out Details of Proposal to Expand Aid to Religious Organizations", by Marc Lacey with Laurie Goodstein, The New York Times On The Web, January 31, 2001.
"Washington, January 30 -- President Bush began filling in the details today of his plan to direct significantly more federal money to religious groups that provide social services to the needy. Mr. Bush outlined a series of tax changes to encourage charitable giving to religious and other community organizations. He also announced new federal grants to support organizations — particularly religious groups — that rehabilitate inmates, mentor the children of prisoners and provide housing for pregnant single women. The centerpiece of Mr. Bush's effort, a proposal to put religious groups on an equal footing with other organizations in pursuing billions of dollars in federal grants, remained a work in progress ... White House aides said the program would amount to a significant expansion of the 'charitable choice' provisions in the 1996 welfare reform law that allowed religious groups to compete for some government funds."
It seems that "born-again" President George W. Bush is riding to the rescue. He is proposing to include Christian charities in the group of charitable organizations serving the poor, the needy, and the addicted. Wow! Christian groups are finally going to be able to participate in the national effort to reach such people. Thank God for President Bush in his Christian-based charitable effort. But, wait a minute. The wording of Bush's initiative is not "Christian-based", but "Faith-based". Is there a difference, you might ask? You bet your bottom dollar there is a difference, and it is a huge one. Bush will allow all faith-based religious organizations to line up at the Federal feeding trough, not just Christian."
President Bush is not advocating a Christian initiative, but an Ecumenical initiative! In other words, even as the world is rushing to form the One-World Ecumenical Church that will openly embrace both the False Prophet and the Antichrist, Bush is proposing a distinctly Ecumenical program!
The timing of this proposal is also suspicious, as the United Nations has recently been pushing for a similar "faith-based" initiative in aiding the poor and needy.
Paul Proctor states strongly that many churches will get in deep trouble even apart from the inevitable demands that will come. "Many churches have already been compromised into condemnation by choosing the church/state partnership of incorporation to gain the blessings and protection of the Lord their Government."
If the government gets the churches hooked into this new form of welfare, you are exactly right [that the government could begin issuing demands that churches would be reluctant to meet]. Plus, every crooked person in the churches goes after the money first. And, basically will destroy the Christian testimony. I've seen that happen. After a while, Federal and State governments will issue regulations to the churches as to what they can, and cannot, teach if they are going to continue receiving funds. At this point, the ministry will have to decide whether they are going to give up the funds so they can be true to Jesus Christ, or whether they are going to knuckle under to the pressure to stop teaching the key doctrines which Illuminists find offensive.
But, the pressure from the government on churches is only partially coming from this government aid pressure, as noted above. A nother huge monetary pressure point the government is beginning to capitalize upon is the tax-exempt 501(C)3 status. When a church applies to the government for this status, they do so primarily so that their parishioners can receive a tax credit for any donations given to the church. However, when a church receives this kind of tax status, they have officially become a "state church". At some point in history, the government will begin to move against churches, forcing them to do their bidding, using the tax exempt status as a battering ram.
Two years ago, the Cutting Edge Treasurer warned us that the IRS was preparing to move against all 501(C)3 churches, forcing them to toe the government's line. We cannot conceive that the FEMA pressure on churches to turn their parishioners in to the government and to help the government by teaching meek submission to government authority could be possible were it not for these two types of monetary pressures being put on churches.
Just as in the days of Adolf Hitler, church leaders are going to turn their people in to the government, with most of them thinking they are doing "God's Will"!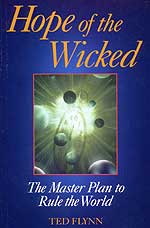 VI. The plan to discredit President Bush continued this week.
NEWS BRIEF: "Is Bush among the worst presidents in history?", Whittier Daily News, 5/26/2006
"KABC Talk radio host Doug McIntyre recently wrote that 'most historians believe it takes 30-50 years before we get a reasonably accurate take on a president's place in history ... after five years of carefully watching George W. Bush', McIntyre writes, 'I've reached the conclusion that he's either grossly incompetent or a hand puppet for a gaggle of detached theorists with their own private view of how the world works. Or both'."
You have to hand it to this radio talk show host for discerning that President Bush is a "hand puppet". However, he is not a hand puppet for "a gaggle of detached theorists". Oh, no, the truth is far more serious than this President Bush is a "hand puppet" to the Illuminati, whose carefully conceived global plan he is forced to follow. We have reiterated for years now that President Bush has faithfully executed the Illuminati Plan since 9/11. It was this Global Plan which caused Bush to order the invasions of Afghanistan and Iraq, and to use Depleted Uranium munitions, and to systematically set up the torture and sexually humiliating prison system against Arabs at Guantanamo and Iraq and Afghanistan.
Had Al Gore been elected President in 2000, we would still have suffered the attacks of 9/11 and we would still have invaded Afghanistan and Iraq. How can this be so? Because the Illuminati creates the plan and the leaders of the world enact their Plan. That is reality. In this country, Republicans and Democrats are equally signed on the this Plan. Never forget that fact.
Let us now return to our featured story, above.
"This is no small step for McIntyre, who concedes he was a Bush backer. 'So I'm saying today I was wrong to have voted for George W. Bush', he writes. 'In historic terms, I believe George W. Bush is the worst two-term president in the history of the country. Worse than Grant. I also believe a case can be made that he's the worse president period."
"That, of course, remains to be seen. But who were our worst presidents? Who made the Oval Office awful? Any compilation must be viewed against the backdrop of our country's slash-and-burn political atmosphere, in which the person on the other side of the aisle is not just your ideological opposite but your mortal enemy. If you didn't vote for him, he automatically moves to the top of the list, but, mustering all the neutrality I can, one could make a good case in my lifetime for Richard Nixon, Gerald Ford or Jimmy Carter to make the all-flop team."
As President Bush continues to slide in the public opinion polls to less than 30%, more and more Americans may actually conclude that he is one of the worst presidents in history.
This next news story illustrates how far down the polls Bush has fallen, and perhaps reveals one of the tenets on which he might be impeached.
NEWS BRIEF: "Zogby Poll: Over 70 Million American Adults Support New 9/11 Investigation", Global Research, May 23, 2006
"The poll is the first scientific survey of Americans' belief in a 9/11 cover up or the need to investigate possible US government complicity, and was commissioned to inform deliberations at the June 2~4 "9/11: Revealing the Truth, Reclaiming Our Future" conference in Chicago. Poll results indicate 42% believe there has indeed been a cover up (with 10% unsure) and 45% think 'Congress or an International Tribunal should re-investigate the attacks, including whether any US government officials consciously allowed or helped facilitate their success' ... Although the Bush administration continues to exploit September 11 to justify domestic spying, unprecedented spending and a permanent state of war, a new Zogby poll reveals that less than half of the American public trusts the official 9/11 story or believes the attacks were adequately investigated.
"The poll is the first scientific survey of Americans' belief in a 9/11 cover up or the need to investigate possible U.S. government complicity ... According to Janice Matthews, executive director of 911truth.org, "To those of us who have followed the mounting evidence for US government involvement in 9/11, these results are both heartening and frankly quite amazing, given the mainstream media's ongoing refusal to cover the most critical questions of that day."
While we are encouraged to hear that the public wants Congress to investigate the role the President Bush and his administration played in the 9/11 disaster, we feel compelled to warn that any investigation which assumes that Muslim terrorists commandeered those airplanes and flew them into the targets is flawed from the beginning, which will produce an equally flawed conclusion. The best type of conclusion which can come from such an assumption is that Bush and his officials were incompetent that day and did not sufficiently protect the Republic. Thus, the Illuminati will have successfully diverted attention away from them as the real culprit.
We encourage you to read the articles in our "Illuminati Card Game" section, to realize that the plan for 9/11 was well known in occult circles all the way back to 1995! The attacks of 9/11 was a government provocateur operation, and the Islamic terrorists were just the "fall guys". Doubt it not!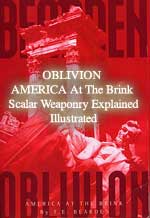 VII. Is New Orleans planned to get hit with another hurricane hit this year?
If you do not understand the reality of Weather Control/Weather Warfare, please take the time to read the articles we have posted -- http://www.cuttingedge.org/articles/weather.cfm
You need to thoroughly understand the reality of which Former Defense Secretary William Cohen warned in 1997, when he told a terrorism think tank that our enemies did wield an "electromagnetic" technology, by which they could alter the climate, set off earthquakes and volcanoes! Listen to Secretary Cohen's remarks: "Others (enemies) are engaging even in an eco-type of terrorism whereby they can alter the climate, set off earthquakes, volcanoes remotely through the use of electromagnetic waves."
This is the basic essence of Russia's capability through her use of Scalar "electromagnetic waves." Hurricanes -- and other major storms -- can be created, their size can be determined, and their path carefully controlled. With this understanding in your mind, you can see the gravity of this news story.
NEWS BRIEF: "New Orleans seen top target for '06 hurricanes", Reuters News, May 24, 2006
"New Orleans, still down and out from last year's assault by Hurricane Katrina, is the U.S. city most likely to be struck by hurricane force winds during the 2006 storm season, a researcher said on Wednesday. The forecast gives the city a nearly 30 percent chance of being hit by a hurricane and one in 10 chance the storm will be Category 3 or stronger, meaning sustained winds of at least 111 miles per hour (178 km per hour), said Chuck Watson of Kinetic Analysis Corp., a Savannah, Georgia, risk assessment firm."
Cutting Edge has always wondered if another horrific hurricane would strike New Orleans this year. Such a strike would add great credence to those voices who do not want that city rebuilt, but who want it to be "Re-wilded", i.e., allowed to go back to nature. This next news segment notes how vulnerable New Orleans is to such a repeat hurricane strike.
" 'Given the state of the infrastructure down there and the levees, gosh, that's just not good news. But that's what the climate signals look like', Watson said ... Wrapping up a two-day evacuation drill as the June 1 start to the hurricane season loomed, New Orleans' top emergency official said government, police and military are planning for storms with a sense of urgency, regardless of the odds.
"A complete evacuation will be ordered whenever a Category 3 storm or stronger appears to be bearing down on New Orleans, and there will be no shelters of last resort within the city.
" 'I can't control Mother Nature. I can only control the people who work for me and the message to deal with the citizens of this city, and I need their cooperation to make this happen', New Orleans Homeland Security Chief Terry Ebbert said of the strategy to empty the city."
Emptying the city is one of the first plans to re wild any city, for it removes the people from their private property and from the control of their local and state government authorities, putting these dispossessed people at the mercy of the Federal Government. When you consider that the Bush Administration is following the United Nations plan, "Simulated Reserve and Corridor System To Protect Biodiversity", the possibility that another hurricane would be directed against New Orleans has to be considered strong.
Forcing people from their private property, dispossessing them through economic disaster, and forcing increasing numbers of people into dependence on the Federal Government, should be regarded as the strong threat to "our lives, liberties and the pursuit of happiness" that it truly is. The Illuminati Plan has long foreseen the need to create disasters in order to panic the people into giving up their freedoms in exchange for safety and security.
We are truly at this point today.
---------- New Articles Posted This Week ----------
* "Strong Supernatural Spirit Is Blowing "DaVinci Code" Popularity Throughout The Whole World!" -- The popularity of the one lie which people must believe before Antichrist can arise should reveal to all discerning Christians that the prophetic hour draws nigh. The world is speeding toward this particular prophecy: "the whole earth went after the beast in amazement and admiration" (Rev 13:3) -- http://www.cuttingedge.org/news/n2133.cfm
* "Five reasons not to see The DaVinci Code", by Berit Kjos, Guest Columnist -- While church leaders prompt their followers to see the movie, buy their books, and "engage the culture" through dialogue, many Christians question this strategy. But not author Dan Brown! He welcomes the public controversy. He knows that it fuels a useful global dialogue that gradually pulls the diverse readers toward a new "common ground."
"The dialogue is wonderful," he tells us. "...the debate that is being generated is a positive powerful force. The more vigorously we debate these topics, the better our understanding of our own spirituality. Controversy and dialogue are healthy for religion as a whole." -- http://www.cuttingedge.org/articles/db069.htm
Dan Brown is exactly right!! The Illuminati knows the principle of the Six Step Attitudinal Change Plan very well. Let the debate begin, for the Illuminati knows very well that such a debate will convince hundreds of millions of people that the message of the "Da Vinci Code" is true!
* "Bill Clinton and Al Gore Are Suddenly At The Forefront of The Global Warming Propaganda Campaign" -- Abruptly, Al Gore is out front in the issue of "Global Warming" with his new documentary. Just as suddenly, Bill Clinton is going public with his support of this specific Illuminati Agenda. Are we seeing the beginning of the domestic agenda of a new Democratic President?
Global Warming is one of the prime examples of Weather Control / Weather Warfare! -- http://www.cuttingedge.org/news/n2134.cfm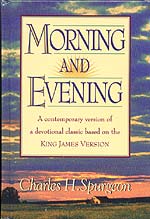 ---------Conclusion----------------"Now on whom dost thou trust?" Isaiah 36:5
Reader, this is an important question. Listen to the Christian's answer, and see if it is yours. "On whom dost thou trust?" "I trust," says the Christian, "in a triune God. I trust the Father, believing that He has chosen me from before the foundations of the world; I trust Him to provide for me in providence, to teach me, to guide me, to correct me if need be, and to bring me home to His own house where the many mansions are. I trust the Son. Very God of very God is He--the man Christ Jesus. I trust in Him to take away all my sins by His own sacrifice, and to adorn me with His perfect righteousness. I trust Him to be my Intercessor, to present my prayers and desires before His Father's throne, and I trust Him to be my Advocate at the last great day, to plead my cause, and to justify me. I trust Him for what He is, for what He has done, and for what He has promised yet to do. And I trust the Holy Spirit--He has begun to save me from my inbred sins; I trust Him to drive them all out; I trust Him to curb my temper, to subdue my will, to enlighten my understanding, to check my passions, to comfort my despondency, to help my weakness, to illuminate my darkness; I trust Him to dwell in me as my life, to reign in me as my King, to sanctify me wholly, spirit, soul, and body, and then to take me up to dwell with the saints in light for ever."

Oh, blessed trust! To trust Him whose power will never be exhausted, whose love will never wane, whose kindness will never change, whose faithfulness will never fail, whose wisdom will never be nonplussed, and whose perfect goodness can never know a diminution! Happy art thou, reader, if this trust is thine! So trusting, thou shalt enjoy sweet peace now, and glory hereafter, and the foundation of thy trust shall never be removed. (C.H. Spurgeon, "Morning and Evening Devotions"

)
=======================================================
May Jesus Richly Bless You,
David Bay, Director
866-909-2850 Toll Free Customer Service - Order Line
803-356-2850 Toll Free Customer Service - Order Line
803-356-2860 Fax