'Gentlemen, we have given you a Constitutional Republic, if you can keep it'. Benjamin Franklin, 1776"
Ladies and Gentlemen, we are witnessing the gradual and very silent dissolution of all our protections and liberties. The reason too many people are not really and truly upset about this turn of events is that they believe that our government is simply incapable of such monstrous behavior, plus they are naive enough to believe the propaganda that these laws are being implemented only to fight those nasty terrorists! Such a naive person never stops to think that the government has already redefined "terrorist" to include "Domestic Terrorist", people like you and me. Use Cutting Edge Search Engine and type in "Domestic Terrorist" so you can understand the real plans of the Illuminati for America.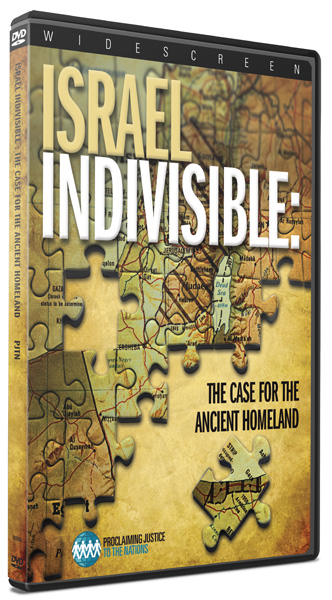 DVD
3. Israel seems about ready to commit suicide too.
NEWS BRIEF: "Bennett-Lapid Parity Government Ready to Roll: But How Will It Work?", The Jewish Press, May 31, 2021
"The government that's being formed by Yamina chairman Naftali Bennett and Yesh Atid chairman Yair Lapid will be a parity government ... the next government will achieve the equivalence in a somewhat unusual way so that on its right side there will be only Bennett and Sa'ar (12 coalition seats), and on the left – everyone, including Avigdor Liberman and Benny Gantz (49 seats)."
So, Leftists and pro-Arab seats will vastly outnumber the Center and Right.
Israel's bitter Arab enemies will thus gain seats on a government which just might allow them access of sensitive military information and which might cause a delay in responding to an attack.
Is Israel opening the chicken coop door to the insatiable and hateful Islamic enemy?
In a nation so small and surrounded by hostile enemies on all sides, Israel cannot afford the one mistake they are about to make.
NEWS BRIEF: "New gov't planning sweeping concessions to (Leftist) Bedouin sector", Israel National News, June 1, 2021
"'Bennett is selling out Zionism,' says Smotrich. United Arab List claims opposition leaders have agreed to unprecedented concessions ... Naftali Bennett and Yair Lapid have agreed to 'unprecedented' concessions to the Bedouin sector."
"The sources claimed that they had received promises that the new government would halt all law enforcement actions against illegal Bedouin construction in the Negev, and that the Bedouin Resettlement Authority would be dissolved."
"... the new government will legalize a number of illegal Bedouin settlements in the Negev, and that large numbers of illegal buildings in other Bedouin towns will be retroactively legalized."
"Religious Zionist Party chief Bezalel Smotrich responded to the report by accusing the planned government of selling out Zionist values ... They are sprinting towards a left-wing government and nothing will stop them. The question is whether Sa'ar, Elkin, Yoaz, and Sharren will stand in the breach – or if they, too, will enable this liquidation sale of Zionism. It will be a tragedy for generations."
Adherents of the Kabbala (Cabala) must be greatly energized by this turn of events, for their plan to produce the Jewish Messiah (Antichrist) envision that, at the time of his appearance, the Israeli Government will be in great disarray.
He is projected to arise at the time when the government is malfunctioning and the new Messiah will arise just in time to replace this unworkable government and rescue the tiny nation.
Israel seems very close to this situation right now.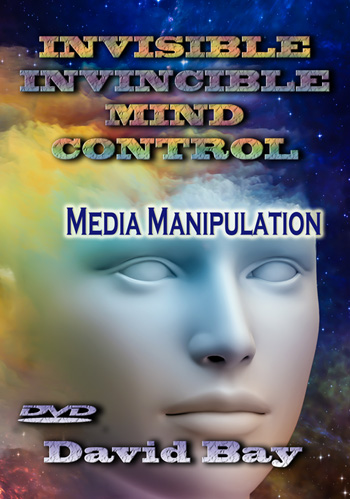 NEW DEVELOPMENT!
4. Suddenly, the public rhetoric changes on Taiwan:
Now, arguments are heard challenging whether America should lift a finger to defend Taiwan!
"Six Step Attitudinal Change Plan" is operating here.
NEWS BRIEF: "Whether or not America should militarily defend Taiwan from China is up for debate", by Scott Ritter, Russia Today, 24 May 2021
"In a debate over Taiwan, experts differed over whether the US should pursue a policy built around defending the island nation from China. What was not debated was the current viability of that option, which is zero. "
In other words, Scott Ritter -- a former intelligence officer and book author -- believes that the actual possibility that America can actually defend Taiwan against China "is zero"!
"... Taiwan, on its own, was incapable of defeating any concerted effort by mainland China to forcefully take control of the island, allows only one conclusion to be reached: Taiwan's future is certain – it will be rejoined with mainland China on terms determined by mainland China." (Emphasis Added)
"Reading between the lines of the debate, it became clear that for the precise reason that Taiwan was so militarily indefensible, the likelihood of a military solution to the issue of Chinese reunification declined over time."
Since the end of World War II, American commitment to allies around the world from Europe to Asia , that America would fight and fight hard to defend her friends and fellow free peoples, has deterred Communist Russia and Communist China.
If that commitment were to ever waver, Communist forces would instantly be on the march all over the globe, starting with North Korea and Taiwan.
When the point is reached where people accept the radical premise and begin to argue about how the premise could be implemented, we are at Step Six in the "Six Step Attitudinal Change Plan"
The Six Step Attitudinal Change Plan works like this:
Step 1. Some practice so offensive that it can scarcely be discussed in public is advocated by a RESPECTED expert in a RESPECTED forum.
Step 2. At first, the public is shocked, then outraged.
Step 3. But, the VERY FACT that such a thing could be publicly debated becomes the SUBJECT of the debate.
Step 4. In the process, sheer repetition of the shocking subject under discussion gradually dulls its effect.
Step 5. People then are no longer shocked by the subject.
Step 6. No longer outraged, people begin to argue for positions to moderate the extreme; or, they accept the premise, challenging, instead, the means to ACHIEVE it.
China believes she can stall a decision by the President of the United States -- Joe Biden -- over whether to commit American forces to defend Taiwan, for at least three (3) days.
Not only will "Old Joe" hesitate to go to war against his Chinese benefactors and friends, but Democrat opposition in Congress from Senator Chuck Schumer and House leader, Nancy Pelosi, stall a rapid response to a Chinese attack.
By the time Biden makes a decision, Chinese tanks and troops will be ensconced in Taipei and the Communist Chinese flag will be waving over Taiwan's Presidential Palace!
5. Right on cue, Russian nuclear-capable bombers seen landing in Syria last week are now flying sorties in the Middle East.
NEWS BRIEF: "Russian Tu-22M3 Bombers Now Flying From Syria", The Drive, May 26, 2021
"The Russian Ministry of Defense has released new video and photos showing the current deployment of three Tu-22M3 Backfire-C swing-wing bombers to Khmeimim airbase in Syria ... Now, as we expected, one of the jets has appeared toting a single example of the enormous Kh-22 series standoff missile. Known in the West as the AS-4 Kitchen, the weapon is now primarily used for anti-shipping strike."
This Syrian airbase is positively alive with Russian Air Force activity:
* "... the A-50U Mainstayairborne early warning aircraft visible on the ramp in the background"
* "An unarmed Russian Aerospace Forces Tu-22M3 is shown departing the airbase"
* "another is shown flying, with a single Kh-22 (or possibly a modernized Kh-32) carried asymmetrically, under the port wing"
* "There is also an inflight sequence onboard one of the bombers, revealing the non-upgraded cockpit and one of the pilots studying a paper map. "
* "Additional footage published by the same source also shows Su-35S Flanker escort fighters departing to accompany the bombers."
"The caption to this series is "Crews of Tu-22M3 long-range bombers have begun to perform missions in the Mediterranean sea zone."
In other words, Russia is signaling to the entire world that she is now in the Middle East in a major way and is intending to stay permanently!
Countries comprising Ezekiel 38-39 invasion continue to move towards Israel.
Just as you would expect from Ezekiel 38-39 prophecy!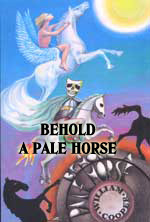 6. The Coronavirus pandemic may be over but:
The Vaccination pandemic is just beginning.
NEWS BRIEF: "The coronavirus pandemic is over, but the VACCINE pandemic is only just beginning", Natural News, May 31, 2021
"It's over folks. Over ... So you had to 'eat' a whole year of fear-mongering and pandemic propaganda, but it's finally come to a close ... Yet, there's much more to avoid than the SARS-CoV-2 Chinese Flu, because that's nothing compared to getting shot up with prion-creating inoculations that cause blood clots and immune deficiency to all the coming variants of the Fauci-Gates virus we all know so very well. "
"The VIRAL pandemic is over, but the VACCINE pandemic is only just beginning."
The ultimate New Age plan for dramatic depopulation envisions a fatal vaccine to be injected into the arms of billions of humans who are regarded as "Useless Eaters"!
This vaccine pandemic will be the ultimate killing machine of the Elite, leading directly past the "Mark of the Beast" prophecy.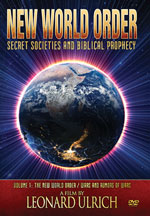 DVD
7. China isn't 'Winning' - the West is forfeiting!
NEWS BRIEF: "China isn't winning: The West is forfeiting", Israel National News, May 31, 2021
"The common thread here is a Western unwillingness to face down China's authoritarian regime. For some on the left, challenging China means standing up for Western values like democracy and human rights and this, in turn, raises questions about America's own commitment to those principles. For some in corporate America, capitalism hasn't opened China but made the West more dependent on mercantilist Beijing."
The facts and figures do not add up for China.
NEWS BRIEF: "Think Again About China", The Hill, May 31, 2021
"Even by the usual Washington standards, the current debate about China is remarkably caricatured. Indeed, it says more about us than about them, and, sadly, what it says is how much our self-confidence has taken a beating."
* "every Chinese militarized rock in the South China Sea is a strategic defeat"
* "every Chinese bad loan to Africa is a debt trap."
However, the current malaise in our self-image versus China needs to be reevaluated on the following grounds:
* "Depending on how it is calculated, America's national income per capita is either three and a half times China's or almost six times."
* "China is growing older while it is still poor"
* "By 2050 it will have gone from eight workers per retiree to two"
* China "is exhausting profitable places to build infrastructure"
* "its debt has doubled in the last decade, from 141 percent of GDP in 2008 to over 300 percent in 2019."
So, China is not quite as powerful and omnipotent as many people have come to believe.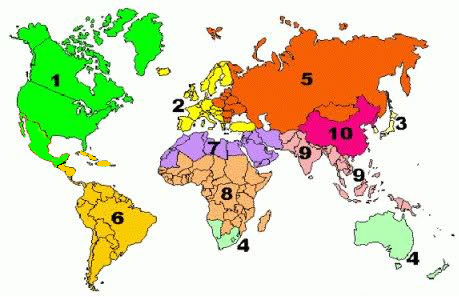 However, remember the prophetic insight provided by Revelation 17:17:
"Also the ten horns that you observed are ten rulers (kings) who have as yet received no royal dominion, but together they are to receive power and authority as rulers for a single hour, along with the beast. These have one common policy (opinion, purpose) and they deliver their power and authority to the beast." [Revelation 17:12-13]
The world has been reorganized into only 10 super nations on paper, but Antichrist has not yet arisen because the 10 supernations are not fully formed. This fact is critically important to our understanding of current events.
Now, let us complete our Biblical understanding of current world rulers:
"For God has put it into their hearts to carry out His own purpose by acting in harmony in surrendering their royal power and authority to the beast, until the prophetic words (intentions and promises) of God shall be fulfilled." (Revelation 17:17)
Therefore, until Antichrist is on the world scene, leaders of the Supernations shown above are "acting in harmony", despite the contrary situation being displayed by the fake news of the Mass Media!
---
"FULFILLING NOW "
Combination Video Offer Saving You $45 over buying individually.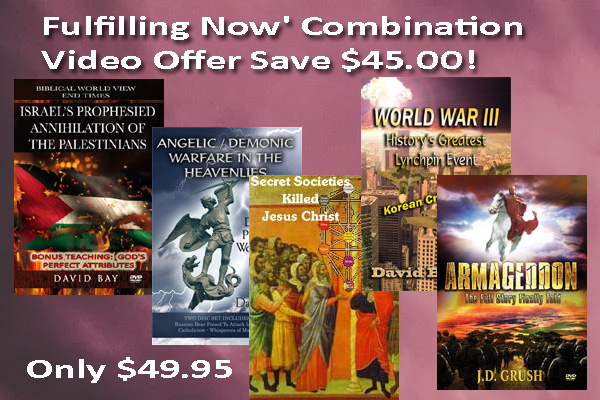 Offering 6 titles of videos in which key prophecies are currently being fulfilled in our Daily News!
1) 'Secret Societies Killed Jesus Christ' reveals the awful truth that the Pharisees of Jesus' day KNEW he was the prophesied Messiah but chose to kill him anyway! Events today is the attempt to bring forth THEIR MESSIAH ON THEIR TERMS!
2) 'Israel's Prophesied Annihilation of the Palestinians' focuses on the book of Obadiah in which God detailed -- 3,000 years ago -- that He would annihilate the Palestinians using Israel as His tool of judgment.
3) 'Angelic / Demonic Warfare In The Heavenlies: Daniel 10', shows how God uses the demonic god, Gog, to convince the leaders of Russia to lead an attack against Israel in fulfillment of Ezekiel 38-39. Contained within this set is a BONUS video 4) in which we show how a similar demonic god is leading the world into accepting the Roman Catholic Pope as the False Prophet.
5) 'World War III: History's Greatest Lynchpin Event' demonstrates how the Elite plan to set up each planned war which will create the global conflict necessary to stage Antichrist on the world scene.
6) 'The Full Story Finally Told - Jesus Returns As Warrior King' closely examines Jesus' return as avenging Messiah, physically attacking soldiers of the 200 million man army surrounding Jerusalem.
Six (6) Video Titles, regularly $94.95, on sale now, for only $49.95, saving you $45! https://www.cuttingedge.org/detail.cfm?ID=2965
---
Satan's swords are at the gate! You must repent now, asking forgiveness based on Jesus' blood sacrifice on the cross!
YOU HAVE ALL BEEN WARNED
---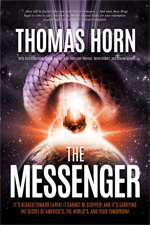 "The Messenger"
Book by Thomas Horn
Why asteroids were seen by the ancients as the Messengers of God
The mysterious connection between Apophis and biblical prophecy
How Apophis is connected with demonic entities prophesied to make war with God
How forthcoming cosmic events could usher in the Great Tribulation period
What the Jewish Feasts decreed in the Old Testament have to do with the timing of the Rapture and end-times events
325 Pages, Only $19.95 - https://www.cuttingedge.org/detail.cfm?ID=2956
---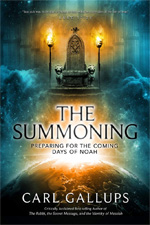 "The Summoning"
"Preparing for the Days of Noah"
Are we really on the brink of a universal shaking, as a number of today s prophecy watchers are warning?
Be thrust headlong into the original days of Noah, and through the theater of your mind you'll actually be inside the ark at the very moment the antediluvian world ripped apart at the seams!
Walk the Jordan River Valley with Jesus and His disciples as they made their way up to Jerusalem one last time.
Be made privy to some of the deepest meanings of the otherwise hard sayings that Jesus proclaimed to various audiences, along His way to Calvary.
Discover the profoundly stunning truths concerning what Jesus really meant when He proclaimed that the very last days would be just like the days of Noah.
412 Pages, only $19.95, https://www.cuttingedge.org/detail.cfm?ID=2955