Great News To An Unbelieving World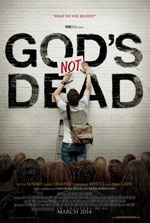 "God's NOT Dead"
You Will Laugh, Cry, Shout Out Loud
Present-day college freshman and devout Christian, Josh Wheaton (Shane Harper), finds his faith challenged on his first day of Philosophy class by the dogmatic and argumentative Professor Radisson (Kevin Sorbo). Radisson begins class by informing students that they will need to disavow, in writing, the existence of God on that first day, or face a failing grade.
Radisson assigns him a daunting task: if Josh will not admit that 'God Is Dead', he must prove God's existence by presenting well-researched, intellectual arguments and evidence over the course of the semester, and engage Radisson in a head-to-head debate in front of the class. If Josh fails to convince his classmates of God's existence, he will fail the course and hinder his lofty academic goals.
GOD'S NOT DEAD weaves together multiple stories of faith, doubt and disbelief, culminating in a dramatic call to action. The film will educate, entertain, and inspire moviegoers to explore what they really believe about God, igniting important conversations and life-changing decisions.
Your soul will be filled with the Joy of Heaven by the message of this video. You will not only find fresh reasons for your faith in God, but you will want to buy this video for unsaved friends and loved ones.
120 minutes - http://www.cuttingedge.org/detail.cfm?ID=2639
Now Back In-Stock
---
HOT NEWS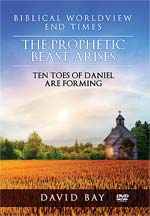 I. President Obama clarified the key objective regarding ISIS when he declared that America's goal is to "contain" the militants, not to defeat them!
He is right! The objective is to roll their advance back so ISIS' advance can be rolled back to the new "Sunni Iraq" nation shown below.
However, before the President stated this clear objective, he seemed muddled and confused!
NEWS BRIEF: "Obama: U.S. Strategy Is to Contain Threat, Not Eliminate ISIS ", Time Magazine, September 3, 2014
"... Obama offered a muddled vision for taking on the Islamic State of Iraq and Greater Syria (ISIS), first saying the U.S. objective is to 'degrade and destroy' the group, before saying his strategy is to contain the threat, rather than seeking to eliminate the group entirely ... But moments later the president said wiping out the extremist group, which has taken over large swaths of Iraq and Syria, is not an achievable goal, but that the U.S. can still mitigate the threat it poses. 'Our objective is to make sure that [ISIS] is not an ongoing threat to the region,' Obama said. 'And we can accomplish that'."
When this map shown below was issued, observers could clearly see that Iraq was destined to be split into three separate nations, one of which is "Sunni Iraq", and that is ISIS. Therefore, the objective from the beginning was to keep ISIS contained enough so they could be "rolled back" to the borders shown in this map.
But, how does the Elite plan to redraw this map?
By calling an International (Global) Conference, of course. Calls for a global conference is now being heralded far and wide. ISIS' unbelievable brutality is a strong catalyst.
The Pentagon's New Middle East Map -- 2007
(NOTE: You can see this map in much greater detail by reading it from NEWS2213)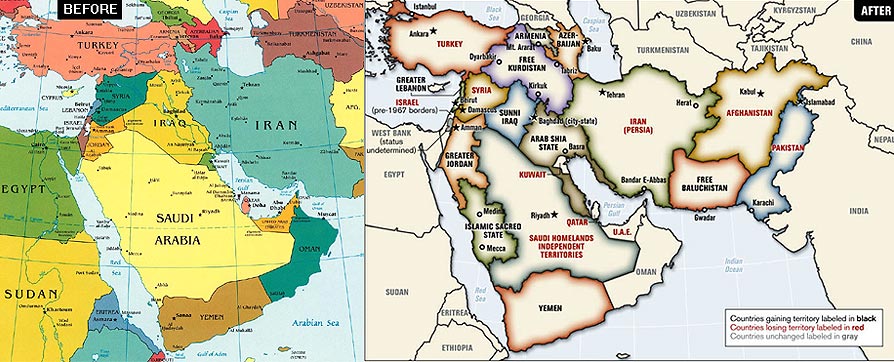 NEWS BRIEF: "New Beheading Video Spurs Calls for Global Response ", Bloomberg News, September 3, 2014
"A video showing the beheading of a second American journalist by Islamic State brought fresh calls for an international alliance to combat the extremist group as well as renewed condemnation of its barbarism ... The recording posted online yesterday shows the execution of captured freelance journalist Steven Joel Sotloff by the militant Sunni group that controls a swath of eastern Syria and northern Iraq. Journalist James Foley was beheaded in a video released last month. "
This next news segment reveals that the terrible barbarism is being viewed as a strong catalyst to reach a regional agreement that will stop the ISIS.
"U.S. lawmakers responded to the video by urging Obama to step up efforts to forge a broad coalition of nations that would take on Islamic State in both Iraq and Syria. Obama, speaking today in Tallinn, Estonia, on his way to a summit of NATO members, said the U.S. will continue to lead a 'regional and international effort against the barbaric' vision of Islamic State. Secretary of State John Kerry is expected to visit the Middle East to seek support."
Yes, finally, politicians from both sides of the aisle are uniting in their call for an International Conference which will redraw the map of the Middle East into what this map depicts. When President Obama said that he wants to "contain" ISIS, what he really means is that he wants to roll them back to the borders of "Sunni Iraq" where they will pose no threat to any of their neighbors.
An agreement will be reached during this conference to redraw the map as you see it here. Then, once the ink is dry on that conference agreement, the Elite will demand that Regional Government (Supernation) #7 of the Club of Rome Plan be created as the master government over all the individual nations.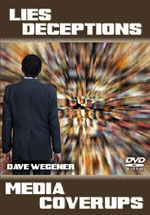 II. Hillary Clinton is starting her 2016 Presidential Campaign in a most unusual -- but creative -- manner.
Hollywood is introducing a new TV series designed to solve Hillary's problem with the fiasco of Benghazi!
NEWS BRIEF: "'Madam Secretary' Pilot Premiere Cast Includes Hillary Clinton And Madeleine Albright? ", KPOP.STARZ News, 8/18/2014
"'Madam Secretary,' which will premiere on September 21 on CBS, stars Tea Leoni as ex-CIA analyst Elizabeth McCord who is plucked from her job as a UVa professor to become U.S. Secretary of State. But will it also include former female Secretaries of State, Hillary Clinton and Madeleine Albright too?"
When I first viewed the trailer for this series, I said to myself that this blonde Secretary of State starring Tea Leone, sure looked a lot like the blonde Secretary of State, Hillary Clinton! I wondered aloud then if this new TV series was designed to make Hillary's time as Obama's Secretary of State look good enough that it would propel her to the White House in 2016!
I really had no idea how close to the mark my original assessment was! I had no idea the focus of this entire series was going to be the disaster of Benghazi.
"According to the show's top producers, both Secretaries of State will be involved to some degree! The actual premise of the show, which bares similarities to 'Homeland' and 'Scandal', was based on one of the most controversial events of Hillary Clinton's stint as Secretary of State."
What was this "controversial event"?
We turn to the Los Angeles Times for that bit of information.
NEWS BRIEF: "Benghazi-inspired 'Madam Secretary' aims to 'pull back the curtain' on DC", L.A. Times, July 17, 2014
"Call it the Hillary Effect ... In what may be TV's most explicitly Hillary-inspired series to date, CBS will hav "Madam Secretary" with Tea Leoni making her return to series television as Elizabeth McCord, a happily married, former CIA analyst who's settled into the quiet world of academia. When the sitting secretary of state dies under mysterious circumstance, she is tapped as his replacement by the president. "
"As executive producer Lori McCreary explained Thursday at the Television Critics Assn. press tour ... Then McCreary turned on the Benghazi hearings and found her inspiration."
As Hillary Clinton was desperately trying to gain traction in her campaign against Barack Obama in 2008, she discovered that the deadly disaster of Benghazi was dragging her down like a millstone around her neck. Somehow, some way, Hillary needed to neutralize this debacle before she started campaigning for 2016.
She needed professional help, and Hollywood rode to the rescue. I believe "Madam Secretary" is designed to take Hillary's #1 problem and spin it into her #1 asset. How does this show's producer intend to accomplish this daunting goal? She created a character especially normal and strong. Tea Leone has the following characteristics:
* "Elizabeth had to be moving from a "real-life" situation and could not be a 'lifetime politician '"
* Elizabeth, who is married to a hunky religion professor (Tim Daly) and has two kids, 'have a recognizable and active home life'."
* "... unlike the number of shows about flawed professional women on TV this fall, 'Madam Secretary' will not show Elizabeth's life 'being broken everywhere else', said Hall. 'What I really wanted to do was create a successful marriage..."
* "Compared to other DC-set shows, specifically 'Scandal', Hall said 'Madam Secretary' will have 'a little less heightened reality than that. We're really trying to pull back the curtain on how the state department actually works'."
* "It will also balance global crises with more mundane workplace politics..."
Tea Leone felt this script was the one for which she has been looking over the past few years.
"... the actress said she was attracted to 'fish-out-of-water' story of a mom unexpectedly thrust into a role as a world leader."
Therefore, the TV audience is going to see a fictionalized Hillary Clinton, one that they just might want to see as President of the United States one day. If 'Madam Secretary' can clean up the residue from Benghazi, Hillary may stand a fighting chance to be the next President of the United States!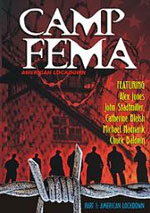 DVD
III. For weeks now, Western Media has spun the "concern" from Western Intelligence that natural citizens who have traveled to Syria and to Iraq to support Jihadist forces may return home to carry out terror attacks against their own people.
Despite not a shred of evidence to suggest this fear is real, British Prime Minister Cameron has announced dramatic new police powers!
I am amazed to realize how much mileage the Elite have gotten over the attacks of 9/11!
NEWS BRIEF: "PM Cameron outlines new anti-terror measures to MPs", BBC News, 1 September 2014
"New powers are needed to seize terrorist suspects' passports and stop British-born extremists from returning to the UK, David Cameron has said ... Powers to monitor suspects in the UK will also be strengthened."
These new powers are described as "not sweeping and broad," and yet British authorities will have the police authority to keep British citizens from traveling abroad!
"While rejecting calls for 'sweeping and blanket' new laws in response, he said a "forensic focus" was needed to prevent people from travelling abroad in the first place and to deal with British jihadists returning to the UK from conflict zones."
Today, British authorities might focus only on British citizens with foreign names and backgrounds; but, yet, the time will arrive when authorities will keep naturally-born citizens from leaving Britain. In the weeks following the attacks of 9/11/2001, we warned that, today, the Bush Administration is "only" running roughshod over the rights of Islamic American citizens. But, we shouted our belief that the time would soon arrive when naturally-born American citizens would be thrown in jail without charges and without a speedy or fair trial.
Sadly, not only has this occurred, but police have gotten so used to depriving foreign born American citizens badly, they now hold the rights and privileges of naturally-born Americans in low regard. This reality can be seen in the almost daily occurence where police somewhere in this formerly great nation are badly treating citizens.
When we examine the specific new laws British authorities will now have, we have significant cause for alarm.
* "Legislation will be drawn up to give the police statutory powers to confiscate the passports of suspect terrorists at UK borders."
* "The UK will challenge any attempt by the courts to water down these powers."
* "Terrorism prevention and investigation measures (Tpims) will be extended, to include the power to relocate suspects." Does this mean that a British citizen wanting to travel abroad for vacation may be forcibly "relocated" to a prison facility?
* "Terrorists will be required to undergo de-radicalisation programmes." Are these programs really torture, like water-boarding? Police of the New World Order will get very "radical" as they attempt to "de-radicalize" people whom they consider a terrorist!
* "Airlines will be forced to hand over more information about passengers travelling to and from conflict zones."
The largest single threat to this proposed new police authority is that the definition of a "suspect" can immediately change, to include government dissidents who are law-abiding. What happens when Born Again Christians are declared to be "domestic terror suspects"?
American authorities are now issuing the very same warnings as British politicians have been doing.
NEWS BRIEF: "Republican says 'hundreds' of Americans have joined Islamic State. True?", The Christian Science Monitor, September 1, 2014
"Have hundreds of disaffected Americans traveled overseas to train as terrorists with the brutal Islamic State?"
That's what Rep. Mike Rogers (R) of Michigan, chairman of the House Intelligence Committee, said on Sunday during an appearance on Fox News. He said that IS foreign fighters – Canadian and British citizens, as well as Americans – now pose 'a very serious threat' to US interests."
Mike Rogers believes this "threat" to be real, even though his concern is based upon circumstantial "facts".
""I'm very concerned, because we don't know every single person that has an American passport that has gone and trained and learned how to fight," said Rogers.
Right, therefore, let us arm our police with more dictatorial powers because we do not know if any of these jihadists would really come back to America after fighting for ISIS! That makes no sense whatsoever!
Unless you realize that the planned government in every country of the world during the New World Order is a dictatorship, you will not understand why authorities are granting themselves such dictatorial powers even though the threat is imagined and not real!
Welcome to the New World Order, the kingdom of Antichrist, in which nearly everyone will be a slave.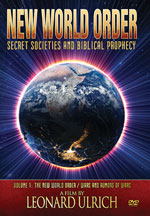 IV. Political pundits and talking heads are repeating the mantra that Russia has launched a full-scale attack against Ukraine.
Finally, someone with a working knowledge of the Russian military has spoken out with authoritative reasons to NOT believe that Russia has invaded.
NEWS BRIEF: "Top Ten Ways You Can Tell if Russia Really Invaded Ukraine Last Thursday", Written by Dmitry Orlov, Ron Paul Institute, September 1, 2014
"Last Thursday the Ukrainian government, echoed by NATO spokesmen, declared that the Russian military is now operating within Ukraine's borders. Well, maybe it is and maybe it isn't; what do you know? They said the same thing before, most recently on August 13, and then on August 17, each time with either no evidence or fake evidence. But let's give them the benefit of the doubt."
At this point, Dmitry tells us what the situation on the ground in Ukraine would be 48 hours after Russian forces had supposedly attacked. When you read this material, you will realize you are reading about the capability of a superpower military attacking a perenially bankrupt third world country military.
1) "Ukrainian artillery fell silent almost immediately ... heir locations had been pinpointed prior to the operation, and by Thursday afternoon they were completely wiped out using air attacks, artillery and ground-based rocket fire, as the first order of business."
2) " The look of military activity on the ground in Donetsk and Lugansk has changed dramatically ... The flow of vehicles in and out is non-stop, plainly visible on air reconnaissance and satellite photos. Add to that the relentless radio chatter, all in Russian, which anyone who wants to can intercept, and the operation becomes impossible to hide. "
3) "The Ukrainian military has promptly vanished. Soldiers and officers alike have taken off their uniforms, abandoned their weapons, and are doing their best to blend in with the locals. "
4) "There are Russian checkpoints everywhere."
5) "Most of Ukraine's border crossings are by now under Russian control. "
6) "Russia has imposed a no-fly zone over all of Ukraine. All civilian flights have been cancelled."
7) " The usual Ukrainian talking heads, such as president Poroshenko, PM Yatsenyuk and others, are no longer available to be interviewed by Western media. Nobody quite knows where they are."
8) " Some of the over 800,000 Ukrainian refugees are starting to stream back in from Russia..."
9) "There is all sorts of intense diplomatic and military activity around the world, especially in Europe and the US. Military forces are on highest alert, diplomats are jetting around and holding conferences."
10) " Kiev has surrendered. There are Russian tanks on the Maidan Square. Russian infantry is mopping up the remains of Ukraine's National Guard. "
"Armed with this list, you too should be able to determine whether or not Russia has invaded Ukraine last Thursday."
Remember this somber reality: our Western Media and our politicians on both sides of the aisle are determined to lie to us as much as is necessary to blind us as to what is really going on until the New World Order has been firmly established all across the globe.
Question: How do you know when a politician and a news reporter are lying to you?
Answer: When their lips are moving!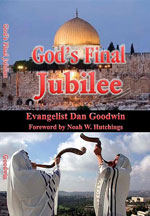 V. The Palestinians seem obsessed with declaring a Palestinian State, even though Israel can never agree to the terms.
Remember, a Palestinian State will not acutally occur, but will only be proclaimed (Isaiah 34: 12)
NEWS BRIEF: "Israel Rejects Dangerous Palestinian Ultimatum", Israel Today, 9/3/2014
"The Palestinian Authority has essentially issued an ultimatum for Israel's withdrawal from Judea and Samaria (the so-called "West Bank") precisely at a time when Israel is more convinced than ever of the danger of such a move."
What were these dangerous terms which Israel must reject?
"An independent Palestinian state on the pre–1967 borders and a full Israeli withdrawal facilitating that new state's establishment within three years."
These terms are precisely what Former President Nixon said Israel could never accept. Such terms would place a sharp Palestinian knife just inches from Israel's heart. Richard Nixon is considered a hero by many in Israel because he personally ordered a massive airlift of American war supplies from Europe to deliver an Israeli Army pinned down in the desert by Egyptian forces and facing ruin.
Richard Nixon is absolutely correct.
Should Israel refuse to commit mass suicide voluntarily by agreeing to these terms, Abbas has a very ridiculous plan.
"Should Israel refuse, Abbas would turn to unilateral moves like seeking UN Security Council recognition for 'Palestine', filing charges against Israel at the International Court of Justice and applying to additional international institutions."
Israel laughs at this idea, because her forces did everything in their power to save civilian lives even as they were rooting out Hamas militant soldiers who were hiding behind their women's skirts as they fired at IDF troops from public places -- like schools!
"Defense Minister Moshe Ya'alon told a conference in Tel Aviv on Tuesday that a full West Bank withdrawal would only bring to central Israel the same kind of terror tunnels and incessant rocket fire plaguing the residents of the southern Negev region."
Surprisingly, some Jewish leaders were publicly calling for a "separation of population", Jewish from Palestinian.
"Recent weeks reminded us why we should separate from the Palestinians - we don't want to live with them ... Intelligence Minister Yuval Steinitz said the entire episode was further evidence that the Palestinian leadership couldn't be trusted. Abbas is playing a "double game," Steinitz told Israel Radio..."
As we have declared since September, 2000, Israel must separate Jew from Palestinian if she is going to fulfill the prophecy of Obadiah 15-18, the annihilation of the Palestinians (Read full details in NEWS2095)
You will be shocked to realize how completely current news in Israel is setting the stage for this End of the Age prophecy to be carried out.