HOT NEWS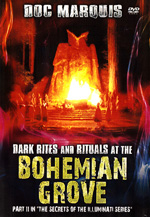 DVD
I. Senate Republicans refuse to support restrictions on the National Security Agency (NSA)!
Even though Conservative Republican leaders and voters have been dramatically dismayed by the great increase in NSA surveillance during the Obama years, Republicans in the Senate have betrayed us all.
NEWS BRIEF: "Republicans block NSA overhaul in Senate", The Boston Globe, November 19, 2014
"WASHINGTON — Senate Republicans on Tuesday blocked a sweeping overhaul of the once-secret National Security Agency program that collects records of Americans' phone calls in bulk ... Senator Mitch McConnell of Kentucky, the Republican leader, worked hard to defeat the bill, which had the support of the Obama administration and a coalition of technology companies, including Apple, Google, Microsoft, and Yahoo."
Notice that this sweeping overhaul of the NSA had the support of President Obama and Apple, Google, Microsoft and Yahoo. Even the most Liberal Democrats realized that government ability to spy on its citizens needed to be curtailed.
Who would have thought that "Conservative" Republicans would sell us out by refusing to rein in intrusive govenment surveillance! Every dictatorship in history has established the widest plan of surveillance possible to protect the dictator from the anger of his own people.
Today, the world is spinning toward the greatest dictatorship of all time, the Revelation 13:16-18 Mark of the Beast. This prophesied dictatorship will require the most extensive government intrusion into the everyday lives of its citizens that history has ever seen.
Surveillance capability to fulfill the Mark of the Beast prophecies is now advancing toward the required level. Senate Republicans had an opportunity to roll this instrusion back, but failed.
Thirteen years ago, when George W. Bush won the White House, I made two controversial statements that I make again today.
1) There is no difference between Republican and Democrat Parties, as the leaders of each party are equally committed to establishing this "New World Order", the "Novus Ordo Seclorum" on the back ont the American One Dollar Bill.
2) Americans are in more danger of a loss of Constitutional liberties under a Republican President than a Democratic one.
Since World War II, RINO Republicans (Republican In Name Only) have consistently betrayed Conservative Americans. They act like and talk like real Conservatives, but in key situations and at key times, they vote like Liberal Democrats.
I am afraid this is the situation with the Republican majority of Congress. We shall see clearly what the situation is as Congress acts during the next two years, but this betrayal of Conservative ideals in this area of intrusive government surveillance is not encouraging.
We may discover that these Republicans are cut from the same cloth as the Bohemian Grove Republicans in the past. Sad, but so very true.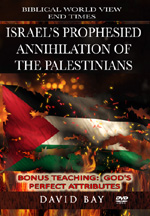 II. As the Palestinians carry out a bloody new Intifada struggle, they are setting the stage where both Jews and Gentiles will start to wish they would just go away.
At this point, the prophesied annihilation of all Palestinians will abruptly and quickly occur!
Do the Palestinians realize that their bloody campaign against Jews is signing their collective death warrant?
NEWS BRIEF: Police Make it Official: Intifada 2014 Is Now Underway", Israel National News, 11/19/2014
"Samaria victim of Arab ambush discovers on police report that the recent terror attacks are defined as 'Intifada 2014.' "
Does this police report mean that Israeli authorities now believe that the Palestinians have launched a new 'Intifada' struggle? What is the definition of this strange term?
"Intifada is an Arabic word which literally means 'shaking off', though it is popularly translated into English as 'uprising', 'resistance', or 'rebellion'." (Wikipedia Online Encyclopedia)
In other words, the Palestinians are rising up in an effort to "shake off" Israeli control. This uprising in the past has featured bloody attacks on innocent civilians and bombings and attacks on police and IDF forces. Under Yassir Arafat, an Intifada became a conflict just short of actual all-out war.
"Police have tried to hush up the "silent intifada" of rising Arab terrorism focused around Jerusalem in recent months, but apparently the uptick in recent weeks of high-profile lethal attacks has caused a change of policy, and a redefinition of the attacks as 'Intifada 2014'."
Consider some of the outrageous attacks recently that have caused Israeli authorities to label the Palestinian attacks as part of an overall campaign of Intifada.
* Jewish citizen "had been targeted by an Arab rock throwing ambush on his way driving home from Jerusalem last Saturday night."
* Horrific attack on Rabbis worshipping in a synagogue.
NEWS BRIEF: "Israelis killed in Jerusalem synagogue attack", Houston Chronicle, November 17, 2014
" Israel vowed harsh retaliation Tuesday for a Palestinian attack that killed five people and left blood-smeared prayer books and shawls on the floor of a synagogue in Jerusalem — an assault that sharply escalated already-high tensions after weeks of religious violence. The attack during morning prayers in the west Jerusalem neighborhood of Har Nof was carried out by two Palestinian cousins wielding meat cleavers, knives and a handgun. They were shot to death by police after the deadliest assault in the holy city since 2008."
"Tuesday's attack, however, appeared to mark a turning point, with the gruesome scene in a house of worship shocking a nation long accustomed to violence."
Shockingly, the radical Palestinian terrorist groups Hamas and Fatah claimed responsibility for the attack, even calling the murderers "heroes"!
NEWS BRIEF: "Abbas' PA and Fatah Celebrate 'Heroic' Jerusalem Attack", Israel National News, 11/19/2014
"Palestinian Authority (PA) Chairman Mahmoud Abbas's adviser and members of his Fatah faction have come out and directly praised the terrorist attack in Jerusalem on Tuesday in which five Israelis were murdered in a synagogue, after Abbas's office made a perfunctory condemnation of the attack. Abbas's adviser Sultan Abu Al-Einen, who praised another terrorist as a "hero" last month, called the lethal attack with hatchets, knives and guns on Tuesday a "heroic operation" on his Facebook page, reveals Palestinian Media Watch(PMW)."
Hamas had previously called the attack "heroic"!
NEWS BRIEF: "Hamas, Islamic Jihad Praise Jerusalem Synagogue Massacre", Israel National News, 11/18/2014
"Hamas and Islamic Jihad have hailed this morning's massacre at a Jerusalem synagogue, in which four worshipers were murdered and many more wounded by Palestinian terrorists. In a statement, the Hamas terrorist group said it was "a response to the murder of the martyr Yusuf Ramuni," referring to a Palestinian bus driver who committed suicide on Monday but whose death Islamists have been blaming on 'settlers'."
"Hamas calls for more operations like it."
Israeli Prime Minister Netanyahu angrily promised that Israel will react vigorously to this latest attack.
NEWS BRIEF: "Israel's Netanyahu: 'We will respond with a heavy hand' after synagogue attack kills four", CNN News, November 18, 2014
"A Jerusalem synagogue turned from a peaceful sanctuary to a house of horrors within moments Tuesday when two Palestinian cousins wielding a gun and butcher knives attacked during morning prayers, killing four rabbis and a policeman. Characterizing the attack as 'blood libel' fanned by Palestinian leaders, Israeli Prime Minister Benjamin Netanyahu vowed a strong response for the deaths."
"... the Prime Minister called for national unity against "those human animals who committed this massacre" and against those -- singling out Hamas, the Islamic movement and the Palestinian Authority -- who he claims 'disseminate libels against the state of Israel. There are those who wish to uproot us from the capital, from our land', he said, referring to Jerusalem. 'They will not be successful. ... We have to unify forces'."
Since these horrific attacks on Israel are increasing rapidly as the world spins closer to the final prophetic end, we must consider that God has now begun taking note of these events and planning His final prophetic protection of tiny Israel. Consider:
"For, behold, in those days, and in that time, when I shall bring again (reverse) the captivity of Judah and Jerusalem..." (Joel 3:1)
You can write the date, May 14, 1948, in the margin of your Bible at this verse, because on that date, God reversed the expulsion of Israel from her land, restoring her as a nation in one day!
"I will also gather all nations, and will bring them down into the valley of Jehoshaphat, and will plead with them there for my people and for my heritage Israel (will plead with them there for my people and for my heritage Israel), whom they have scattered among the nations, and parted my land." (Joel 3:2)
God is preparing to deal with all Israel's enemies, probably beginning with the intransigent Palestinians, who have lived side-by-side with Jews from the very beginning of the Jewish State. They have hated the Jews immensely and have never missed an opportunity to do them harm.
The result shall be the annihilation of all Palestinians by the Israeli military, as foretold in Obadiah 15-18 and in Isaiah 34 (See full details in the DVD shown above, "Israel's Prophesied Annihilation of the Palestinians").
You will never read and hear the news the same way again!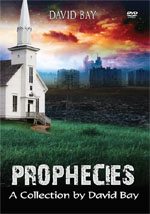 III. Shi'ite Iraq is beginning to stablize her control and her economy!
Western armed forces, joining special forces from Jordan and Iran, are beginning to force ISIS (Sunni Iraq) back.
NEWS BRIEF: "Iraq's Biggest Oil Plant to Reopen After Militants Repelled", Bloomberg News, 11/18/2014
"Iraq's biggest oil refinery at Baiji is set to restart processing in about three months after government troops forced Islamic State armed militants away from the facility. Iraqi troops will expel the militants from areas near a pipeline supplying the refinery 130 miles (209 kilometers) north of Baghdad, Colonel Khalaf al-Jabouri, a member of Iraq's anti-terror forces, said by phone. It will take about three months to restart the plant because workers have fled to other provinces, refinery units need maintenance and militants still control part of the pipeline network, according to Saad al-Azzawi, an engineer at Baiji."
Since Iraq contains 20% of the total world supply, she cannot stablize her economy until and unless she seizes control of her oil production facilities and begins to pump oil exports again. But,l she is beginning to gain that kind of control back from Sunni Iraq (ISIS). This next report indicates the degree of governmental control Shi'ite Iraq is gaining.
NEWS BRIEF: "Baghdad hails the retaking of the Baiji oil refinery as the start of the long fightback against the Islamist militants", Independent News, 18 November 2014
"Iraqi security forces have re-entered the country's biggest oil refinery at Baiji, the recapture of which would be the Baghdad government's most important military success since Isis seized most of northern and western Iraq during the summer ... The first Iraqi force, the anti-terrorism force called Mosul Battalion, entered Baiji refinery for the first time in five months," police Colonel Saleh Jaber of the Baiji refinery protection force told one news agency ... Isis fighters are reported by other sources to have now withdrawn east across the river Tigris to towns and villages that they still control."
"The commander of the provincial security operations, Abdel Wahab al-Saadi, told the television station ... 'If God is willing, Baiji will be the main key to liberating each span of Iraq'."
Building credibility with her people and her neighbors is also critically important if the Shi'ite Iraqi government hopes to create a real government and a prosperous economy. Her leaders yesterday began living up to an agreement they had just concluded with the Kurds.
NEWS BRIEF: "Iraq transfers $500 mn to Kurds in budget deal", Yahoo News, November 19, 2014
"Baghdad (AFP) - The Iraqi government transferred $500 million to the autonomous Kurdish region on Wednesday as part of a deal aimed at ending long-running oil and budget disputes, the finance minister said ... The move eases tensions between the federal and regional governments, paving the way for a lasting settlement..."
The 2007 Pentagon Map is close to being forced upon all nations of the Middle East. As you study this map, you will realize that the Elite plan for Shi'ite Iraq to be established and to even gain land each side of the Persian Gulf.
In the short-term, Shi'ite Iraq is going to be prosperous. But, in the long-term, all of Iraq will succumb to the deadly uranium poisoning left by our Depleted Uranium munitions.
God's prophecies throughout this region are continually being fulfilled, or the stage is being set whcih will fulfill them. Watch your Daily News! Our reasons for understanding that current news events are pointing toward the return of Jesus Christ have never been more powerful and more plentiful.
"And when these things begin to come to pass, then look up, and lift up your heads; for your redemption draweth nigh." (Luke 21:28)
---
Unique Biblical Worldview DVD's
"America: End Times Destruction Foretold"
New DVD by David Bay, Director, Cutting Edge Ministries
Only $14.99 -- Watch Dynamic Trailer
One prophecy dramatically informs us that America, specifically, will be in some degree of financial prosperity until God annihilates her in judgment, with fire, in one hour. That inspired prognostication from God is found in Revelation 18, so let us turn our attention to this most important prophecy, maybe one of the most important predictions of our End of the Age time period.
America may be the Economic Babylon of Revelation 18, as she is certainly symbolic of the widespread system of Anti-God evil that the Bible says is inherent in any Babylonian system.
Revelation 18 describes destruction by fire--God's fire--of "Babylon the Great"
You will never look at news the same way again!
One Hour -- http://www.cuttingedge.org/detail.cfm?ID=2653
---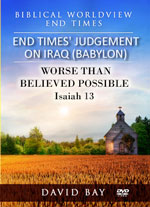 "End Times' Judgment On Iraq (Babylon) Worse Than Believed Possible - Isaiah 13"
Iraq -- Ancient Babylon -- is nearing the End Times' final annihilating judgment just as God foretold 2,700 years ago.
The clock of death continues to tick, and soon, Iraq will be history's first 'Dead Nation', a place where no person or animal can possibly live. Mighty Babylon is clearly succumbing to God's inexorable judgment -- and Skull & Bones George Bush drove the prophetic stake through the heart of the ancient nation of Nimrod! http://www.cuttingedge.org/detail.cfm?ID=2641
---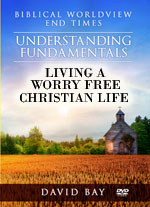 New "Biblical Worldview" Teaching DVD Series
by Cutting Edge Director David Bay
"Living A Worry-Free Christian Life"
How is a Christian to live during these evil End Times? Most Christians are in some degree of depression because our values are constantly under cultural and moral attack, and because times are hard economically, with wars raging on all continents save one, with hatred and anger raging on the Daily News. How does one live a 'Worry Free Life'?
We must live our lives in strict adherence to Biblical teachings. For Example: 1) How can we begin practicing this kind of joyful day-by-day living? We start to 'cast and release'. Psalm 55:22 "Cast thy burden upon the LORD, and he shall sustain thee: he shall never suffer the righteous to be moved."
'Cast and release' * Examples in daily living
* Notice from the IRS
* Mechanical difficulty with the car
* Distressing call from a loved one
* Distressing news from your job
* Unexpected bill & you don't have the money
The Psalmist understood this 'cast and release' principle as a means to lift his spirits during hard times. "Why art thou cast down, O my soul? and why art thou disquieted within me? hope thou in God: for I shall yet praise him, who is the health of my countenance, and my God." (Ps 43:11)
Peter understood this principle of releasing the weight of our troubles. 1 Peter 5:7, "Casting the whole of your care, all your anxieties, all your worries, all your concerns, once and for all on Him, for He cares for you affectionately, and cares about you watchfully."
This "worry-free life" brings us that most important state in which we can rest:
Heart Peace
Run Time is 1 hour Order now
---
Actual World War II Propaganda Footage!
"Why We Fight"
4-DVD Collectors Edition Set - by Frank Capra, Biblical Worldview
An incredible overview of the events leading up to America's involvement of WWII. Master Filmmaker, Frank Capra, was commissioned by the US Army to produce this documentary series to show the soldiers what they were fighting for, and what evils they were fighting against. This video adds a new dimension to the study of history, a dimension that books and photos cannot match. http://www.cuttingedge.org/detail.cfm?ID=2644
Regularly $39.99, Now Only $9.99 -- While supplies last
---
---
Your faithful support enables us to keep Cutting Edge free for everyone else. Our readers have always loved the indepth correct news analysis found in our "Headline News Analysis".
If you want only to make a donation rather than subscribe to Headline News, simply click on the 'Donation Button' shown to the left and complete the simple form.

---