As bad as events have been for the first segment of God's Judgment in the Book of Revelation, they are about to get infinitely worse as these four mighty ungodly demons are let out of God's prison in the vicinity of the Euphrates River.
"And the sixth angel poured out his vial upon the great river Euphrates; and the water thereof was dried up, that the way of the kings of the east might be prepared." (Revelation 16;12, KJV)
"KINGS OF THE EAST" (REV 16:12) -- China has been identified as this "Kings of the East" prophecy for reasons which will surprise you. To date, China has completed her all-weather road to Afghanistan. Now, she is arming herself with modern weapons which will enable her to kill 33% of all mankind, just as the prophecy foretells.
And, now, the Mighty Euphrates River is drying up in an unprecedented measure!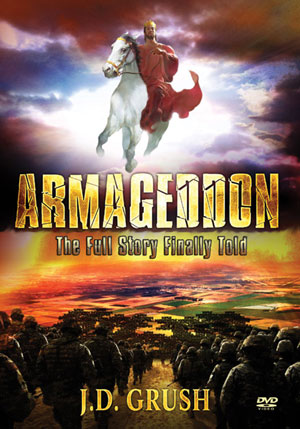 DVD
4. Chinese military advisers have landed in the Bagram Air Base in Afghanistan, considering taking it over.
NEWS BRIEF: "China discussing takeover of major US military base abandoned in Afghanistan", American Military News, 8 Sept 2021
"China is reportedly weighing plans to take over Bagram Airfield, which once served as the largest U.S. military base in Afghanistan ... The Chinese military is currently conducting a feasibility study for a potential takeover of the major airfield."
"The feasibility study will consider whether Chinese workers, soldiers and other staff could use Bagram Airfield to advance the interests of the Belt and Road Initiative, a major ongoing Chinese economic development strategy."
Remember, China must have access to Afghanistan if she is to fulfill prophecy of the "Kings of the East" marching to Armageddon.
From China all the way across Afghanistan, this super highway would run across some of the tallest mountains in the world. You can see that, if a nation is going to rapidly move 200,000,000 fighting men and their war materiel across such a long distance, they would need such a modern super highway. Otherwise, the mountains would prohibit such movement.
Grant Jeffrey says very plainly, "The Chinese government has spent enormous sums and expended the lives of hundreds of thousands of construction workers building a military superhighway across Asia heading directly toward Israel. The highway has no economic purpose and no foreigners are allowed anywhere near this road. The highway has been completed through the south of China, Tibet, Pakistan, and Afghanistan." [Ibid., p. 199]
Why is this highway only completed through Afghanistan? After all, this 200 million man army still has to travel through Iran, Iraq, and Jordan to get to Israel. Why would the highway be constructed only through Afghanistan? One possible answer is that they have not received the permission from Iran and Iraq to build such a super highway; however, I do not believe this is the case, because of the hatred of the Arabs against Israel. They would do anything to see Israel defeated and annihilated, including the building of a super highway. The second possible answer is that the terrain of Iran, Iraq, and Jordan is so flat that huge tanks, trucks, and tens of thousands of other tracked vehicles could easily travel across the land. In military terms, this land is called "Tank Country", because tanks can so easily move quickly across.
However it works out, this invasion of the 200 million man army from the "East", China, will result in the deaths of one-third of all the people of the Earth. Thus, by the time this army reaches Jerusalem, it will have many victories and much blood on their hands. We believe this is the true prophetic significance between the current dispute between Pakistan, India, and China over Kashmir. China may just be acting to ensure that her access to Karahoram Pass remains firmly in either her hands or in Pakistan's. If this war were to really break out, and Pakistan is decimated, and in danger of losing control of the critical mountain pass, China would most certainly enter the war with all weapons at her disposal.
Literally, the path from China to Armageddon must pass through Afghanistan!
Furthermore, China has quietly been making alliances with nations she deems necessary to further her aim to march to Israel at the latter end of the Tribulation Period.
Not only does prophecy state this, as we noted above, but the New World Order Plan envisions this also. Listen:
"Eventually the Chinese invasion, it seems, will split into two prongs ... Chinese forces will eventually reach the Middle East ... Above all, there will be the Great Chinese War ... the initial skirmishes will take place in South-East Asia and India ...". (Peter Lemesurier, "The Armageddon Script", page 223)
Note carefully that this plan nearly perfectly parallels Scriptural prophecy as we noted, above. China will destroy wantonly in "South-East Asia and India", just as prophecy indicates.
President Biden has thus given China a huge gift which will enable her to more easily fulfill the "Kings of the East" prophecy.
5. Chinese dictators are introducing a new "Cultural Revolution" where dictatorial control is radically ratcheted upward.
NEWS BRIEF: "Beijing Unleashes Sweeping Bid to Remold Society", therayfield, 9/23/2021
Chinese Communist Party officials are implementing the following new restrictions across the board throughout the country:
* "China's tech behemoths are handing months of profits to Beijing to demonstrate loyalty to the communist party. "
* "Popular actors have been erased from internet history with their devoted online fan groups disbanded."
* "Young gamers are now allowed no more than three hours of playtime per week."
* "Across Chinese classrooms, 147,000 newly-minted inspectors have been deployed to oversee the national dissemination of the ideology of China's top leader Xi Jinping."
"Be it e-commerce, entertainment, education, or gaming, few areas of Chinese society have been left unscathed amid Beijing's torrent of regulatory activity in recent months. As authorities clamped down on the offending actors, stock markets tumbled with hundreds of billions wiped out, while companies and individuals have scrambled to assess the new rules lest they tread on the regime's toes. The cascading crackdowns have been swift and puzzling..."
China is implementing the final New World Order Plan so that the Elite can identify areas which work and those which will not work. This new "Cultural Revolution" just might be the final tweaking of the "Build Back Better" plan which the Elite is planning to force on the entire world.
Meanwhile, Antichrist awaits in the wings.
6. America has just come under God's curse for yet another sin:
Congress has just cursed Israel by cutting out funds for missile resupply of the Iron Dome defense missile.
NEWS BRIEF: "US Broken Promise: Congress Shoot Down $1B Emergency Aid to Replenish Israel's Iron Dome", The Jewish Press, Sept 21, 2021
"Just a few hours before a scheduled vote on the American Budget Law, a group of progressive Democratic Congress members forced the House of Representatives to remove a clause that would have funded replenishment of Israel's Iron Dome aerial defense system."
"The withdrawal of the emergency aid clause – which would have paid for the replenishment of Israel's Iron Dome aerial defense batteries and interceptor missiles — came after a group of Congress members announced they would not support the budget if the Iron Dome funding was included."
"President Joe Biden had promised both former Prime Minister Benjamin Netanyahu and current Prime Minister Naftali Bennett that he would ensure the Iron Dome system was replenished with the Tamir interceptor missiles it needs to protect the country."
America has thus abandoned tiny Israel, even though she is vastly outnumbered by radical Muslims whose primary purpose in life is to annihilate all Jews and to destroy the nation.
In so doing, we have triggered God's warning to all nations for all time: