Holy Ghost filled Christians can already sense the coming earthquake by which God is going to destroy this once-mighty nation. He has already told the world how He is going to annihilate America.
"For her sins have reached unto heaven, and God hath remembered her iniquities ... Therefore shall her plagues come in one day, death, and mourning, and famine; and she shall be utterly burned with fire: for strong is the Lord God who judgeth her." (Revelation 18:2, 8, KJV)
To Reiterate:
Corrupting our precious children -- and adults too -- through the worship of the Transgenderism of Baphomet worship, raises God's anger and speeds its delivery faster than any other sin!
Jesus warns: "whoso shall offend one of these little ones which believe in me, it were better for him that a millstone were hanged about his neck, and that he were drowned in the depth of the sea."
2. Remembering that the over-riding plan of World War III was to scare everyone in the world over a nuclear war menace:
"A hair-raising nuclear confrontation in Korea may, towards the end of the period, threaten man's very survival." ("The Armageddon Script: Prophecy In Action", by Peter Lemesurier, p. 222)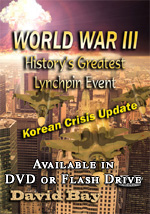 This is the Plan and it looks like Russia, China, and North Korea are following this script precisely. Listen to the latest propaganda:
Both Russia and China threatened the world with just this kind of warmongering!
NEWS BRIEF: "Russia deploys 'Prometheus' hypersonic nuke-killer system after issuing chilling World War Three warning to the West", Newsbreak, June 22, 2022
"RUSSIA is set to deploy its deadly 'Prometheus' hypersonic nuclear system, Vladimir Putin said yesterday ... Putin recently warned former countries of the Soviet Union, that a repeat of the Ukrainian invasion is on the cards if anyone defies Russia."
"And today during his speech to military graduates in Moscow, he revealed Russia's plans to deploy the advanced weapon system ... The deadly Satan 2 nuke missile can fly over 11,000 miles, carry 15 warheads and has the potential to destroy an area the size of the United Kingdom in a single strike."
Putin then repeats his threat to pulverize the United Kingdom.
"... as a result of the Third World War Britain will physically cease to exist," said Buzhinsky. The island will vanish, so I've no idea where he or his descendants will live."
Are British citizens properly terrorized? China already had piled on:
NEWS BRIEF: "Will China Use Bullet Trains to Deploy 1,000 Nukes Against US and Europe? ", American Defense News, June 7, 2022
"... China may be developing ... shuttling the missiles continuously on trucks or railcars among 'multiple protective shelters ... China's latest plan appears to involve using the country's 23,000 miles of high-speed rail track to speed nukes around the country at up to 220mph in time of war."
"Using high-speed rail as a potential launch platform for launching nuclear missiles comes after a new study by Chinese researchers suggested it was more suitable than previously thought ..."
"The missile of choice for this rail deployment option appears to be the People's Liberation Army's (PLA's) road-mobile Dongfeng-41 (DF-41) ballistic missile which can carry up to 10 independently targetable nuclear warheads at a time – multiple independently targetable reentry vehicles (MIRVs)."
How much of the West would be within the range of these missiles?
"The DF-41 has an estimated range of between 7,400 and 9,300 miles, placing most of the U.S. within range from China's eastern launch sites. All of Europe would also be well within the estimated range of a DF-41 fired from China's western Chinese region of Xinjiang."
Now, every citizen of every country must feel panic building. Remember:
A powerful nuclear exchange would destroy this world and would not allow any human existence.
If that were to happen, there would be no world for Jesus to return to so He can set up his 1,000-year reign.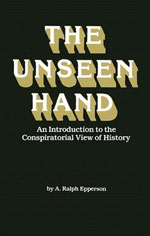 But, now we can know the potentially devastating effect of a traitorous decision conceived and carried out by a former Democrat President of the United States, Franklin D. Roosevelt. Listen:
"... in a novel written by James Roosevelt, the son of Franklin Roosevelt, in 1980. The dust cover of the book describes the contents of the book, entitled, 'A Family Matter'.
James Roosevelt wrote, "President Roosevelt ... makes a bold secret decision -- to share the results of the Manhattan Project with the Soviet Union!"
"The novel details how President Roosevelt gave Russia the plans for the atomic bomb in 1943 and 1944". ("The Unseen Hand", by Ralph Epperson, p. 330-331)!
America's most powerful and most popular President in history voluntarily gave history's most brutal and most bloody dictator, Josef Stalin, secrets that produced the atomic bomb. American scientists believed that Russian scientists could not produce their own atomic bomb for years, maybe for decades.
Why would Democrat Franklin Roosevelt -- 32nd Degree Freemason -- trust one of history's most brutal and bloody tyrant with a secret which has the potential to annihilate any country he desires?
End Times prophecy provides the answer.
"And the ten horns which thou sawest upon the beast ... God hath put in their hearts to fulfil his will, and to agree (to act in harmony), and give their kingdom unto the beast, until the words of God shall be fulfilled." (Revelation 17:16-17, KJV)
Secretly, throughout World War II, top secret society leaders possessed the belief that they held a common loyalty bond which was above and beyond the normal constraints of National Sovereignty.
Consider the loyalty bond among top Allied leaders during World War II:
* American President Roosevelt -- 32 Degree Freemason (also was the 32nd President). Masons worship both Baal and Baphomet
* British Prime Minister Churchill -- Member of Rosicrucians
* Soviet Dictator, Josef Stalin -- Worshipper of Baphomet
Roosevelt and Stalin were following the Illuminati script:
"Their script is now written ... The stage itself ... is almost ready. Down in the pit, the subterranean orchestra is already tuning up ... the main actors ... have already taken up their roles. Soon it will be time for them to come on stage, ready for the curtain to rise. The time for action will have come." [Lemesurier, "The Armageddon Script", p. 252]
Because these men shared Satan's obsession with establishing the global New World Order, they believed they had a bond which was above and beyond the level of National Sovereignty.
Roosevelt believed he could trust Stalin with the secrets of the atomic bomb.
And, now, nuclear strike threats are ringing in our ears almost daily, from Putin to Xi.
What national secrets is President Biden likely to give away?
3. This Senate Gun Control control has one supreme goal:
To move on to the next step -- Outright confiscation of all guns!
NEWS BRIEF: "Senate Gun Bill 'Paves the Way' for Other Gun Control Measures", Breitbart News, 22 June 2022
"On Wednesday's broadcast of CNN's 'AC360', Sen. Amy Klobuchar (D-MN) argued that the Senate gun legislation "paves the way in the future to look at" other gun control provisions."
"Klobuchar responded, "We have worked on this for decades."
Do not ever be deceived: the Liberal goal is to seize all guns from all citizens because an Absolute Dictatorship is one of Biden's secret goals and for Antichrist to be that dictator, gun confiscation must have already been passed and enacted.
4. What changes a culture from the bottom up?
NEWS BRIEF: "What Changes a Culture? Free Money Is Dangerous", by Carl Nelson, American Greatness, June 22, 2022
"Money nowadays is territory. Vast sums of digital wealth have created new territory but not a gritty reality. In truth, the human race seems to have run out of reality. This raw new territory is more quantum than quotidian, as it is whatever those with the money say it is."
One of the original founders of the Masters of the Illuminati was Mayer Amschel Bauer, who later changed his surname to 'Rothschild'. He knew the importance of controlling the money:
"Allow me to issue and control the money of a nation, and I care not who writes the laws." [Mayer Amschel Rothschild 1828, later changed his surname to 'Rothschild']
President Biden is already carrying out this change.
5. President Biden is carrying out his campaign threat promise to shut down all fossil fuel consumption.
NEWS BRIEF: "Joe Biden: 'We Are Going To Get Rid of Fossil Fuels', Americans For Tax Reform, 02/08/2020
"Joe Biden said during a rally this week that he wants to 'get rid of fossil fuels'."
"Biden also said there would be 'no more coal plants'."
"Biden's hostility to energy industry workers is nothing new, either. In December he suggested if coal miners lose their job due to his policies they should learn to code.
"Biden has also said 'we should put them in jail' when talking about fossil fuel executives."
"Biden also endorsed a carbon tax on the American people, which will force households to pay much higher gasoline, heating, and cooling bills. Biden has also endorsed a fracking ban. If elected, Biden's fracking ban will devastate the economies of several battleground states."
And, now that average Americans are complaining that they do not have enough money to go around, is Multimillionaire Joe Biden sympathetic?
Now, he is angry that you are complaining!
NEWS BRIEF: "Joe Biden is 'angry' that Americans are 'complaining', Sky News, June 20, 2022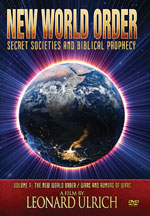 "US President Joe Biden is 'angry' that Americans are complaining about not being able to afford gas and food, says Sky News host Rita Panahi.
"Don't they realise he's changing lives?"
No, what Joe Biden and his Green New Deal policies are doing is ruining people's lives.
But, he is rich enough from taking illicit money from Russian Oligarchs, Ukrainian businesses, and Chinese interests, that he does not care about average folk!
Welcome to the REAL New World Order!
---
THREE 'END OF THE AGE' DVDS
"Ancient Cities And The Pagan Gods Who Built Them"

Who were the Nephilim? What really happened at the Tower of Babel? Where is Atlantis? Who are the Shining Ones? Are these questions relevant to our walk with God today and our understanding of His creation?
Jesus said that as it was in the days of Noah, so shall it be at the coming of the Son of Man. Jesus also said to be ready for His return, that it comes like a thief in the night. This DVD takes an uncomfortable look at the days of Noah and many other topics so that we can be ready for our Savior's return. Topics that God chose to include in His Word are worth taking the time to study.
Ancient Cities looks at the Antediluvian world from a solid biblical foundation. Why are the stories of giants scattered throughout Scripture as well as our world today? Why did Joshua kill not only the men, but also the women, children, and livestock of the Anakim-Rephaim? What parallels do we find between the Bible and ancient Greek mythology? Ancient Cities studies Mount Olympus and the Greek gods whose tales shape our culture today. Why did the Romas at Lystra in the Bible think that Paul and Barnabas were the Roman gods Hermes and Zues? Ancient Cities examines the city of Rome's important role in spreading Christianity. Join Micah Van Huss as he teaches the topics that your Sunday school teacher refused to talk about.
130 Minutes

---
Jewish Roots of Christianity -- 4-DVD Set, 15 Episodes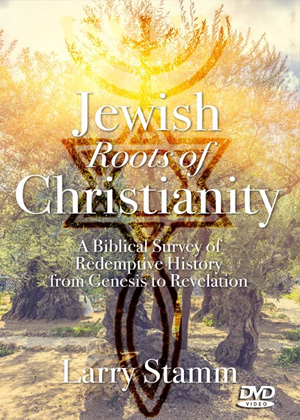 Jewish Roots of Christianity is now a television series!
Discovering your Jewish roots means discovering your Biblical roots! In one sense it may be stated that the gospels are simply a Jewish debate among Jewish people about the true identity of a Jewish man, Jesus. And the story takes place in the Holy Land, Israel. Now what could be more Jewish than that?
In the DVD Jewish Roots of Christianity, Larry Stamm, a first-generation Holocaust survivor and Jewish follower of Jesus, examines the religion of the Old Testament and in its ultimate fulfillment in the messianic hope as detailed in page after page of the New Testament. Jesus himself challenges us to "search the Scriptures…it is these which bear witness of me" (John 5:39).
In this biblical survey, Larry Stamm introduces such topics as the gospel in the Old Testament, how the Feasts of Israel point to the person and work of Messiah Jesus, the historical interaction between Biblical Judaism and New Testament faith, and more.

What's Next in Bible Prophecy (DVD Set)
Dr. Robert Lindsted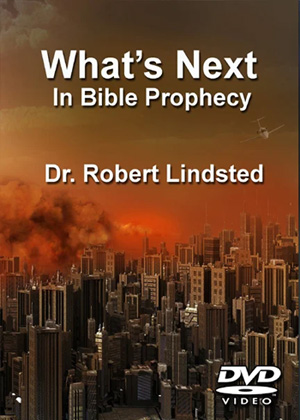 Matthew 24:3: And as he sat upon the mount of Olives, the disciples came unto him privately, saying, Tell us, when shall these things be? and what shall be the sign of thy coming, and of the end of the world?
As the world continues to wax worse and worse, one thing is very clear: Christ's return is drawing near.
Episode 1 – What to expect next on God's Calendar, going into the rapture why and when!
Episode 2 – What's Next on God's Calendar, "Coming Soon… on the Earth you Live on! Rapture, Tribulation, Armageddon!
Episode 3 – The coming war of Armageddon in the Jezreel Valley!
Episode 4 – The Millennial Kingdom, often referred to as the Millennium. The amazing things that we will see, as well as the Sheep/Goat judgements.
Episode 5 – The Millennial Kingdom, focusing on the restoration of creation!
Episode 6 – The Great White Throne Judgement where all unbelievers will be judged for their rejection of Christ along with Satan, the fallen angels and many more.
Episode 7 – The New Heavens and the New Earth, the beauties of Heaven and power of God. In this 2-disc series, Dr. Robert Lindsted takes us on a journey through the Bible as we study to find out more about the end times and What's Next in Bible Prophecy.

Over 3 hours of Bible Teaching
Seven Segments on 2 DVDs
A Complete Study of The Rapture, and the end of this age!