---
NEW PODCAST -
ALL VIDEOS ARE STILL ALSO AVAILABLE ON DVD
OUR NEWEST FLASH DRIVE COLLECTIONS -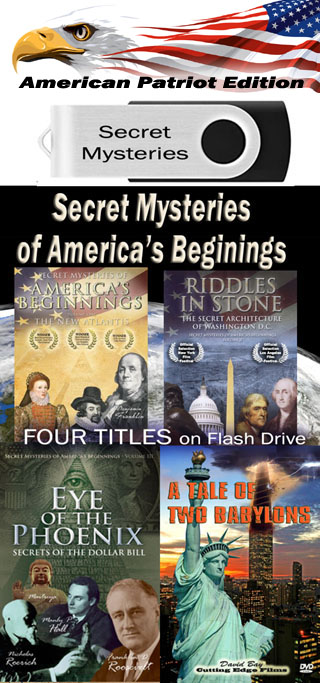 Save by buying Videos 1, 2 and 3 of the Secret Mysteries series and A tale of Two Babylons - rather than buying them individually.
Price: $79.96
Sale Price: $59.99
Video 1 - New Atlantis - demonstrates that the Secret Society plan to create a New Atlantis nation on the North American Continent began in the 1580's between Queen Elizabeth I and Sir Francis Bacon. We also show that America's Founding Fathers carefully carried out the Baconian Plan in establishing the government of America. This video ends by showing that this plan ends with Antichrist coming to the world scene, a plan which is shown in the street layout of Washington, D.C. Nearly 3 hours long
Video 2 - Riddles In Stone: The Secret Architecture of Washington, D.C., closely examines the pagan monuments, paintings, sculptures, and street layout in Government Center and show how the original Bacon Plan can be seen in these pagan depictions demonstrate that America was founded according to the Baconian Plan. Nearly 3 hours long
Video 3 - Eye of the Phoenix examines the two Seals on the back of the One Dollar Bill and demonstrates that they are Global Illuminati Seals, not Seals of the U.S. Government. Also demonstrates that the occult design of these Seals represents the most powerful 'Magick" of any other document in history. These two Seals hide three (3) hexagrams, forming a '666', another example of the hidden plan to produce Masonic Christ (Antichrist). Nearly 3 hours long
Video 4 A Tale of Two Babylons: by David Bay, Cutting Edge Ministries - In our study of 'A Tale of Two Babylons', we are going to demonstrate that prophetic literature speaks of God's judgment on one physical nation 'Babylon' (Judged in Isaiah 13) and one nation Symbolically called 'Babylon' ( Judged in Revelation 18).
Entire Combination Offer has over 10 hours of video. You will be mesmerized and your view of American history and of our national place in history. Four hot topics in 4 videos in MP4 format on one USB Flash Drive.
These videos are for play on your windows 10 computer or a Mac if you have a USB adapter. This may also play on a smart TV from your computer or on smart phone with a USB flash drive adapter and some technical savvy on your part. See our flash drive instructions for that.
There is so much on this flash drive that we have put the full description in a PDF file for you.
Secret Mysteries of America's Beginnings Collection full description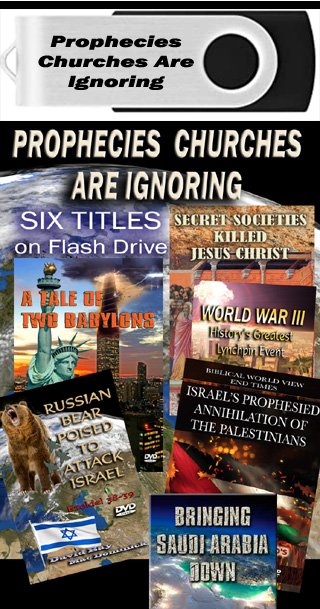 Why are so many pastors so reluctant to teach prophecy? Why are so many pastors even more reluctant to teach how current events are uniquely fulfilling End of the Age prophecy?
Cutting Edge Director, David Bay, teaches six hard- hitting films on six unique End Times instances where events are fulfilling prophecy, but no one is talking about it. Six hot topics in 3 videos in MP4 format on one USB Flash Drive.
1) Israel's Prophesied Annihilation of the Palestinians
2) Russian Bear Poised To Strike Israel

3) A Tale of Two Babylons

4) World War III: History's Greatest Lynchpin Event

5) Secret Societies Killed Jesus Christ

6) Bringing Saudi Arabia Down

Over 7 Hours of Teaching

Each message is followed by a complete Salvation Plan, so each video becomes a Soul-Winning tool.

These videos are for play on your windows 10 computer or a Mac if you have a USB adapter. This may also play on a smart TV from your computer or on smart phone with a USB flash drive adapter and some technical savvy on your part. See our flash drive instructions for that.

There is so much on this flash drive that we have put the full description in a PDF file for you.

Prophecies Churches Are Ignoring Collection full description
---
---
We Need YOUR Donation &/or Bookstore Purchase!
Thank You!!


---
Critical News Analysis
1. The war in Ukraine may be reaching a 'point of no return'!
NEWS BRIEF: "The War in Ukraine Nears a Point of No Return", Breitbart News, 27 Jan 2023
"President Joe Biden announced Wednesday that the U.S. would be sending 31 Abrams tanks to Ukraine, but did not explain to the American public what the purpose of the tanks would be, or the broader U.S. goal in the war ... clearly the hope is to retake territory by attacking Russian forces."
"But now there are other costs. The effort to arm Ukraine has depleted U.S. weapons stockpiles in South Korea and Israel. It has also emptied U.S. arsenals, as Byron York notes: "[T]he U.S., already underprepared for a major war, is running low on munitions for its own defense."
A fearful Putin seems determined to just hang on to life!
"There has been much talk about how the Russian military has been hollowed out by its invasion of Ukraine — and that remains the big story. But there has been little attention paid to the fact that the U.S. military, while not suffering direct casualties (yet), has also been weakened, at a time when recruitment is suffering. (Ibid.)
Does Putin fear for his life, and if true, might that assassination come from a sophisticated enemy wielding sophisticated weaponry, like a modern aircraft system!
NEWS BRIEF: "Anti-Aircraft System Reportedly Installed Near Putin's Official Residence in Valdai", Kyiv Post, January 27, 2023
"A Pantsir anti-aircraft system has allegedly been installed just a few kilometers from Russian President Vladimir Putin's official residence in the town of Valdai in Russia's Novgorod region ... the complex is 'on combat alert' and at least three soldiers guard the object at all times."
"The air defense system reportedly appeared near the Valdai residence shortly after Ukrainian drones attacked Russian military airfields near Ryazan and in Engels, Saratov region – far from the frontline. Recently, the same anti-aircraft systems have been seen on buildings in the center of Moscow and at a short distance from the Rublevsky Highway near Moscow, where many of the Russian elite live."
However, this anti-aircraft defense system cannot intercept missiles, but is most effective against drones!
"He suggested that the installation of new air defense systems in central Moscow, not far from Putin's multiple residences, indicates that the Russian command is preparing to protect the capital after successful Ukrainian strikes on military targets in the depths of Russia, hundreds of kilometers from the front line. These strikes were allegedly carried out by drones..."
However, we must recall the truth that Putin, and Xi, and Biden are secretly "acting in harmony", not in competition as the Mass Media daily portrays!
Remember Biblical Prophetic Truth
"And the ten horns which thou sawest are ten kings, which have received no kingdom as yet; but receive power as kings one hour with the beast ... For God hath put in their hearts to fulfil his will, and to agree (to act in harmony), and give their kingdom unto the beast, until the words of God shall be fulfilled." (Rev17:12. 17, KJV)
Application: The Holy Spirit is causing Putin, and Xi, and Biden to secretly "act in harmony"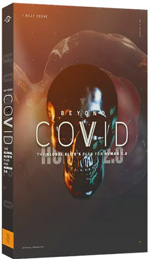 DVD
2. We can finally see the truth of Government lying during the COVID-19 pandemic.
NEWS BRIEF: "COVID-19: Truth of Government Panic FINALLY Laid Bare", Canada Free Press, January 25, 2023
"UNVARNISHED COVID-19 TRUTH at last: Governments actually doubled down on lockdowns—even after evidence proved they were ineffective. 'A newly released essay by Douglas Allen, professor of economics at Simon Fraser University, examines why governments repeatedly used lockdowns during COVID-19 even after it became clear lockdowns were ineffective and "failed to isolate the virus and stop it from spreading."
"Lockdowns were sustained with political support, suggests Allen ..."
In other words, these ineffective means of fighting a tiny virus could only be maintained by constant fear tactics, including the implied threat of sanctions carried out by the government.
"Ultimately, the negative effects of lockdowns fell 'disproportionately on the young, the poor, people of colour, those with health problems other than COVID-19, the least educated, blue collar workers, single parents, and many others at the bottom of the socio-economic ladder'."
"How's THAT for what panicked governments can do to the people they were elected to serve?"
However, inside the government, officials were panicking as the pandemic was not proceeding as the plan envisioned.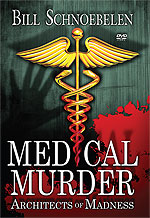 "Allen said there were two reasons government officials panicked:
"1. First, many mistakenly thought that COVID-19 could be eradicated using a comprehensive track/trace/isolate strategy in the way SARS had been dealt with in 2004', he wrote."
"2. Second, groups of applied mathematicians immediately called for lockdowns, and their apocalyptic predictions heavily influenced policymakers," he said.
"Yet, there was no 'immediate massive death toll' as predicted, even after five waves, said Allen. Within months of the initial panic, it was clear the models were wrong."
"It was clear by April 2020 that death counts "were going to be only three to six percent of what had been predicted ... In other words, wrote Allen, COVID 'was never a serious threat for healthy people under 60'."
"Instead, enforcement was ramped up."
"The vast amount of costs came in the form of deaths of despair, deaths from missed appointments, lost livelihood," Allen told The Epoch Times ... This was the first time that lockdowns were enforced on healthy and non-symptomatic people."
Then, there was the matter of using government's coercive powers to prevent trained professionals from widely disseminating the truth.
NEWS BRIEF: "California Judge Temporarily Blocks New Law: Punishes Doctors Who 'Disseminate COVID Misinformation', American Greatness, January 26, 2023
"A California judge on Wednesday issued a preliminary injunction against the controversial Assembly Bill 2098. The new state law empowers the Medical Board of California to discipline physicians who voice opinions about COVID-19 that counter the 'contemporary scientific consensus'."
In other words, this lawsuit claimed that the most powerful tool which the medical profession is using to combat the horror of the truth actually getting out in the public domain, is to threaten trained doctors trying to publish the truth.
"Doctors also argued that 'contemporary scientific consensus' is 'undefined in the law and undefinable as a matter of logic'."
"U.S. District Court Judge William B. Shubb appeared to agree with the doctors, writing in his ruling that 'the term lacks an established meaning' ... and the state of application of the law is highly fact-specific ... physicians must 'feel free to speak truthfully with their patients if they wish to gain and maintain their trust'."
One of physicians was optimistic that this decision would allow the truth to burst out: " 'justice is prevailing' and that is 'good news for California and the world'."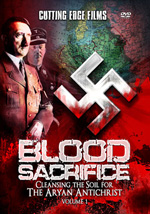 DVD
3. Canada's breath-taking program of an aggressive Adult Euthanasia program is murdering more rapidly at both ends of life!
NEWS BRIEF: "Canada's New Euthanasia Laws Carry Upsetting Nazi-Era Echoes: Warns Expert", Forbes, April 15, 2022
"Canada's extremely liberal euthanasia laws, which, next year, are set to be extended to include people suffering from mental health conditions and potentially minors, have been slammed for being reminiscent of the way the Nazis dealt with people with disabilities by a leading academic in the field."
The one fact which secretly supported Hitler's systematic murder that no one really knows is that doctors and nurses and soldiers up and down the ranks supported the concept that people need not 'live a life unworthy of life', a concept which murdered over 20 million people.
Furthermore, this massive genocide was directed by doctors and nurses and militarily protected by Liberal-minded soldiers who believed that Jews were rats and, therefore, ready to be exterminated!
Does prophecy indicate such a widespread murder of the human race?
Indeed, it does!
"... And except those days should be shortened, there should no flesh be saved." (Matthew 24:22, KJV)
Dedicated Satanists hate mankind because he/she was created by GOD in His image. Once the killing begins, directed by Antichrist, the murderers will become frenzied and kill each other.
And, California will lead the way!
4. "More California Dreaming"
"NEWS BRIEF: "The Dysfunctional State of California: State is losing its sanity—not to mention many of its citizens", American Greatness, January 14, 2023
"Over the past forty years ... many of the state's politicos are bonkers ... Many Californians realize that the state's leadership is a disaster and are leaving . . . en masse. A study released last week revealed that great numbers of people are U-Hauling it out of California and flocking to states with lower taxes, better schools, more traditional values, etc. In fact, California led the country in out-migration in 2022, with far more one-way U-Haul rentals leaving the state than coming in."
"When we come into our kingdom, our orators will expound great problems which have turned humanity upside down in order to bring it, at the end, under our beneficent rule. Who will ever suspect, then, that all these peoples were stage-managed by us according to a political plan which no one has so much as guessed at in the course of many centuries?" ["The Protocols of the Learned Elders of Zion", end of Protocol No. 13.]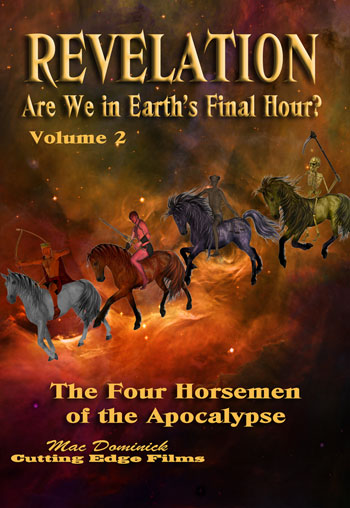 Wow!! None of the peoples who are living at the time when the kingdom of the New World Order is being established, will ever understand that they have been 'stage-managed' by their leaders according to a plan that is several centuries old!! The New World Order literature quite boldly declares, time and time again, that their plan is a conspiracy.
Listen to another New World Order author boldly state that the final world events leading to the appearance of Antichrist and his reign, have been tightly scripted. Read these words carefully, for you will be shocked; you will further realize that world leaders are tightly controlled by their demonic "Guiding Spirits".
"Their script is now written, subject only to last-minute editing and stage-directions. The stage itself, albeit as yet in darkness, is almost ready. Down in the pit, the subterranean orchestra is already tuning up. The last-minute, walk-on parts have already taken up their roles. Most of the main actors ... have already taken up their roles. Soon, it will be time for them to come on stage, ready for the curtain to arise. The time for action will have come." ["The Armageddon Script", by Peter Lemesurier, p. 252, published 1981]
Thus, when you see war break out in the Middle East, you know that the whole war was tightly scripted and that the Illuminati controls both sides; when the planned "nuclear confrontation in Korea that threatens mankind's existence" breaks out, remember that war was scripted; when China invades Taiwan, know that was part of the plan, too; finally, when the terrorism against our cities breaks out, remember they were just as well planned as the original attacks of 9/11.
Now, returning to our original news article: "" . . . the true indicator of success or failure involves people voting with their feet—or their U-Hauls. Californians aren't fleeing our weather or economy, but our bad public policy."
Emptying California - Driving People Out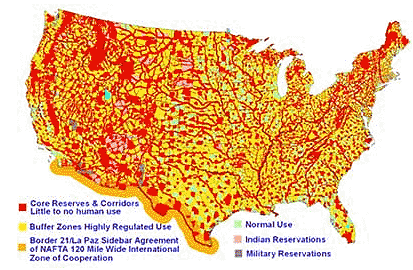 But, today, we shall talk about another type of planned event that shall devastate our world as we know it; this part of the plan will take away your Private Property, can throw you into a government preserve, will kill two-thirds of mankind, and will highly regulate the survivors and their activities. Many people call this part of the plan, "Extreme Environmentalism" and it is one of the keys to the implementation of the New World Order. Another term for this plan is "Re-Wilding" which simply means allowing the land to go back to the original 'wild' nature after all human activity is swept away. This plan is being implemented through the United Nations organization, UNESCO, an organization that deserves to be feared above all others.
Before we get into this subject, let us review a very important statement that former Soviet President Gorbachev made concerning the extremely important role that Environmental Extremism was to play in the successful implementation of Antichrist and his kingdom.
Quote of the Century: "The threat of environmental crisis will be the 'international disaster key' that will unlock the New World Order." [Mikhail Gorbachev, quoted in "A Special Report: The Wildlands Project Unleashes Its War On Mankind", by Marilyn Brannan, Associate Editor, Monetary & Economic Review, 1996, p. 5.]
One of the major ways in which you can drive people out of their homes is to make their existence less tolerable and certainly less enjoyable. Toward this end, we endure scenes of human carnage, and earthquakes, tidal waves, economic disaster, drug addiction, sexualizing innocent children in Public Schools, and tremendous unchecked lawlessness.
Toward this end, we see California Governor Newsome deliberately implementing insane policies designed to drive Californians out of California!
The Liberal, Leftist governors of other Blue States are following the same path designed to drive citizens out of their respective states!
NEWS BRIEF: ""PROGRESSIVE" CALIFORNIA RUNS PEOPLE OFF, THEN WANTS TO TAX THEM FOR LEAVING", American Greatness, January 26, 2023
"... Their latest unconstitutional plan to draw attention to themselves, waste taxpayer money and demonstrate their incompetence is to tax those that flee their woke gulag ... but California's contains provisions that would require tax payments on a person's assets even if they leave the state."
Every rotten aspect of the planned Great Reset is growing by 'leaps and bounds" in California.