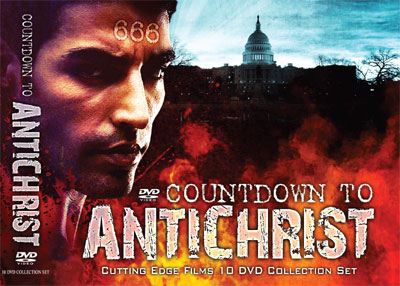 "Countdown To Antichrist" Collection Set
Six Great Prophetic Speakers - "Wallet" Protective Case For Permanent Safekeeping
Six Titles, 10 DVD's, Save $70
World events are picking up speed so greatly that discerning Christians everywhere are asking 'Is the appearance of Antichrist close at hand'? They are also asking what human forces are acting to produce this prophesied 'Man of Sin'?
Answers to these questions are taught by Chris Pinto, Doc Marquis, Dr. Stan Monteith, Bill Still, William Schnoebelen, and J.D. Grush. But be careful, your understanding of current world events may never be the same again!
Click Here For Complete Details
Doc Marquis teaches in "Arrival of Antichrist' the plan of the global Illuminati to produce their 'Masonic Christ', the Biblical Antichrist. Marquis shows in "Illuminati Is Fulfilling Bible Prophecy' how many current events occurring right now to bring Antichrist to the world are specifically fulfilling numerous prophecies.
Chris Pinto reveals in 'The New Atlantis' that planning for America began in 1590 between Queen Elizabeth I and Sir Francis Bacon to use the power and wealth of the British Throne to establish history's most powerful nation out of the North American Colonies. America's Masonic Founding Fathers precisely carried out this plan, a scheme designed to bring the New World Messiah into the world.
In 'Riddles In Stone: Secret Architecture of Washington, D.C.', Pinto proves that the full blueprint to produce the Masonic Christ can be seen in the street layouts, the pictures, the monuments, the frescoes and building adornments. Pinto proves that the god of Washington, D.C., is Baal, a bloody pagan god who is a forerunner of Antichrist. Once you know the secrets of the Illuminati, Government Center reads like a book!
In 'Eye of the Phoenix', Pinto demonstrates that the incredibly complex One Dollar Bill also tells the story of the Masonic plan to produce Antichrist on the world scene.
In Armageddon: Warrior King, Grush reveals Biblical details about the furious battle between Jesus Christ and the armies of Antichrist that you have never understood before!
Six DVD Titles, Ten DVD Discs, almost 16 hours of teaching. You will never look at the news the same way again! And, you will be looking up, knowing that your Redeemer is drawing nigh.
---
New DVD by Doc Marquis
Volume 12 of 'Secrets of the Illuminati' Series
On April 15, 2013 multiple explosions at the 'Boston Marathon Race' killed and injured hundreds; was this just another 'jihad by some radical Islamic group' or, is there more to what happened at Boston?
No one should doubt for a minute that the Boston Marathon was a 'False Flag' event carried out by the Illuminati.
"Did the Illuminati have a hand in the Boston Marathon Bombings and, if so, what evidence can be linked to them"?
"Why were runners at the race being told that there would be a "Bomb Exercise" going on before the race even began"?
"Police personal who lived and worked around Sandy Hook mysteriously show up in Boston. Why? They have no jurisdiction there...or do they"?
"What was the secretive, private, civilian military group known as 'The Craft', with their 'Skull cap Logo', doing at the Boston Marathon Bombings"?
These and so many other questions will be answered as Doc Marquis, once again, teams up with his Director Cory Black to unveil the "False Flag Over Boston". Two hours long
News Alert
Monday, April 28, 2014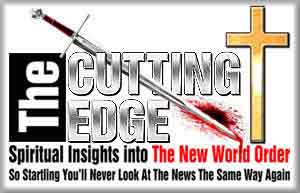 Against All Odds Israel Survives
"Does A Divine Power Continue To Uphold Israel?"
6 DVD set - Run Time: 9 hours
How does Israel survive against all odds?
Modern-day Israel is truly a divine wonder of the current age. How has it triumphed through four major wars and survived relentless terrorist attacks? Meet the actual people who lived through what can only be described as miracles of Biblical proportions, and share their remarkable stories.
Episode 1 - The Assignment; Episode 2 - Miracle at Michmash; Episode 3 - Shula: The Girl Who Became a Spy; Episode 4 - The Miracle of Survival: Hitler and the Holocaust; Episode 5 - A Boy Named Ezra; Episode 6 - The Miracle of '48; Episode 7 - 1967!; Episode 8 - A Warrior Named Kahalani; Episode 9 - The People of the Book Come Home; Episode 10 - A Place of Miracles?; Episode 11 - Myth or Miracles?; Episode 12 - Rescue at Entebbe; Episode 13 - In Search of a Miracle.
DVD 1: Episodes 1-3 - Shula Cohen, a married woman living in Beirut, risks her life to become one of Israel's most famous spies. Israeli troops in the Yom Kippur War are saved when a mysterious wind exposes thousands of mines that imperil their lives. During World War II, the Biblical account of Saul and Jonathan inspires a British major to launch an improbable victory against a Turkish garrison.
DVD 2: Episodes 4-6 - An outnumbered Israeli squad is saved when approaching enemy troops inexplicably flee. Compelling dramatizations and interviews chronicle miraculous triumphs in Israel's fight for independence from the British and in the establishment of a Jewish homeland in 1948. The devastating history and haunting legacy of the Holocaust is considered.
DVD 3: Episodes 7-9 - Avigdor Kahalani, one of Israel's most decorated and beloved war heroes shares his incredible stories of survival and victory in the Yom Kippur War. Considering the miracle of Israel's own existence, her citizens share firsthand what it means to live in the land of their forefathers.
DVD 4: Episodes 10-12 - Strange beings wielding flaming swords foil marauding Arabs in their attempt to destroy a Jewish community. Thousands of storks suddenly appear to devour locusts plaguing a farming village. The subject of miracles and faith take a personal meaning when former hostage Sarah Davidson recalls the harrowing 1976 hostage crisis that set the stage for a daring rescue mission at Entebbe airport.
DVD 5: Episode 13, Plus Extra Feature - Is Israel a place of miracles? In this inspiring episode, Michael Greenspan concludes his investigation and reflects on the remarkable people he has met and the incredible stories he has heard. Series writer and director Tom Ivy hosts Against All Odds: The Making of a Miracle, a fascinating behind the scenes look at the creation of this extraordinary exploration of fact and faith.
DVD 6: Against All Odds Feature Film - This feature film version captures all the powerful drama and uplifting spirit of the stirring thirteen-part series. Gripping dramatizations, eyewitness accounts, and interviews with historians and religious leaders etch a fascinating portrait of a nation's soul. ORDER NOW
---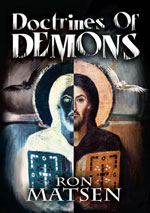 "Doctrines of Demons"
New DVD by Ron Matsen - $19.99
The Apostle Paul gravely warned us that one of the unique events alerting us that the End of the Age was upon us was that, suddenly, 'christian' leaders would abandon genuine Biblical doctrines, teaching instead (1 Timothy 4:1).
Matsen teaches clearly that teachers abound today, teaching doctrines of demons and are deceiving many! http://www.cuttingedge.org/detail.cfm?ID=2616