"But if you believe what you hear in the media, you'd think our country was on the verge of collapse ... It's almost as if the media wants America to fail."
Of course, we have spent the last 24 years urging our supporters to comprehend the truth that news is written every day in such a way as to discourage you and to render you impotent to fight against this coming New World Order.
"Years from now, they'll write about this era in the history books. They'll talk about the great wealth and power amassed in America. How American technology and culture led the world ... And they'll tell you ... Donald Trump may be the greatest President in American history."
"Over the long haul, as we move further into the American Golden Age, who knows how high they could go." (Emphasis Added)
Just as we have been predicting, Revelation 18:7 will be literally fulfilled!
America is on her way to being "trapped in her prosperity", with a cold heart toward Jesus and a love of pleasure and luxury which the world has never seen.
How is God going to destroy this "Goose that laid the golden egg"?
"Therefore shall her plagues come in one day, death, and mourning, and famine; and she shall be utterly burned with fire: for strong is the Lord God who judgeth her ... And the merchants of the earth shall weep and mourn over her; for no man buyeth their merchandise any more ... For in one hour so great riches is come to naught."
If you have been blessed by wealth, do NOT love this wealth more than you love God; to do so, you will be falling into the "trap of prosperity". The Biblical admonition against loving wealth more than you love God is simple but profound.
"... if riches increase, set not your heart upon them." (Psalm 62:10b, KJV)
NOTE: In the DVD shown above, "A Tale of Two Babylons: President Trump's Prophetic Destiny", we detail exactly how Donald Trump has an appointment with destiny, and that appointment is described in Revelation 18.
Not only is it exceedingly important for you and for your family to understand this principle, it is even more important to spread this message far and wide within your Sphere of Influence!
This DVD ends with a detailed "Gospel Plan", which makes this DVD a soul-winning tool.
3. Skull & Bones President George W. Bush is still arguing that Globalization is critical to stopping the next virus from sweeping our world
NEWS BRIEF: "George W. Bush Center: More Globalization Is the Answer to Coronavirus Crisis", Breitbart News, 16 April 2020
"Executives with the George W. Bush Presidential Center say more globalization of the American economy is the answer to the Chinese coronavirus crisis, not the problem."
This is a very slick lie being perpetrated on the American people, and I hope they are smart enough to see this falsehood for what it is, an attempt to answer the unanswerable, i.e., that the policies of the two Presidents Bush and Clinton and Obama got us into this mess in the first place.
"Managing Director of the George W. Bush Institute-SMU Economic Growth Initiative Matthew Rooney writes that the policies of free trade, mass immigration, and globalization must be embraced further by the U.S. after the crisis is over."
Rooney then takes direct aim at President Trump's policy of "America First", which has been labeled as "Economic Patriotism" or "Economic Nationalism"!
"Meanwhile, in the United States and in other developed countries, there is a rising chorus of voices who argue that we must deglobalize, dismantle international supply chains, reduce international trade and travel, and close our borders to the world." [Emphasis added]
"The danger of a pandemic did not arise because of globalization. Pandemics have appeared periodically throughout history. Deglobalizing will not protect us from pandemics in the future. On the contrary, we will ultimately come to see that global cooperation is key to responding successfully to pandemics. " [Emphasis added]
President Trump has hit this kind of globalization very hard, which is why so many Democrats and Republicans and Democrats hate him so endlessly.
Rooney concluded with remarks which will curl the hair of every discerning voter.
"But when the crisis is over, and we have defeated the virus and people are back at work and we are all able to go out for dinner again, we must be ready to come together around a new strategy for globalization that secures its benefits and cures its ills."
What was Albert Eisenstein's definition of insanity? He said "insanity occurs when people repeatedly do the same thing over and over again, expecting a different result".
Rooney is demanding that the American people drink the New World Order kool-aid one more time. When President Trump rejects that advice, he will lead this country into the "American Golden Age" predicted above.
As mature Christians who know our prophecies and who are not blinded by the golden allure of our country's wealth, we have the absolute obligation to spread this warning of Godly judgment upon this country as her citizens are blinded by very high levels of material things.
4. Though our economy will recover, our collective loss of personal freedoms might not.
NEWS BRIEF: "America's Pyrrhic Victory", Canada Free Press, April 16, 2020
"In the end, we'll see this pandemic wasn't Armageddon after all. It was merely, as Fauci himself admitted, a bad flu, as we do get from time to time. But one of the patients who lies dying is America."
We have lost numerous rights and freedoms under the guise of fighting COVID-19, and may not get them back.
"Truth be told, the media has not had such a field day counting up dead bodies since the war in Vietnam. Even the President is calling this flu epidemic a "war." So we know there is a huge media campaign to impress us with the danger presented by this virus which is hyped as if it were the Black Death."
What rights and freedoms have we lost during this chaotic crises?
* "Churches and synagogues have been closed. A pastor was arrested for holding a church service in this country which was founded upon religious freedom."
* "Many states are under lockdowns in which you can be fined and/or arrested for leaving your home for an 'unnecessary' purpose."
* "Public parks have been closed off to the very public they were intended for."
* "Small businesses, the lifeblood of America and of our middle class, are dying in plain sight—many shutting their doors for good as the shutdown drags on."
* "Americans, in arguably the foremost of all first-world countries, suddenly can't find toilet paper. And for weeks now, under draconian lockdowns in nearly every state, you can't get a fast food hamburger, let alone sit down to a medium rare ribeye or grilled salmon at your favorite local restaurant; in many places you can't get your pants hemmed or your dress dry-cleaned; you can't get your teeth cleaned or cavities filled; you can't get a haircut, manicure, pedicure, or a hip replacement, as these are all deemed "non-essential."
"Our men are humiliated and subdued, our women demoralized, and our children traumatized. But none of this is due to the Chinese coronavirus. Rather it is due to dictatorial governmental edicts, i.e. tyranny."
"Almost overnight the burgeoning Trump economy has been trashed. All the amazing job gains have vanished and we're moving more and more into the red, as unemployment soars."
"So who are the culprits? They should be familiar to us by now, as they are the same enemies of America who seek to turn our nation into a Socialist dystopia; they are the ones bent on removing Trump because he stands in their way. They tried six ways to Sunday to take him down, but nothing worked—until now. They can be grouped together as a consortium of America-hating globalists, Leftists, Democrats, Progressives, RINOs, and powerful New World Order zealots, who have now gotten precisely what they wanted."
"In the end, we'll see this pandemic wasn't Armageddon after all. It was merely, as Fauci himself admitted, a bad flu, as we do get from time to time. But one of the patients who lies dying is America."
Will President Trump and a Republican House and Senate be able to revive this country? Revelation 18 says that he will.
5. Even Pentagon sources are now investigating the genuine origin of the Wuhan Virus -- COVID-19.
NEWS BRIEF: "'Increasing Confidence' Coronavirus Originated in Wuhan Lab", Breitbart News, 16 April 2020
"There is 'increasing confidence' that coronavirus likely originated in a Wuhan laboratory ... This may be the 'costliest government coverups of all time', one of the sources told Fox News."
At this point, the author of this article states that our government officials do not believe that this virus was deliberately released from the Chinese bio-weapons arsenal, but accidentally as a worker contracted a bat virus on which he had been working, and then he went home and started spreading the virus through the population.
Trump Administration officials have to peddle this line because if our scientists can prove that China deliberately attack us through this virus, a state of war would immediately erupt.
World War III could then begin.
But, some prophecy remains to be fulfilled, including Revelation 18, which forbids America to be destroyed prior to when God delivers His annihilating judgment upon a nation who is reveling in her vast luxury.
6. Has this Wuhan virus delivered a "hit" on supporters of President Trump?
NEWS BRIEF: "Are We Witnessing a Targeted Hit Against Trump Voters?", American Greatness, April 15, 2020
"The debate about "reopening the economy" is a phony debate. It's phony because "the economy" isn't shut down. Far from it. Walmart is still open. Dollar General is open. Amazon is open. Alibaba is open ... the big-box mass merchandisers and online retailers responsible for flooding our country with crap from Communist China are open."
This statistic is truly staggering: the only companies who are not closed down are the companies who import the most merchandise from China!
Further, Democrat politicians such as Joe and Hunter Biden, Bill and Hillary Clinton, and former President Obama, are very much alive and fighting against Trump. These suspects in the line-up have curried favor from China like no other country on Earth, lining their bank vaults with hundreds of millions of dollars.
"Meanwhile, other, very specific parts of the country are shut down:
* "Family-owned shops and workshops, the backbone of America, are closed."
* "Fast-food franchises remain open—drive-through windows are operating at full tilt—but independently owned restaurants are shuttered or trying to survive at diminished capacity doing takeout only."
"Conveniently, if not coincidentally, small-business owners make up an important segment of Trump's base ... While these largely family-owned, small and medium-sized enterprises are laying off workers by the millions, Amazon and Walmart are hiring."
"Facebook, Twitter, Google, Zoom and other giant internet overlords are seeing more traffic than ever as people are locked in and white-collar professionals work from home. These are the same people in Silicon Valley who tilt hard to the left and censor anyone who strays from the official "we are all going to die" pandemic narrative."
President Trump realized that his natural base of support is getting hammered, which is why he tailored his Coronavirus Recovery to the little guys on Main Street rather than the big corporations on Wall Street! Yet, Wall Street is getting its share from the trough.
"We are watching the corporate consolidation of the economy taking place before our eyes ... When we awaken from the fever dream of pandemic hysteria, it will be clear who has suffered the most: the forgotten men and women of America. If you tried to design an attack against Trump voters you couldn't do better than what the experts have done in the name of public health."
"Never let a good crisis go to waste" is the Communist/Socialist mantra and it seems to be working just fine for the Luciferians of the New World Order.
NEWS BRIEF: "Dems Defend China Despite Bombshell Taiwan Letter Pointing To COVID-19 Cover-Up By Beijing & WHO", One America News, April 16, 2020
"Top Democrat officials have continued to embrace Chinese propaganda to attack President Trump. However, a newly released letter from Taiwan strongly suggests a corrupt conspiracy at the World Health Organization."
President Trump is going to be proven right all along, but he must skirt around this issue, discussed above, of declaring that Communist China knowingly unleashed the virus against the world.
That could lead to an all-out war.
However, if insider documents clearly show a link between Democrat officials and Communist Chinese, that would work nicely to Trump's favor this election!
7. Former President, Barack Obama, endorsed Joe Biden for President.
NEWS BRIEF: "Obama Endorses Biden As The 2020 Democrat Presidential Nominee", One America News, April 14, 2020
"Former President Barack Obama has officially endorsed Joe Biden as the 2020 Democrat presidential nominee. He announced the support for his former vice president Tuesday in a video posted on Twitter ... Obama waited to endorse Biden until he was the only Democrat left in the race."
Now that Bernie Sanders has dropped out, and now that his supporters are venting rage against the Establishment Democrats, are we witnessing an historic split in the Democrat Party?
NEWS BRIEF: "Some Bernie Sanders Supporters Say They're Not Ready Yet to Back Joe Biden in the Fall", Bay News 9, April 9, 2020
"While Bernie Sanders candidacy for president officially ended on Wednesday, the race for the Democratic nomination effectively ended last month. That's when Joe Biden went on a major roll, winning a series of high-profile primaries, beginning in South Carolina and following up days later on Super Tuesday."
"The coronavirus outbreak then froze the race, with virtually all the remaining primaries being postponed until later this spring. Now the question is: What will Bernie's supporters do?"
""They want health care for everyone. They want debt free college for everyone. They want a Green New Deal to solve -not poke at – the climate crisis. That's what Bernie Sanders is offering ... But the majority of Democratic-primary voters weren't buying it."
If a significant percentage of Democrat voters do not vote the Democrats are doomed, and their leaders know it.
Now you know why the Democrats are trying to steal the election through mail-in ballots!
---
New DVD!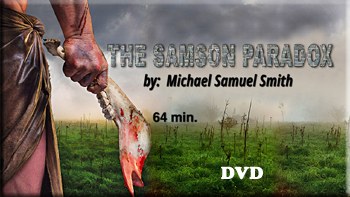 "The Samson Paradox"
Prophecy HIdden Within The Story!
DVD by Michael Smith, Only $19.99
A cursory study of the story of Samson predicts Gods partial deliverance of Israel; Israel badly sinned, but briefly repented and was then used by God. That is the extent of the commonly-told story.

BUT, there is more, much, much more:

* We see a Gentile-bride rapture;
* Israel going through the Tribulation Period;
* The work of the Holy Spirit is on glorious display;
*You will see the ultimate answer to Samson's riddle!
* You will never read the story of Samson and Delilah the same way ever again!
Run Time is 64 minutes
Expect shipping to begin Monday, April 6 .. https://www.cuttingedge.org/detail.cfm?ID=2922