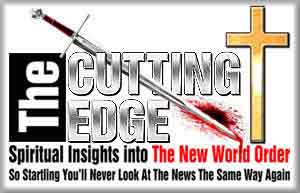 News Alert
Thursday, 4/30/2020
HOME - Book Store - Newsletter Archives - Facebook -- Daily News Updates

Read the full, most current, News Alert online
Just click on this button

to guarantee that Cutting Edge will not disappear for lack of funds. We have a unique message and worldview which has proven correct for the past 23 years.
---
New Rapture DVD!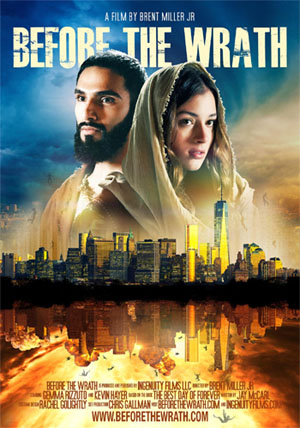 "Before The Wrath: Sound of the Trumpet! Rapture Drawing Near!"
Reg. $24.99, Introductory Special $21.99, Saving You $3.00!
Believers in the pre-tribulation Rapture are very familiar with the prophetic symbolism contained in the Jewish wedding ceremony. But how many prophecy students know about additional pre-trib symbolism in the Galilean wedding?
Brent Miller Jr. reveals the details of his new, highly-anticipated film, 'Before the Wrath', an evangelistic experience described by some as the best film ever made on the rapture of the church. Almost two years in the making, Brent's film will lead many people straight into eternity … at the shout and the sound of the trumpet!
You will see with your own eyes, the certainty of a Pre-Trib Rapture and your heart will explode with the JOY that only Jesus can provide, as you see this foretold Rapture through the lens of the Galilean dialect used by Jesus to His disciples.
Plan to start shipping on April 21.
---
Critical Headlines
1. President Trump ends the Federal lockdown today, April 30.
He then wisely defers authority to governors to end the lockdown for each of their states.
But, a Trump official warns states who continue the lockdown that they will not get "one dime" from the Federal Government!
2. Two medical experts went public with their expert opinion that the lockdown was not only unnecessary, but made COVID-19 WORSE!
3. State officials have used these emergency measures as an excuse to trample on our Constitutional Rights, that Attorney General Barr has publicly intervened.
Secretary of State Pompeo condemned the nations who used the pandemic as an excuse to impose 'draconian rule'!
4. How will our society change as a result of these draconian measures imposed by officials in response to COVID-19?
5. Democrats Elizabeth Warren and AOC and Chuck Schumer revealed their Christmas wish:
Stop business prosperity!
---
NEWEST "PATTERNS OF EVIDENCE" DVDs
Volume 3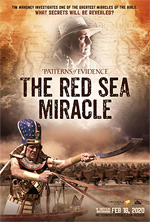 "Did God REALLY Part The Red Sea?"
Part 1 of 2 - 'Red Sea Miracle' comes in two parts
But, this title is #3 in the "Patterns of Evidence" Series
After leaving Egypt, the Bible describes the Israelites crossing a deep sea that was miraculously split with walls of water on their right and left. When the Egyptians and their chariot force pursued, the water came crashing back down to destroy the entire army. Are miracles of this kind even possible? More info and trailer
Two Hours Long, Only $19.99
---
Proofs That The 'Exodus' From Egypt Was Very Real!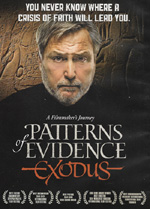 New 'Thinking Man" Films DVD
'Patterns of Evidence' Series', Volume 1 - The Biblical Exodus
Watch Trailer and get more info
A Christian filmmaker launched this detailed scientific, linguistic and archaeological study which would prove beyond doubt that the Biblical account of Moses' Exodus out of Egypt is thoroughly accurate, not a collection of legends as modern, progressive christian scholars pretend.
Two (2) Hours Long --Only $16.95 - Winner of Five Excellence Awards!!
---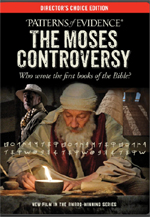 New 'Thinking Man' Films DVD
'Patterns of Evidence' Series', Volume 2, 'The Moses Controversy'
Director's Cut, Bonus Features
Did Moses REALLY Write The Torah - Genesis, Exodus, Leviticus, Numbers and Deuteronomy?
Watch Trailer or get more info
Did Moses really write the first five books of the Bible -- the Torah -- as God declared? Two (2) Hours Long
---
Critical News Analysis -- End of the Age
1. President Trump ends the Federal lockdown today, April 30.
NEWS BRIEF: "President Trump: Federal Lockdowns To Expire April 30th", One America News, April 29, 2020
"President Trump has said coronavirus related lockdowns will be allowed to expire on the federal level. While speaking to reporters on Wednesday, the president stated it will be up to governors to decide when and how to reopen their states."
He then wisely defers authority to governors to end the lockdown for each of their states.
Why is this considered a politically wise decision, rather than ordering all 50 governors to order the reopening of their states? Such a move transfers the responsibility from the shoulders of the President to those of the state governors. Therefore, when criticism comes, declaring that restrictions are being lifted too early, state governors will have to answer those questions individually.
"I've had many calls from governors… We're speaking to a lot of different people, and they're explaining what they're doing. I am very much in favor of what they're doing. They're getting it going and we're opening our country again." – Donald Trump, 45th President of the United States
President Trump is thus signaling that Phase One is completed, and the country is to begin Phases Two and Three.
"President Trump reiterated his target date to reopen the country is 'as soon as possible' ... '(We) have to have safety, but at the same time, people want this country open', said the president. 'We've got to start moving along'."
This plan also envisions the need to have the treatment which have shown to be effective in place and to be dispensed immediately.
"He noted the government is working to make antiviral medication available to patients quickly."
Many states have already stocked up.
NEWS BRIEF: "More Than 22 States Stockpiling Hydroxychloroquine", One America News, April 27, 2020
"Dozens of states are stockpiling hydroxychloroquine, which has been touted by President Trump as an effective measure against COVID-19. New reports have revealed that upwards of 22 states have secured shipments of the anti-malaria drug."
"Supporters of the treatment have said there is enough evidence showing its effectiveness in treating coronavirus."
"President Trump and health officials have repeatedly warned patients not to ingest the drug outside of a hospital setting under the direct supervision of a doctor. And I would say this, if it works I think everybody would be in favor of it', the president continued."
Therefore, President Trump has set the stage for the American economy to reopen and do so now.
But, Trump warns states who continue the lockdown that they will not get "one dime" from the Federal Government!
NEWS BRIEF: "President Trump: Sanctuary City Policies Could Dictate Which States Receive Coronavirus Funding", One America News, April 28, 2020
"President Trump said special considerations need to be made if states seek funding to bail out their economies. While speaking in the Oval Office on Tuesday, the president said a state that needs money should only receive funding if the hardship was caused by the coronavirus. He said there's a big difference between a state that lost revenue because of the pandemic and one that was 'mismanaged for 25 years'."
Surely, there must come a reckoning for those Liberal states whose foolish, Socialist policies have driven revenue down as businesses go out of operation or move to another state.
Or, because they have foolishly shoveled money to those who will not work.
" 'I think sanctuary cities is something has to be brought up, where people that are criminals are protected', he explained. 'They're protected from prosecution…I think that's one of the problems that the states have'."
"The president added that he's 'not looking to do a bailout for a state that's been unfair to many others, while most of the states have done such a good job'."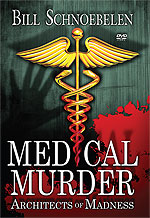 2. Two medical experts went public with their expert opinion that the lockdown was not only unnecessary, but made COVID-19 WORSE!
NEWS BRIEF: "Stanford and Yale health experts: Reopen America!", World Net Daily, April 21, 2020
"The fact that data shows the vast majority of the population has a very low chance of suffering severely from the coronavirus is one of a number of reasons why the United States should gradually lift the lockdown orders and reopen the economy, according to two prominent health experts."
Let us see the qualifications of these two so-called "Health Experts"!
"Dr. David Katz, founding director of the Yale-Griffin Prevention Research Center, and Dr. John Ioannidis, a professor of medicine, statistics, epidemiology and population health at Stanford University .."
The qualifications of these two men seems above reproach!
""I understand the potential for a contagion like this to hurt people. To kill people. I'm also trained in social determinants of health, and how food insecurity and unemployment and social upheaval can translate into health devastation," Katz explained."
"That meant the "one-size-fits-all" strategy of shutting everything down "had potential to hurt more people than it helped."
This fact is one of the reasons I have been arguing that the economy could not withstand a prolonged period of lockdown.
"Katz argued that while any deaths from the coronavirus are tragic, 1,000 times as many people are being affected by societal disruption ... "
Katz then turned his focus on the unreliable nature of the death statistics.
"The estimate of people infected with the virus has turned out to be only the tip of the iceberg ... A study of Los Angeles County by the University of Southern California – based on the first round of antibody testing – found 4.1% of the county's entire adult population already come into contact with the virus and developed an antibody."
Therefore, our own bodies are pretty efficient in fighting off this virus, a fact already mentioned many times over the course of this pandemic.
"The data now indicate it's not one out of 30 who will die but one out of 1,000." (Emphasis added)
REOPEN AMERICA! NOW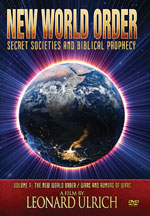 3. State officials have used these emergency measures as an excuse to trample on our Constitutional Rights, prompting Attorney General Barr to publicly intervene.
NEWS BRIEF: "Barr Directs Federal Prosecutors To Oversee State, Local Health Policies Amid Constitution Violation Claims", One America News, April 28, 2020
"The Department of Justice is flexing its federal powers as it looks to protect Americans' civil liberties. In a memo Monday from U.S. Attorney General William Barr to federal prosecutors, he tasked them with looking out for state and local health policies that may overstep their constitutional authority. This was ordered in hopes governments can move forward from the pandemic without infringing on personal freedoms."
The President chimed in.
" 'I think he (Barr) wants to see, like everybody, he wants to see people get back to work', President Trump told reporters. '…He (Barr) wants to make sure people have their rights and maintain their rights, very importantly so'."
Specifics are important, and both Barr the President have been paying attention and taking names.
"Barr added that states cannot discriminate against religious and so-called "unfavored speech" nor can they interfere with the national economy without just cause. Religious institutions and local governments have been in a constant quarrel as the COVID-19 pandemic forced church services to shut down to abide by social distancing guidelines."
"The U.S. attorney general ... said the Constitution remains in effect even during a global crisis."
Thank God someone high in our Federal Government is watching carefully for the preservation of our Constitution, the only document which maintains our ability to "pursue Life, Liberty and the pursuit of Happiness"!
Secretary of State Pompeo also condemned the nations who used the pandemic as an excuse to impose 'draconian rule'!
NEWS BRIEF: "Secy. Pompeo Condemns Nations Using Pandemic To Impose 'Draconian Rule'," One America News, April 29, 2020
"Secretary of State Mike Pompeo touched on the global pandemic during Wednesday's briefing at the State Department ... Pompeo also warned nations against using the pandemic to impose draconian rule. He specifically condemned Cuba and Venezuela as an example."
4. How will our society change as a result of these draconian measures imposed by officials in response to COVID-19?
NEWS BRIEF: "N.Y. Gov. Cuomo Announces New Task Force Aimed At Reimagining 'Future Of State', One America News, April 21, 2020
"Instead of focusing on when New York's economy will be able to reopen for residents to get back to work, Gov. Andrew Cuomo (D) announced a new task force to 'reimagine' New York ... it's time to think about how to build a better post-pandemic future for the state."
NEWS BRIEF: "The True Story Of How Humanity's Being 'Fundamentally Transformed' In Our Lifetime", Canada Free Press, April 27, 2020
"This is being written as a dire warning to all, pleading with each and every one of you that you come to understand that our Deep State government has a hidden agenda which has little to do with the Wuhan virus ... Our governments are lying to us. The most difficult thing for each of us will be to totally disregard the chattering media class. It is nothing but lies and propaganda."
"Mandatory vaccine and immunity ID cards are the globalist goals"!
Now consider the global reaction of government leaders to this pandemic. Leaders walked in lockstep!
"t is a physical impossibility to 'lockdown' (a term once used exclusively in prisons) three and a half billion people, without long term strategic planning of the large-scale economic and societal consequences in a worldwide pandemic. Did the Wuhan virus crisis become the mechanism for which the globalists had planned as a world-changing-event to create the framework for a totalitarian dictatorship, better known as the New World Order (NWO), which will be carried to completion under the auspices and control of the United Nations?"
Remember Doc Marquis' repeated warning: "the Illuminati does not try anything on a large scale before they have tested it on a smaller scale". I do believe this pandemic, to which leaders all over the world reacted almost identically, was he smaller scale trial run to give them expertise for when the real pandemic arrives when Seal #1 (Antichrist) and Seal #4 (pestilence) erupt on to the world scene.
I think the most troublesome aspect of this entire pandemic is that even Conservative Republican leaders instinctivly expected the Federal Government to step in and solve the problem. As long as our citizens believe it is the government's responsibility to solve our national problems, our Constitution is in great peril!
5. Democrats Elizabeth Warren and AOC and Chuck Schumer revealed their Christmas wish:
Stop business prosperity!
NEWS BRIEF: "Warren, AOC Make Coronavirus Wish: Stop Business Prosperity While Americans Are Suffering", Breitbart News, 28 April 2020
"The coronavirus pandemic has emboldened Democrats to use the chaos brought about by a disease that has killed scores of Americans and virtually shut down the U.S. economy to claim the crisis requires putting new policies in place."
Once again, Leftist Democrats want to punish their favorite "strawman", large business.
"Sen. Elizabeth Warren (D-MA) and Rep. Alexandria Ocasio-Cortez (D-NY) want a law to prevent large businesses from growing ... Democrats are crafting the party's 2020 platform, presumed to be championed by presumptive presidential candidate Joe Biden: The 'Pandemic Anti-Monopoly Act' would impose a moratorium on mergers and acquisitions involving large companies until the Federal Trade Commission "determines that small businesses, workers, and consumers are no longer under severe financial distress," according to a summary of the proposal reviewed by NBC News."
Specifically, this plan would discourage company mergers.
"The new push by the two progressive lawmakers reflects an appetite on the populist left to use regulatory powers to prevent the coronavirus downturn from accelerating monopolization in the United States. Advocates have been raising the alarm since before the crisis hit about a steady consolidation in airlines, hospitals and telecommunications — among other industries — arguing that it's harming consumers."
I find it laughable to think that Elite Democrats are raising the alarm against mergers, because the Illuminati Card Game had one card which specifically showed mergers as a key part of the Plan to overthrow this present system so the New World Order can be established.
The ultimate economic goal of the New World Order is Fascism. There are three types of economies in the world: Capitalism, Communism, and Fascism.
* Capitalism is that type of economy in which private individuals own the Means of Production, i.e., the factories and the mines. The companies founded by these private individuals then compete openly with one another in the Marketplace. No one tells the owners what to produce, or how much to produce, or how much to charge. Competition is the primary determinant of prices, and careful attention to the needs and wants of the people within this type of economy determines how much is produced. Capitalism may have its faults, but it has produced the highest standard of living in history for her citizens.
* Communism is that type of economy in which the State owns the Means of Production. Companies are told what to produce, when to produce it, and how much they can charge. This type of control is supposedly enacted in the interests of the "people", to ensure that they are treated "fairly". However, history has shown that Communism never works; rather, it delivers the most wretched conditions on earth for its citizens.
* Fascism was the economic system of Nazi Germany, National Socialist Italy, and Imperial Japan. Today, only Japan retains this system. In Fascism, private individuals retain control over the Means of Production, thereby ensuring that the key element which makes Capitalism work so well is kept in place. However, the Government intervenes to control how many competitors can be making the same item, and how much they can charge. Therefore, the potential for the most profit lies within the Fascist economy! The experiment with Nazi Germany and Imperial Japan proved that Fascism does work. We have seen that the proper coordination between Government and Capitalism does work.
The economy planned for the New World Order is Fascist; therefore, the private Captains of Western Industry are most anxious for this new system to begin, so they can begin to reap the rewards of dramatically increased profits. Since a Fascist government heavily regulates how many competitors can make the same product, the number of companies is going to shrink dramatically. For example, there may only be one or two car companies worldwide! Therefore, in the "Preparatory Period" leading up to the actual Kingdom of Antichrist, it makes sense for the process of only a few companies in the world making the same type of product or offering the same type of service to begin voluntarily through mergers, buyouts, and even bankruptcies! This Bank Merger card is a perfect addition to the Illuminati Card Game.